Conny Maier
---
Conny Maier explores fundamental questions about human nature, ecology, dominance, and control. The off-kilter figuration in Maier's paintings, coupled with the inter-species entanglements that her work depicts, articulate precarity and vulnerability as elemental states of being. Her painterly reflections on polarities like dominance and submission, equilibrium and instability, the human and the non-human take an unflinching look at the final throes of the Anthropocene, asking not only what should come to an end but what kind of new day might dawn.
Conny Maier was selected as one of the three recipients of Deutsche Bank's prestigious Artists of the Year Prize in 2020. She lives and works in Berlin and Baleal, Portugal.
---
Conny Maier did not originally specialize in painting, yet she felt always drawn to it, creating various de-individualized characters she had invented; with open mouths and jelly feet, captured with vibrant colors in swirling brushstrokes, wandering through canvases often encompassing nature. To focus on Maier's paintings of flowers and vases is to return - in a way - to the origins of her art: Her paintings are a colorful cosmos shifting between sublime beauty and the grotesque.
For her exhibition at De 11 Lijnen curated by Udo Kittelmann, the artist continues her exploration of nature concentrating on placing bouquets of flower pieces in vases or full blooms without vases and then again vases without colorful flora at all. Still life remains a feature in her series that brings to mind and perhaps leaves us with a question: "Can one paint flowers today?" Looking at Conny Maier paintings, the answer is a definite "yes".
Ever since the Impressionist artists like Vincent van Gogh adopted flower vases as his subject and Paul Cézanne painted a famous series of still lifes with basket of apples resting on layered tablecloths, and there is of course Claude Monet's Les Nymphéas series, the still life and painting flowers continuous to remain a popular feature in art movements. Composed of a combination of oil, oil stick and pigments on canvas, Conny Maier 's paintings created for her first exhibition at the space for contemporary art in Oudenburg, are -one can say- a continuation of this "tradition" and yet at the same time, it is more than that: it is a collection of ideas inspired by and collected from her travels around the world, which Maier first sketches in a notebook and then transforms on canvases –– some are large, others are small depictions of bold and whimsical imagery of life beyond the ordinary.
In Conny Maier's work we see the outcome of a struggle between creative and destructive impulses; the wants of individuals and those of the collective; the beautiful and the downright cruel. We see a desire to make great big paintings of very painterly subjects.
In Feels like rabies, Maier presents a series of new paintings that explore fundamental questions about human nature, ecology, dominance, and control. The works are populated by figures who seem out of sync with their environment, as if they might topple over at any moment in their cruel struggle for ascendancy over nature and other beings. Anna Lowenhaupt Tsing writes of the "ambivalence of salvage," how damaged worlds nonetheless contain an abundance of life, beauty, resilience, and the potential for dynamic new alliances between different life forms—and Maier's paintings unflinchingly delve into this space between destruction and renewal.
Conny Maier narrative paintings portray extreme psychological states through a style of contorted figuration that verges on caricature. In Dynamik, nine figures come together to form a pulsating mass: a jumble of bodies, hands pulling fabric, and long rivers of tears. The figures who inhabit the work convey an ambiguous bundle of emotions—they could be experiencing paroxysms of extreme grief, struggling to inflict pain upon one another, or both. The term dynamic indicates a form of continuous and productive activity or change and Maier nods towards the delicate balance between anguish and brutality in many of her paintings. There is a peculiar timeless to Maier's work and the scenes that she depicts are almost impossible to place: they could just as easily exist in some not-so-distant past as a brave new world future. Their pastoral settings lend them a folkloric quality that is unsettled by the figures who inhabit these landscapes—and threaten to tear this world asunder. And yet, their deformed bodies can also be read as a testament to the perpetual struggle of finding beauty and balance in a constantly changing world. Umstände depicts a highly cropped view of a crouching figure with two snakes biting their bottom. Her strangely elongated buttocks seem to indicate that she is in a state of vegetal transformation, blossoming like inverted tulips. In Rabies, a woman stands in a golden field with a rabbit dangling from her hand. A small puncture wound glistens on her thumb, indicating the inflamed delirium and collapse to follow. The off-kilter figuration in Maier's works, coupled with the inter-species entanglements that they depict, articulate precarity and vulnerability as elemental states of being. As Lowenhaupt Tsing writes of living and attempting to thrive in a contaminated world, "Precarity is the condition of being vulnerable to others. Unpredictable encounters transform us; we are not in control, even of ourselves. Unable to rely on a stable structure of community, we are thrown into shifting assemblages, which remake us as well as our others."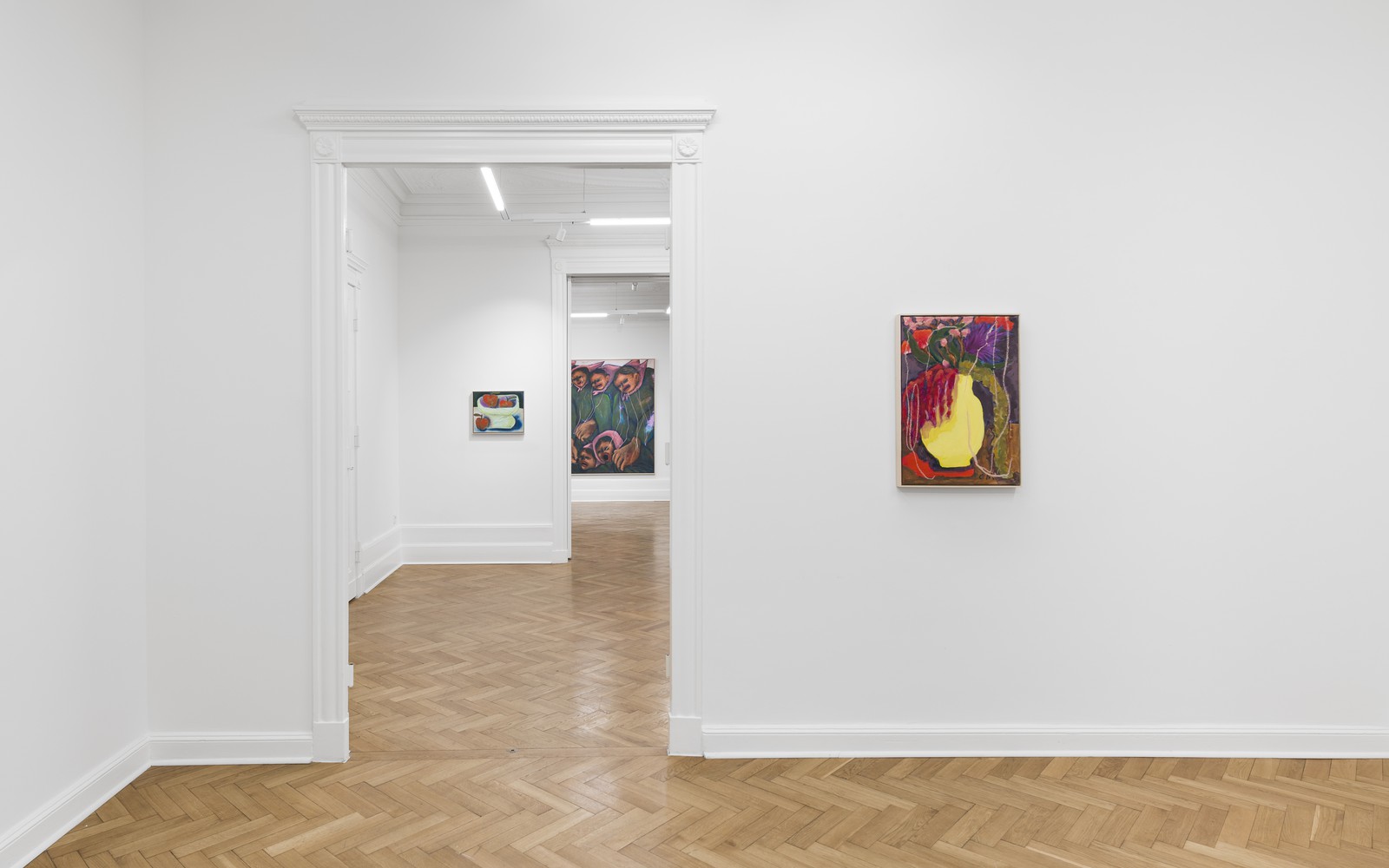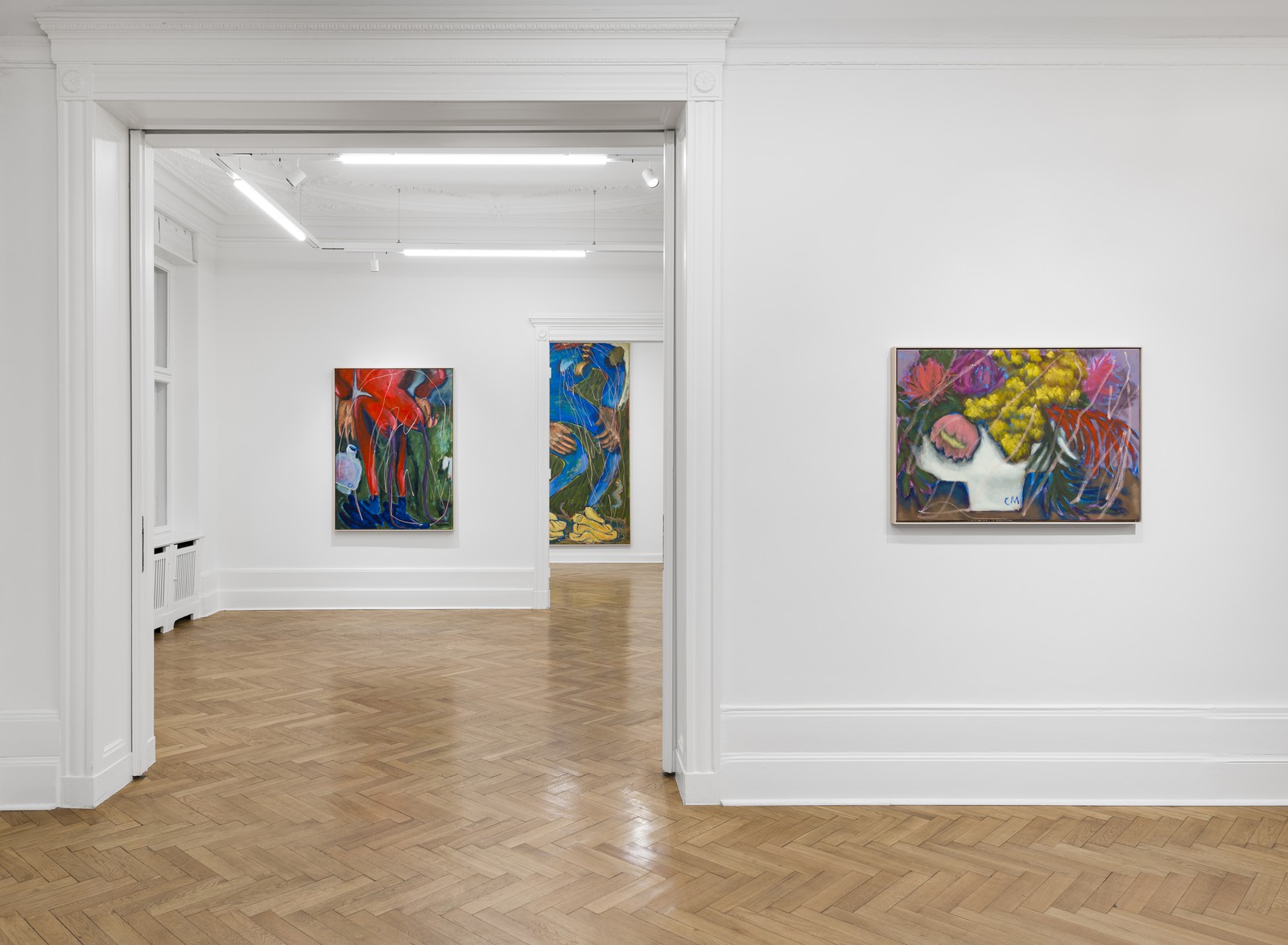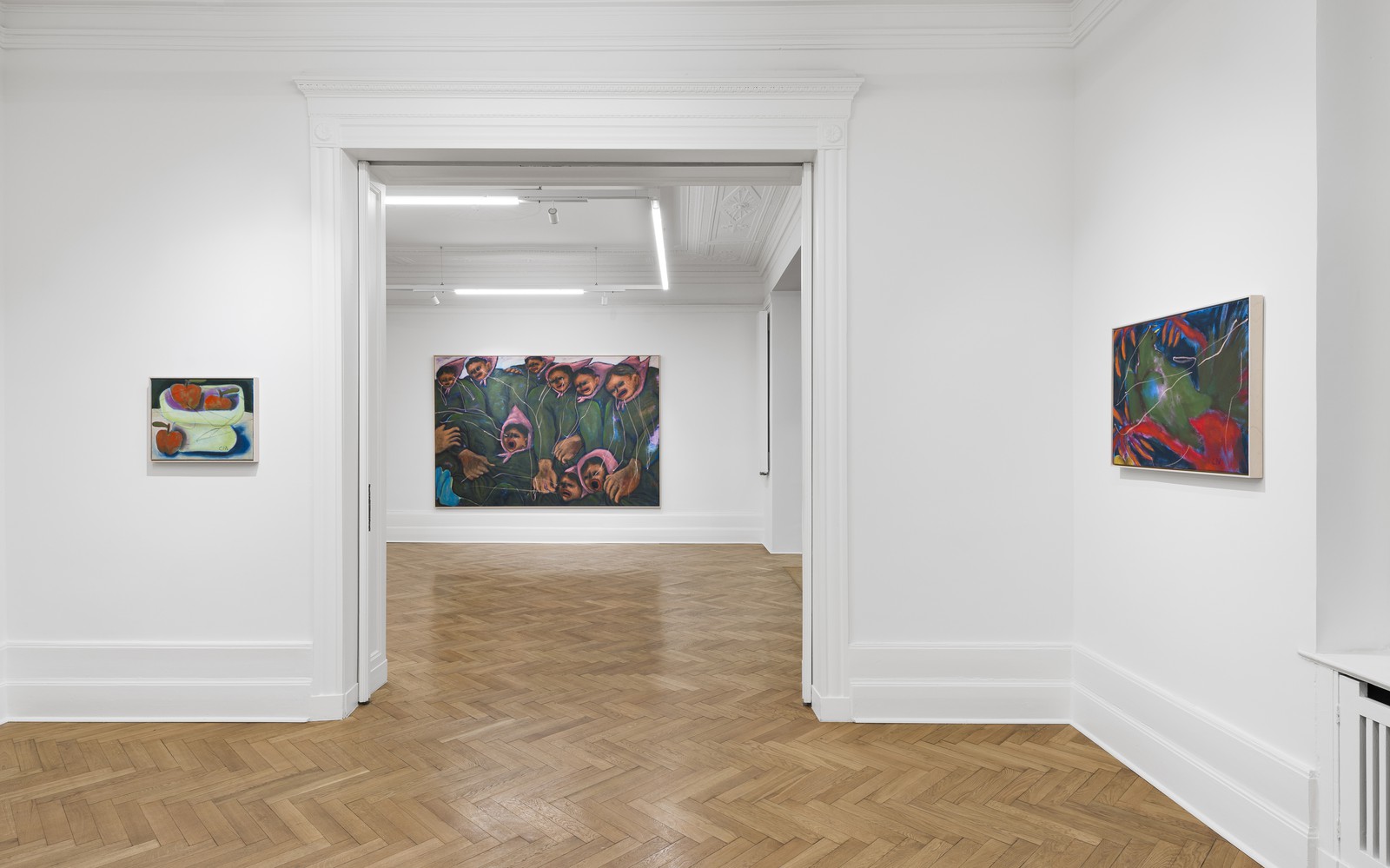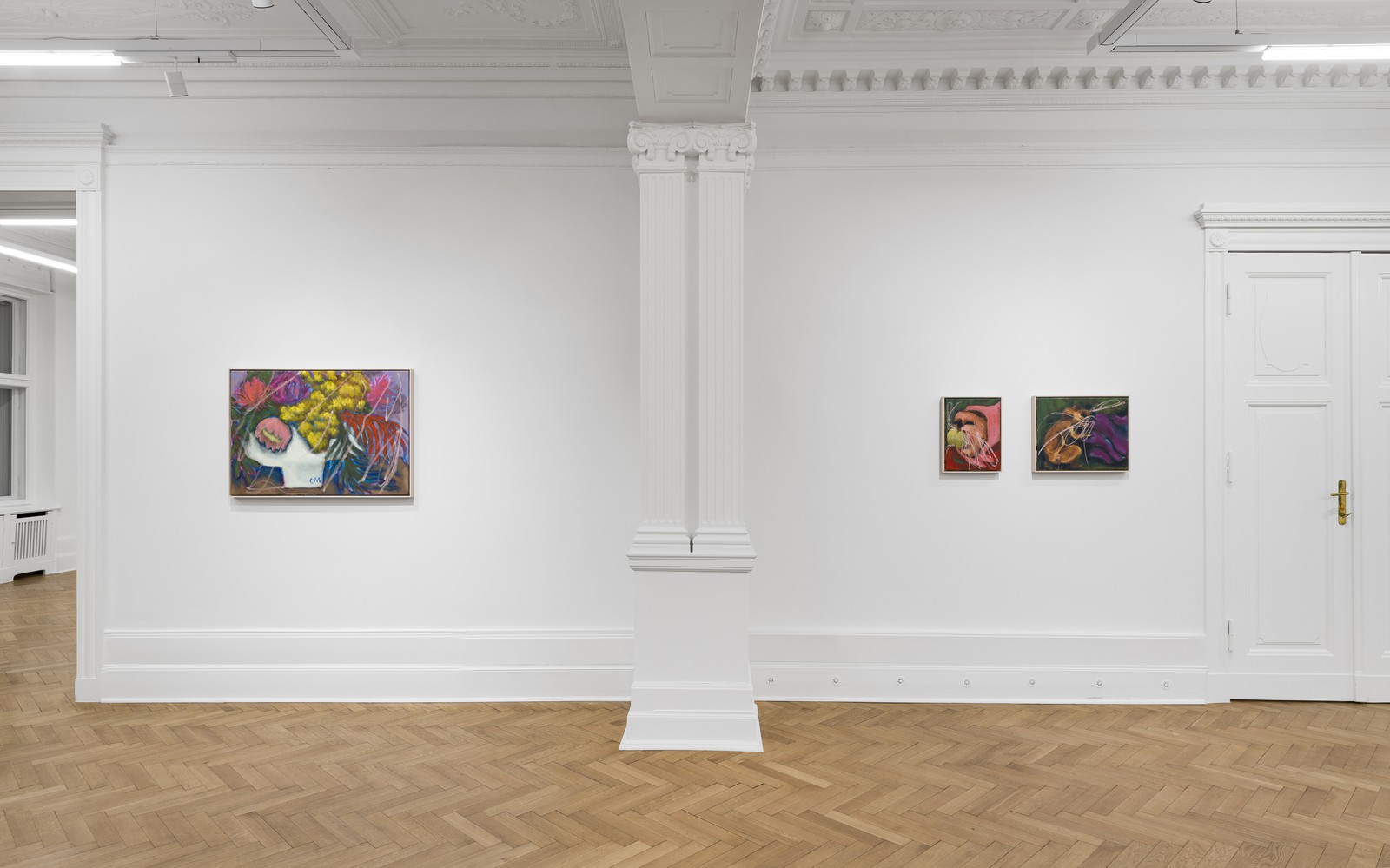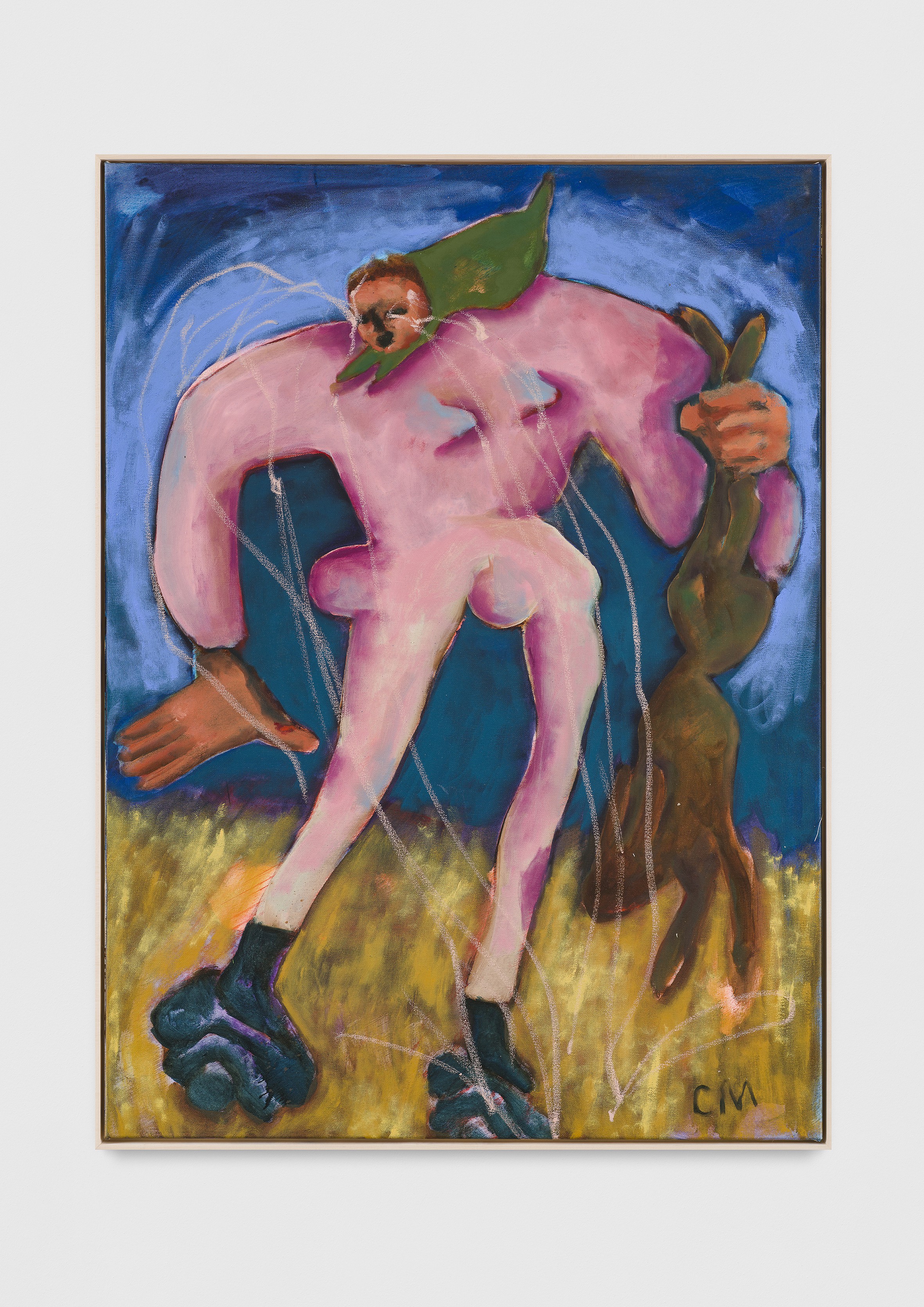 Artist of the Year 2021
Palais Populaire, Berlin, 2021
Die Zähmung
Kunstverein Heppenheim, 2020, curated by Cornelius Tittel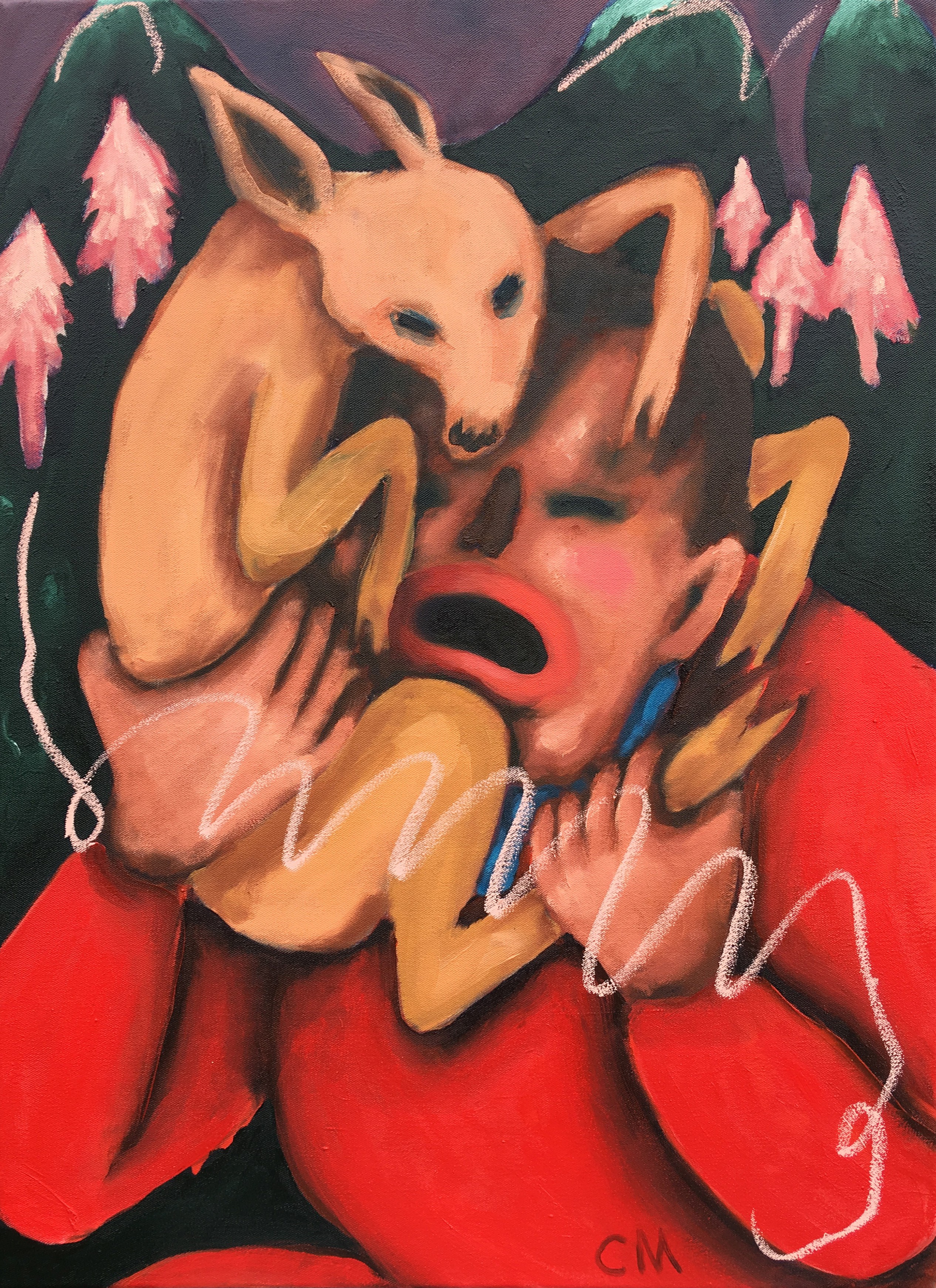 Solo exhibitions
2022

Feels like rabies, Société, Berlin

Where Have All The Flowers Gone, De 11 Lijnen, Oudenburg

2021

Grenzgänge 2, König Galerie, Seoul

Grenzgänge, Ruttkowski;68, Cologne

2020

Art Cologne, König Galerie, Köln

Die Zähmung, Curated by Cornelius Tittel, Kunstverein Heppenheim, Heppenheim

Domestic, König Galerie, Berlin, Germany

002, Conny Maier & Andreas Schmitten, Ruttkowski;68, Paris

2019

I didn't mean to burn the woods, Curated by Office Impart, S.M.A.C., Berlin

Chronik der laufenden Ereignisse 2, Art Berlin Fair, Ruttkowski;68, Berlin

Im Trüben, Ruttkowski;68, Cologne, Germany

Chronik der laufenden Ereignisse, Christian Rosa Residency, California

2018

Am Rothenbaum, Ruttkowski;68, Paris, France

2017

a.Tennis, Parallel Vienna – Studio 22, Vienna

Alles very good./- Nothing matters, ung-5, Cologne

2016

The cosy fire. / Alles GUT. – Nothing Matters, Beinghunted, Berlin

COKE FIRST PT.II, BOLD Room, Los Angeles, USA

2015

COKE FIRST, Beinghunted./net.work, Berlin, Germany

2014

Amerikanische Situation & Zigaretten, Volume Galerie, Berlin, Germany
Group exhibitions
2023

The King Is Dead, Long Live the Queen, Museum Frieder Burda, Baden-Baden

2022

Deutsche Bank Artist of the year 2022, MUDEC, Milan

HOW TO & KNOW-HOW, Neue Galerie Gladbeck, Gladbeck

2021

Deutsche Bank Artists of the year 2021, Palais Populaire, Berlin

2020

This must be the Place, Villa Schöningen, Potsdam

Dorf 4 – The last one, Kunstverein Ulm, Ulm

Mixed Pickles 8, Wilhelm Hallen, Berlin

You Can Do Better – Bad Painting, Recommended by Laura Helena Wurth, Elektrohalle Rhomberg, Salzburg

Mixed Pickles 7, Ruttkowski;68, Cologne

Art Brussels, Ruttkowski68; Brussels

Nine to know, Curated by Jenny Brosinski, Ruttkowski;68, Paris

2019

Mixed Pickles 6, Michael Horbachstiftung, Köln

04, PM/AM, London

DORF 3, Im Gerinne 2, Wullenstetten

Mixed Pickles 5, Funkhaus, Ruttkowski;68, Berlin

Disorder, Los Angeles

Atlantis 3000' 1, Atelier Concorde, Lisbon

Atlantis 3000, PM Gallery, Lisbon

2018

Dorf 2, Im Gerinne 2, Wullenstetten
Mixed Pickles 4, Michael Horbach Stiftung, Köln
Grand Opening, Ruttkowski;68, Paris
Tangerian dreams, Curated by Johann König, RBMA Funkhaus
My body doesn't like summer, Curated by Stephen Kent, Haverkampf Galerie, Berlin

Mixed Pickles 3, Ruttkowski;68, Gallery Weekend, Berlin
PROVINCETOWN, MEWO Kunsthalle, Memmingen
GRAND OPENING, Ruttkowski;68, Köln
WAISTING – TIME VOL. 1 – THE NATURE EDITION., Objekt unserer Tage, Berlin

2017

Mixed Pickles 2, Ruttkowski;68, Michael Horbach Stiftung, Köln

DORF, Im Gerinne 2, Wullenstetten
HYPER HYPER, Michael Reid Gallery, Berlin

2016

Woman in disguise, Volume Gallery, Berlin

Hideout FM, Hideout FM Gallery, Los Angeles

2015

EXTENDEN VISIONS, Blockbuster Exhibition Gallery, Berlin

2013

2005

Berliner Liste, Galerie Hermann & Wagner, Berlin