Timur Si-Qin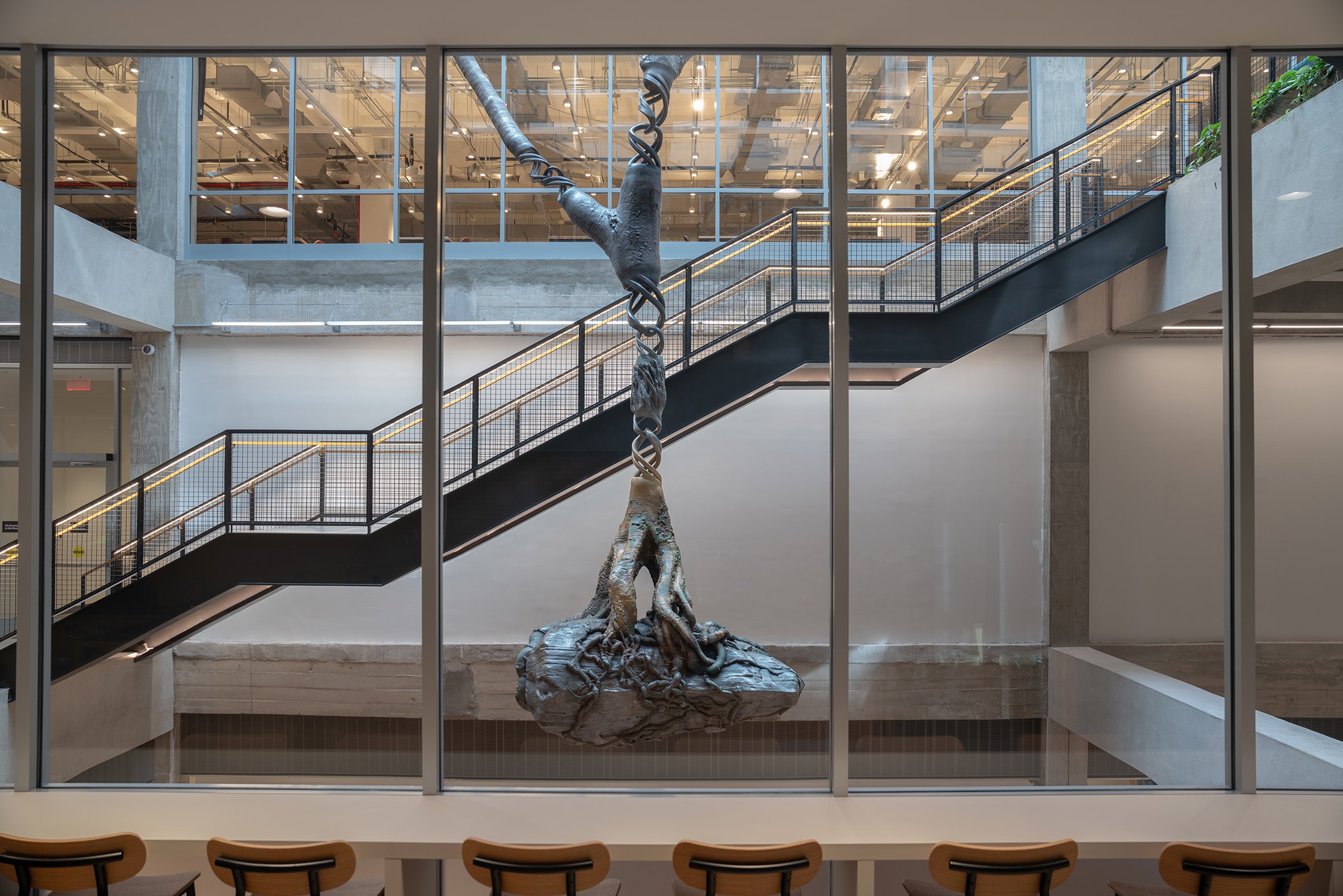 ---
Timur Si-Qin's interests in the evolution of culture, the dynamics of cognition, and contemporary philosophy, weave together to create a new kind of environmental art. Taking form through diverse media, installations of 3D printed sculptures, light-boxes, websites, texts, and virtual reality, Si-Qin's work often challenges common notions of the organic vs the synthetic, the natural vs the cultural, the human vs non-human, and other dualisms at the heart of western consciousness.
Si-Qin's long term meta-project is the proposal of a new secular faith in the face of climate change, global pandemics, and biodiversity collapse, called New Peace. Through New Peace individual works aggregate into a hyper-distributed, branded ecosystem of signifiers. Drawing from disparate disciplines like the anthropology of religion, marketing psychology, and new materialist philosophy, Si-Qin regards spiritualities as cultural softwares capable of deep behavioral and political intervention. New Peace is thus a new protocol for the necessary renegotiation of our conceptual and spiritual relationship with the non-human. New Peace is an artwork, a church, a brand, and a memetic machine.
Si-Qin is a New York-based artist of German and Mongolian-Chinese descent who grew up in Berlin, Beijing, and in the American Southwest. Recent exhibitions include the first Diriyah Biennial, Riyadh, Von Ammon Co., Washington D.C., Riga Biennial of Contemporary Art 2, the 2019 Asian Art Biennale, the 5th Ural Industrial Biennale of Contemporary Art, UCCA, Beideihe, Spazio Maiocchi, Milan, The Highline, NY, and Magician Space, Beijing.
---
Titled Ecotone Dawn, Timur Si-Qin (b.*1984, lives and works in New York) refers to the so-called "ecotone", which in ecology refers to the transitional zone between two different ecosystems or biotope types; typical ecotones include forest edges or shoreline zones. The nature of the actual separation or boundary can take various forms; permeability and interaction are variable, but ecotones as a whole are characterized by increased biological diversity. As hinges for interaction between bio-diverse areas, ecotones are also bridges for the affects of climate change. In the brightly lit main hall, Timur Si-Qin freezes a desert sunset in four wide-format light boxes (Sharaan Sunbreak, 2023). The images are a rendered panorama using original footage from the Saudi Arabian oasis of Al-Ula. In the centre of the space, Etching the Path to the Sea Within (2023) features a 3D-printed tree trunk that was found and photographed along a pilgrimage route in Thailand. Various messages carved into the bark by passers-by are preserved by the artist, as are the support structures necessary for stability in the making of a 3D print. Instead of removing and smoothing their evidence away, Si-Qin keeps them as part of the sculpture. The fusion of root extensions and technical support structures creates a cyborg-like hybrid, referring both to the artist's own production and that of the natural world. The mystical atmosphere that pervades the bright main hall extends into the darkened smaller halls of the galleries. Four photographic prints from the series Natural Origin (2023) depict what appear to be a particularly dense and lush forest, but in truth, the pictures  are shots from virtual cameras in a 3D rendering modelled by the artist. Derived from the flora and fauna of Upstate New York, the rendering is both a visually pleasurable composition of digitized nature, and a simulation of an entire ecosystem. The complexity leading to the bucolic image motifs is further enhanced by the projection of moving leaf shadows over the four images.
The exhibition is supported by: Société, Berlin, Magician Space, Beijing.
Natural Origin
Société, Berlin, 2023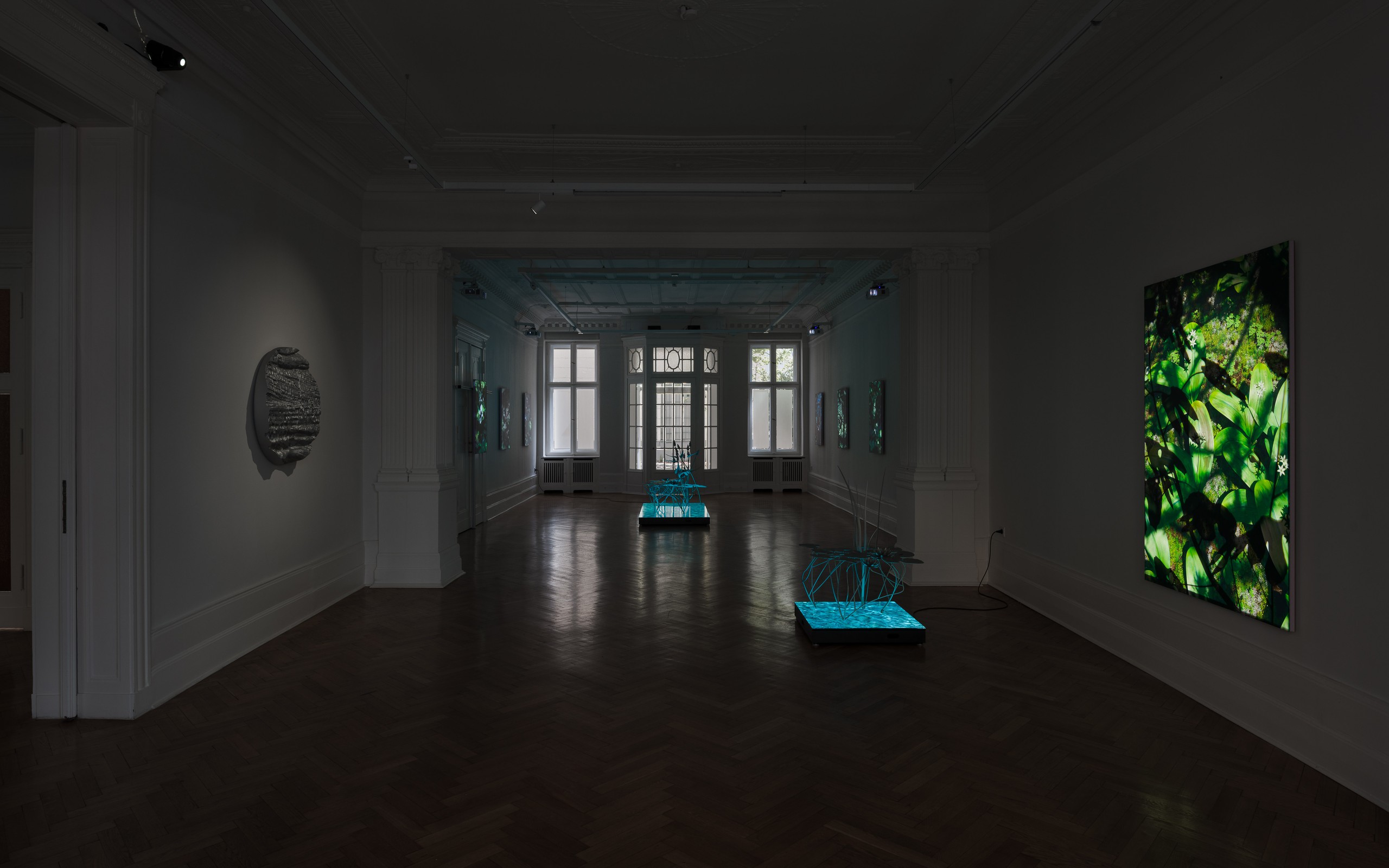 Société is pleased to announce Natural Origin, Timur Si-Qin's fifth solo exhibition with the gallery.
Natural Origin continues the artists ongoing endeavor to think beyond the anthropocentric dualities underlying a contemporary culture "that approaches organisms only in terms of value and doesn't recognize them as actual living and related creatures."* In his book How Forests Think, the Canadian anthropologist Eduardo Kohn describes how a moment of intense anxiety separated him from his companions, and even himself, after encountering a dangerous situation on a remote South American highway. This moment of estrangement was allayed when he viewed a colorful tanager bird, which instantly dissolved his lingering anxiety by resituating him in a larger world beyond the symbolic—and beyond the human.
Reflecting Si-Qin's abiding interest in notions of deep time, ecology, and evolution, the works in Natural Origin aim to elicit the feeling of shifting out of the symbolic and into the realm of direct experience. He transforms the gallery's exhibition spaces into an immersive, darkened sanctuary that gradually enfolds the viewer with slow, immersive projections that cast shadows over his artworks. The experience of shadows imparts an alternative sense of space and dimensionality, blending physical experience with ocular patterns and mental images. Si-Qin likens the experience of shadows to how he visualizes the places that he's been and how their memories interact with one another: how one environment, like a jungle in Puerto Vallarta, connects to another like the yellow birch forests of the Lake Champlain region, casting and connecting their shapes and outlines on one another, weightlessly and multidimensionally.
Most of the works in Natural Origin are created from the simulation of the Temperate Deciduous Forest eco-region of Upstate New York and Vermont. While having supported our species for over 50 thousand years, Temperate Deciduous Forests evolved over the past 30 million years and are some of the oldest biocommunities living in the world. Their increasing vulnerability to the climate crisis make temperate forests symbolic of the challenges and metamorphoses undergone by the living world. The wall works derive from renderings of a digital ecosystem that Si-Qin has created, a virtual world that digitally recreates specific places in the Adirondacks and the Lake Champlain region and their specific species of plants and rocks. For the artist, the interest lies not in notions of the uncanny, artificial life, or the digitization of nature, but rather understands it as a devotional and meditative endeavor, a method by which one is compelled to see into the richness of nature at ever greater depths. "Life on this planet stands at the cusp of a great threshold," Si-Qin writes in his manifesto A New Protocol, "As we awaken for the first time to the full scale of the territory of space and time—something any living thing has only known for a century—we awaken also to our own capacities for altering our planet and ourselves." Si-Qin's exhibition at Société seeks to articulate alternative conceptual and visual frameworks to foster a reengineering of our relationship with the planet, enabling us, as Kohn writes, to "snap back into the world of life."
*An interview with Timur Si-Qin by Anneleen van Kuyck, Beaufort 21: https://www.beaufort21.be/en/fundaments/interview-timur-si-qin-anneleen-van-kuyck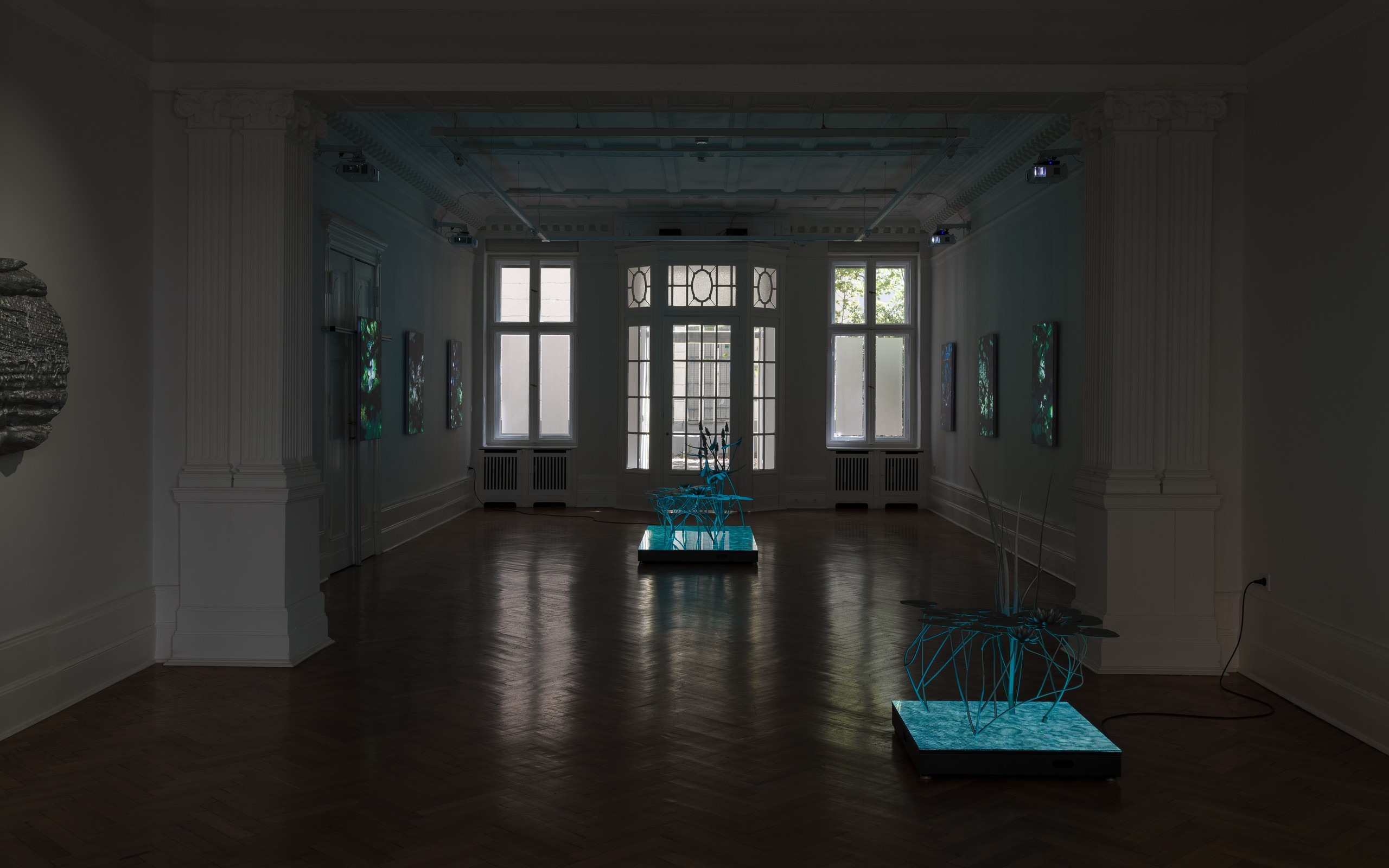 Sacred Footprint
Meta, James A. Farley Building, New York, 2022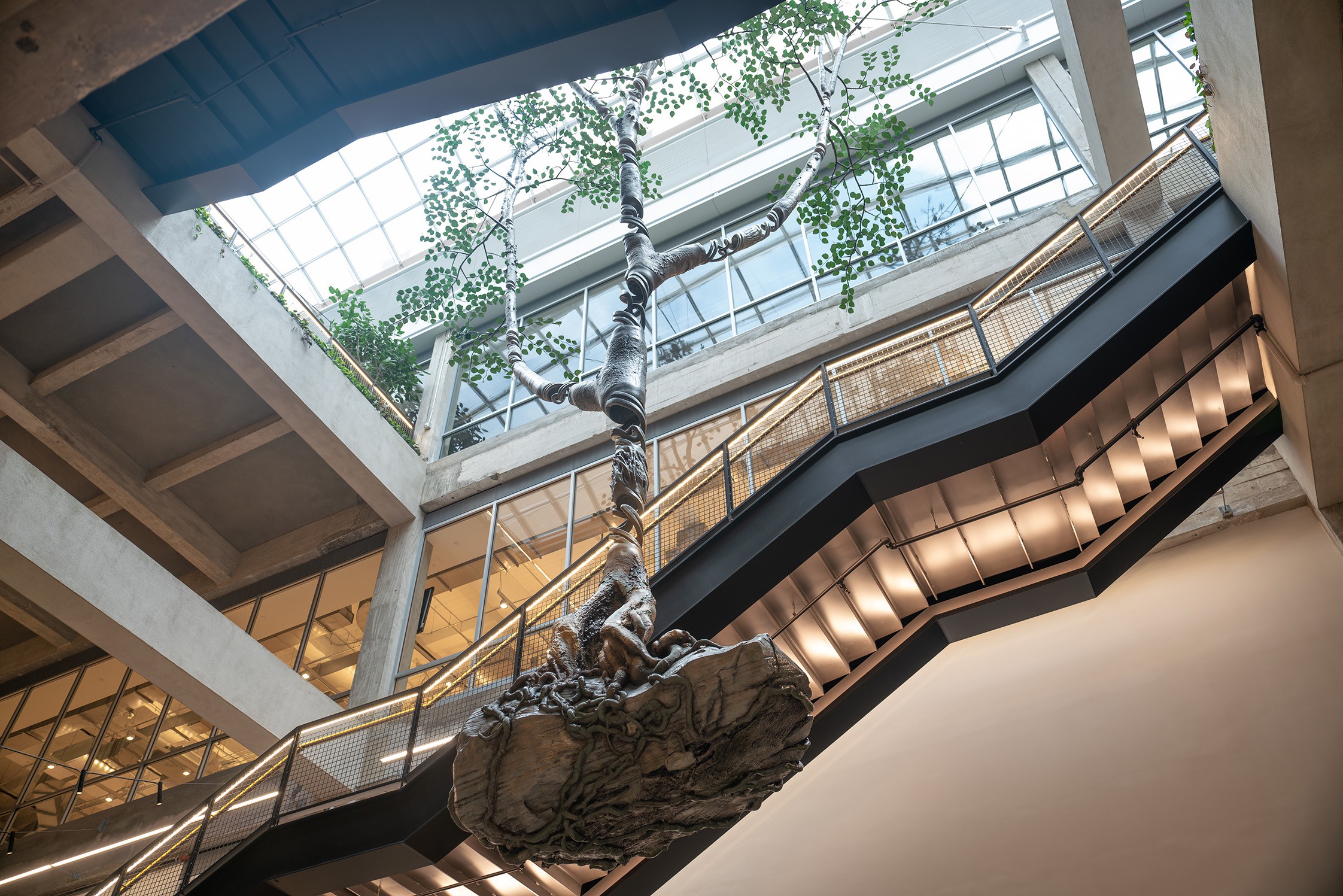 A sensitive diagnosis requires us to turn our attention back to the fundamental relationship Westerners have, or rather do not have, with the natural world. As Indigenous scholar Frederick Martin puts it, "Europeans are the only people on the face of the earth who hate nature enough to advocate its total destruction. Native Americans don't do that." In classical Western cognition, nature is regarded as a limitless set of objects to be used for our own benefit in perpetuity. The anthropologist Wade Davis writes that "as a Canadian, [he was] brought up to think of a mountain as a pile of rocks, whereas to an Indigineous person, a mountain is a sacred deity." These two acculturations produce vastly different results. Westerners have awoken to their own moderate scale of environmentalism only in the last few decades, and this trend must accelerate in order for us to have any hope of facing the challenges of climate change and biodiversity collapse. Although Indigenous Peoples make up only 5% of the global population, they manage more than one quarter of all land on the planet while protecting about 80% of global biodiversity. Western science is just catching up to some of the knowledge of Indigenous people when it comes to the complexity of ecological dynamics or the benefits of psychedelic medicine. The Western dismissal of nature runs deep. Core European cultural metaphors depict nature as an enemy to be overcome, a machine to be manipulated, and as property given to man by God to be held in dominion. The narratives of Western culture in movies, in books, and in art are almost always set on the stage of the human, with nature playing only supporting, minor or adversarial roles, if it is present at all. Many of the Western world's intellectual giants were and are products of this Western mode of cognition. Freud argued that the progress of civilization required "taking up the attack on nature, thus forcing it to obey human will, under the guidance of science". Even Marx and Engels were products of a Christo-European cognition that understood nature as something to be conquered and gotten under control, and thought of Indigenous religious beliefs about nature as "childlike."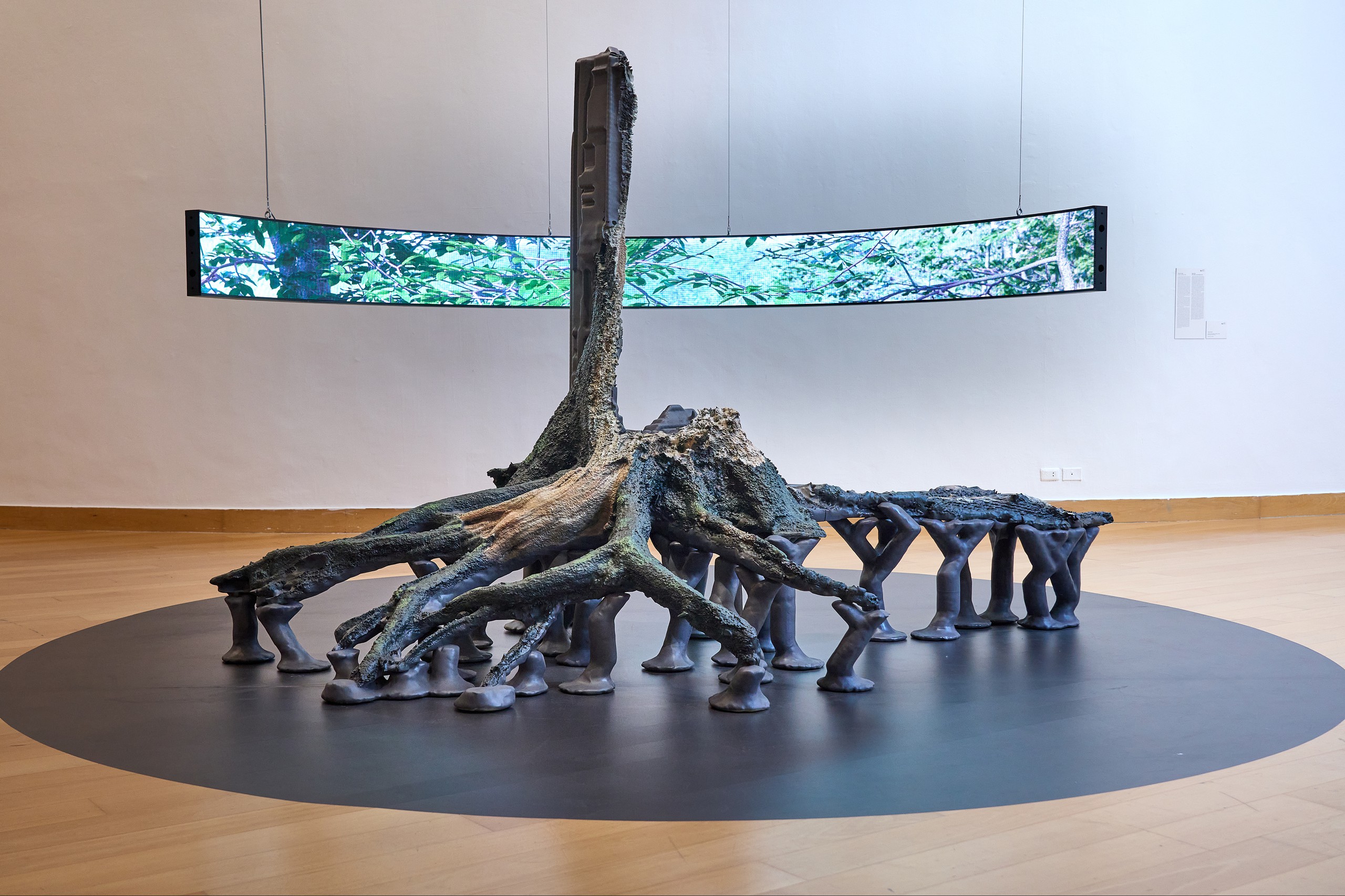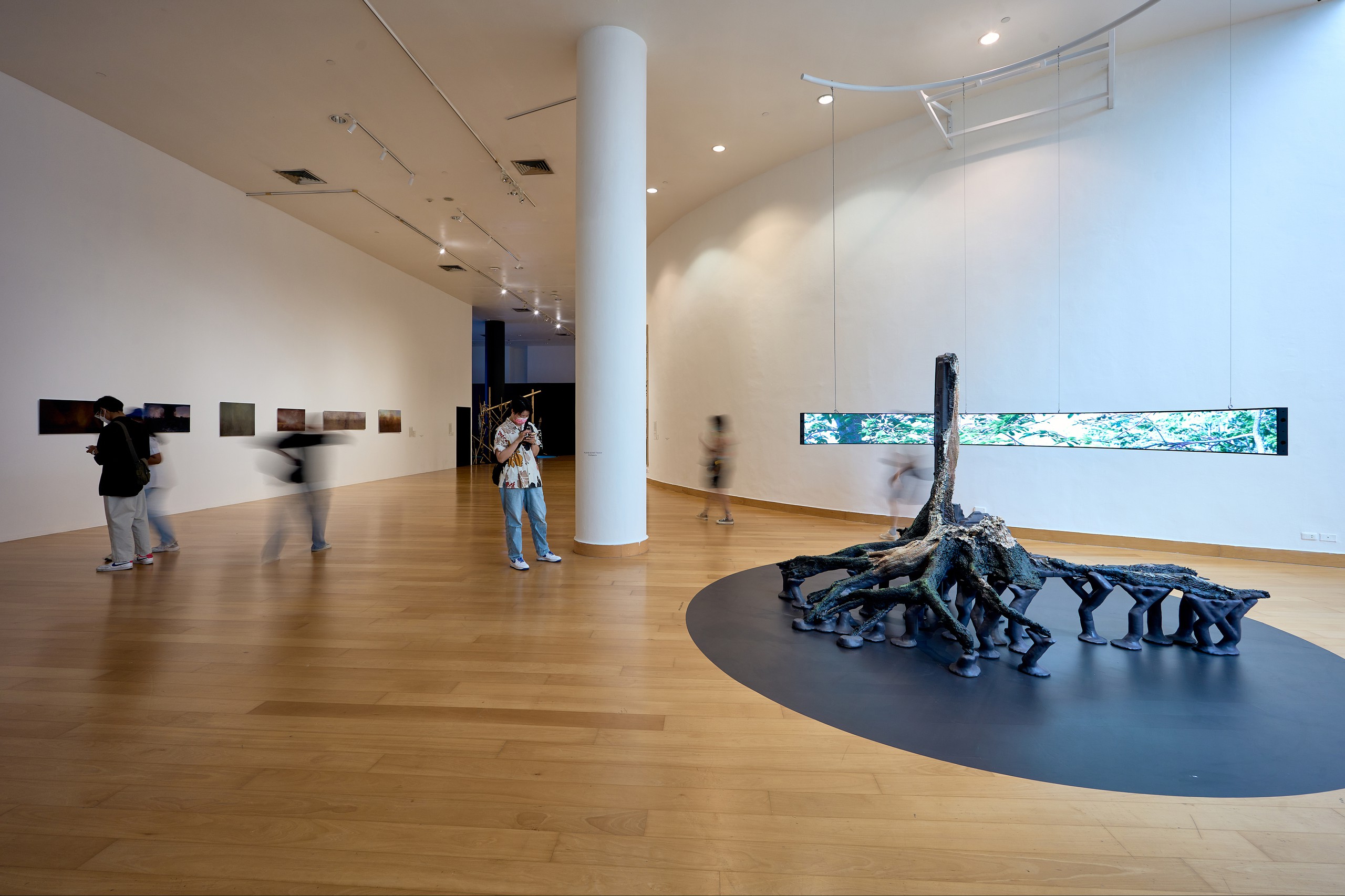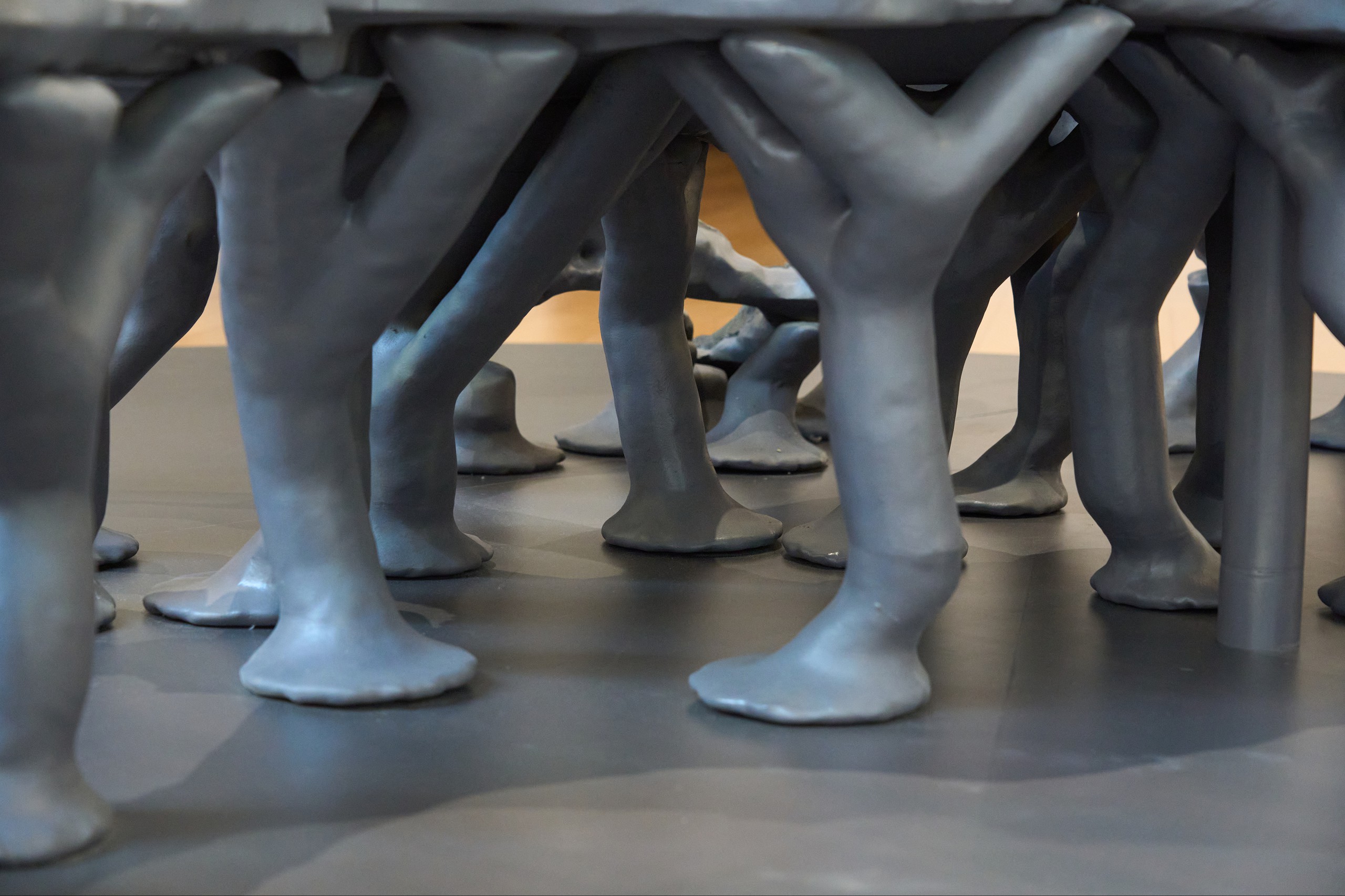 In the Oracle of the Ashes of Plants, Si Qin explores the relationship that humans have with nature throughout the Millenia. After visiting an archeological site in the mountains of Romania, he came across limestone dwellings that date back to the Neolithic era. One temple sat atop a steep hill in a beech forest, cut into a stone cliff, the landscape had been modified by diverse cultures and settlements marking thousands of years of use and adaptation. At the entrance was the stump of an enormous ancient spruce tree, to the artist it felt almost theatrically staged, symbolic of the state of the natural world in 2020. Oracle of the Ashes of Plants is the 3D-scanned remains of this tree. The stump is augmented, supported by a generated structure as well as sections of smooth geometric artificing and interpolation. The tree is orbited by a curved LED video that depicts its original environment. The work explores the anthropocentric mindset that characterizes humanity's domination of the natural world.
Take Me, I Love You
von ammon co, Washington D.C., 2020
I pray for strength like a tree.
I pray for time like a mountain.
I pray for forgiveness like a river. I pray for wisdom like the mother. I am already yours.
Washington DC: von ammon co is pleased to announce its next solo show, ​Take Me, I Love You, ​by New York based German artist Timur Si-Qin. This full-scale show will be the first of its kind in the United States, and will feature eleven new works by the artist, a combination of 3d printed sculptures, computer-generated landscapes and branded graphics from the artist's meta project: New Peace. Concurrent with the exhibition, Si-Qin will release parts 1 and 2 of his new essay titled ​Heaven is Sick.
New Peace is a proposal for a new form of spirituality in the face of global pandemics, climate change, and biodiversity collapse. The legacy of agricultural religions of the West have led the world to an ecological precipice. The farming eschatology, particularly, of Christianity have promoted an extractive attitude towards nature. Westerners are raised to regard Nature as a soul-less and limitless resource for humans, to use and to hold in dominion—as given by God.
On the other hand the global Indigenous worldview has always recognized Nature as inherently alive, intelligent, symbiotic, and sacred. As the ecological consequences of climate change intensify, it is the global Indigenous worldview, rather than the Western one, that is being revealed to have been the more rational one all along. Spirituality and religion are some of the most powerful forces shaping human culture and behavior. New Peace is an artwork in the form of a campaign to articulate a spirituality of symbiosis for the 21st century.
New Peace comprises four modules or ideas. These concepts are possible sources for basing a contemporary spirituality today. The iconography of each source is represented in acrylic and 3d printed sculptures in the exhibition. The Undivided Ground​ is the idea that all are one, also known as the concept of immanence. Faith in Pattern​ is the idea that faith can be derived from the patterning of matter and reality itself. Pray to Scale​ is the idea that the scale and age of the universe itself is the higher power that we can connect with. Purpose from Difference​ is the idea that matter exists to experience every version of itself. The meaning of the universe is diversity itself.
Take Me, I Love You​ is both the attitude of causal, material, nature herself as well as a prayer to her. While nature has been a selfless mother to humanity and will continue to give of herself, this declaration must be reciprocated by humankind.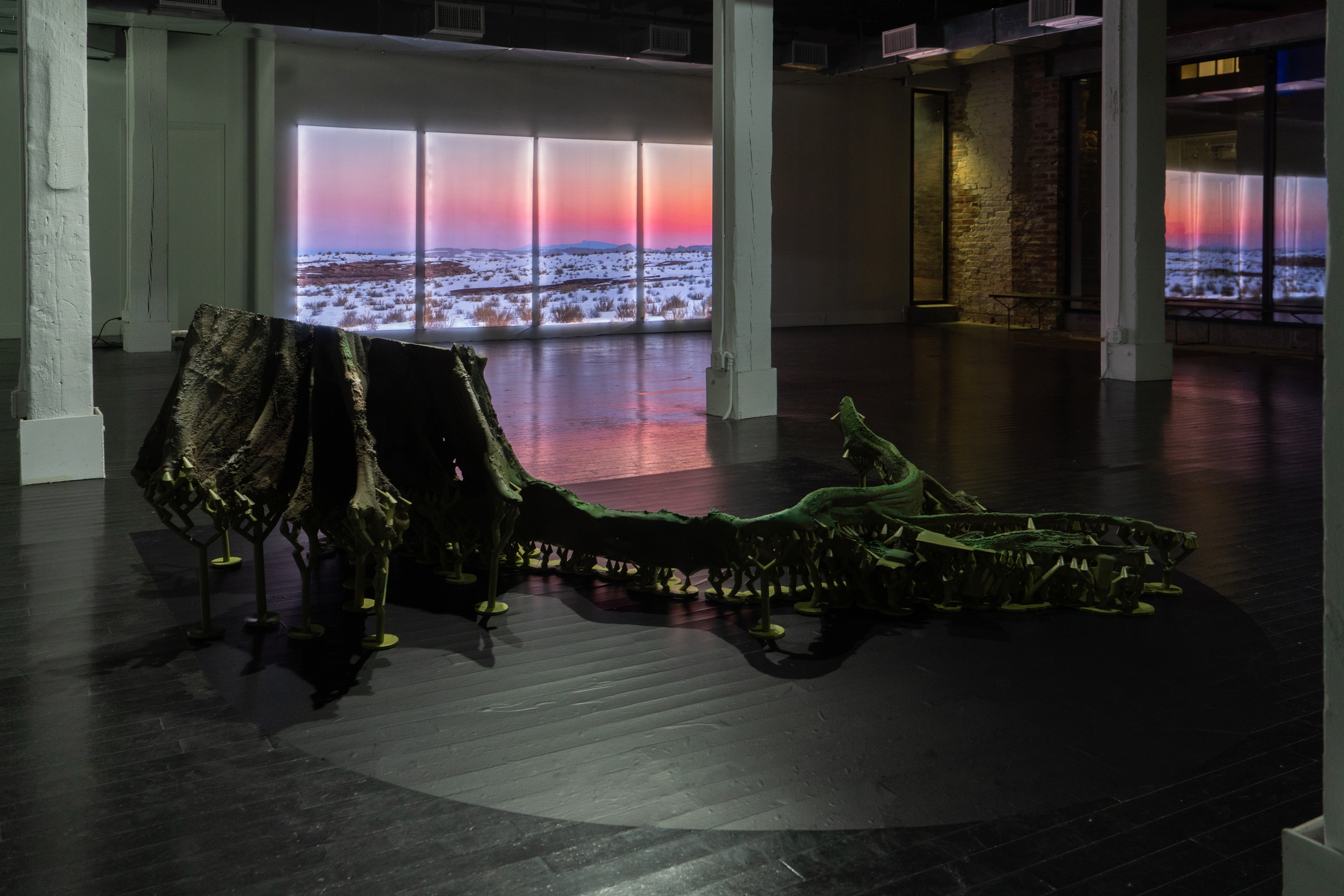 Land of the Lustrous
UCCA Dune, Beidaihe, 2019, curated by Yang Zi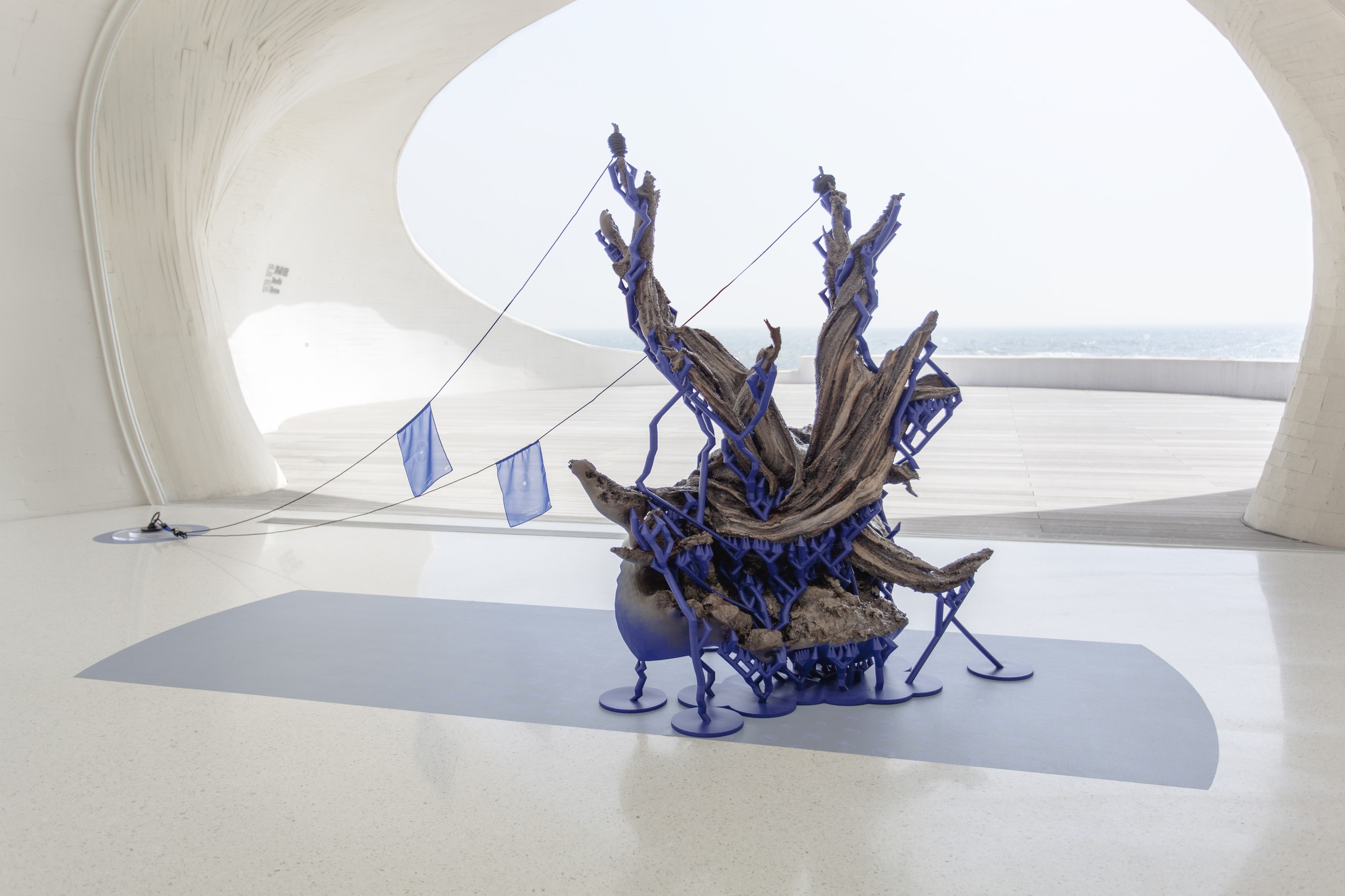 The proposition that stone "is alive" results in several ancillary questions – is humankind the measure of the universe? Is it shortsighted to base values solely on human needs, universalizing our limited ways of understanding the world? As urbanization and modernization progress, will such nearsighted forms of knowledge bring about a corresponding rise in alienation? After all, only humans can consume, produce, and create surplus value in the world of capital; in this game, "nature" can serve only as dead material. Timur Si-Qin and Su-Mei Tsestrive to imagine models and rubrics that are separate from "nature itself." Si-Qin's Juniper, produced in 2019, is a kind of billboard for the Anthropocene, advertising the spatial and temporal concepts attendant to this new epoch.
In Juniper, Si-Qin uses 3D printing technology to recreate the juniper tree that grew near Georgia O'Keeffe's residence in Ghost Ranch, New Mexico. In this work, viewers can see a riotous growth of various local fauna. The work also foregrounds the concept of New Peace: a new relationship between humans and nature that draws its formal appeal from the language of advertisements. Encountering this piece, viewers are reminded of creation myths that do not accord with science, in which a life is conceived from, nourished by, and born of innate matter.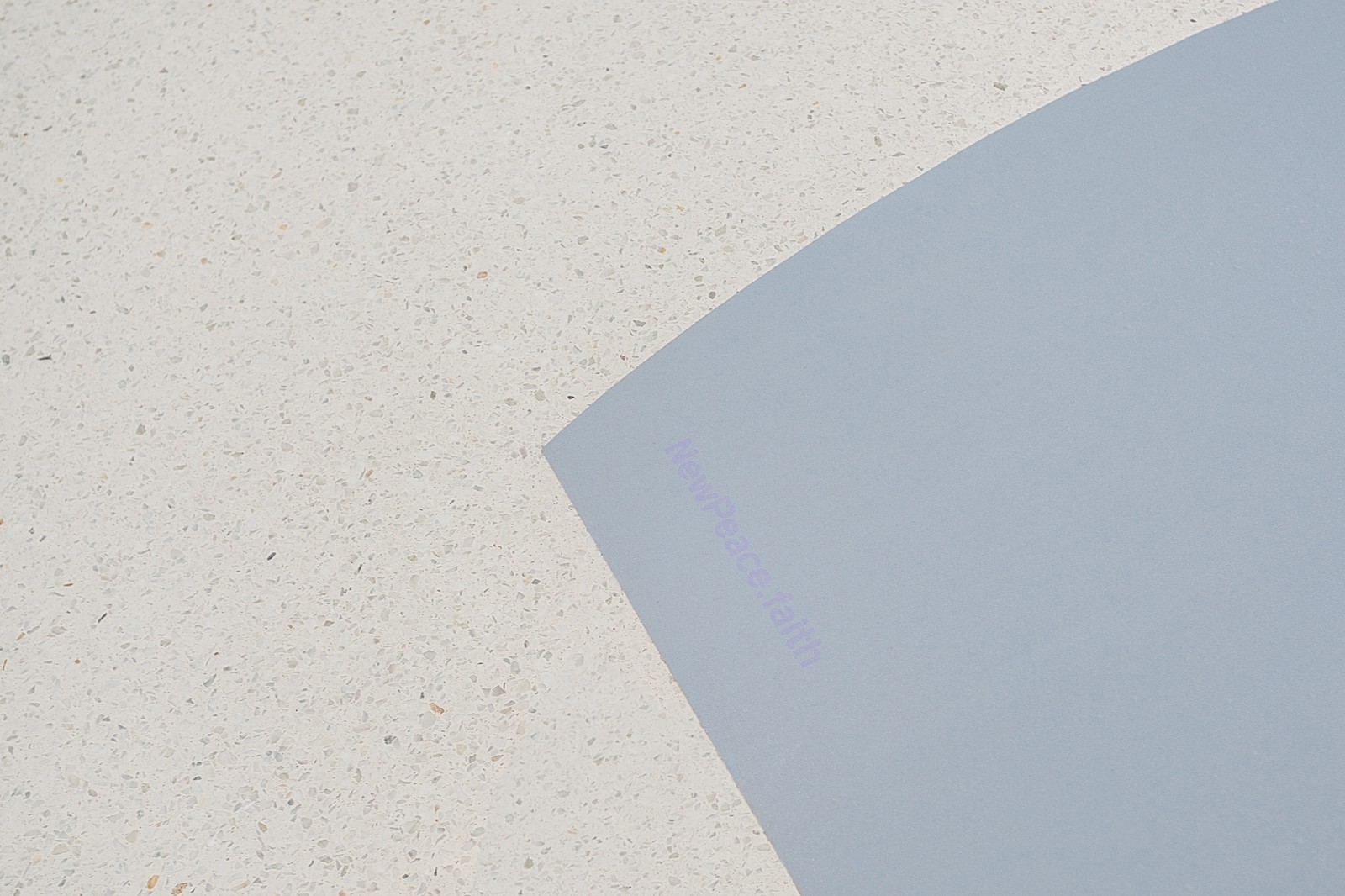 East, South, West, North
Magician Space, Beijing, 2018, curated by Yuan Fuca
Winds of the South, great serpent, thank you for your presence here. Winds of the West, Jaguar, thank you for the teachings you bring. Winds of the North, rhymes, rhythms, patterns, ancestors and descendants, thank you for being with us. Winds of the East, details and grand overview, thank you for the light to see by. Sweet Mother Earth, we inhale your breath, we drink your blood, we eat your flesh, we – your children give thanks. Father Sky, we stand in awe and reverence of your great mystery.
Magician Space is proud to present a second solo exhibition for artist Timur Si-Qin. In this show, New York-based German artist Timur Si-Qin continues his development of New Peace, a secular spirituality for the 21st century. Identifying the dualistic legacy of agricultural society and religions as maladaptive for our contemporary world, New Peace argues for a re-enchantment with matter as the necessary basis for confronting the material problems of our times. The title East, South, West, North is a reference to the sacred circle of the four directions, a primary spiritual concept in pre-agrarian/hunter gatherer religions of Central Asia and Americas. With this Si-Qin signals both a return to and necessary upgrade of our spiritual orientation and dimensionality. In the white paper for New Peace entitled A New Protocol, the artist points out that religions are themselves technologies of belief. Protocols for human behavior towards one another and their environments. However, today the spiritual vs material dualism inherent to agricultural society and religion has become a maladaptive constraint that prevents us from adequately conceptualizing our connection to, and impact on, the non-human world. The response is a new secular spirituality of matter and an elucidation of a non-human ethics of difference. Influenced by currents of New Materialist philosophy that challenge the anthropocentric privileging of the human subject since the beginning of his practice, Si-Qin seeks a spiritual and intellectual reconceptualization in which the material is recognized for its inherent dynamism and creative potentiality. A plane of immanence on which animals, plants and other organisms are recognized as being connected to and on equal ontological footing with the human, in many ways resembling the pre-agrarian cosmologies. In this "radical immanence", when the interconnected oneness of reality is recognized, the fractal patterning, movement, and infinite creativity of matter are elevated to the sacred. Within "infinite difference", the ceaseless variation and differentiation of matter attests to an irreducible and open ended universe. New Peace is Si-Qin's attempt to provide a potential path and personal resources for humanity to re-orient itself in an age of cataclysmic change.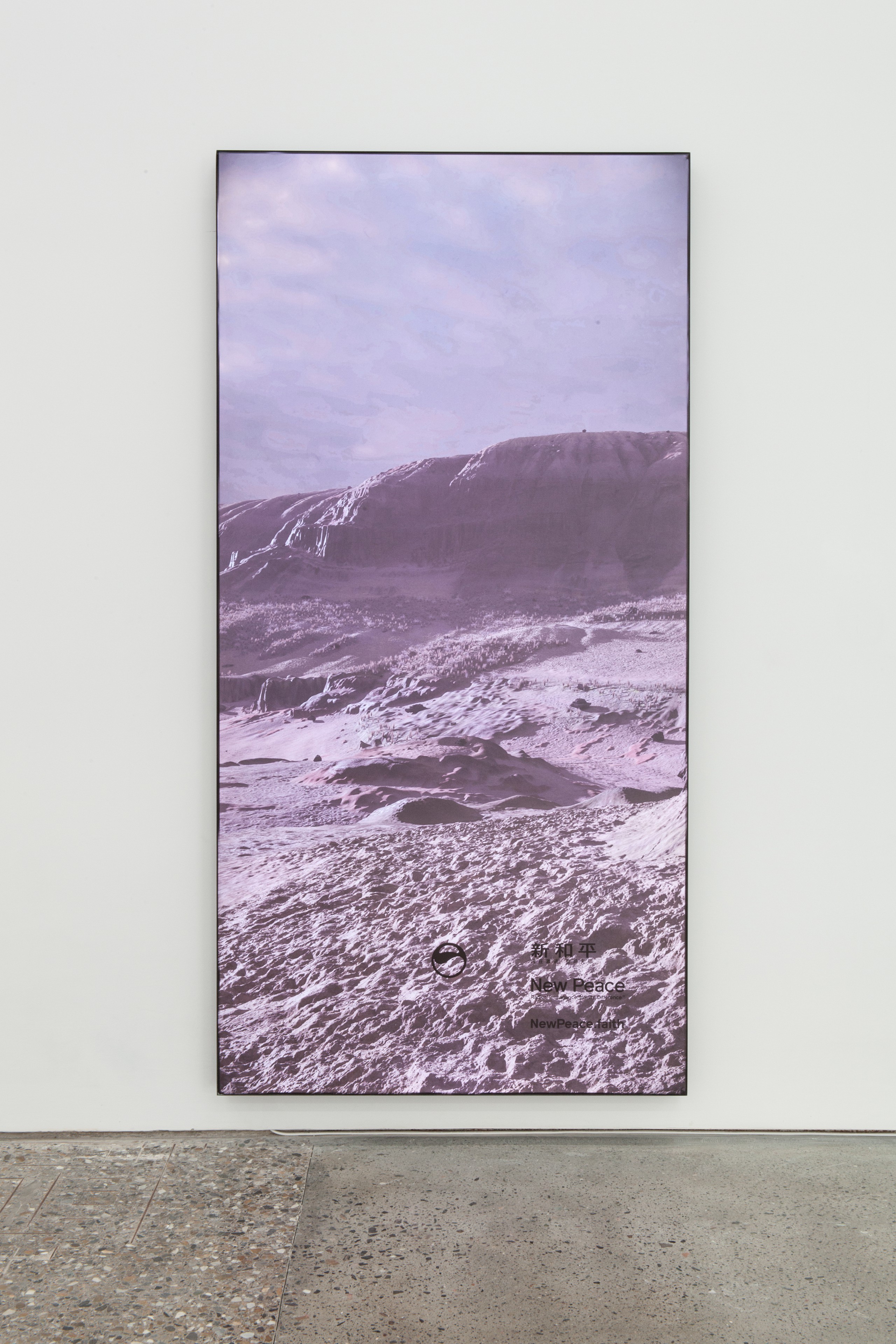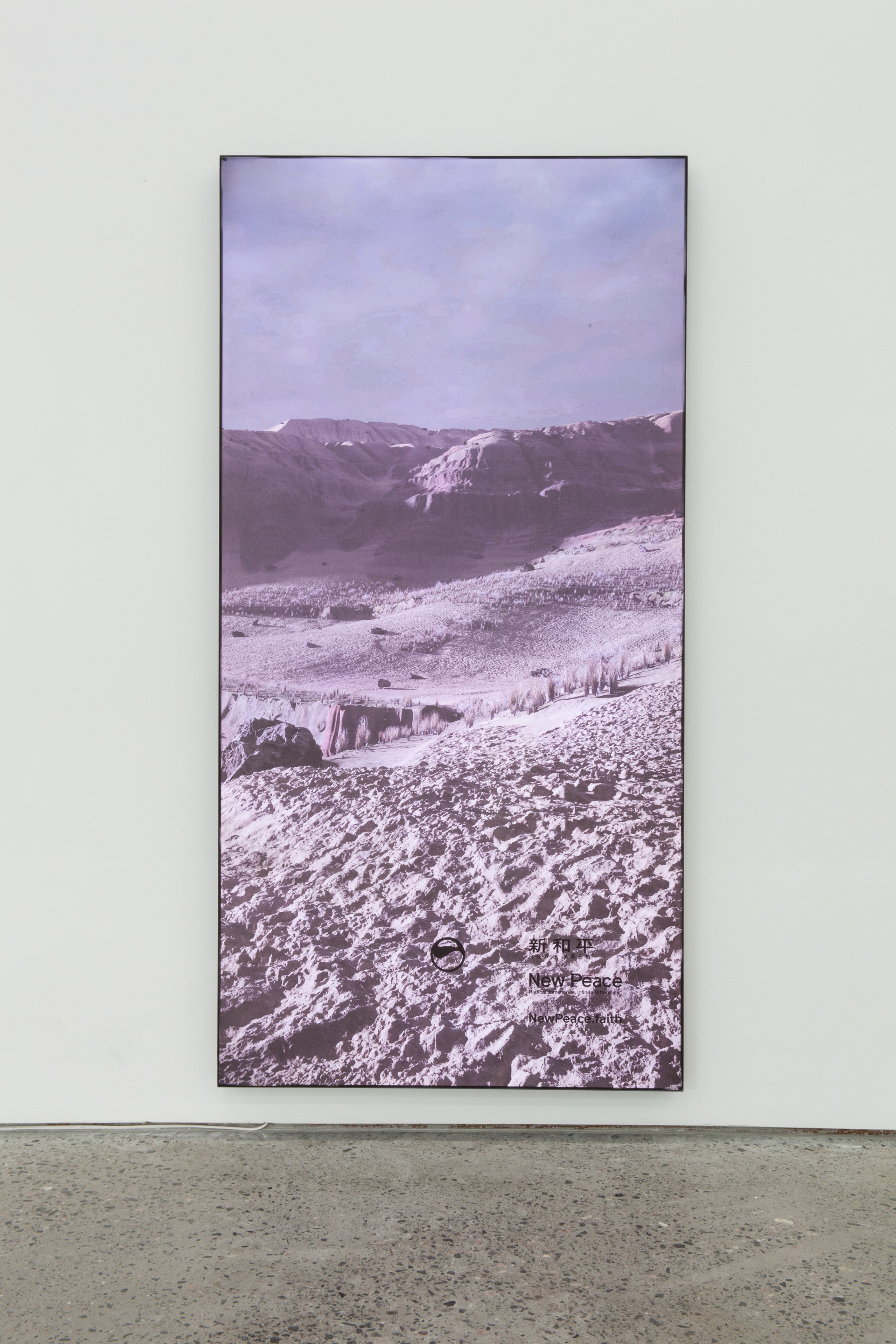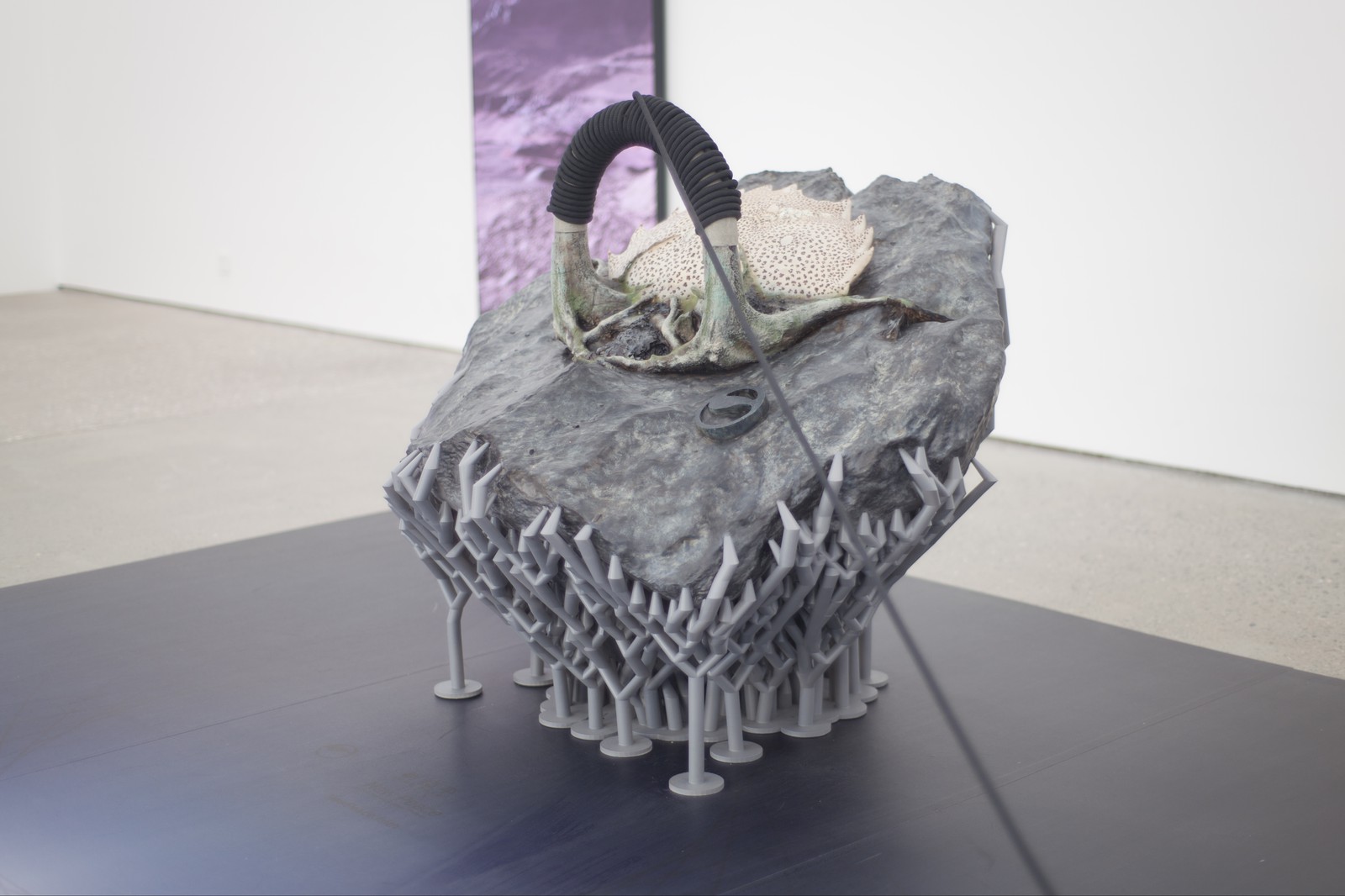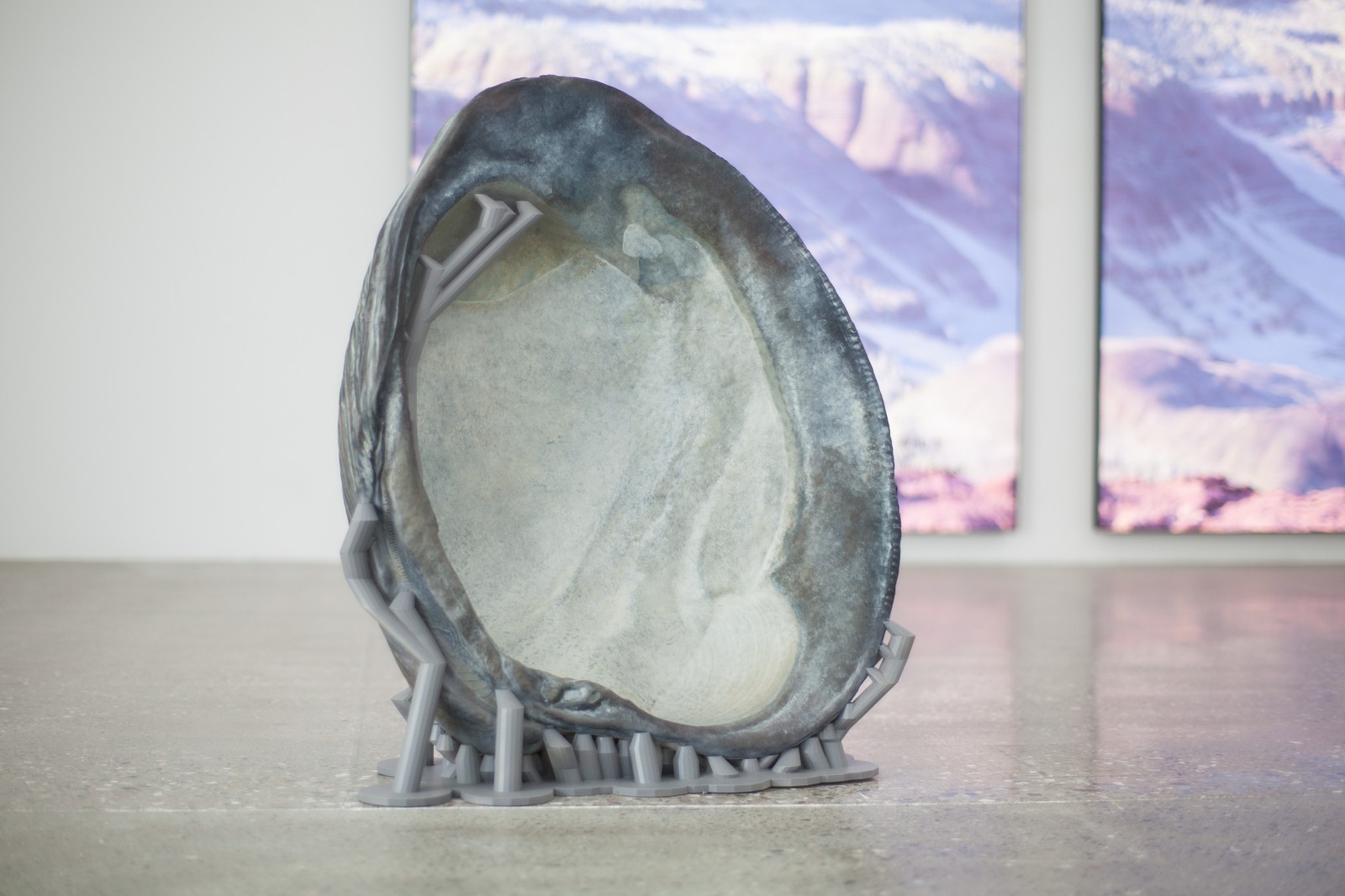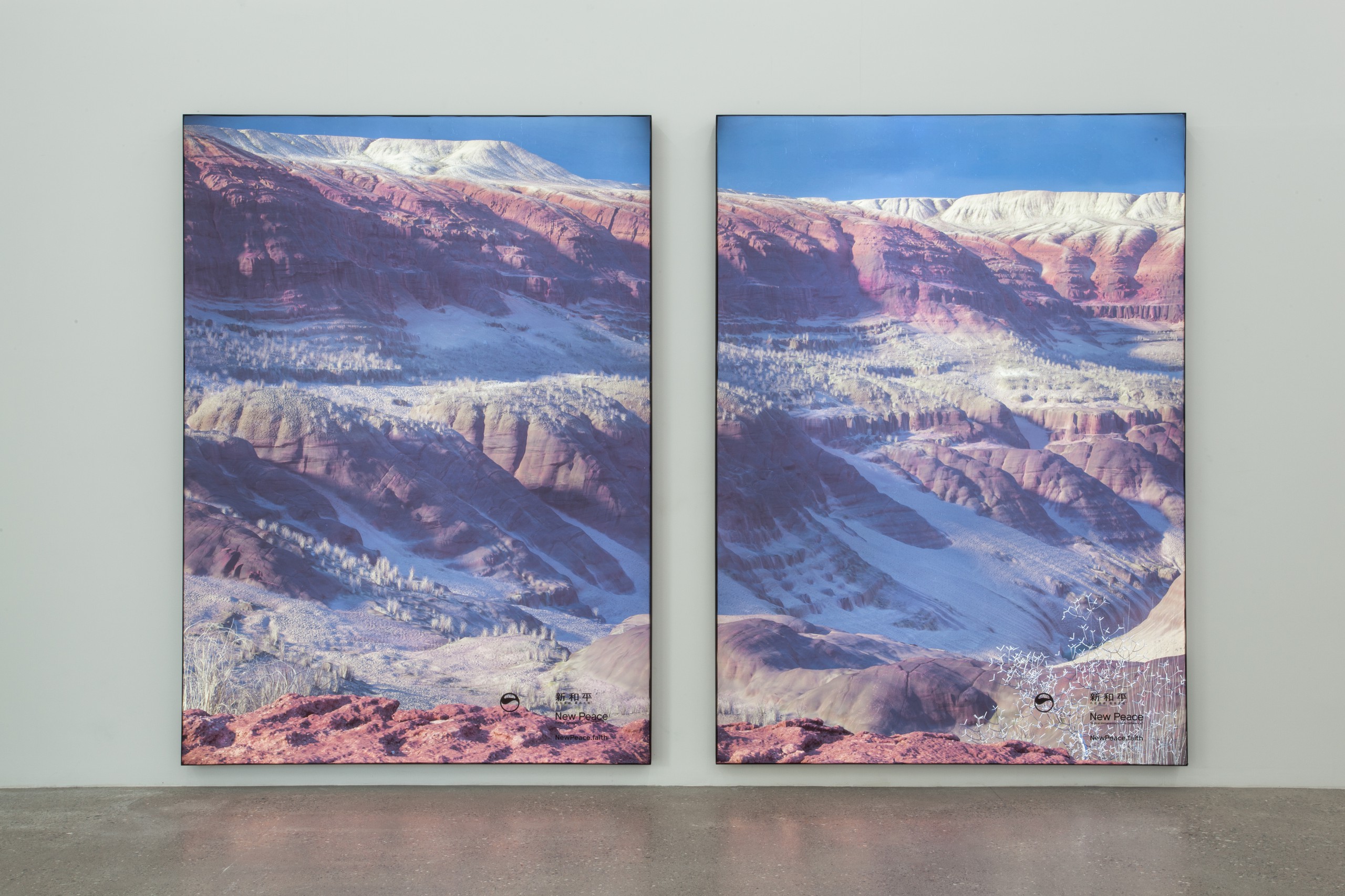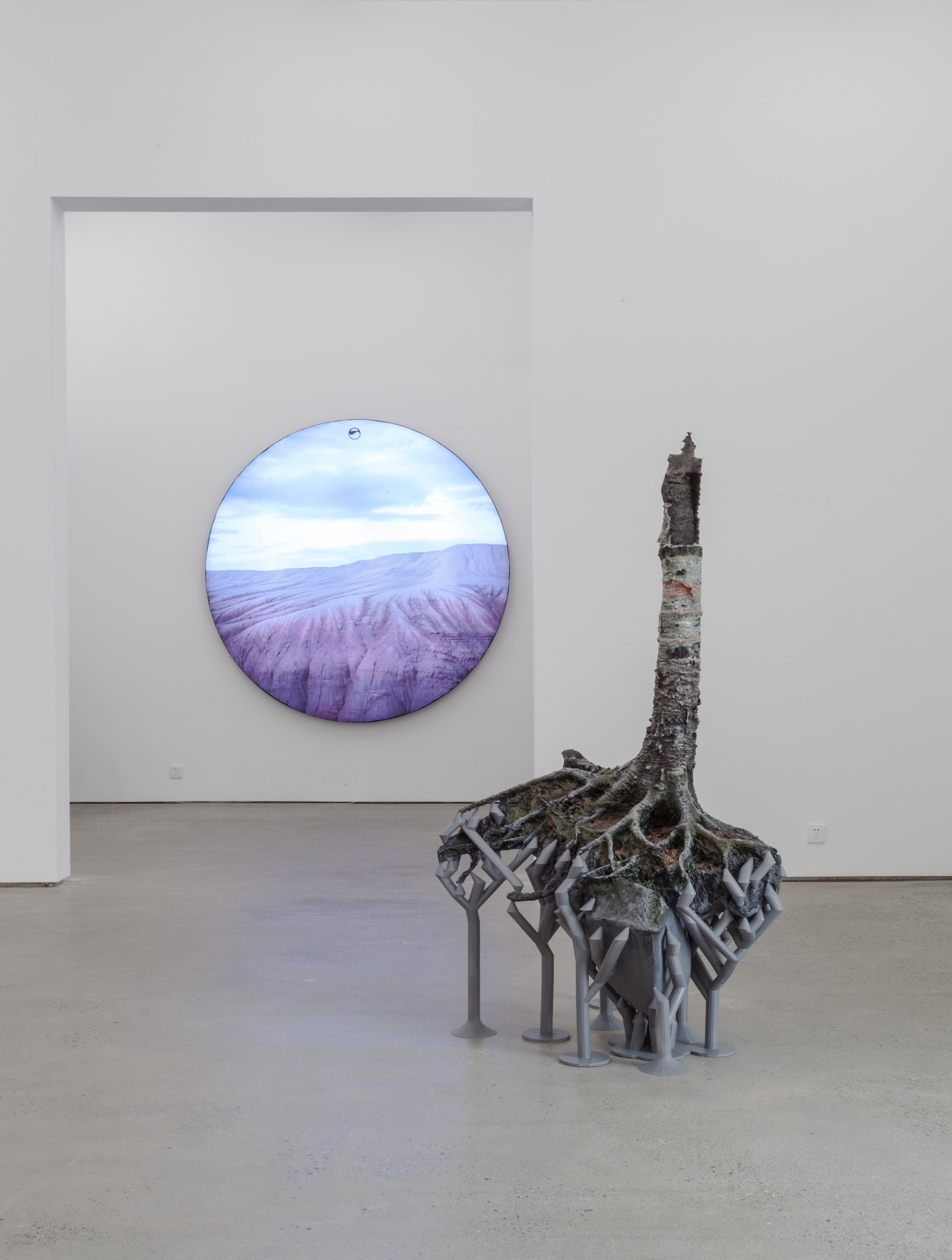 Forgiving Change
The High Line, New York, curated by Cecilia Alemani and Melanie Kress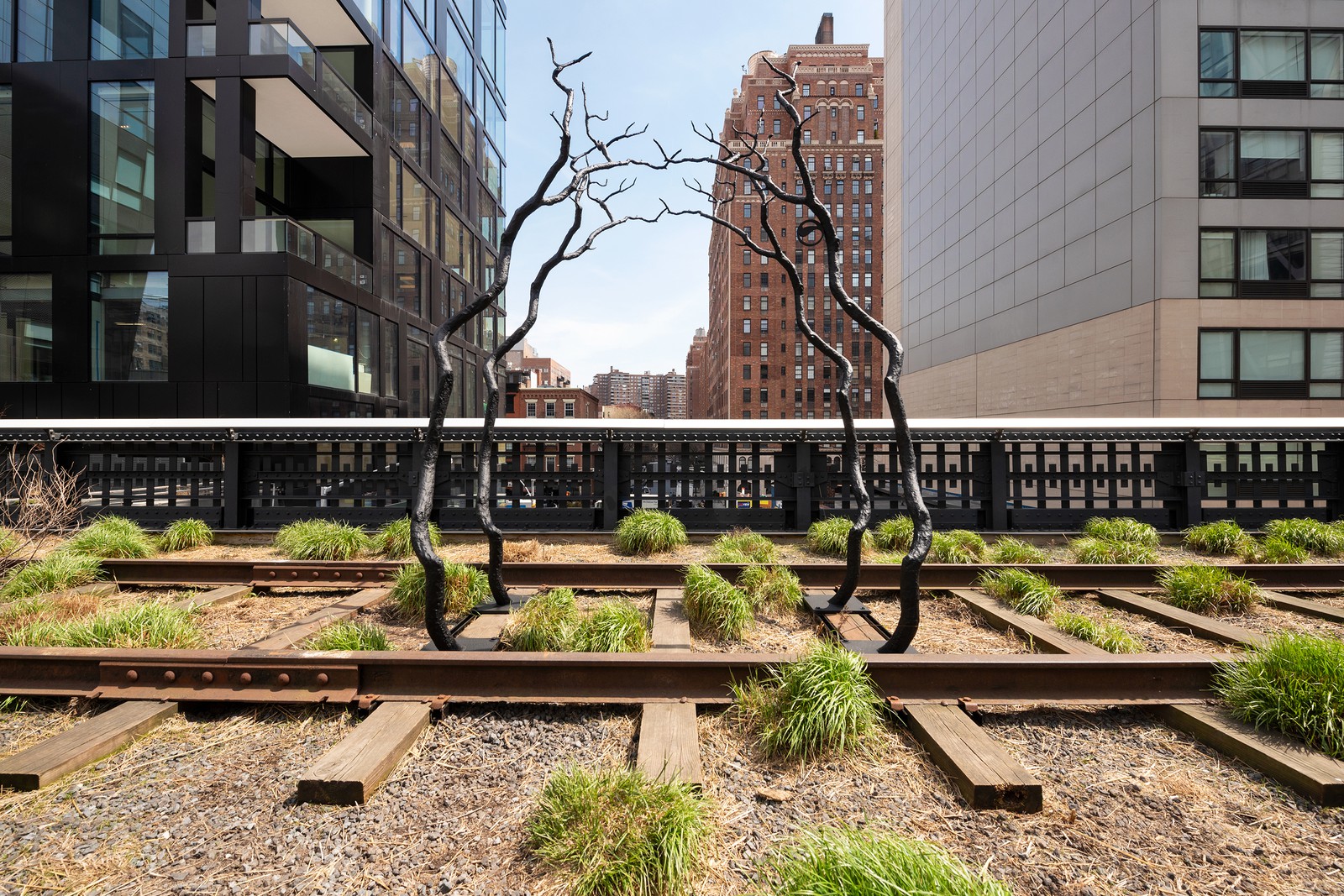 Forgiving Change
Art Basel Parcours 2022, curated by Samuel Leuenberger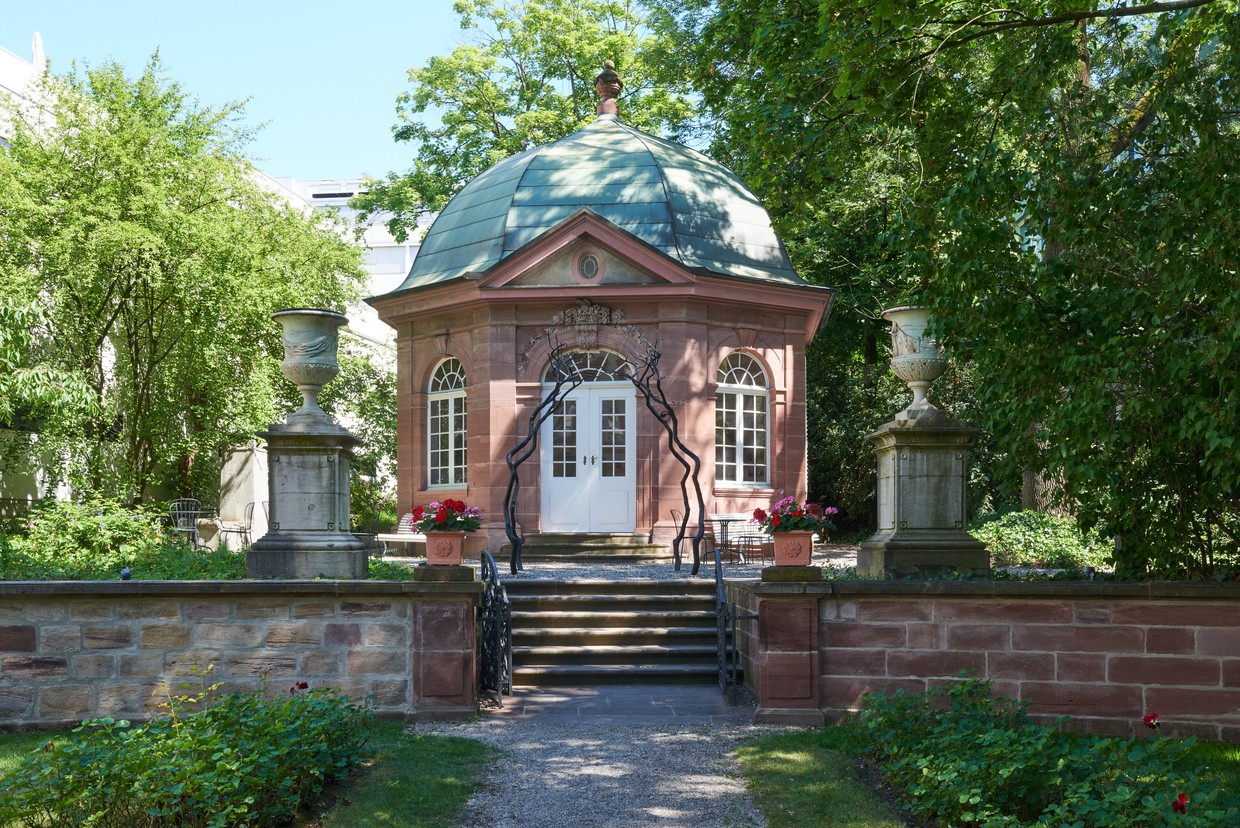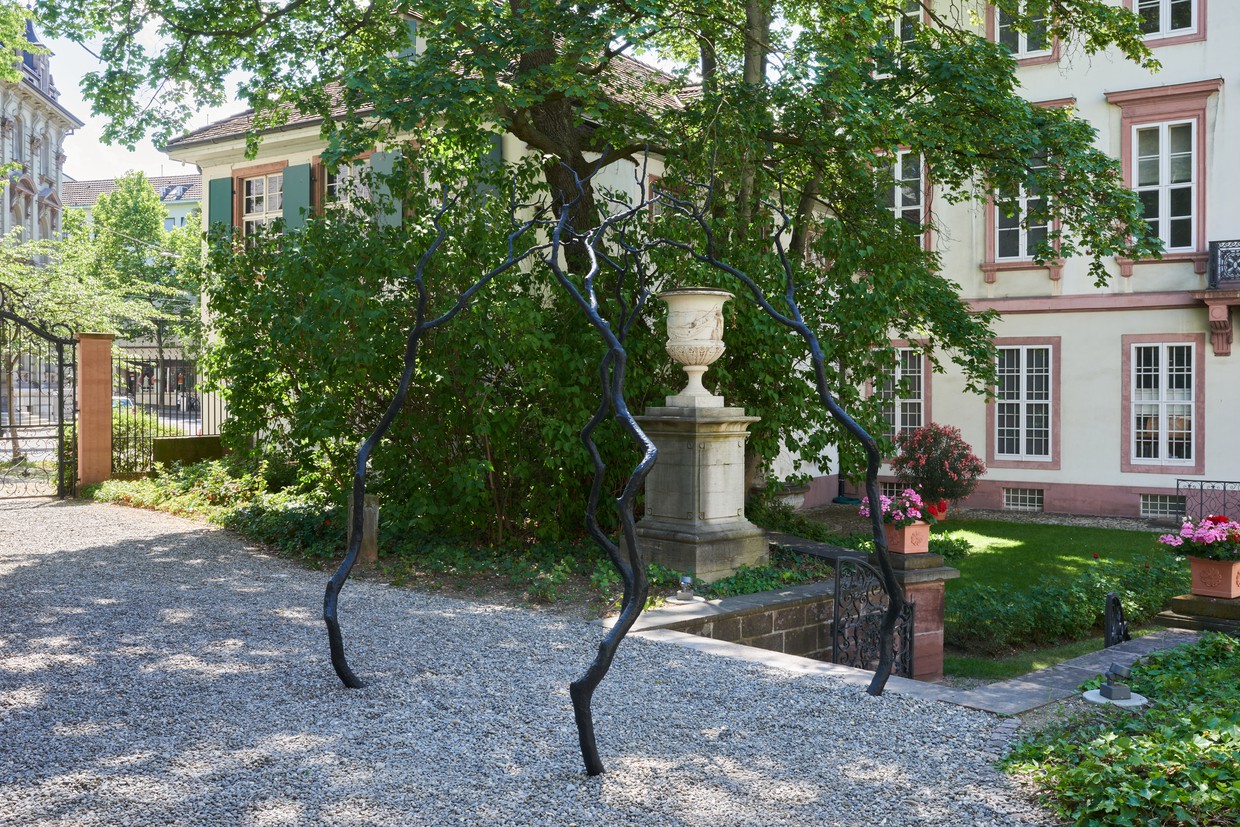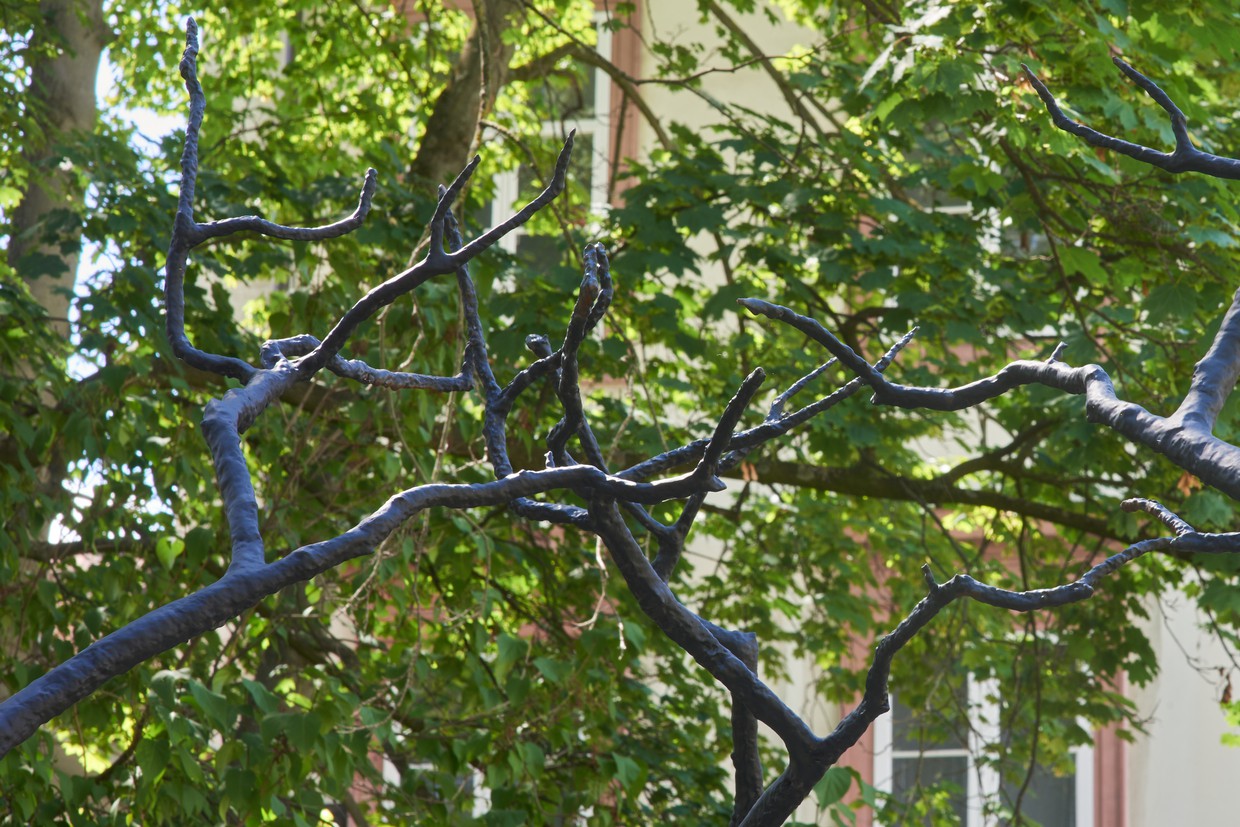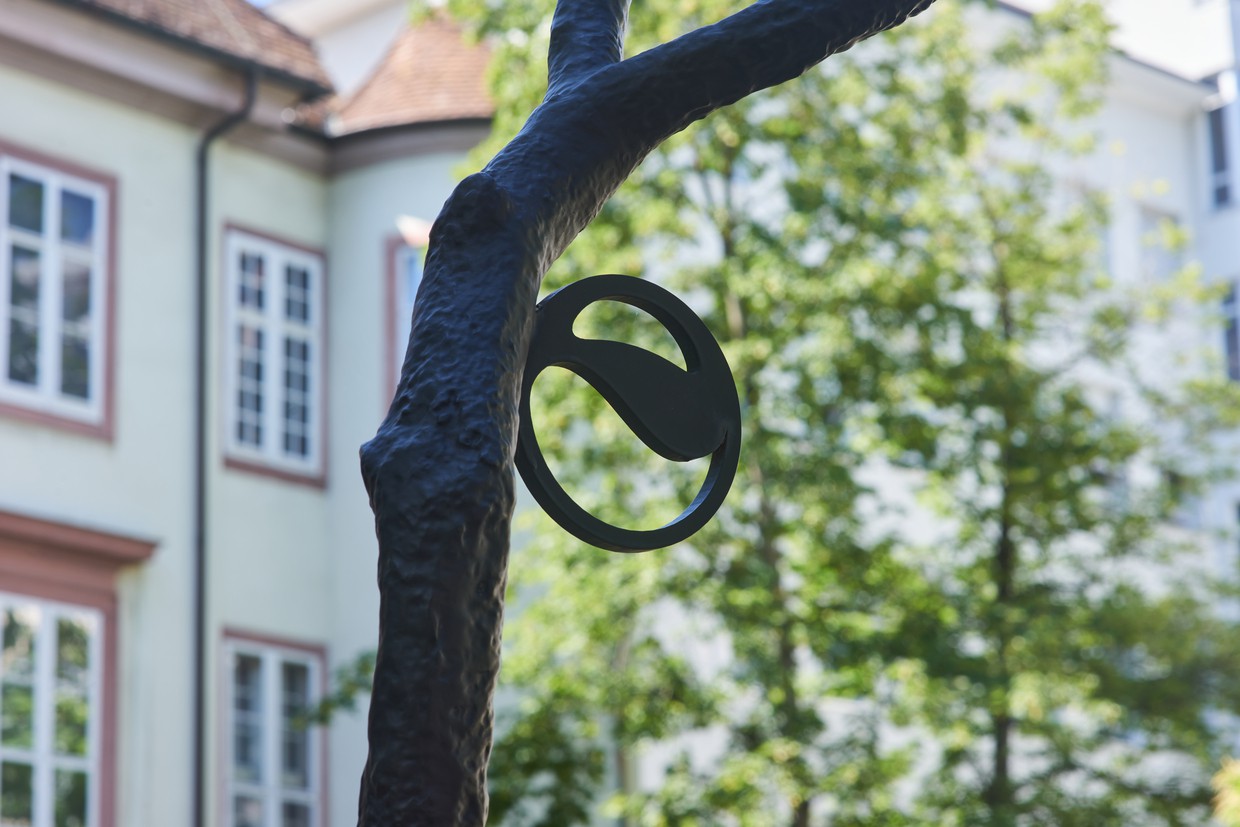 Forgiving Change
Kunstriennale Beaufort 2021, curated by Heidi Ballet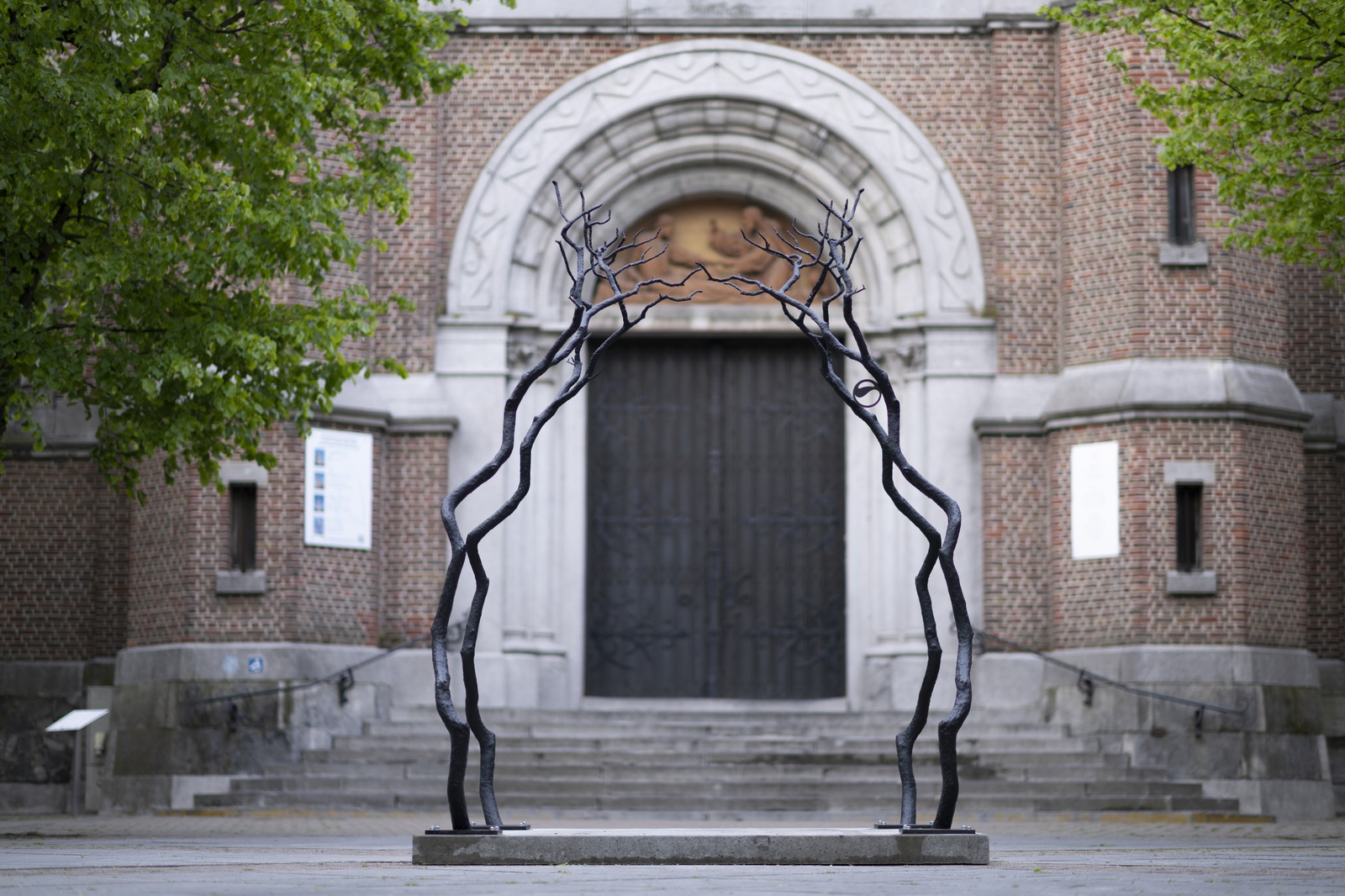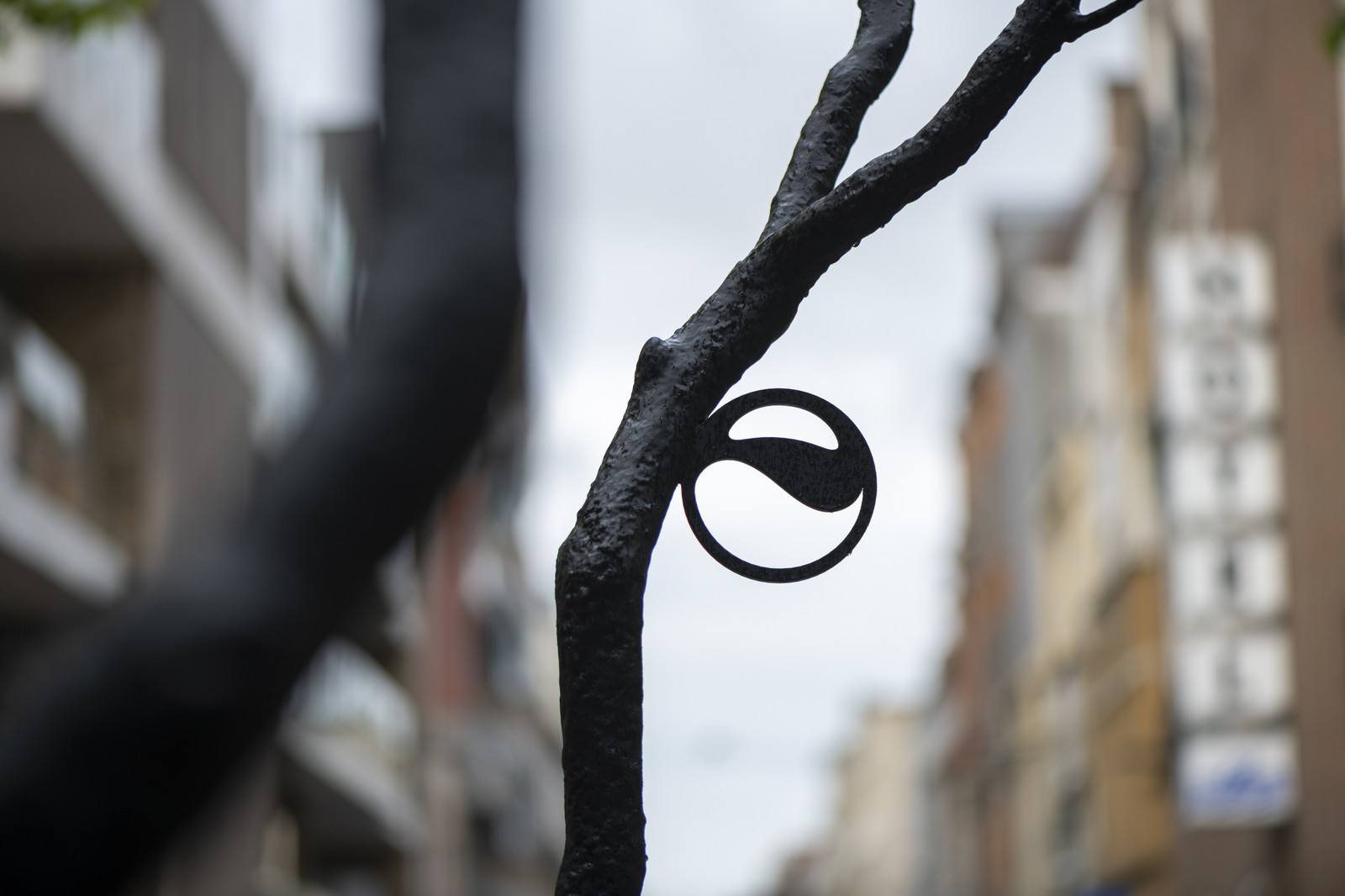 Anneleen van Kuyck
You initially created this piece for the High Line in New York, a park created on a former railroad. Art takes the place of industry there, you could say. In Blankenberge, your work stands in front of a church. Religion plays a key role in New Peace, your long-term project in which this work also fits. Is this specific location of the work meant as a symbolic statement, as an alternative to the Christian narrative, which is losing its following in the Belgian context?
Timur Si-Qin
The major religions, but especially Christianity in the West, had a monopoly on spirituality and religious emotions for a very long time. But now an evolutionary mismatch problem arises. Christianity grew organically in the context of agricultural societies and was later sedimented through canonization, but the scripture is not necessarily relevant anymore to the contemporary environment. Today we're faced with the global environmental crisis, and it has a lot to do with how we, in the West, view the planet in this dualist, agriculturalist frame of mind. We think about it in terms of extracting as many resources out of a given square meter of land as possible. I think we should recognize religions as meaning systems that guide adaptive behavior, specifically at the scale of the group, for current, local conditions. Today, facing the wholesale erasure of the environment, we need to turn to alternative frameworks for spirituality to reengineer our relationship with the planet.
AK
How would a framework adapted to the climate crisis be fundamentally different from the way of thinking that Christianity installed?
TS
I think the Christian agricultural tradition became spiritually detached from the living aspect of nature. Nature was regarded as inherently sinful and deceptive. Later this gave rise to the metaphor of nature as a machine and the Cartesian dualism between mind and body. It set up a contemporary culture that approaches organisms only in terms of value and doesn't recognize them as actual living and related creatures.
The role of Christianity became an acute political issue, as in the United States, Eastern Europe, and Latin America, where right-wing Christian nationalism holds enormous power and presents the largest resistance to green politics. But it is also a factor in a more cultural or historical sense, having shaped the basic modes of perception and values of the Western European consciousness, including both the right as well as the left.
Instead, we need a culture that recognizes and values the innate, priceless, and living quality of the planet. Many such cultures, that hold nature at the center of their value system, exist. The Western anti-nature trait is in fact an aberrant minority among world cultures in this regard.
Today we need to popularize a spirituality of symbiosis that instills the values of nature and organisms into our culture. I suspect only a cultural movement with this type of spiritual dimension, would be able to catalyze such a deep shift in behavior, as it has in the past.
AK
You yourself grew up with many cultural influences.
TS
Yes, I was born in Berlin to a German mother and an ethnic Mongolian Chinese father. When I was eight, my mom married a Native American man from the San Carlos Apache tribe. We moved to Arizona and I grew up there. During that time, my family traveled between different Indigenous communities in the Southwest and participated in Pow Wow ceremonies [social gatherings usually of many different tribes]. My religious upbringing was in a sense Lakota, one of the robustly surviving, pan-native American traditions after the civil rights movement. Growing up in that culture is a unique experience because it is also somehow invisible against the backdrop of the larger American society.
AK
How exactly did that Indigenous background, those ceremonies shape your idea of spirituality?
TS
At some point I became very interested in New Materialism, which is a strain of philosophy that emerged in the nineties, with philosophers such as Manuel de Landa, Elizabeth Grosz or Donna Haraway. New Materialism largely shifts the anthropocentric focus and advocates a flat ontology that recognizes the equality of all organisms, human and non-human. In a way it represents Western thought breaking through to an understanding of the world that was always already understood by many Indigenous cultures.
A sweat lodge ceremony for example is a little hut in which one puts hot rocks and pour water over it to produce steam. It's like a sauna inside, but of course it's a ritual practice. There is singing and drumming, and a part of the ceremony involves praying to the rocks that you bring in. One isn't praying to a rock deity, in the sense that the rock functions as a symbol of a god or something, but to the rock itself, to those specific rocks that you recognize as your relatives. That's the fundamental philosophical concept of the Lakota religion, which is expressed in 'Mitakuye Oyasin'. It means 'all my relations' which expresses the very core of the Lakota religion: that we are all related. We're related to the animals, the plants, the rocks, the wind. That's an advanced philosophical concept that we're now approaching. In the West, this idea of a fundamental relation to other beings became partly available with the discovery of evolution by Darwin, but it is only now through contemporary discourses like New Materialism that we have the conceptual tools to integrate this view of reality.
Forgiving Change 2
Public Art Project of Gallery Weekend Beijing, 798 Art Zone, Beijing, 2018
The cultural roots of Timur Si-Qin stretch far and wide. The artist is of German and Mongolian-Chinese descent and grew up between Berlin, Beijing and an Indigenous American community in the United States. Each root has provided him with a different perspective on the relationship between man and nature and how this manifests itself in divergent forms of spirituality.
In the West, the European relationship to nature is one of extraction, where land and living organisms are at the service of human beings. We see this model confirmed in European religions, which found their origin in an agricultural culture. In the spirituality of indigenous cultures, by contrast, the relationship to nature is defined by reciprocity and symbiosis. Here the human being is seen as only a part of a large ecosystem, and not as a master over nature.
Now we are confronted with Earth's impending unlivability for man; like indigenous cultures, we need a spirituality of symbiosis in order to focus on the survival of our culture.
In the aftermath of the Tubbs megafire of 2017 in northern California, Si-Qin made 3D scans of several burned trees in the landscape. The results of this process were used as the starting point for this sculpture, first displayed at The High Line in New York in 2018. On a branch he fastened the New Peace logo, a recurrent element in his work. It refers to Timur Si-Qin's long-running project New Peace, which proposes a new kind of spirituality for the age of climate change, and transcends the dualism between nature and human culture.
Campaign for A New Protocol, Part I
Société, Berlin, 2018
Life on this planet stands at the cusp of a great threshold. As we awaken to the full scale of space and time, we awaken also to our own capacities for altering our planet and ourselves. Now more than ever, do humans need to construct new myths and express a new sense of spirituality.
Religions have always been technologies of belief, protocols for organizing environmental and social interactions. But today's faiths, adapted for ancient agrarian conditions, no longer serve us, and in fact imperil our survival.
New Peace rejects the old dualisms of nature vs. culture and spirit vs. matter, instead fostering a non-dual conception of reality. It is a new protocol to understanding one's place in the vastness of time and space and a toolkit for building new myths and meanings for a world undergoing profound changes. A radically inclusive, secular faith of the real. A mysticism for the anthropocene that fosters a spiritual relationship to matter itself. No divine beings, transcendent realms or eternal essences necessary: only the true infinite creativity of pattern, matter, and energy.
In Campaign for A New Protocol Part I, Si-Qin launches a drive to communicate a new sense of non-dualistic and secular spirituality adapted for the future. Against the backdrop of intricately rendered digital landscapes, New Peace proverbs present a spiritual framework for the world of the contemporary and the future. Here, the natural and the synthetic coalesce in a space beyond the spirit/matter dualities New Peace seeks to shed.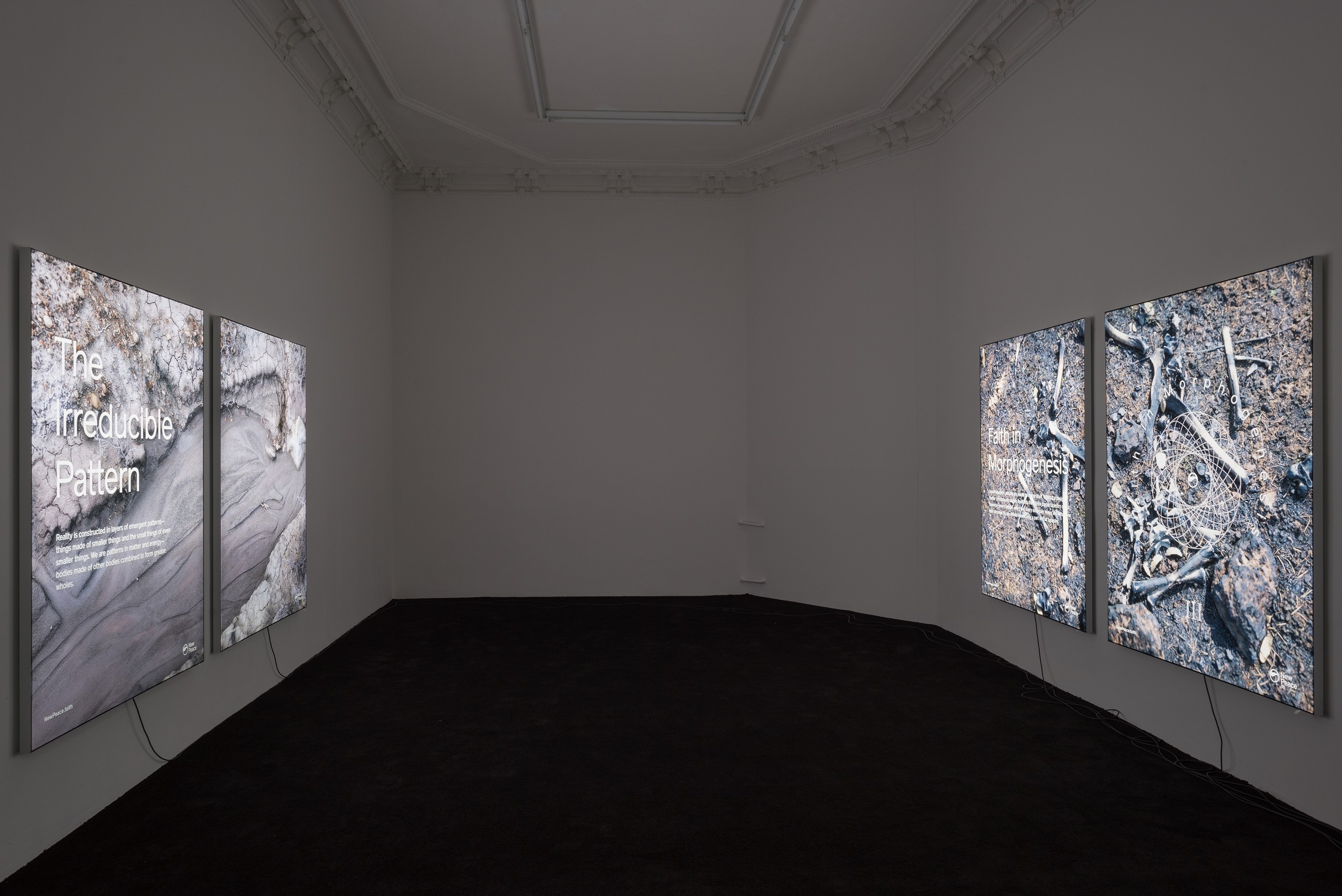 Campaign for a New Protocol, Part II
Art Basel Hong Kong 2018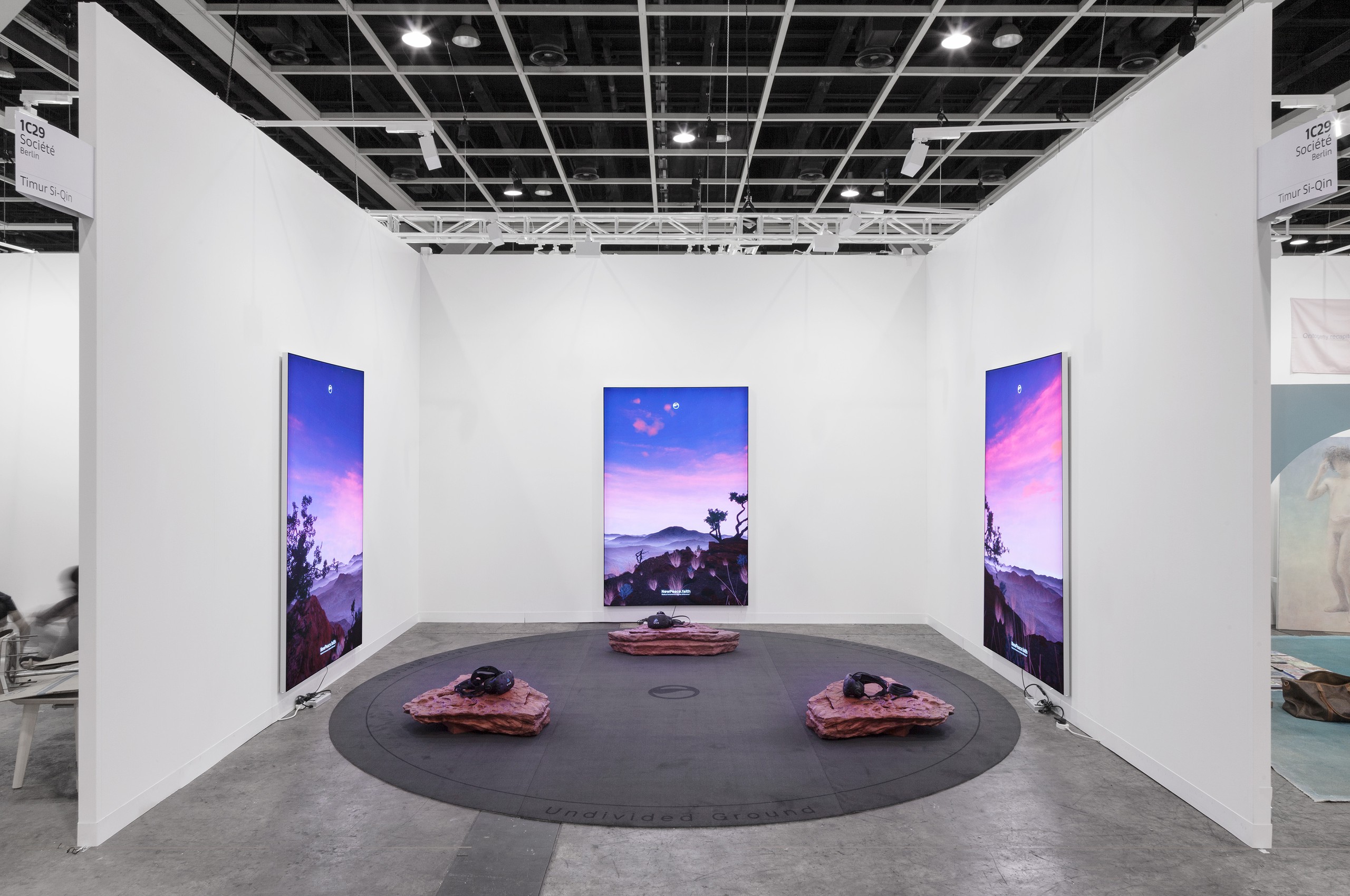 Campaign for a New Protocol, Part II was launched during Art Basel Hong Kong at Société's booth. Si-Qin delves deeper into the substance of New Peace with Introduction to a New Protocol VR - a virtual reality experience and installation that immerses viewers in digitally rendered landscapes and in the new spirituality's basic rhetoric.
Accompanying the project at Art Basel Hong Kong, Si-Qin launched a new book published in collaboration with Kaleidoscope Media. A New Protocol outlines the core tenets of New Peace as well as making a case for the urgency of it's message. Si-Qin elaborates on the conceptual foundations of New Peace in the evolution of religion, science, and philosophy as well as its practical applicability to life today. A collection of his intricately rendered landscapes serve as visual guides for the artist's presentation of what makes New Peace a spiritual framework for the world of the contemporary and the future.
Is it true there is no such thing as truth?
Sprengel Museum Hannover, 2017
Informed by a consistent examination of currents in art such as New Realism, Timur Si-Qin works on an emancipation of the image from subject-related interpretations, independent of linguistic or cultural codes. Is it true there no such thing as truth? (2017) forms part of the artist's constant critical work with brand logos, where he develops a word-image logo consisting of a yin-yang symbol and the word peace. The consolidation and combination of these two different signifiers prevents a causal interpretation and leads ad absurdum the logocentric relationship between signifier and the signified. The four freestanding digital steles depict virtual landscapes, evoking a future New Materialism religion. The virtual landscape acts as an evolutionary-biological attractor that aims to create a state of well-being. The arrangement of the installation triggers associations with archaic-ritual sites.
New Peace Prayer Chamber
Art Basel Statements 2016, curated by Gianni Jetzer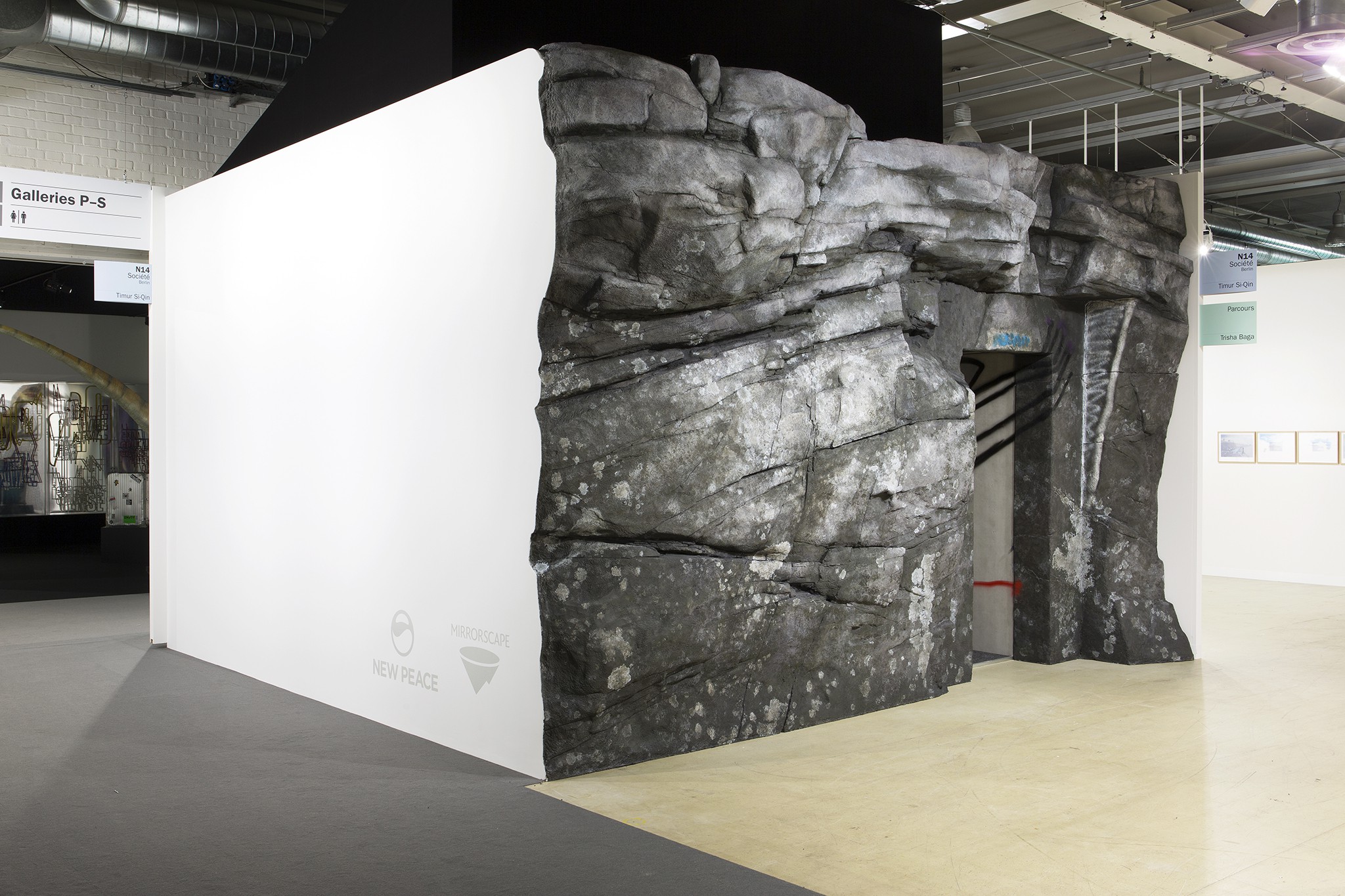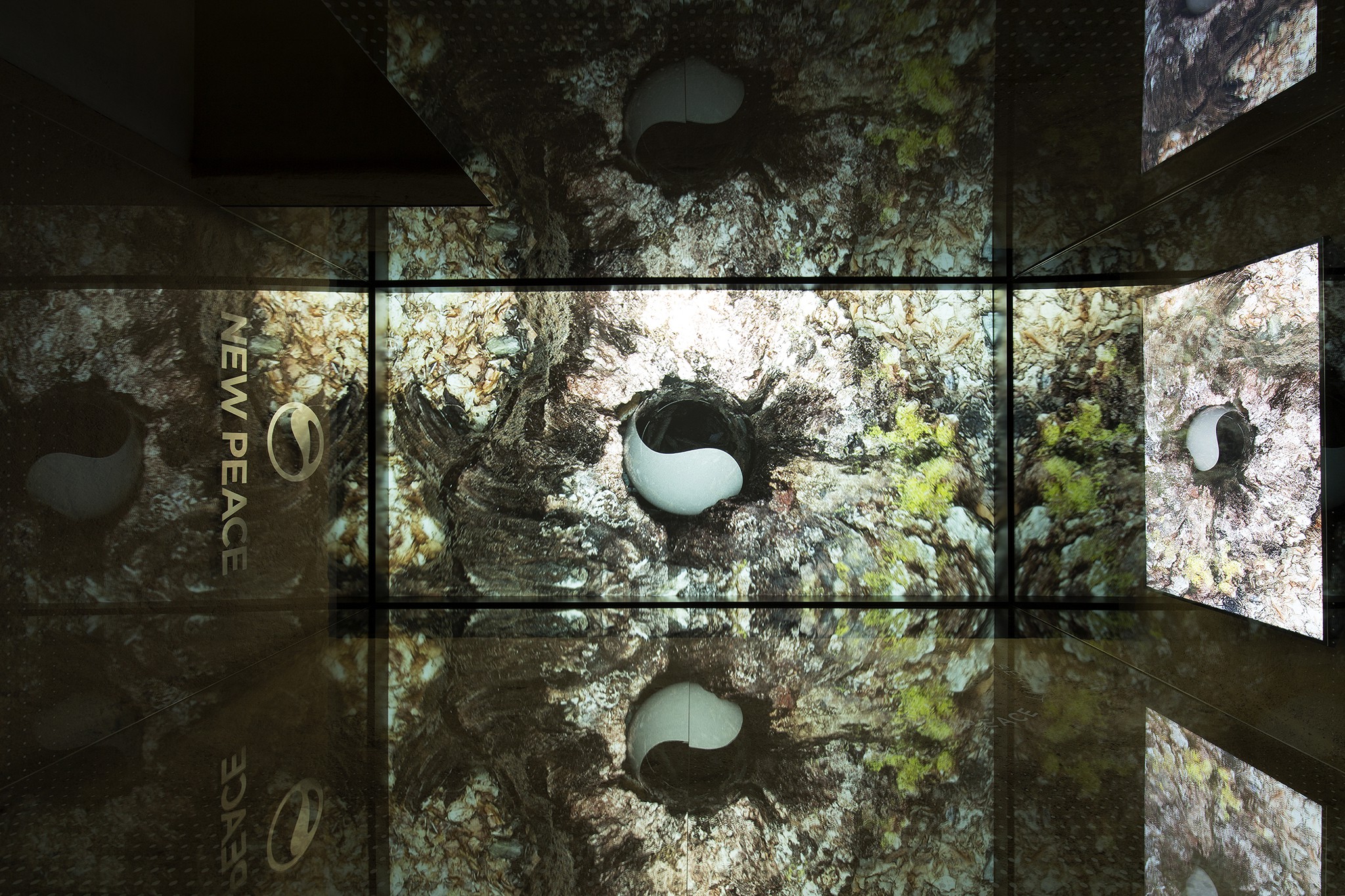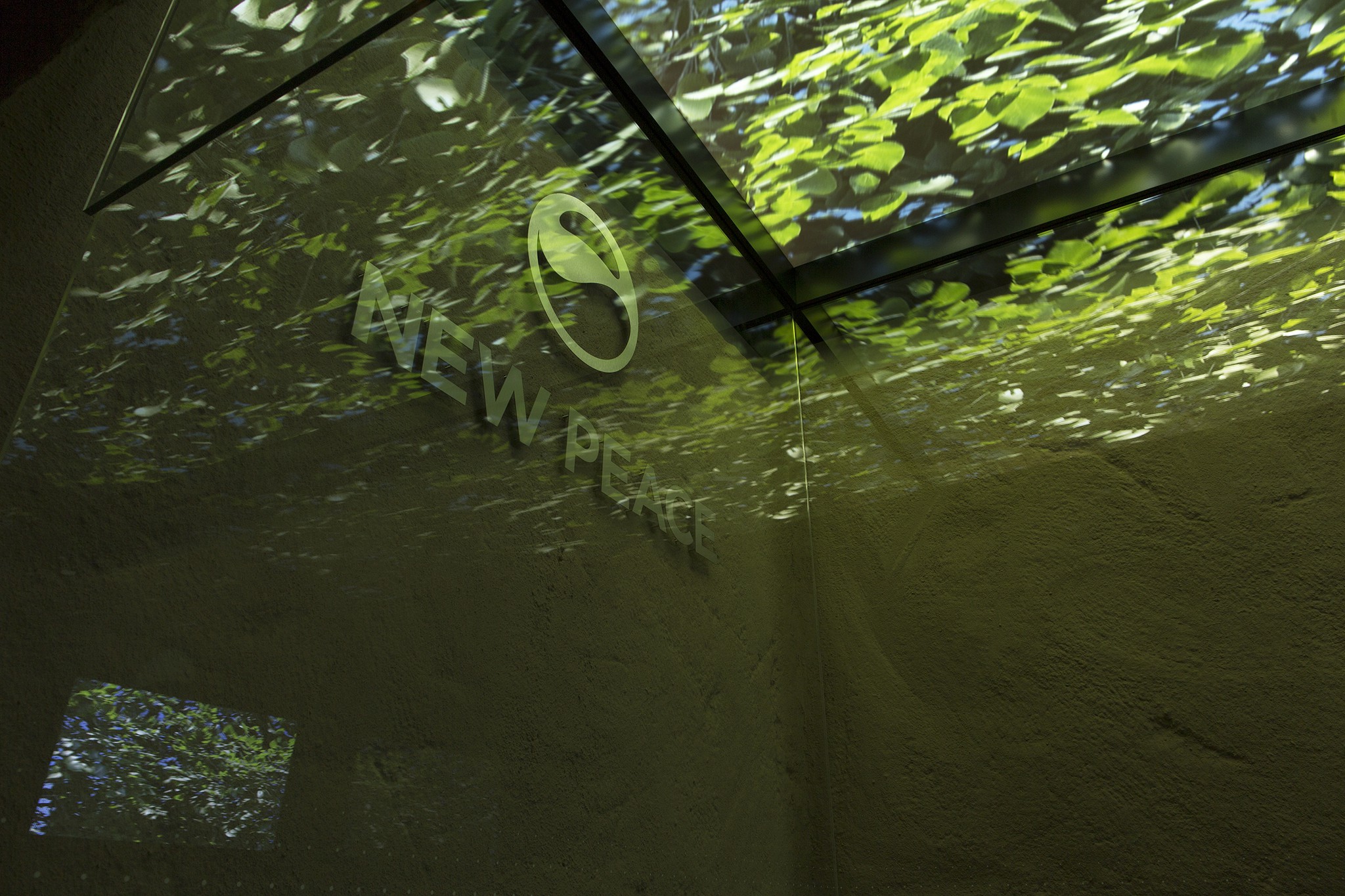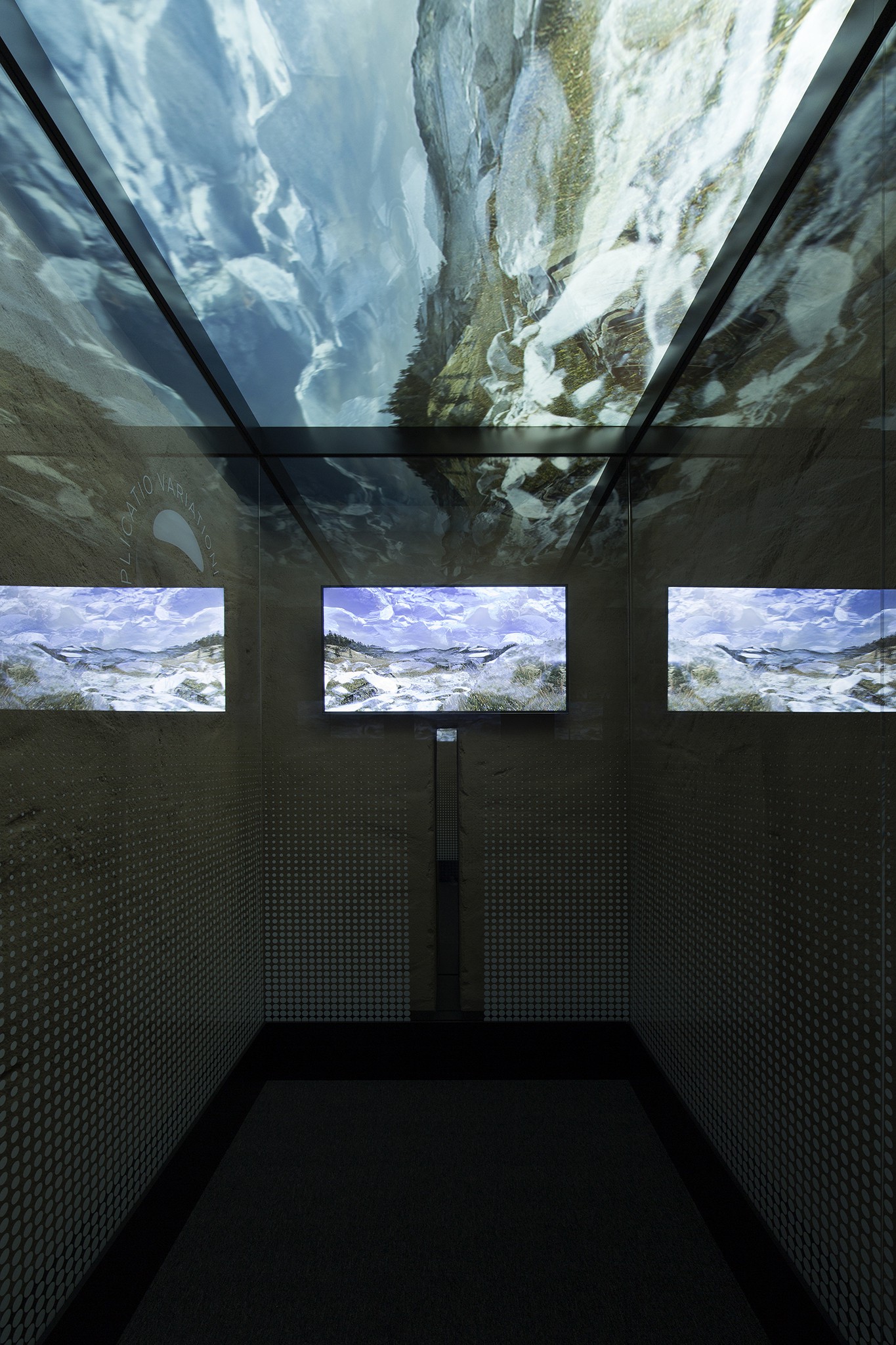 Mainstream
Société, Berlin, 2011
Artforum described Si-Qin's 2011 exhibition Mainstream, his first at Société and the first time the artist exhibited his Transformers work: "The artist lined the gallery's two rooms with thirty-two computer printout copies of posters for the movie Transformers (2007) and overlaid each with plant leaves of varying shapes, sizes, and species. [...] Nature and culture, here framed in stark contrast to one another, nevertheless exist on the same plane. In fact, the logic of mechanical reproduction and the aesthetic of mass culture constitute our contemporary natural order. Si-Qin's art, in the free rein that it takes on culture, simultaneously embodies the act of consumption and the ethos and forms of digital media. Contemporary society's dissociation from a state of nature can be seen in the screen-tested aesthetic regime of Transformers, where lines deriving from American car production designate Optimus Prime as the kindred, benevolent protector, and organic design elements identify Megatron as an evil, foreign body threatening destruction."
In the run-up to that exhibition, Si-Qin photographed each of the 32 collages, some more than once, and some at different stages in their development. This display consists of 22 of those photographs mounted in chrome frames; the collages' frames are aluminum. Over the course of the 2011 exhibition, the plant matter in the collages deteriorated – wilted, browned, and began to rot, quickly, as organic matter tends to do, while the exhibition was still up. The collages incorporated the irreversible life cycle of consumption and planned obsolescence into their very nature. The second incarnation captures instances in the course of the collages' deterioration but also preserves the moment in which some of them were new, pristine capturing the fantasy of newness through photography's arm's-length remove from reality.
In the years since 2011, Si-Qin has made work that exhibits an explicit relationship to Taoism, mainly through his incorporation of the Taiji into the PEACE visual identity with which he has branded many of his recent works. Si-Qin interprets the first line of the Tao – "The Tao is not the eternal Tao." – as meaning that nothing stays the same. No solution is ever an eternal solution. He sees he Western tradition of criticality as a con ation of truth and beauty with moral righteousness. From an Eastern perspective, right and wrong are more interconnected, mutually manifest, and situated beyond the reach of human notions of right and wrong. The Transformers works don't reference this tradition explicitly; the perspective is still nascent, emerging, in the work.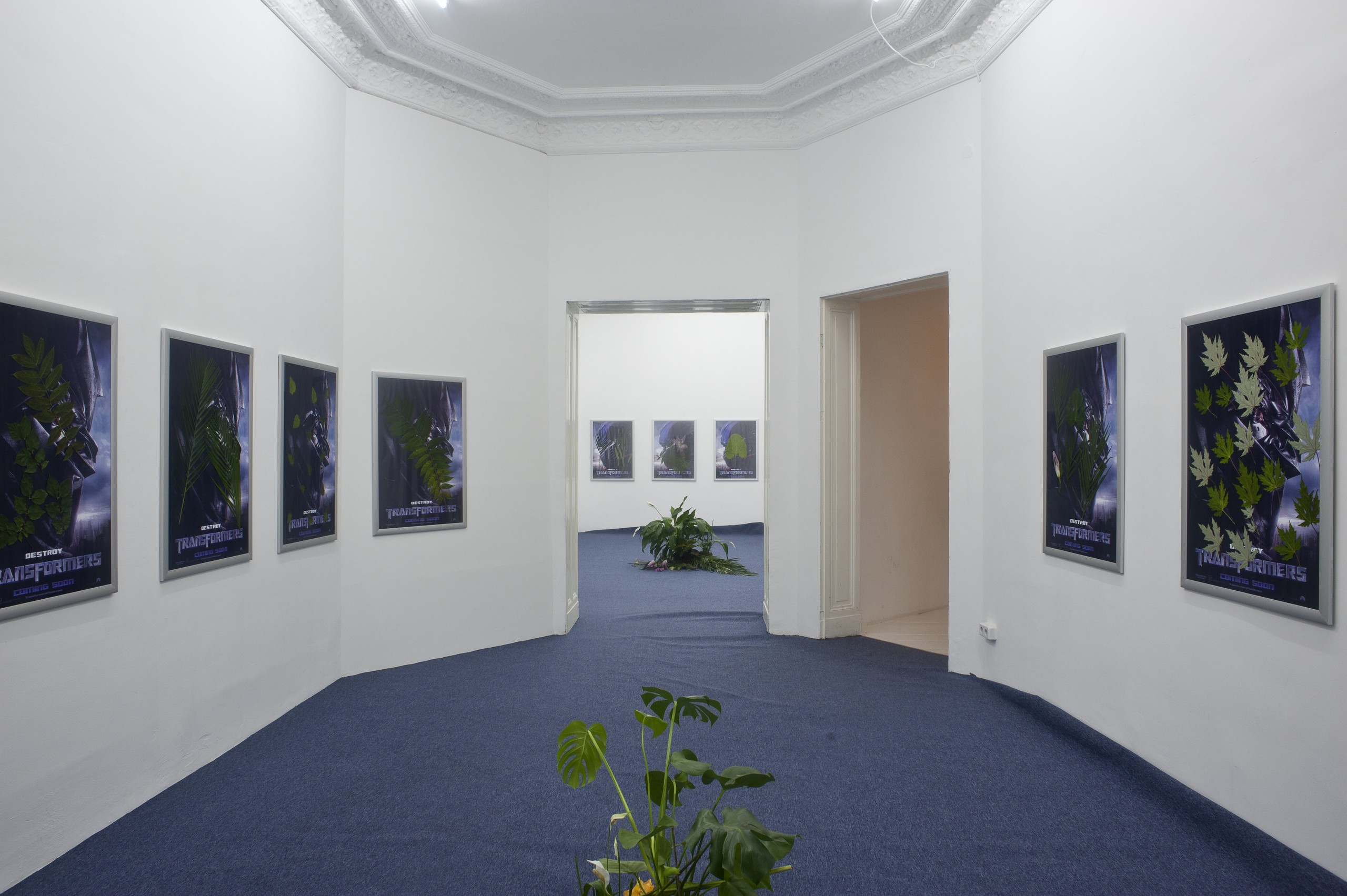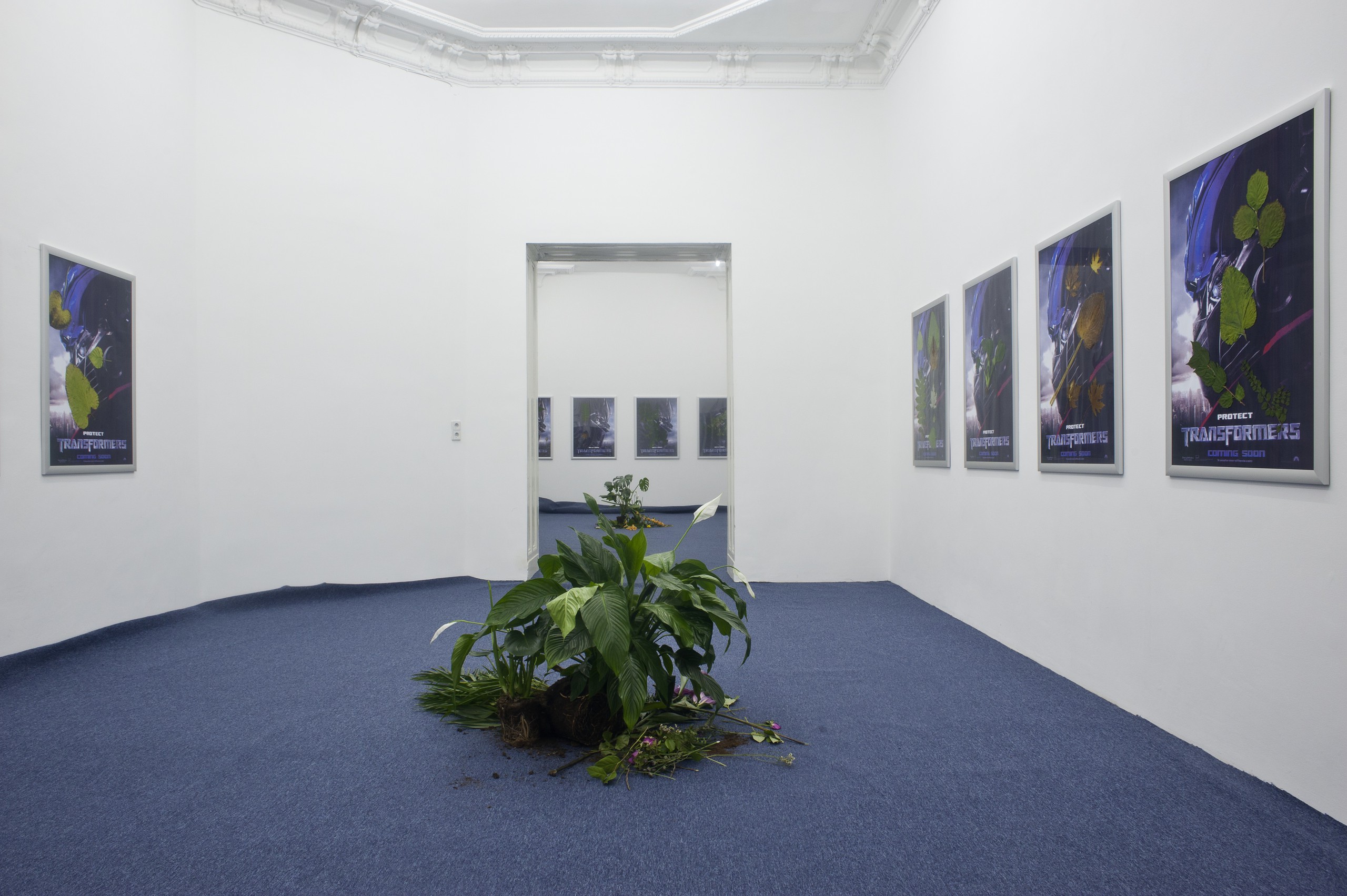 Living Content
I know that you both have interesting backgrounds, can you tell me a bit about how you ended up becoming artists.
Katja Novitskova
I basically wanted to study graphic design in Estonia after high school and I wasn't accepted in the graphic design department at the main art school because there were very few free spots. So I went to study Semiotics instead, because it was fascinating, free and I got accepted together with my best friend. I did that for 3 years but I knew I couldn't become an academic, and a few years later I ended up studying graphic design for my Master's in Amsterdam, in the Sandberg Institute. I chose graphic design because I was always interested in visual culture and the contemporary meaning of it. The degree always had to have the practical aspect to it figured out, so I would always tell to myself and to my parents that I will end up working in an advertising agency or something similar. In Amsterdam I made a lot of friends who were artists and I got to see more closely what they were doing. I allowed myself to try to do some art stuff and see what kind of feedback I would get. And it felt good. Plus, I would have been kind of a mediocre graphic designer in a way because I didn't develop a real passion for typography and layouts.
Timur Si-Qin
I went to high school in Tucson, Arizona, and at that point, I thought I wanted to do design. So I moved to Essen, Germany, to study Industrial Design but I was there for only a few months before realizing that (having spent my childhood in Berlin) I couldn't live in another German city other than Berlin, and that I actually didn't really know exactly what I wanted to do at that point. So I left Essen, went back to the desert, to the University of Arizona where I got a free ride.
KN
Didn't you study photography there?
TS
Yes, but it wasn't up until a couple of years after coming back to Arizona that I decided to do art. First I was "undeclared" which gave me the opportunity to take a wide range of courses outside of art. Looking back I'm grateful for this period for helping me expand my horizons beyond making art about art. When I declared a fine arts major, I chose photography because it was the most open and digitally-oriented track they offered at the time.
LC
Now - inevitably we have to talk about the net art era of Berlin. You were both part of this early social media or net art community of artists that brought together cross overs between Europe and the US mostly.
KN
A lot of it was specifically related to certain schools in the US and Europe, like SAIC or Städelschule. I probably met everybody through my Dutch friends.
TS
Yes, Katja was still in Amsterdam, but it was basically still the same community. When I went to Berlin I was already second-wave of this community.
KN
Me too — the first wave of work that I've ever come across was basically AIDS-3D and Helga Wretman on MySpace, and then, a few months later, I met them all IRL.
TS
Nick and Dan [AIDS-3D], Oliver Laric, Aleksandra Domanovic, Harm van den Dorpel, Constant Dullaart, Petra Cortright, Rafael Rozendaal....
LC
And what were the differences between these two waves?
KN
I was already inspired by what other people were doing. I was inspired by Petra Cortright's website for instance. I was studying graphic design and Harm was already doing these amazing projects online, Kari Altman's R-U-INs tumblr blog network, Damon Zucconi, Emily Jones, etc. So I was responding to all this. That's how I got excited about art in the first place: it was seeing their work, not seeing Joseph Beuys, not seeing Tracey Emin.
LC
But you two specifically, have in common philosophy as a starting point. When did you realize that you were both on the same wave length with New Materialism?
KN
In the beginning, we didn't use these terms. I remember, Timur, you did this kind of realflow, 3D video, in a group show. I was visiting Anne de Vries when he was doing his residency in Berlin and we were all just hanging out. Even when I was making the Post-Internet Survival Guide as my graduation project, there was no clear mention of New Materialism. Well, actually there was, but my own intuitive first discoveries of it. It was only later that you basically dropped De Landa on us, but I don't remember how.
TS
Carson [Chan] was the one who gave me the DeLanda book.
KN
Oh yeah! That's how it started: from reading DeLanda, then relating the work to it. There was not much other theory that would resonate with what we were doing at the time. And then we started to read more, but at the same time, we had no idea that somewhere in Goldsmiths they were holding some conference that was the official 'philosophical initiation' for a lot of what we've been discussing between each other.
TS
Yeah, Speculative Realism was already a thing. I think this was what separated us conceptually from our peers in Berlin. Because most people at the time were in the NetArt mindset - where the subject matter was specifically about the effects of technology and the internet and about -
KN
Distribution. A lot of it was about image politics.
TS
- and Seth Price's dispersion.
KN
Exactly! The source of theory for that was basically Seth Price. And then we were like 'nah maybe something else'.
TS
The topic at the time was the distribution and circulation of images. It got me thinking that there was an existing framework for this that wasn't being talked about. Instead of thinking about versions, if you think about culture as variation - variation, mutation, replication - then ecology and evolution come into play. And this was a thing that was present, that I think people didn't put into words back then, and the term 'meme' had yet to catch on. This is also why I don't think the term post-internet is entirely appropriate for us, as it still indicates this relation to, or lens of, technology. But I think our work is more about the collapse of the natural and cultural. The collapse of dualism.
Solo exhibitions
2023

Natural Origin, Société, Berlin
Ecotone Dawn, Kunsthalle Winterthur

2020

take me, i love you, von ammon co., Washington D.C.

2018

East,West, South, North, Magician Space, Beijing

Agora, High Line Art, New York

Public Art Project of Gallery Weekend Beijing, Beijing

Campaign for a New Protocol, Part III, Spazio Maiocchi, Milan

Campaign for a New Protocol, Part II, Art Basel Hong Kong under the auspices of Société

Campaign for a New Protocol, Part I, Société, Berlin

2017

Familienfotos, Konfuzius-Institut at Freie Universität Berlin, Berlin

2016

Art Basel Statements, under the auspices of Société

A place like this, Team Gallery, Los Angeles

2015

Recent Horizons, Société, Berlin

Biogenic Mineral, Magician Space, Beijing

2014

Premier Machinic Funerary: Part II, Carl Kostyál, London

2013

Basin of Attraction, Bonner Kunstverein, Bonn

Infinite Surrender, Focused Control, Société, Berlin

2011

Mainstream, Société, Berlin

Legend, Fluxia, Milan

Custom Interior, Mark & Kyoko, Berlin

2010

Ye Ye: Aspects of the universe search and sorting computer, Max Hans Daniel, Berlin
Group exhibitions
2023

Endless Exhibition, Hamburger Bahnhof – Nationalgalerie der Gegenwart, Berlin

A leap into the void. Art beyond matter, GAMeC, Bergamo
New Communities, Museum Folkwang, Essen
Kunsthalle Winterthur, Winterthur
Symphony of All the Changes: the 7th Guangzhou Triennial, Guandong Museum of Art, Guangzhou

2022

TRANSFORMERS. Masterpieces from the collection in dialogue with artificial beings, curated by Udo Kittelmann, Museum Frieder Burda, Baden Baden
Sacred Footprint, commissioned for James A. Farley Building, New York
CHAOS : CALM, Bangkok Art Biennale, Bangkok
Fetishizing the Future. Utopias of the third dimension, Zeppelin Museum Friedrichshafen, Friedrichshafen

2021

Diriyah Biennial, Saudi Arabia

Kunsttriennale Beaufort 21, Blankenberge

Proof of Stake, Kunstverein in Hamburg, Hamburg

Dream Monolith Revelation, Hyundai Art Space, Beijing

World on a Wire, Rhizome, Hyundai Art Space, Beijing

Tense Conditions, Staatsgalerie, Stuttgart

2020

Symbiotic Agencies, Creamcake, Berlin

Studio Berlin, Berghain, Berlin

Riga International Biennial Of Contemporary Art, Riga

New Visions, The Henie Onstad Triennial for Photography and New Media, Henie Onstad Kunstsenter, Høvikodden

Art Is Still Here: A Hypothetical Show for a Closed Museum, M WOODS, Beijing

End to End, transmediale 2020, Berlin

Magical Soup, Hamburger Bahnhof, Berlin

2019

NOWNESS Experiments: The Mesh, K11 Art Foundation, Shanghai

Quid est veritas?, Annka Kultys Gallery, London

Stumbling Through the Uncanny Valley: Sculpture and Self in the Age of Computer Generated Imagery, The Center for Contemporary Art, Tel Aviv

In a world where immortality is the norm the future is my future, Duarte Sequeira, Braga

Tracing The Mushroom At The End Of The World, Taikang Space, Beijing

Land Of The Lustrous, UCCA Dune, Aranya Gold Coast

2018

Zurück zur Natur?, Museum Frieder Burda, Salon Berlin, Berlin

Germany is not an Island, Contemporary art collection of the Federal Republic of Germany

Acquisitions 2012 – 2016, Bundeskunsthalle Bonn, Bonn

Hybrids, Lustwarande, Tilburg

2017

Peace, Schirn, Frankfurt

PRODUKTION. made in germany drei, Sprengel Museum, Hannover

2016

For Pete's Sake, Carl Kostyal Gallery, Stockholm

Exhume / Consume, Mathew Gallery, New York

Unter Waffen Fire & Forget 2, Museum Angewandte Kunst, Frankfurt

9. Berlin Biennale, Berlin

Welt am Draht, Julia Stoschek Collection, Berlin

History of Nothing, White Cube, London

2015

Asdzáá nádleehé, curated by Timur Si-Qin, Andrea Rosen Gallery, New York

Young Americans, Franz-Josef-Kai 3, Vienna

Heat Death (crazy from the sweat), Mavra, Berlin

Co-Workers, Musée d'Art Moderne, Paris

Everythings, Andrea Rosen Gallery, New York

Image Objects, Public Art Fund, New York

Fire and Forget. On Violence, KW Institute for Contemporary Art, Berlin

Toys Redux – On Play and Critique, Migros Museum für Gegenwartskunst, Zurich

Pure Disclosure, Marsèlleria, Milan

2014

Refraction. The Image of Sense, Blain Southern, London

Instrumental Assistance, Andreas Huber, Wien

The Ultimate Capital is the Sun, nGbK, Berlin

The Great Acceleration, Taipei Biennial, Taipei

Metarave I "It's only a fantasy", Wallriss Artspace, Freiburg

Dreams that money can't buy, The Independent, MAXXI Museum, Rome

Ökonomie der Aufmerksamkeit, Kunsthalle Wien, Wien

Fulfilment Centre, The Sunday Painter, London

To continue. Notes towards a Sculpture Cycle, NOMAS Foundation, Rome

Art Post-Internet, Ullens Center for Contemporary Art, Beijing

Acid Rain, Island, Brussels

2013

The Time Machine (Survivers), Frutta, Roma

Time Machine, Fonds M-Arco, Le Box, Marseille

Speculations on Anonymous Materials, Fridericianum, Kassel

Liquid Autist, Kraupa-Tuskany Zeidler, Berlin

Unstable Media, Martin Van Zomeren Gallery, Amsterdam

Art of Living (i.e. Goodbye, Blue Monday), Galerie Chez Valentin, Paris

Notes on form, 032c Workshop, Berlin

Out of Memory, Marianne Boesky Gallery, New York

False Optimism, Crawford Art Gallery, Cork

Michael Jones McKean and Timur Si-Qin, Favorite Goods, Los Angeles

2012

Gasoline, Bas Fisher Invitational, Miami

CAFAM Future, CAFA Art Museum, Beijing

The Work Found Me, Galerie Samy Abraham, Paris

Spring Exhibitions and Projects: Group 2, CCS Bard College, New York

Ways beyond the internet, DLD 2012, Munich

A Material World, PSM, Berlin

Monochrom, Školská 28, Prague

2011

Performance Anxiety, Stadium, New York

Quality Control, Contemporary Art Center, Cincinatti

An Image, Kaleidoscope, Milan

BCC#6, PM Gallery, REFERENCE Art Gallery, Richmond

Times Square Show, Times, Berlin

Grouped Show, Tanya Leighton, Berlin

Amerika, América, Amerique!, Mark & Kyoko, Cleopatra's, Berlin

MAWU Lisa, New Gallery, London

Not to be confused with…,Von Cirne, Cologne

A Skeleton in the Closet, Heidelberger Kunstverein, Heidelberg

Agency for Unrealized Projects, Basel

Based in Berlin, Berlin

The Real-Fake, California State University, Sacramento

A Painting Show, Autocenter, Berlin

The Curators Battle, Grimm Museum, Berlin

Metrospectives PROGRAM, The Future Gallery, Berlin

Post Internet Survival Guide, The Future Gallery via Gentili Apri, Berlin

2010

POLYGONAL, Museum of Contemporary Art, Morelia

Exhibition One, Gentili Apri / Chrystal Gallery, Berlin

État de choses, Darsa Comfort, Zurich

SPEED SHOW vol.3 – Peace!, A.Internetcafe, Amsterdam

Rapidshare, Atelierhof Kreuzberg, Berlin

BYOB, Bureau Friederich projectstudio, Berlin

Distorted Viewport, Forgotten Bar, Berlin

eUIYPKQ8XyEka_3Y, Atelierhof Kreuzberg, Berlin

Enchanted, School of Development, Berlin

Michael Jackson Doesn't Quit Part 3, The Future Gallery, Berlin

Multiplex, Peer 2 Space, Munich

An Immaterial Survey of Our Peers, The Sullivan Galleries of The Art Institute of Chicago, Chicago