Marianna Simnett
---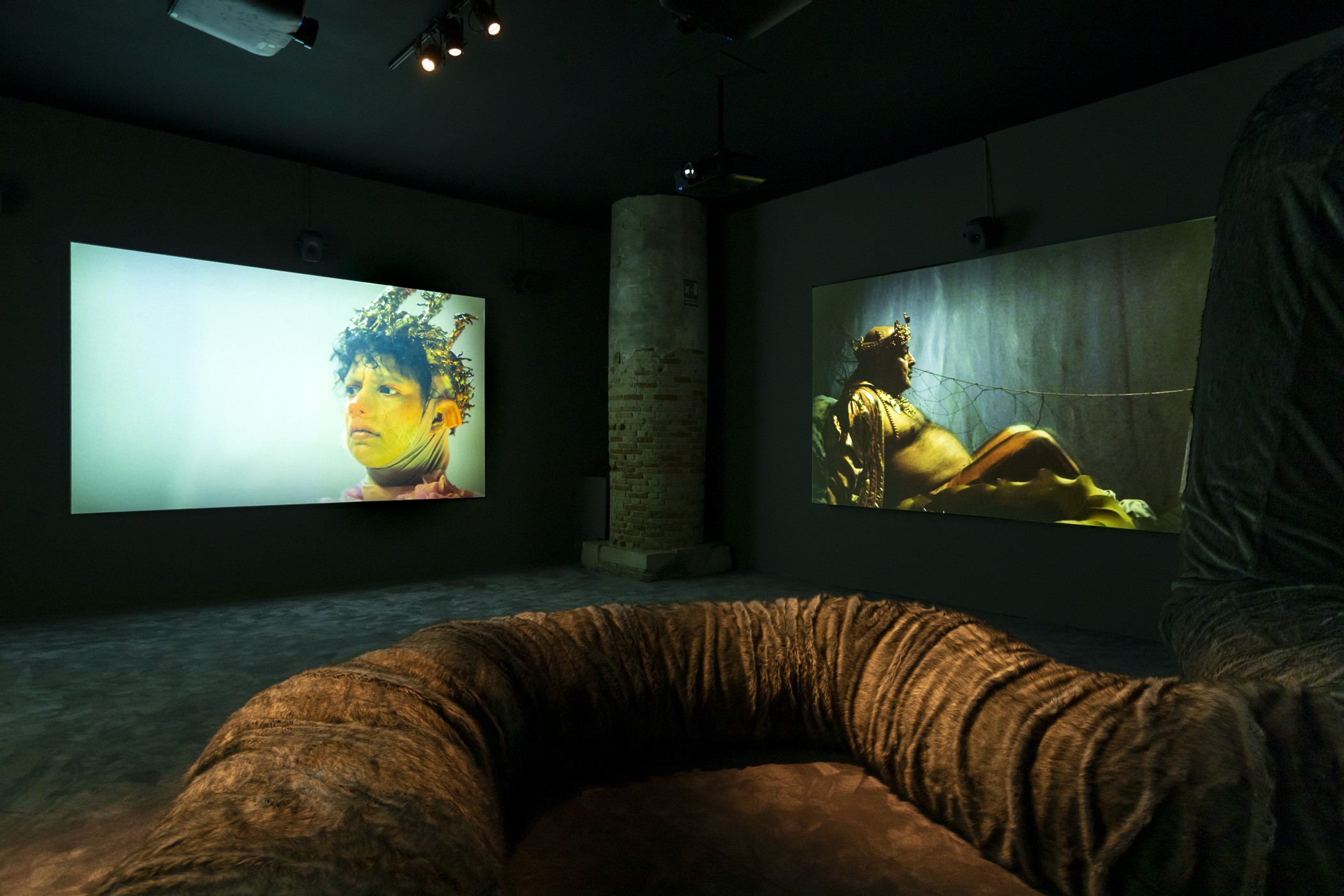 Marianna Simnett is a multidisciplinary visual artist living and working in Berlin. Simnett uses vivid and visceral means to explore the body as a site of transformation. In psychologically charged works that challenge both herself and the viewer, Simnett imagines radical new worlds filled with untamed thoughts, strange tales and desires.
Marianna Simnett (b. 1986) lives and works in Berlin. Her work has been exhibited internationally in solo exhibitions at venues including City Gallery Wellington, Wellington (2020); IMA, Institute of Modern Art, Brisbane (2019); Frans Hals Museum, Haarlem (2019); Kunsthalle Zürich, Zürich (2019); MMK, Museum für Moderne Kunst, Frankfurt (2018); The New Museum, New York (2018) and Zabludowicz Collection, London (2018). Selected recent group exhibitions include the 59th Venice Biennale: The Milk of Dreams (2022); Espressioni: The Epilogue, Castello di Rivoli, Turin (2022); Prize of the Böttcherstraße, Kunsthalle Bremen, Bremen (2022); British Art Show 9, various cities (2021); A Fire in my Belly, Julia Stoschek Collection, Berlin (2021); Unprecedented Times, Kunsthaus Bregenz (2020); and The Body Electric, Walker Art Center, Minneapolis (2019). Her work The Severed Tail was also recently shown at The 66th BFI London Film Festival, British Film Institute, London (2022).
---
During Berlin Art Week, LAS is proud to present the world premiere of GORGON, a flute opera written,composed, and directed by artist Marianna Simnett. The newly commissioned work is a powerful exploration of the horror and beauty of society in transition. Unfolding through sound, projection, and dance, GORGON makes innovative use of artificial intelligence (AI) as a medium within live performance, shaping its form and narrative.
Simnett's new piece draws on the origins of the word 'gorgon', which comes from the Ancient Greek word 'gorgós', meaning dreadful. It is thought to derive from the same root as the Sanskrit word 'garjana', describing a growling sound produced in the back of the throat. The performance roots itself in the gendered way that these meanings appear in the myth of the Gorgons. In the story, Greek hero Perseus kills Medusa, the only mortal of three Gorgon sisters, with the help of the god Athena. Hearing the terrifying force of her sisters' cries of grief, Athena invents an instrument to reproduce the power of their lamentation.
Simnett's performance transports this archaic tale of pain and power into a contemporary fairy tale. It centres on Greta, a girl working the night shift at a train station doughnut stand, and Gorgon, a shape-shifting entity whose piercing wail can shake the ground. One night, the drudgery of Greta's job propels her into a vision of being a corporate queen, presiding over an office at the edge of a forest. She becomes set on harnessing the power of Gorgon's harrowing cry, and begins the pursuit. When a chorus of fireflies lures Greta into mimicking the Gorgon's wail, the two come face-to-face. Greta's tools prove incompatible with the world she encounters, and she is forced to give up her desire to own and control it. Slowly, Greta's body and mind are transformed as she and Gorgon finally come to see one another's vulnerability.
GORGON brings together collaborators from the fields of classical and contemporary flute, performance, choreography, set design, costuming, video, and AI. Its innovative integration of AI spans video projections and Simnett's original musical score. The score features a chorus of live flautists whose playing is transformed into AI-generated sounds, as well as voice style transfer, both produced in real-time using custom AI models.
Merging mythology with technology, GORGON asks complex questions about desire, power, gender, the body, intelligence, empathy, and the Other. With cultural references stretching from early human technologies to posthuman theory, the performance is an astounding look at the distress, transformations, and possibilities spurred by technology's advancement. In a moment marked by the rapid development of AI, GORGON offers timely commentary on how we meet the uncanny, the unwieldy, and the unknown.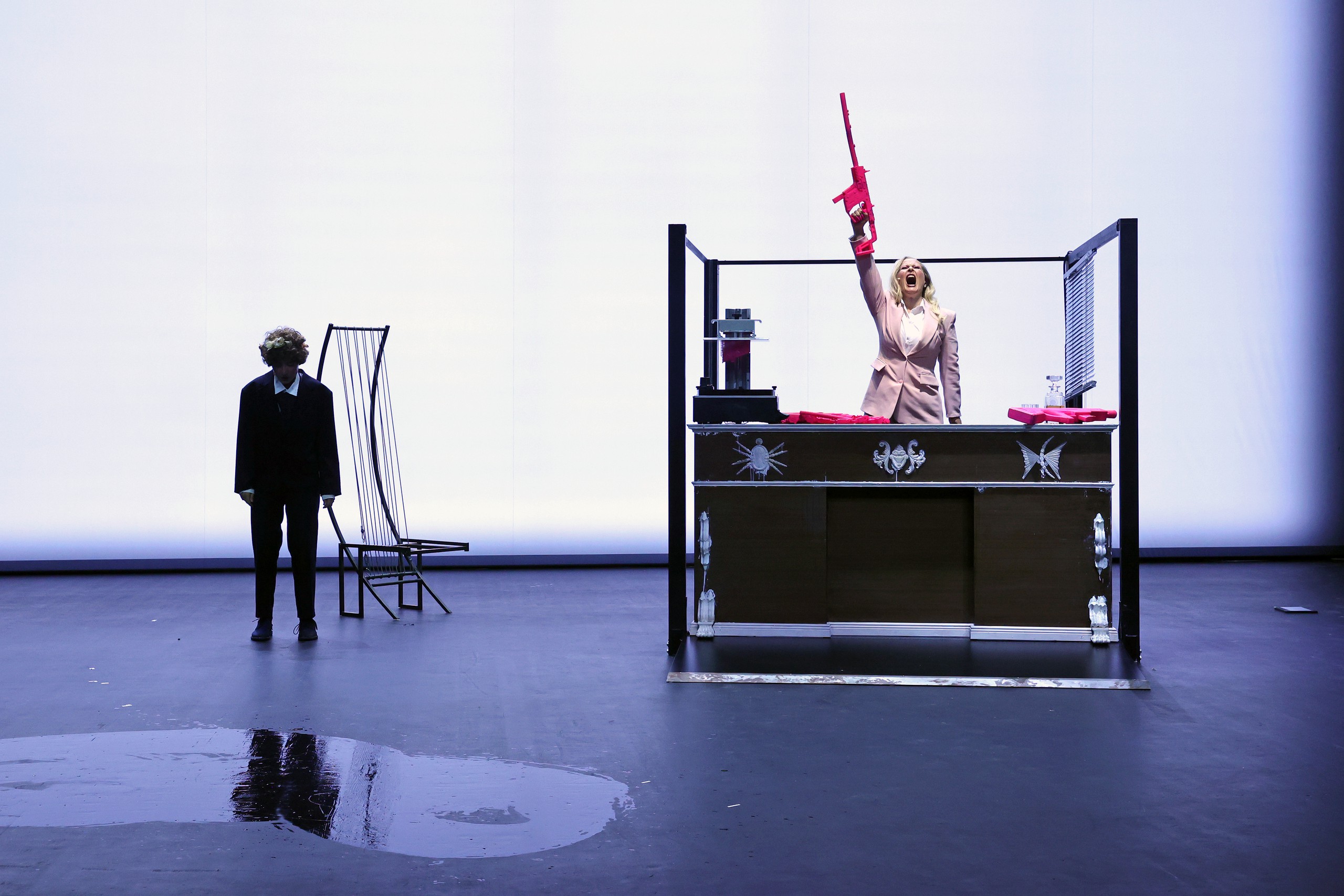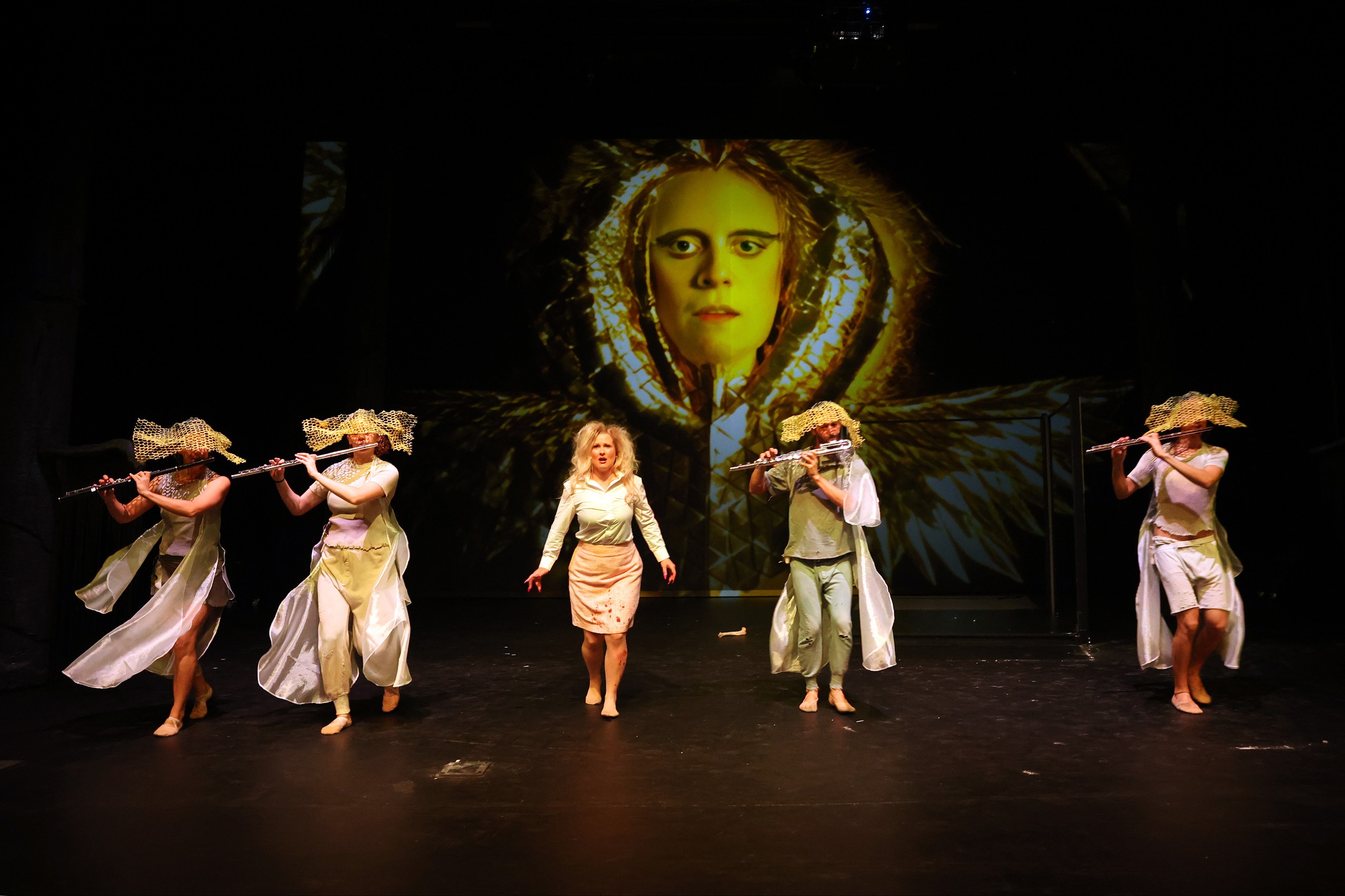 1,5 Degrees. Interdependencies between Life, the Cosmos, and Technology
Kunsthalle Mannheim, Mannheim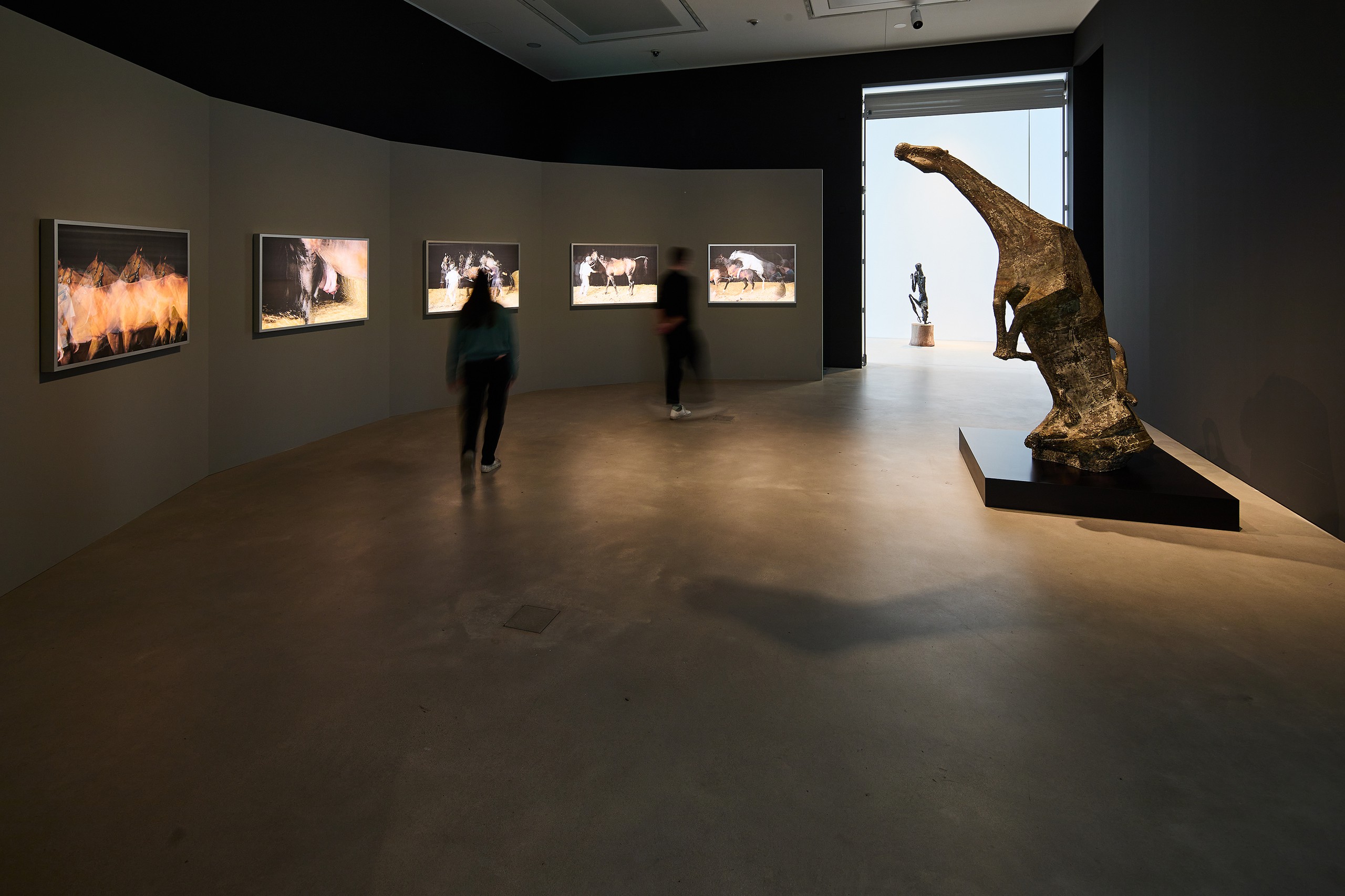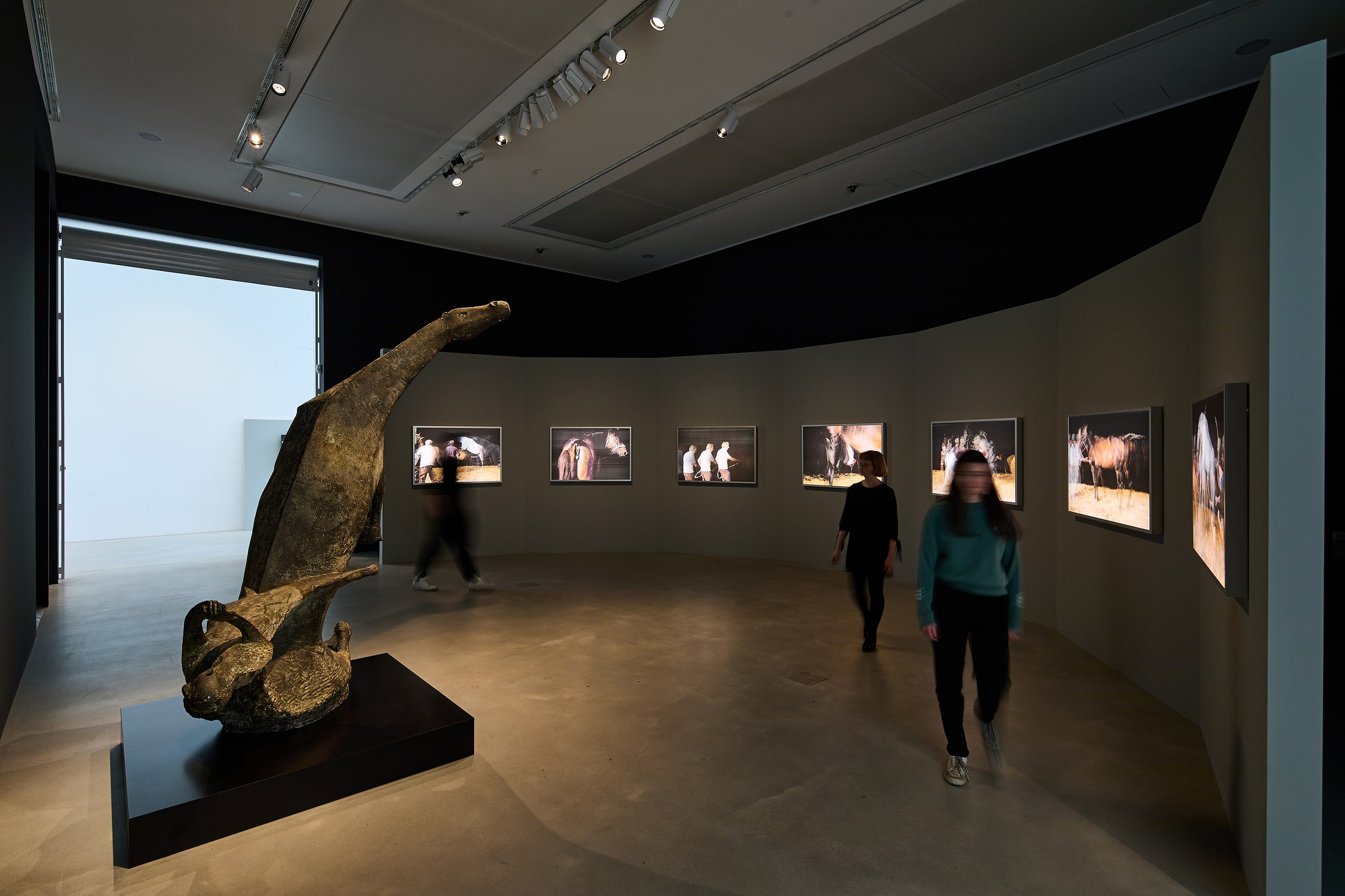 Chrysalis, The Butterfly Dream
The Centre d'Art Contemporain Genève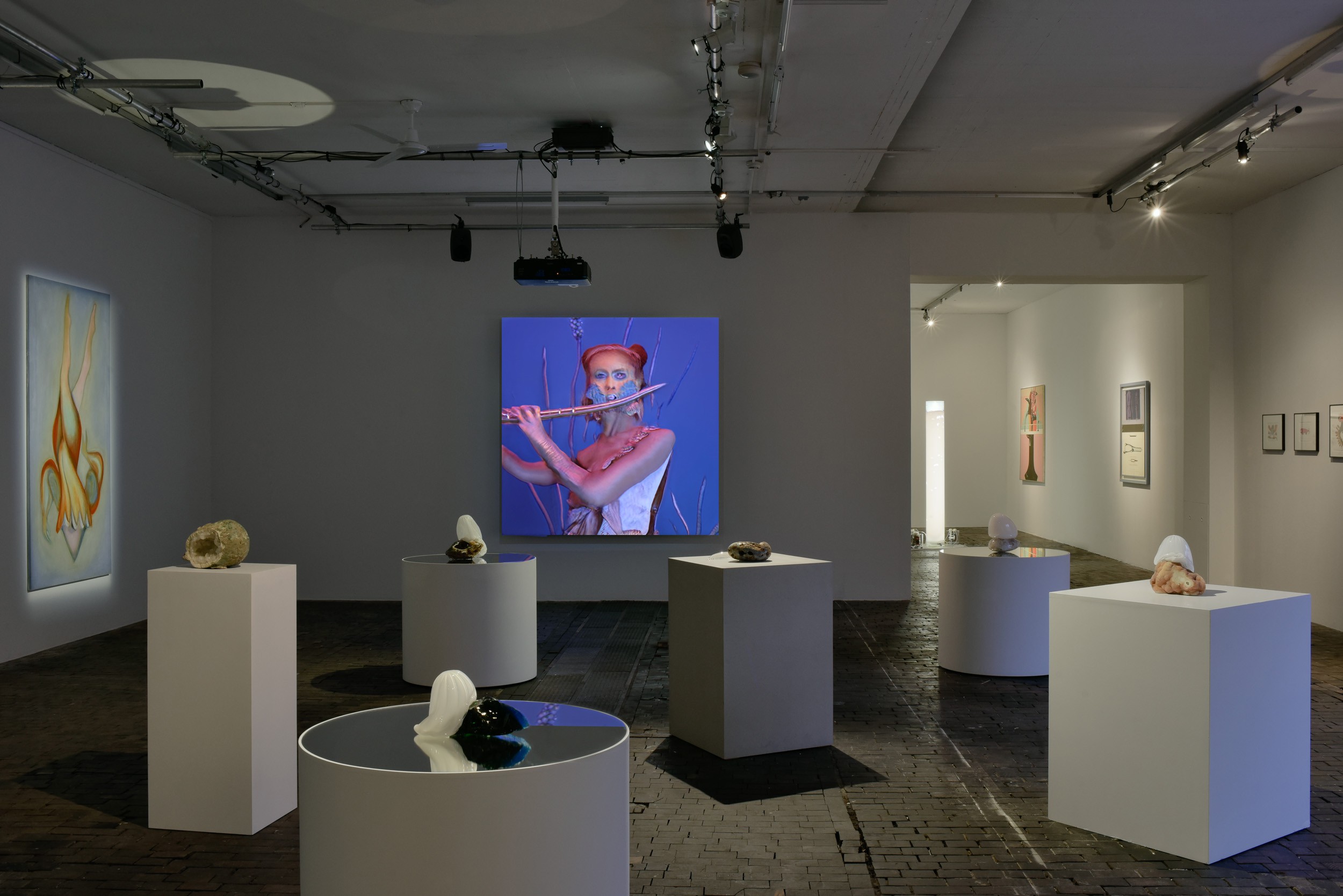 The Severed Tail
59th International Art Exhibition – La Biennale di Venezia, The Milk of Dreams, curated by Cecilia Alemani
Marianna Simnett's animal and human protagonists are "always becoming something other than themselves." Drawing upon the mythic structures of fairy tales and fables, her new video installation The Severed Tail explores the tail as a lost link between animal and human: a reminder of our "animal selves" that is reclaimed in the film through extreme episodes of fetish and play. Simnett takes the commonly practiced, if partially outlawed, procedure of animal tail docking through frenetic visual and narrative subversions to open up questions about the conventions of species, gender, and our relationship to others. The Severed Tail shifts between human and non-human actors to tell the story of a piglet's radical journey through different layers of fetish worlds. The metamorphic and ultimately cathartic nature of this odyssey is amplified through the work's spatial dimensions: the constantly shifting focal point of three asynchronous screens mirrors its protagonist's sense of bewilderment and wonder, while a plush sculptural seating element—an outsized tail that snakes through the exhibition space—gestures towards what has been lost. A tale of transformation and desire, The Severed Tail delves into the slippages between species—and their mutual transformations—arguing for hybridity as a foundational state of being.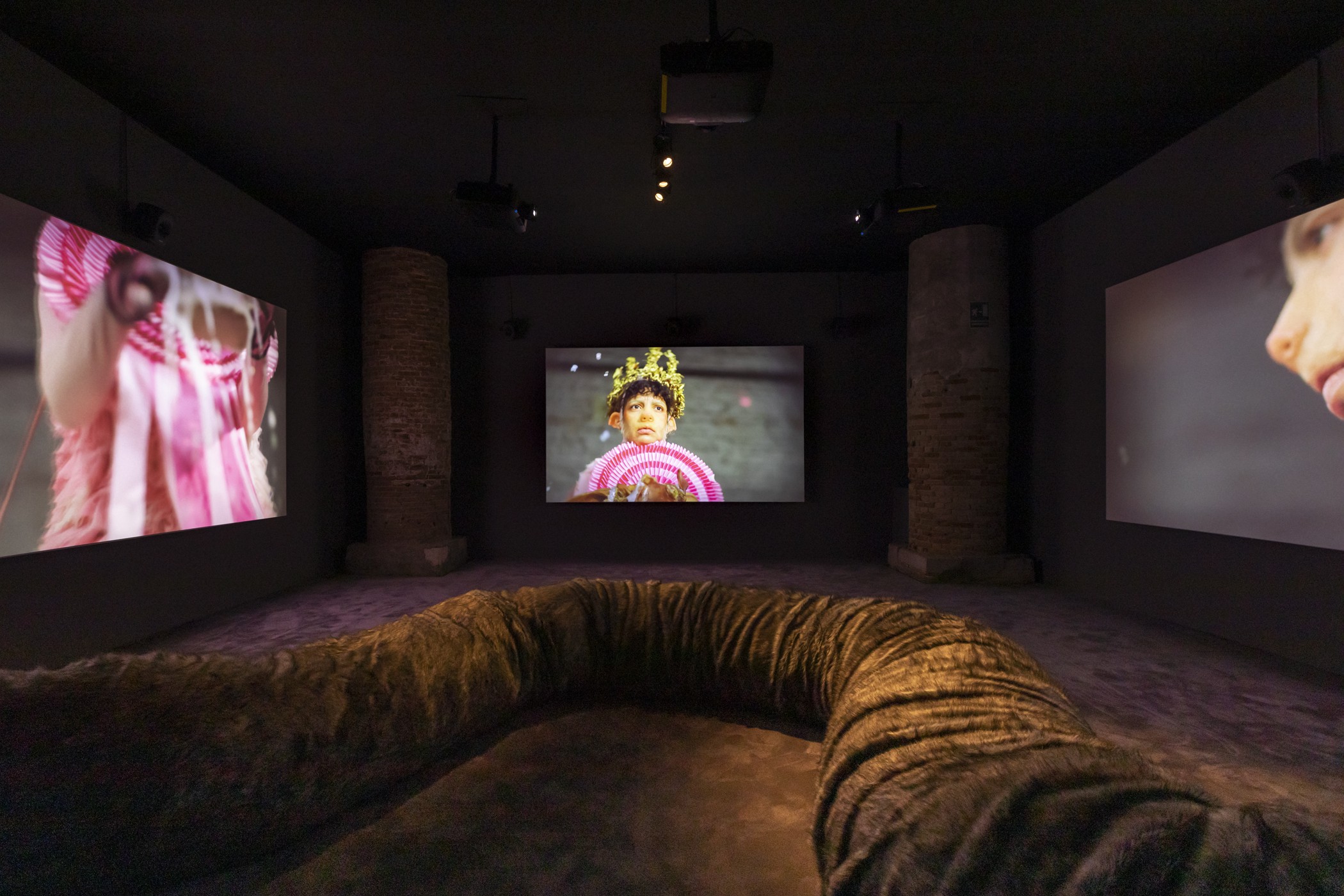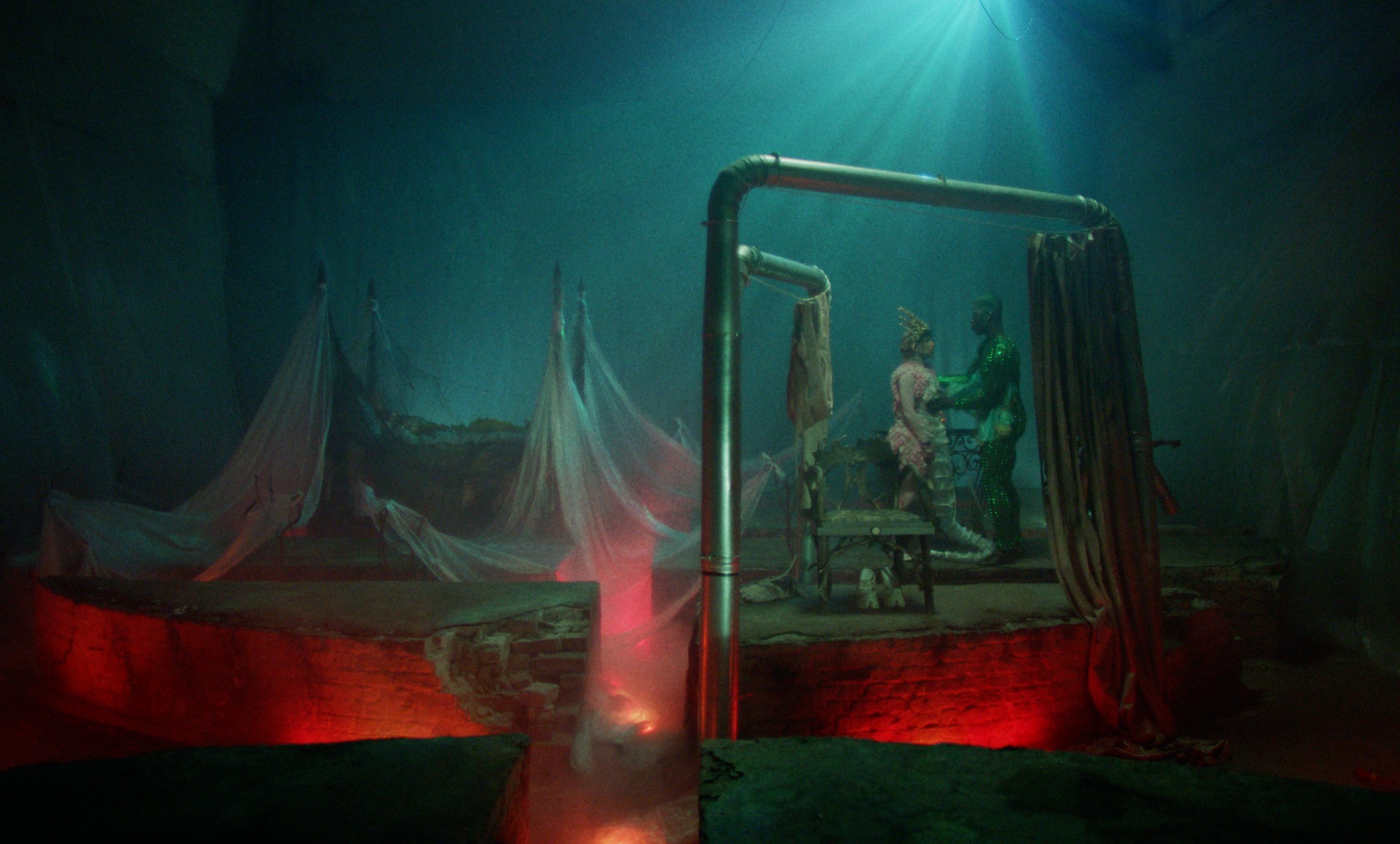 OGRESS
Société, Berlin, 2022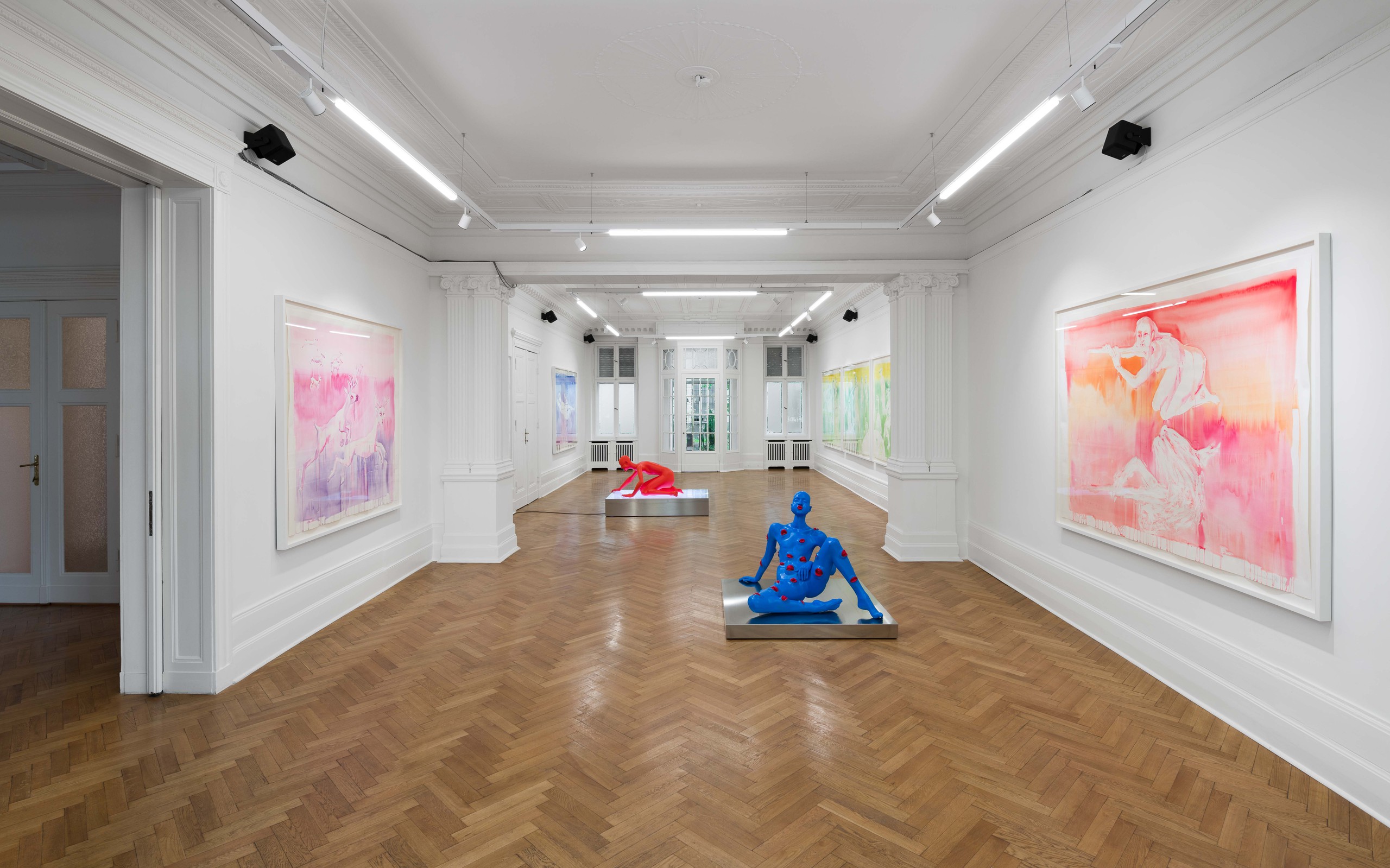 The ogress is a shape-shifter. A devourer. She entices, lures, and captures. In fairy tales and folklore, the ogress is a voracious monster who deceives men and torments children in her quest to ravish them whole. Marianna Simnett wields the ogress' insatiable hunger as a radical force that allows for a porosity with other beings and technologies. Simnett's video, sound, watercolor, and sculptural works intertwine personal and mythological worlds to delve into our innate drive towards collection and collectivity. OGRESS revels in the mutual metamorphosis that occurs through our psychologically charged attachment to the objects we possess—and which in turn possess us.
Coursing through the show is the myth of Athena crafting the first flute from a deer bone. While enthralled with her creation, she was mocked by the other gods; as she played, her cheeks puffed out and her face turned blue. Humiliated, Athena cast the flute away and cursed anyone who touched it. Simnett warps this myth to probe the links between transformation and possession. A series of large-scale watercolors reclaim Athena's horror at her transfigured face. Woodwind music lilts throughout the gallery, luring visitors to the garden where a multi-headed skeletal deer rears on its hind legs.
"In myth, women's boundaries are pliant, porous, mutable," the poet and essayist Anne Carson writes in her collection Men in the Off Hours. "The women of mythology regularly lose their form in monstrosity." The characters that appear in OGRESS don't succumb to monstrosity but embrace it. Metamorphoses are willed, not suffered—a tendency exhibited by mutant casts of Simnett's own form. In one, a reclining figure speaks through the many mouths that riddle their body: jeering, grimacing, groaning, slack-mouthed. Another figure crouches over a large lightbox scanner, in thrall to their own continuously generated image like a techno-narcissus. Underlying OGRESS is the conviction that "archaic" tools like the flute are themselves a form of technology. The Athena myth mutates once more in a video generated by a custom-built AI model, trained on videos of Simnett playing the flute. A glitching female figure, trapped inside technicolor blue woods, continually morphs, her face occasionally coalescing to resemble Simnett's own. If a monster's body is necessarily a social body, its form determined by accumulations of cultural anxiety, obsession, and desire, then Simnett's OGRESS celebrates "the promises of monsters."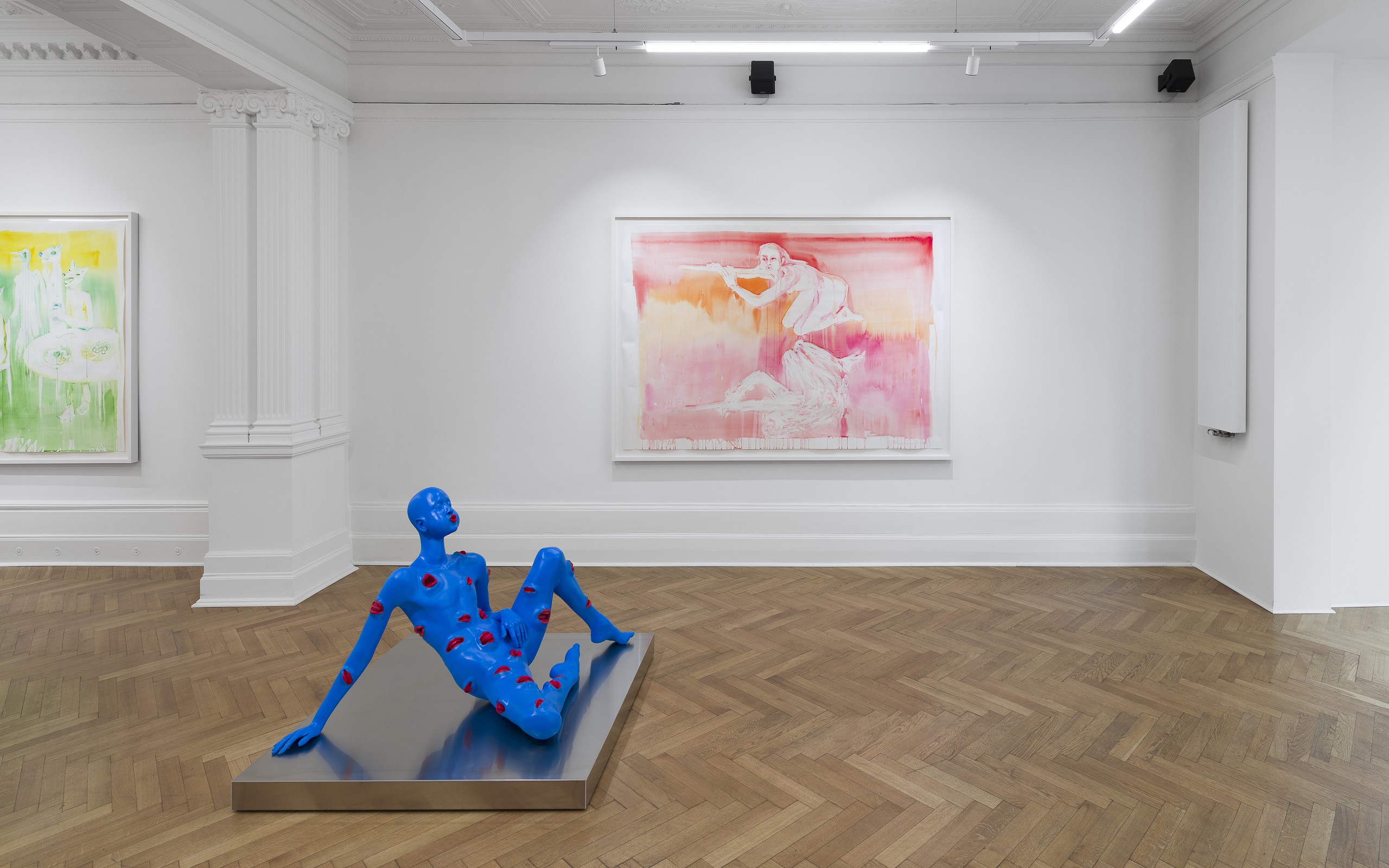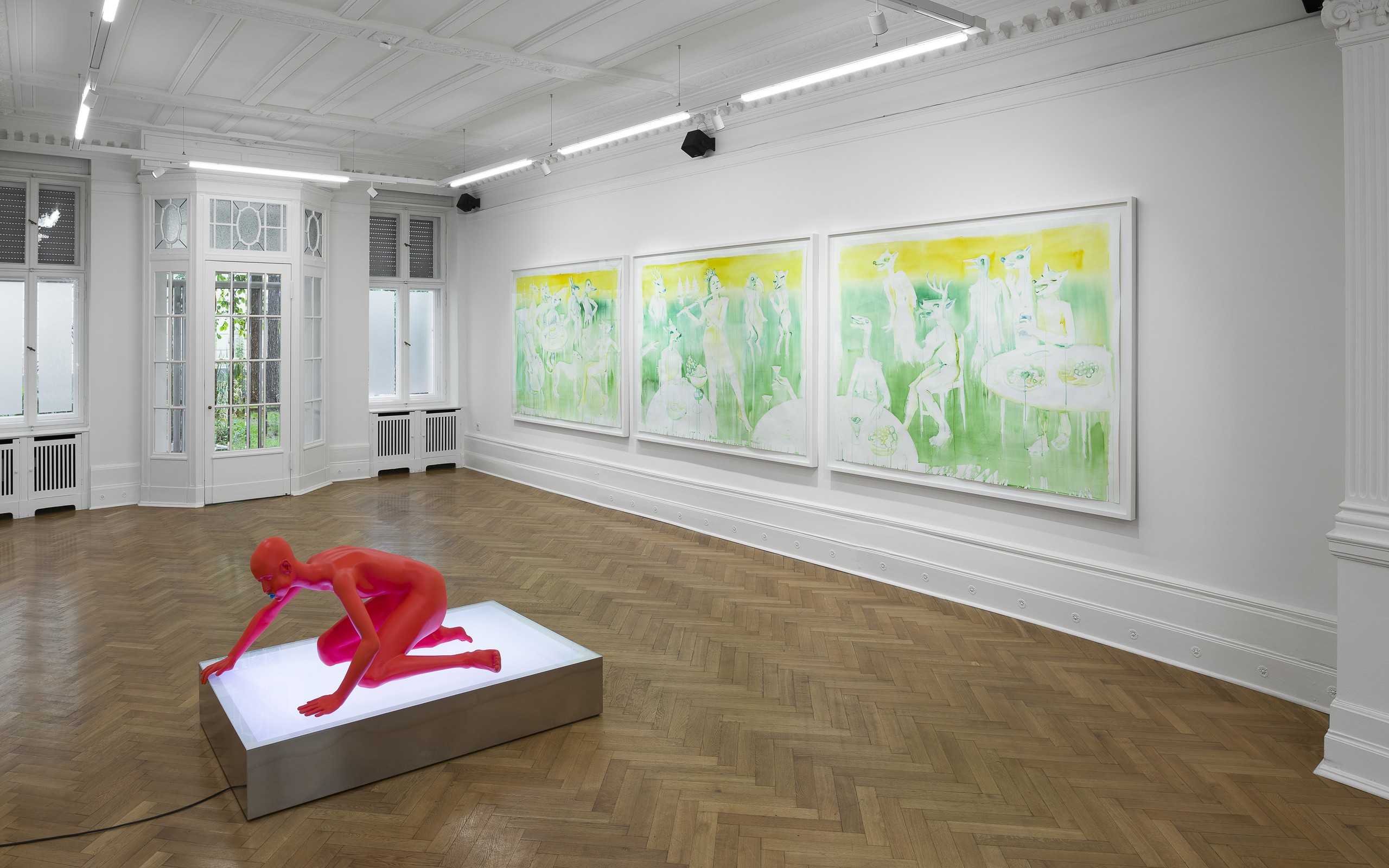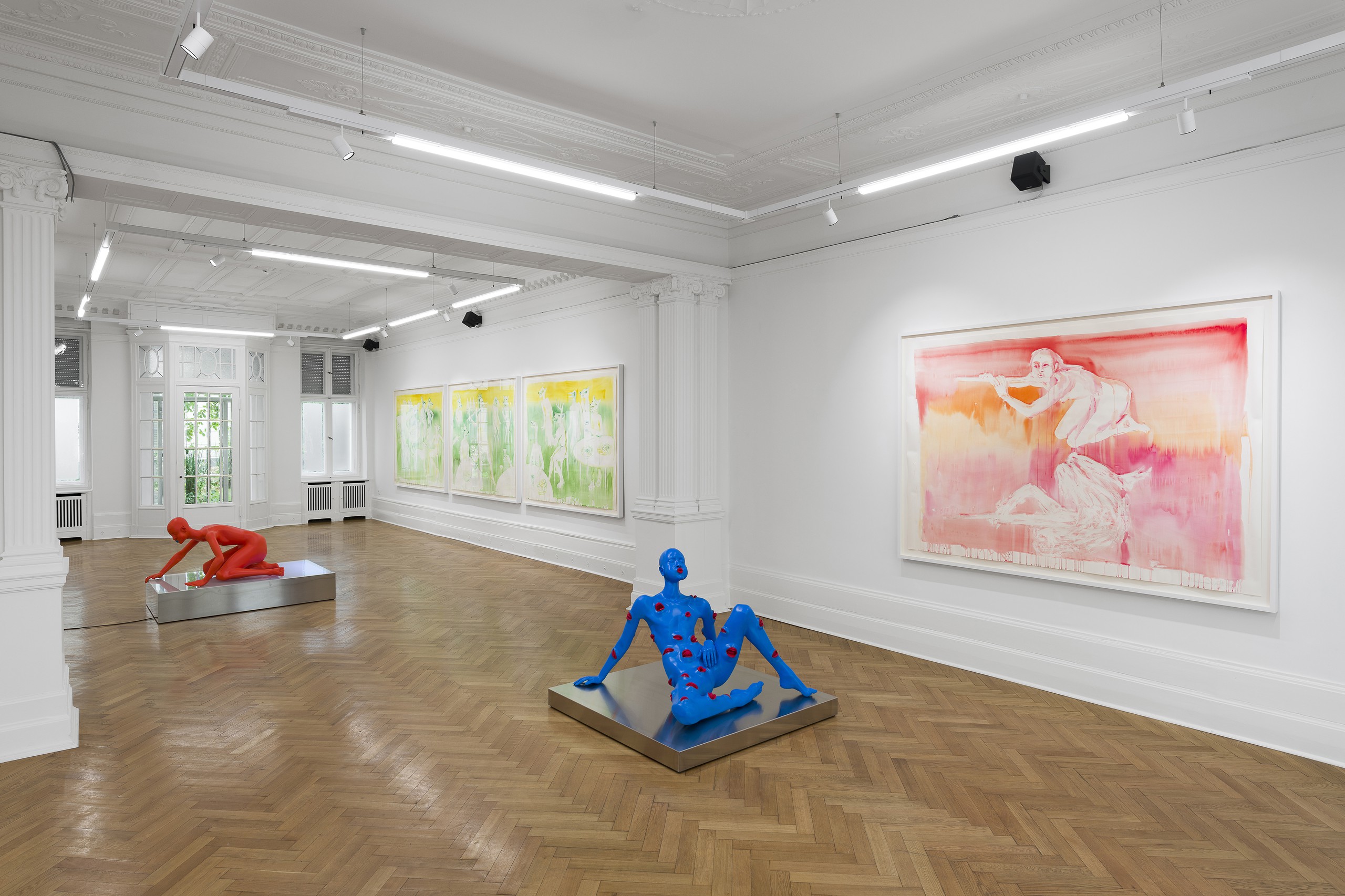 EXBERLINER
Your new exhibition, OGRESS, invokes the myth of Athena and the flute. What drew you to that story?
Marianna Simnett
I was thinking about the idea of possession and being possessed and I started to think about the goddess Athena, who crafted the first flute. In the mythological story, she plays it at a banquet in front of the gods, and they laugh at how her cheeks puff up when playing. Humiliated, she runs off to a forest, sees her own reflection in a stream and realises that the gods were right! Horrified at the sight of her own face, she discards the flute and curses anyone who ever touches it. I like Athena as a cypher for talking about the maker. And as I am an artist, a maker and a flute player these ideas all tumbled together.
E
With solo shows at the New Museum in New York and the MMK in Frankfurt, can this really be considered your first commercial gallery show?
MS
Yes, and I wanted to be a bit tongue in cheek in my approach. I wanted to acknowledge the fact that I was exhibiting in a space with perfect parquet floors and white walls. One of the works, 'The Collector', is a lavish golden crown made of melted animal figures. I think with this show, I've finally overcome my fear of making objects.
E
These sculptures with their blown up cheeks reference Athena's ugly face when playing. Are they also referencing the vulnerability you feel as an artist in putting your work up for exhibition?
MS
Well I think they're beautiful, but then I find beauty in the abject. She's kind of masturbating and doing her own thing and not really giving a shit about the viewer. Actually, in OGRESS, I was thinking about speech and language; there are no actual words in the show, and I wanted to see the flute as an extension of the body – but also speech as a type of technology. It raises questions about what we consider a body and what we consider technology.
Art Basel Unlimited 2022
curated by Giovanni Carmine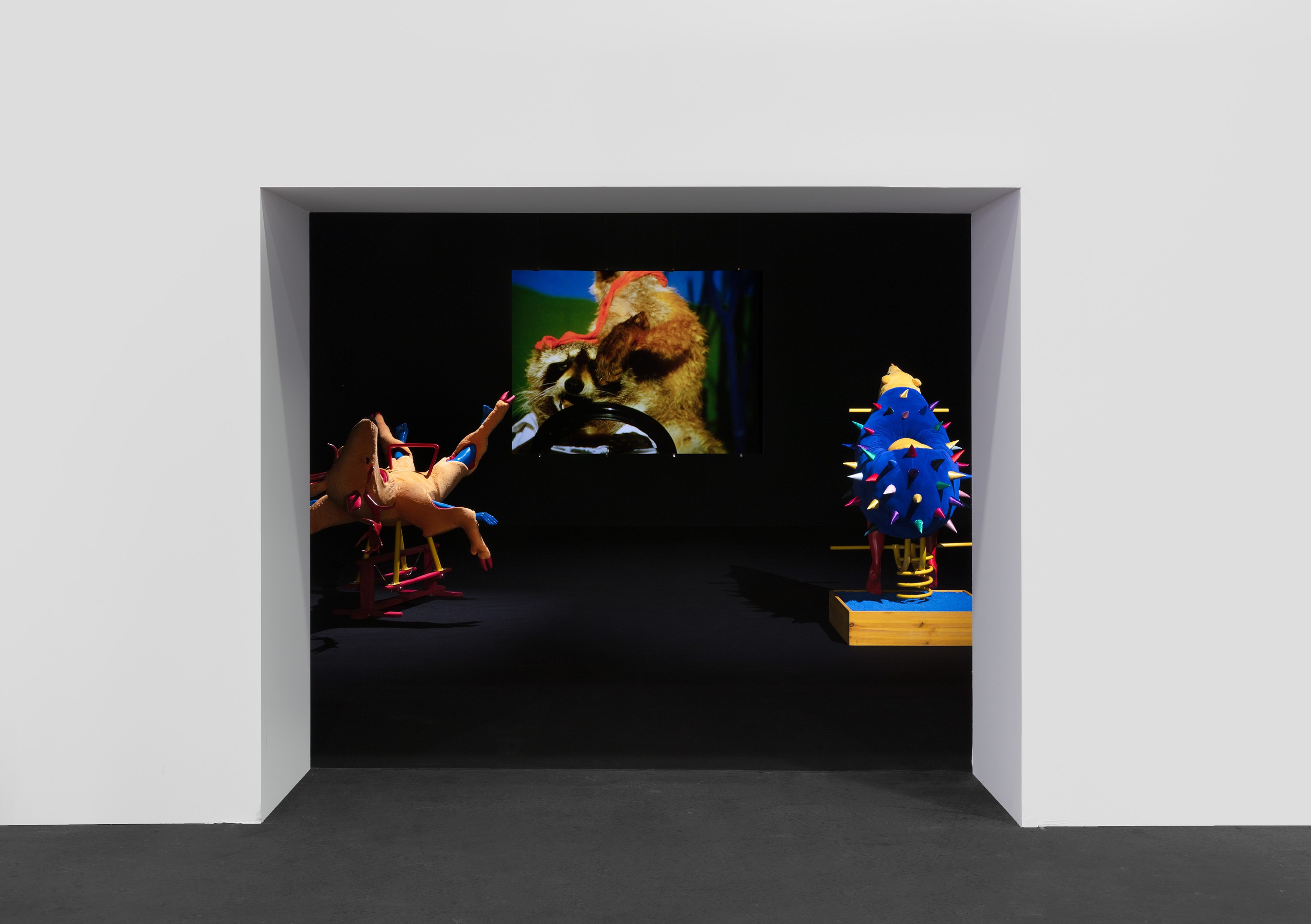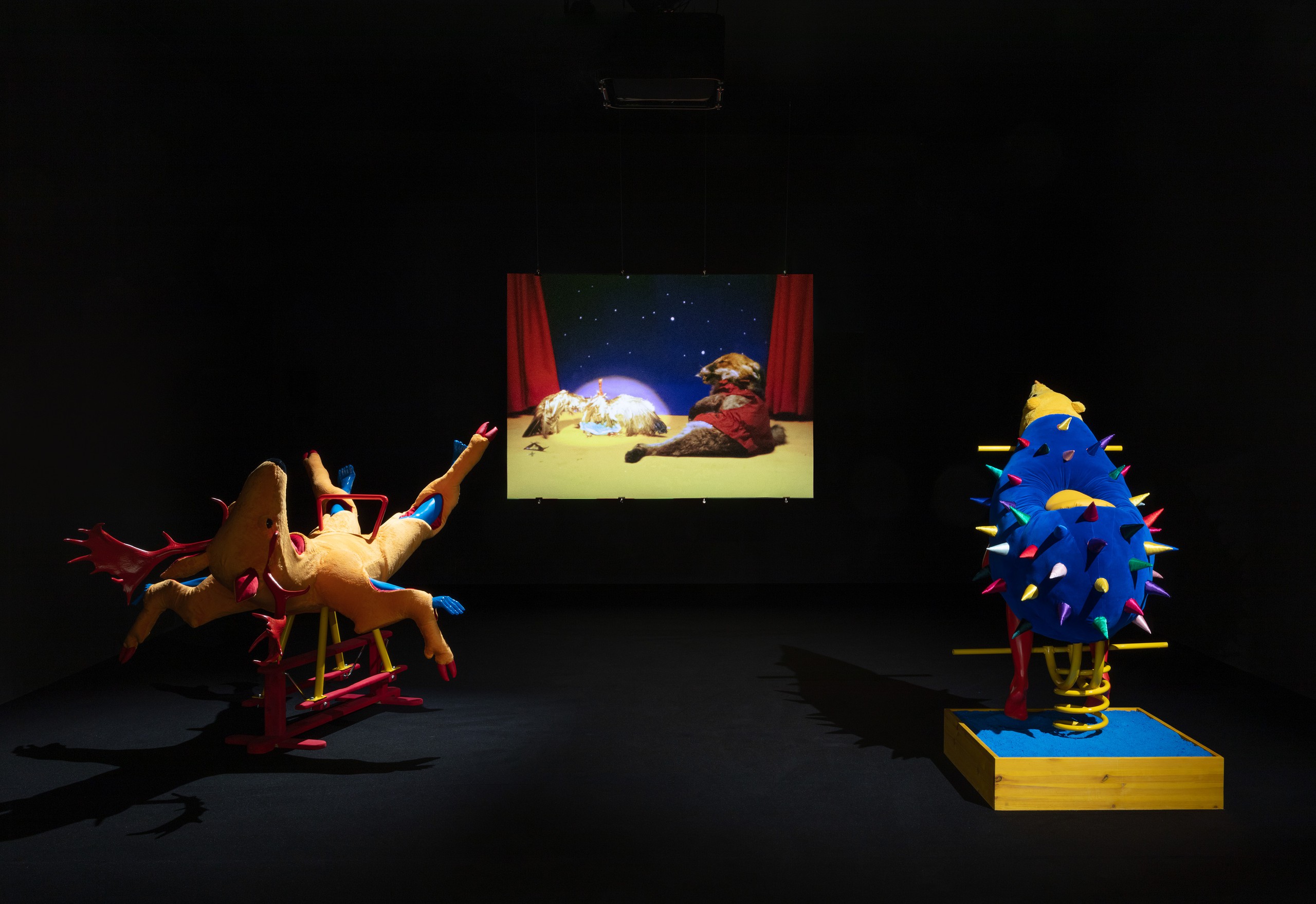 Blood In My Milk
Dark Mofo, Hobart, Tasmania, 2022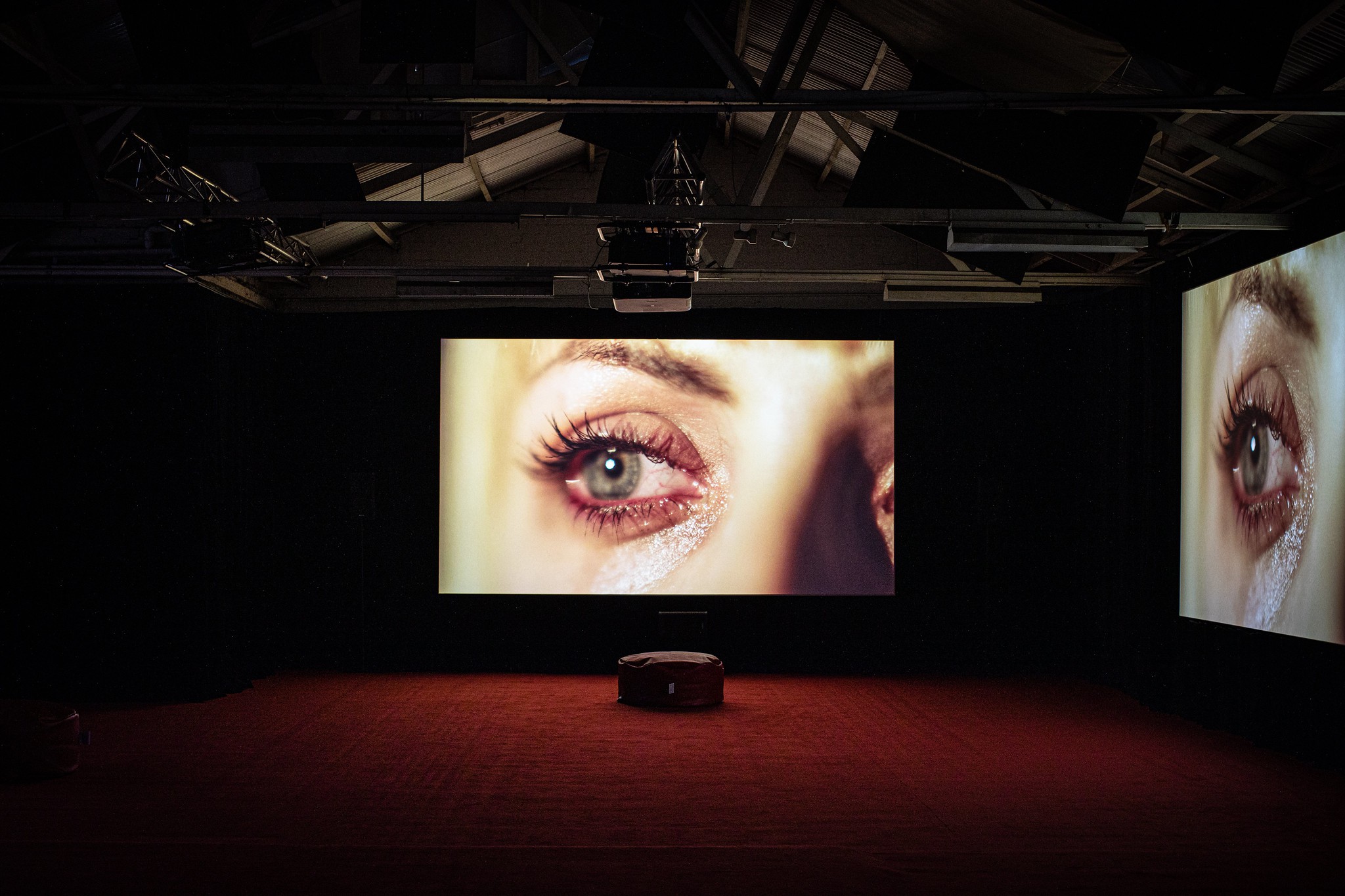 Experienced as a single storyline unfolding across five screens, this work chronicles artist Marianna Simnett's exploration of organs, body parts, and infection through visceral imagery of medical treatment and procedures.
Fantastical modes of storytelling guide a cast of characters through events that expose the subtle mechanics of violence and control that surround us.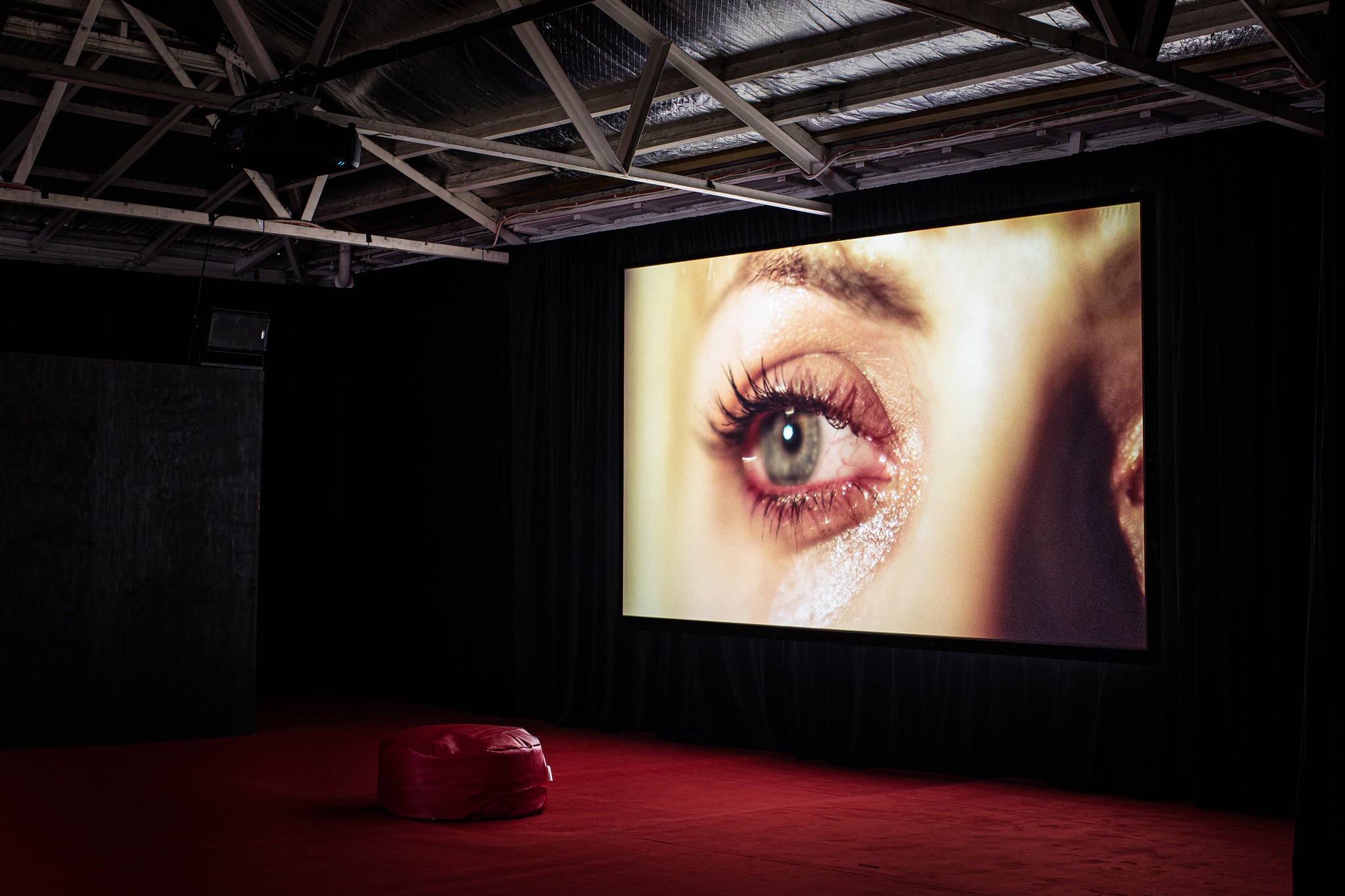 ESPRESSIONI CON FRAZIONI, Prayers for Roadkill
Castello di Rivoli Museo d'Arte Contemporanea, Rivoli Torino, 2022, curated by Carolyn Christov-Bakargiev, Marcella Beccaria, Marianna Vecellio and Fabio Cafagna with curatorial coordination by Anna Musini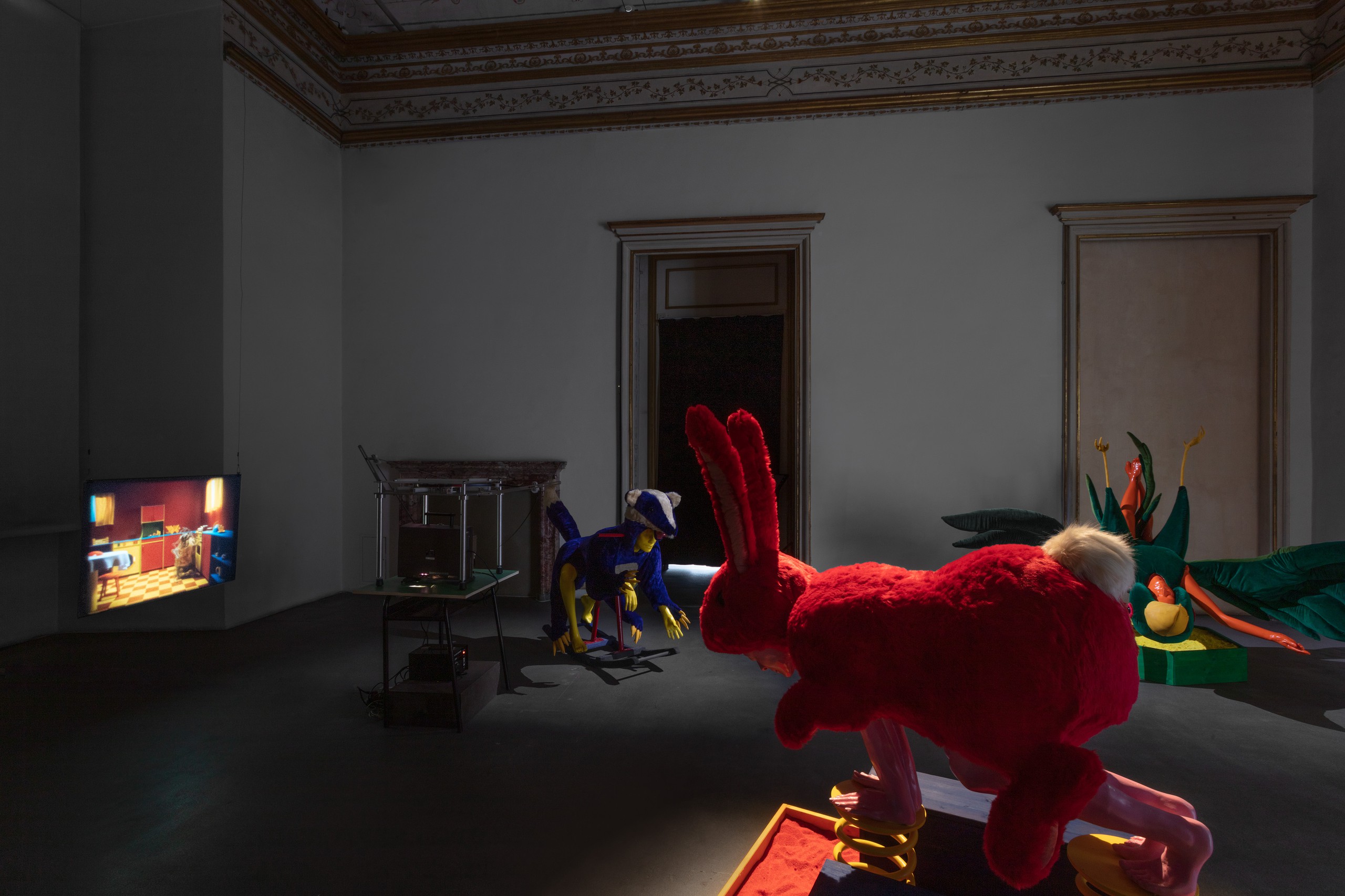 The installation Prayers for Roadkill draws its title from a line in Adrian Piper's journal where she expresses empathy and fascination with the micro-violence that unfolds beneath the wheels of an automobile. In Simnett's stop motion animation film and intricate sculptures depicting hybrid human-animal creatures, she wields the aesthetic of vintage children's television programming, soft play areas, and modernist asylums to explore the emotional and material entanglements of love and cruelty. To create the characters in her film, Simnett not only literally reanimates roadkill but reclaims – and thereby empowers – the image of the animal to plumb the depths of some of the darkest, most fundamental aspects of being human.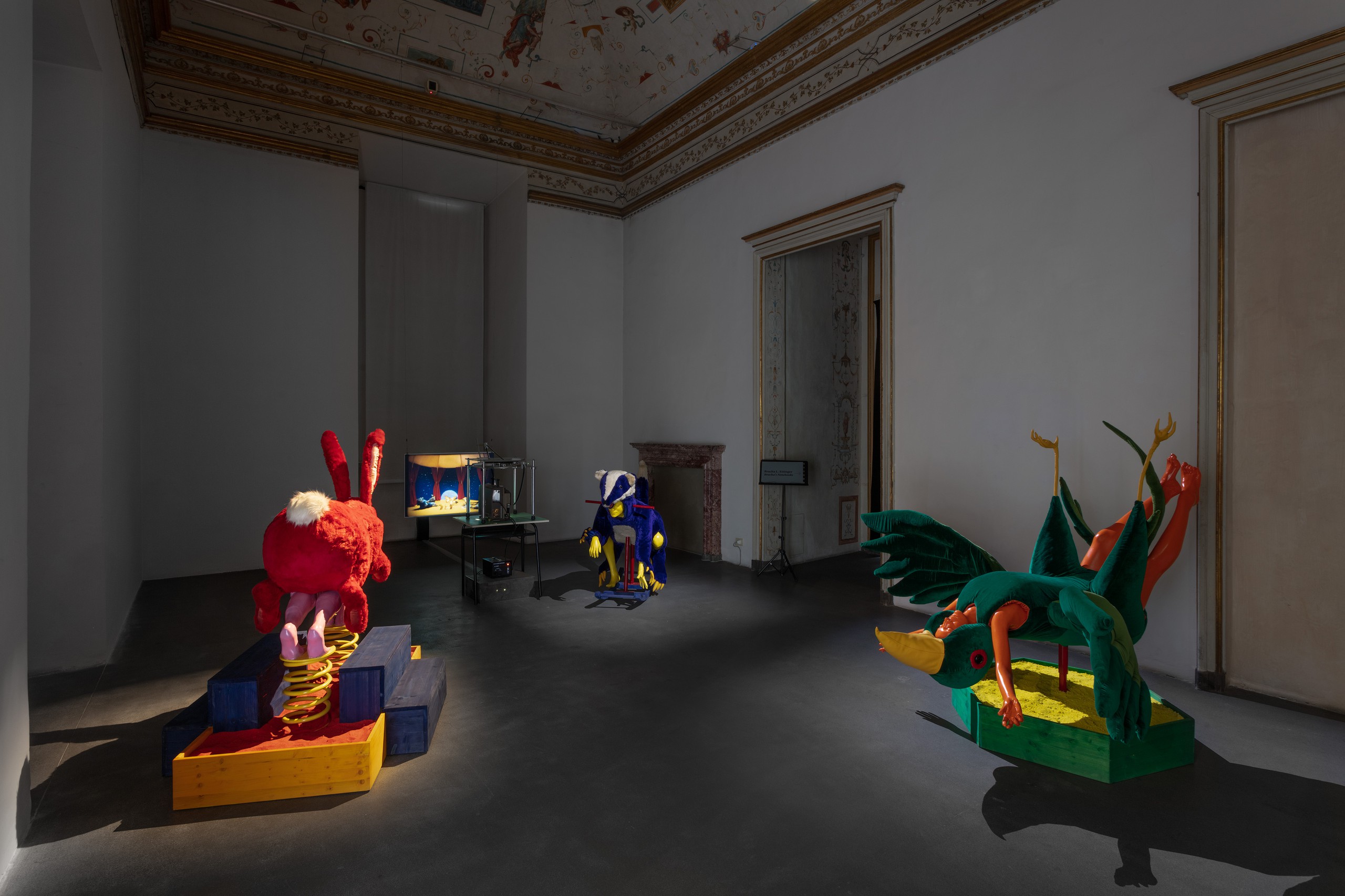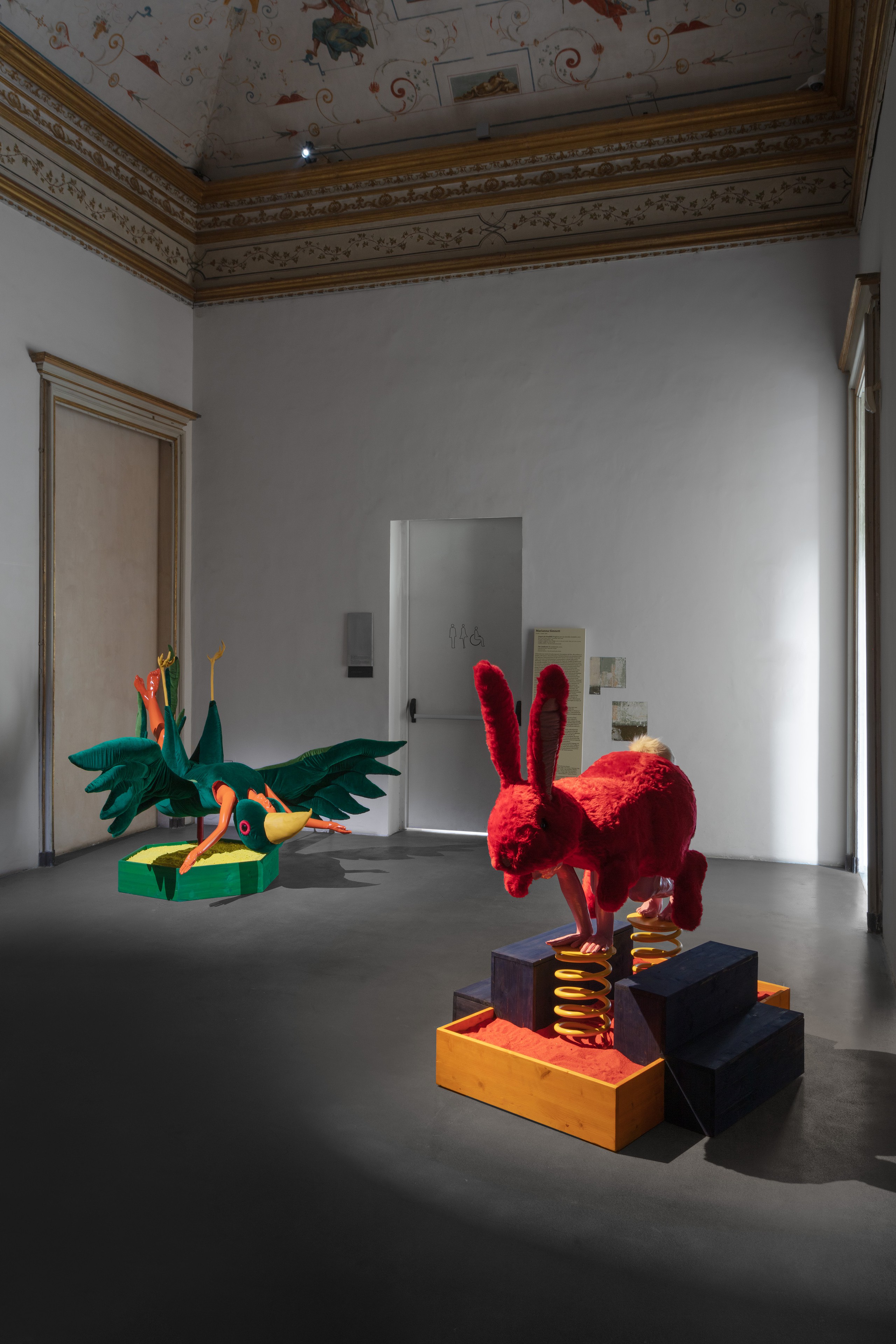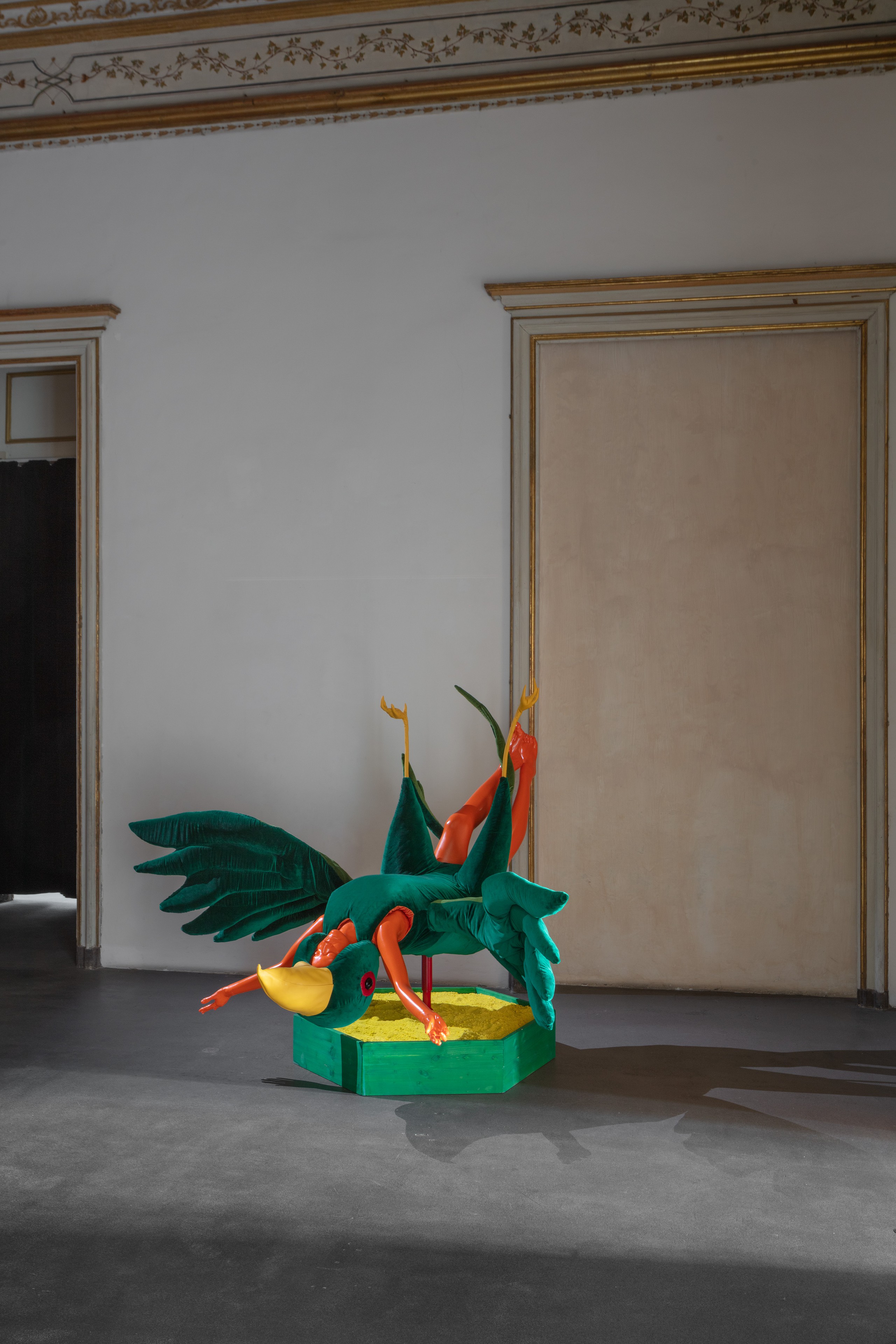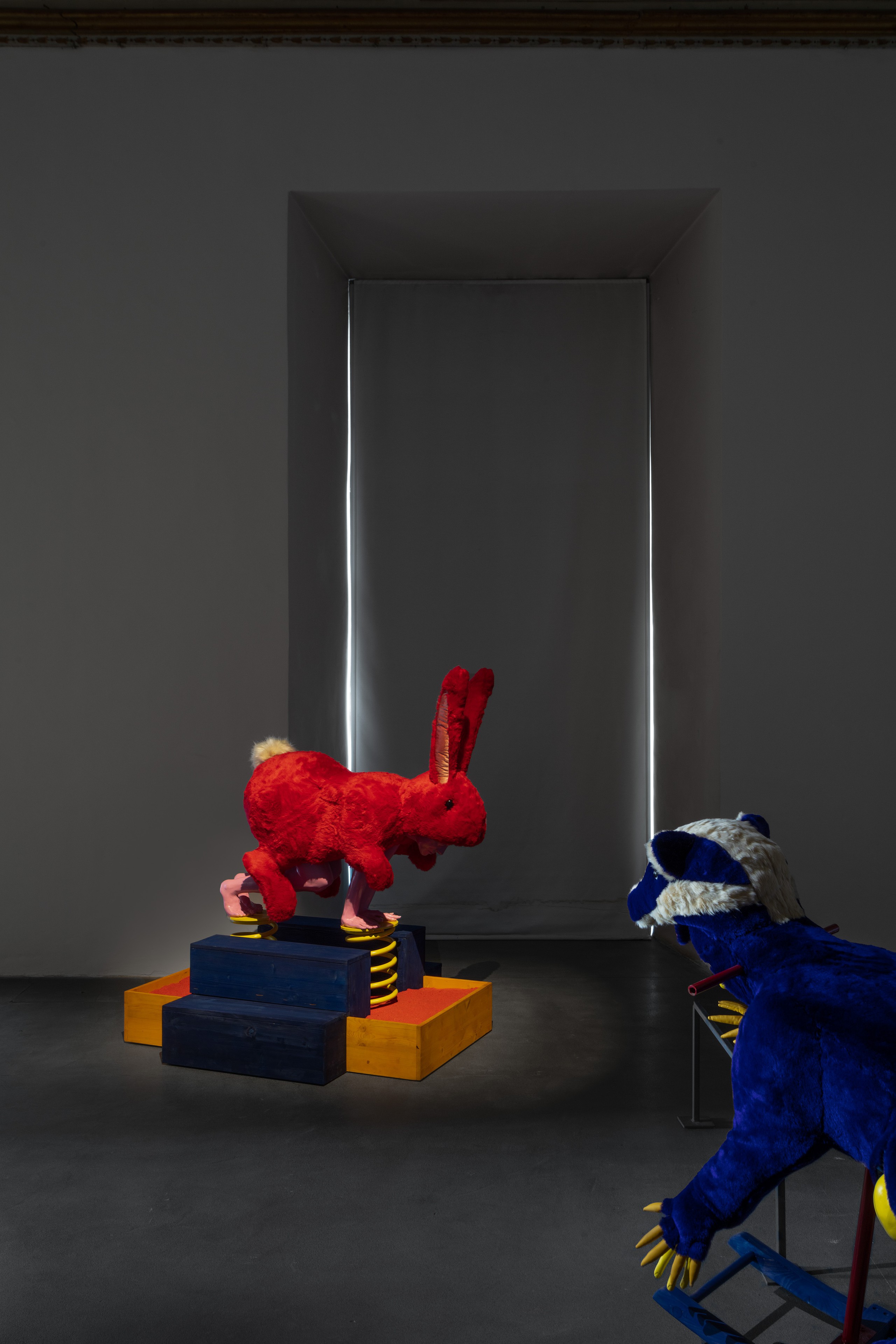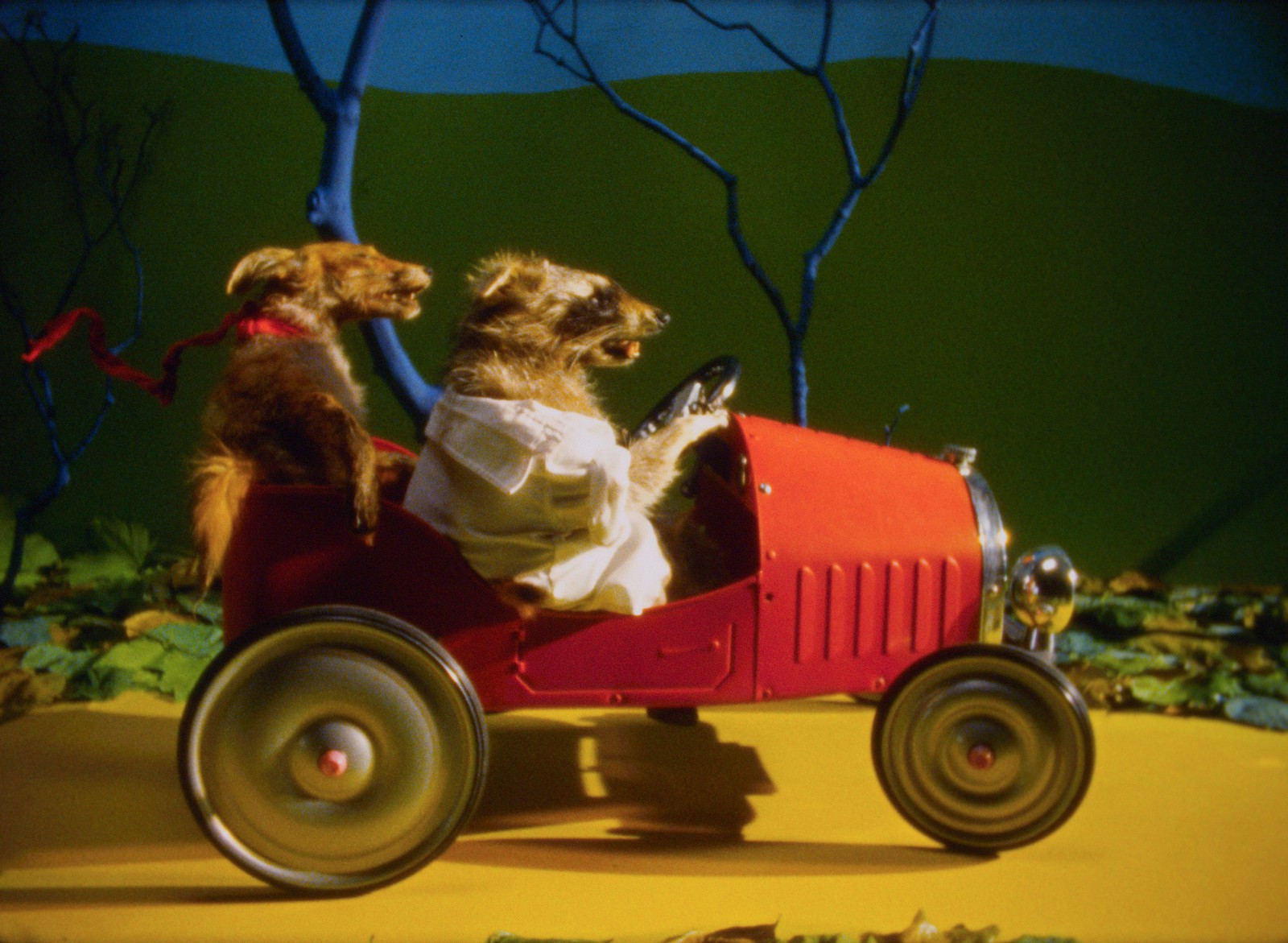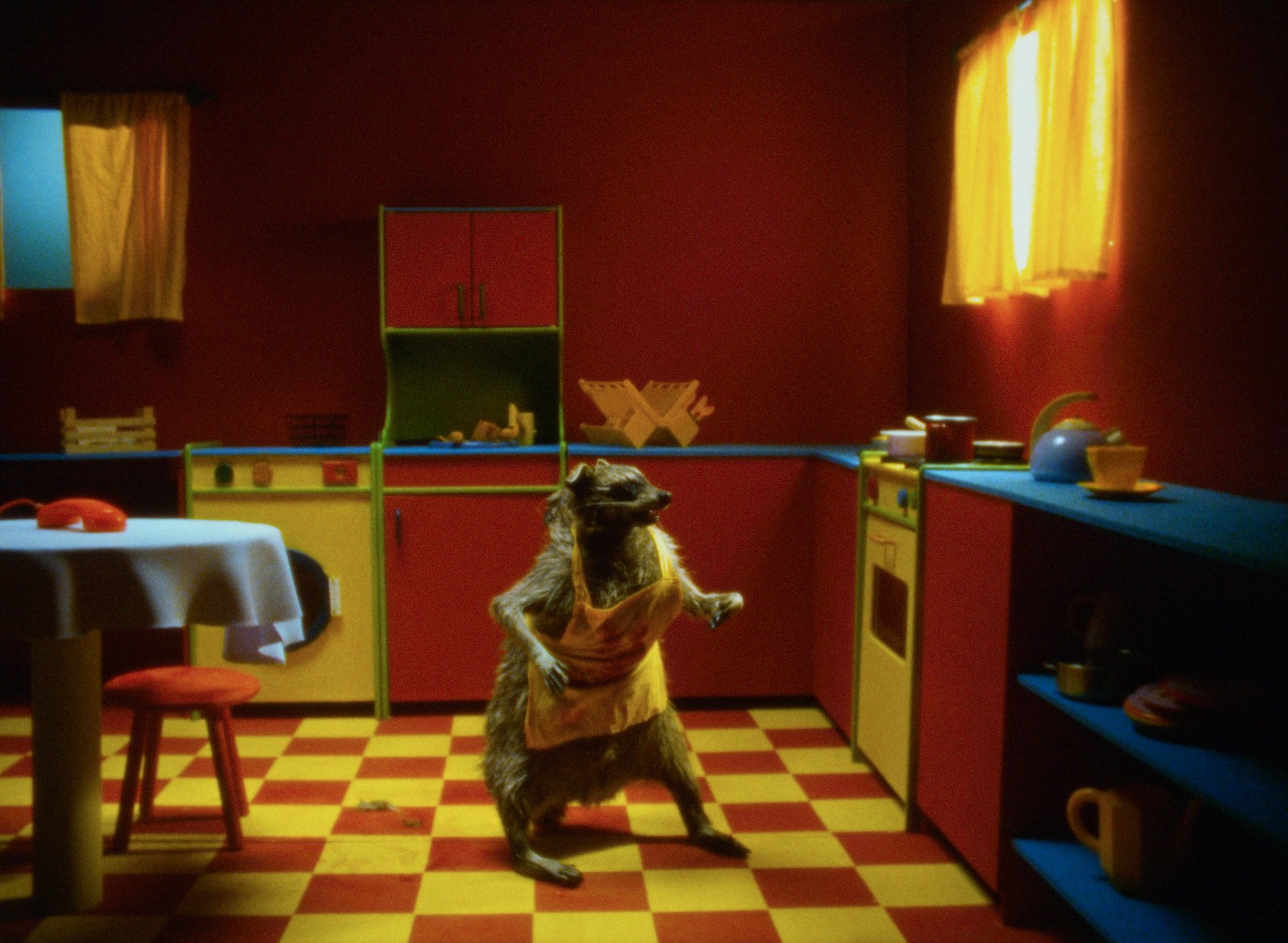 Return of the Herd
Arcadia Friesland, Leuwaarden, 2022, curated by Hans den Hartog Jager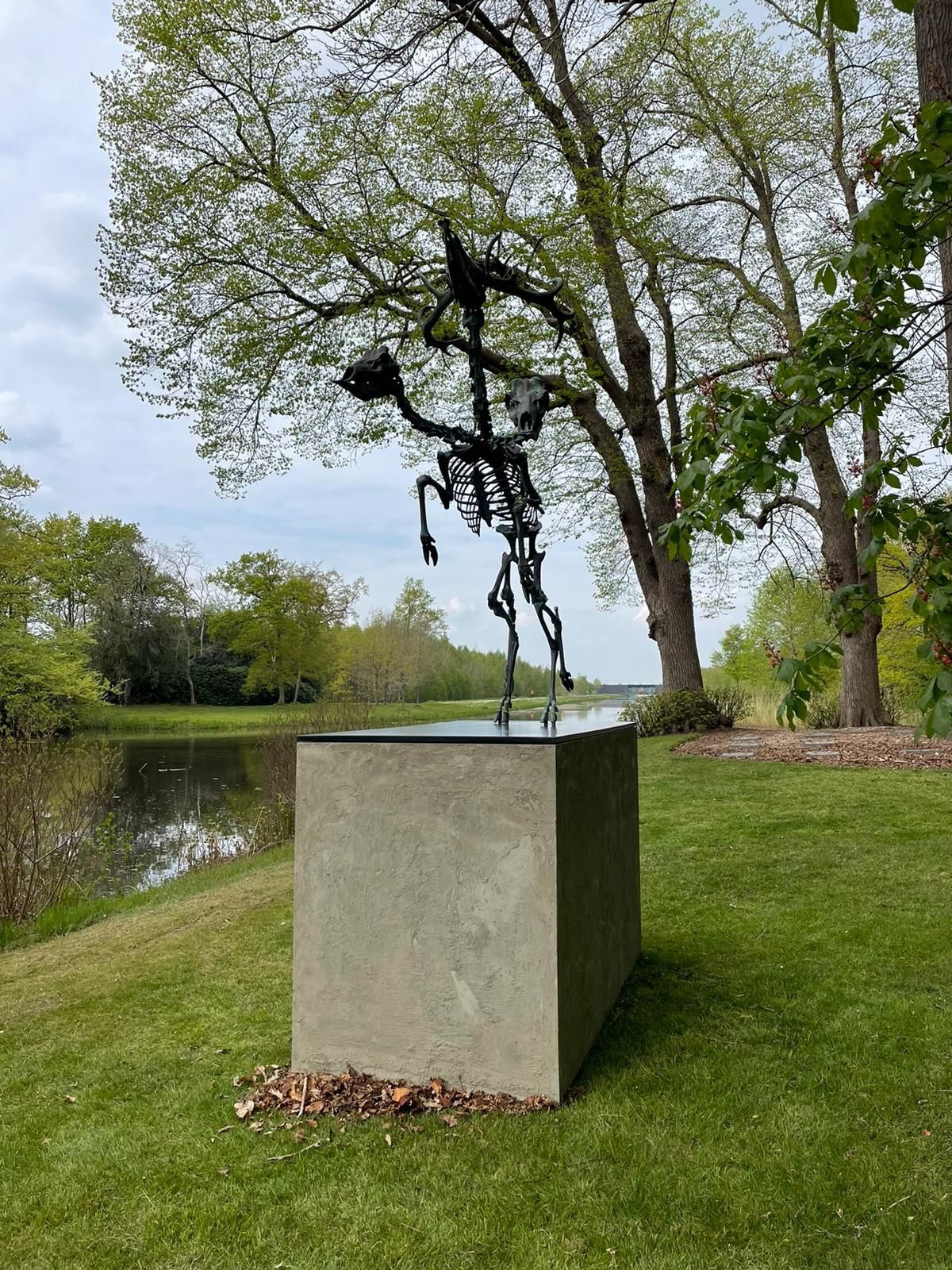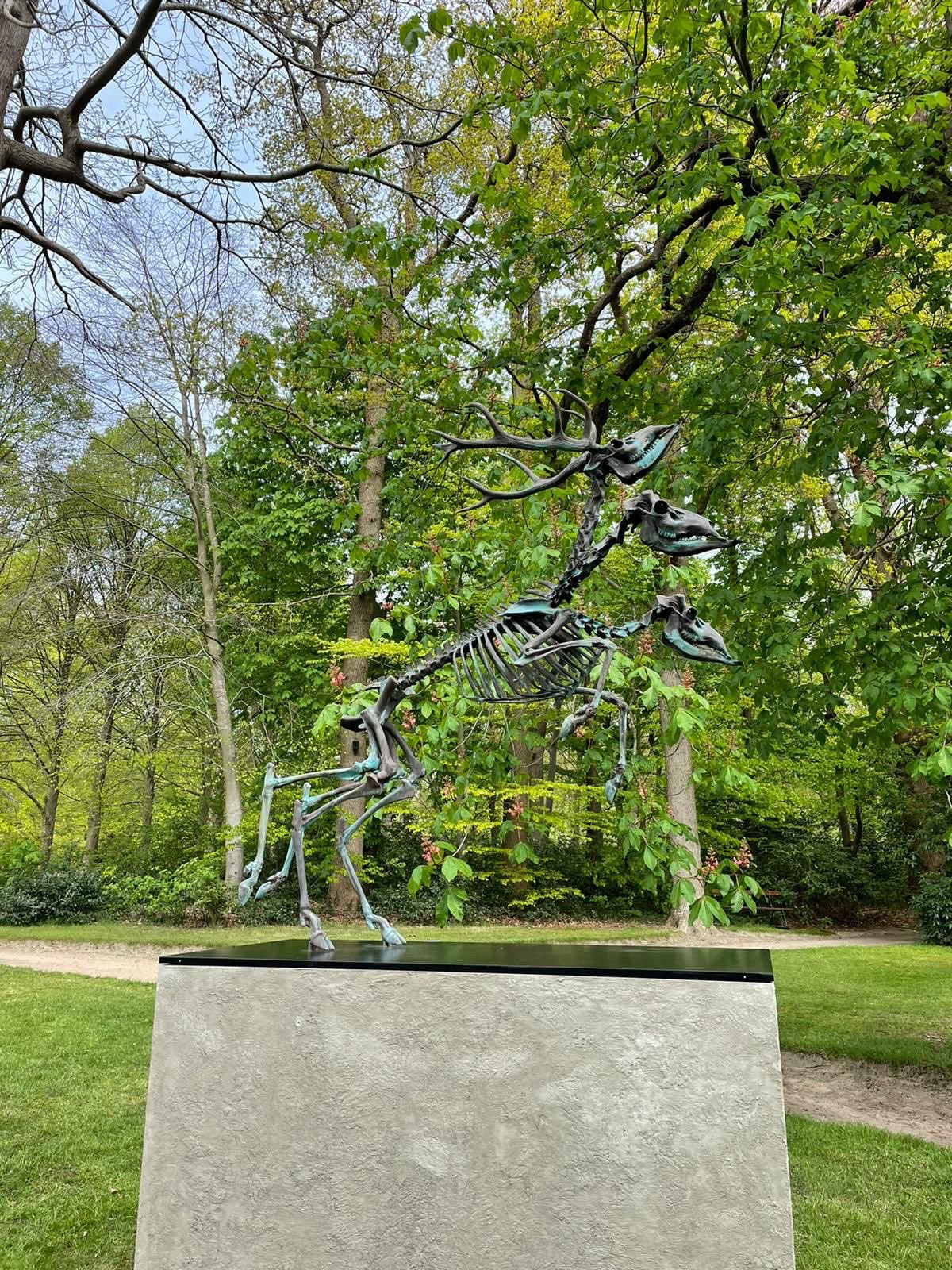 The Bird Game
A Higher Calling, White Space Beijing, 2021, curated by Shen Chen
A "calling" originally refers to a person, as a medium, being guided by the authority of some higher will, wisdom, or power, whose consciousness receiving divine will, hitherto giving one's words and actions a more self-evident justification and irrefutable legitimacy. This notion and literature on the "calling" can be found across traditional cultures around the world, such as "effectual calling," "Tí Hú Guàn Dǐng (being filled with wisdom)," or "heavenly mandate", etc.
Despite living in a generally secularized world today, people's "mystical" experience of a "calling" has not disappeared due to fading religious dominance. On the contrary, people often cling to believing in this irresistible experience beyond sufficient reason, resulting in contradictory words and actions that lead to conflicts and crises.
In Marianna Simnett's The Bird Game, the protagonists are tempted by crows to go on a quest to "never sleep again," will they win the game or become the accomplices of the evil one? The end seems unforeseeable, but only transformations are eternal.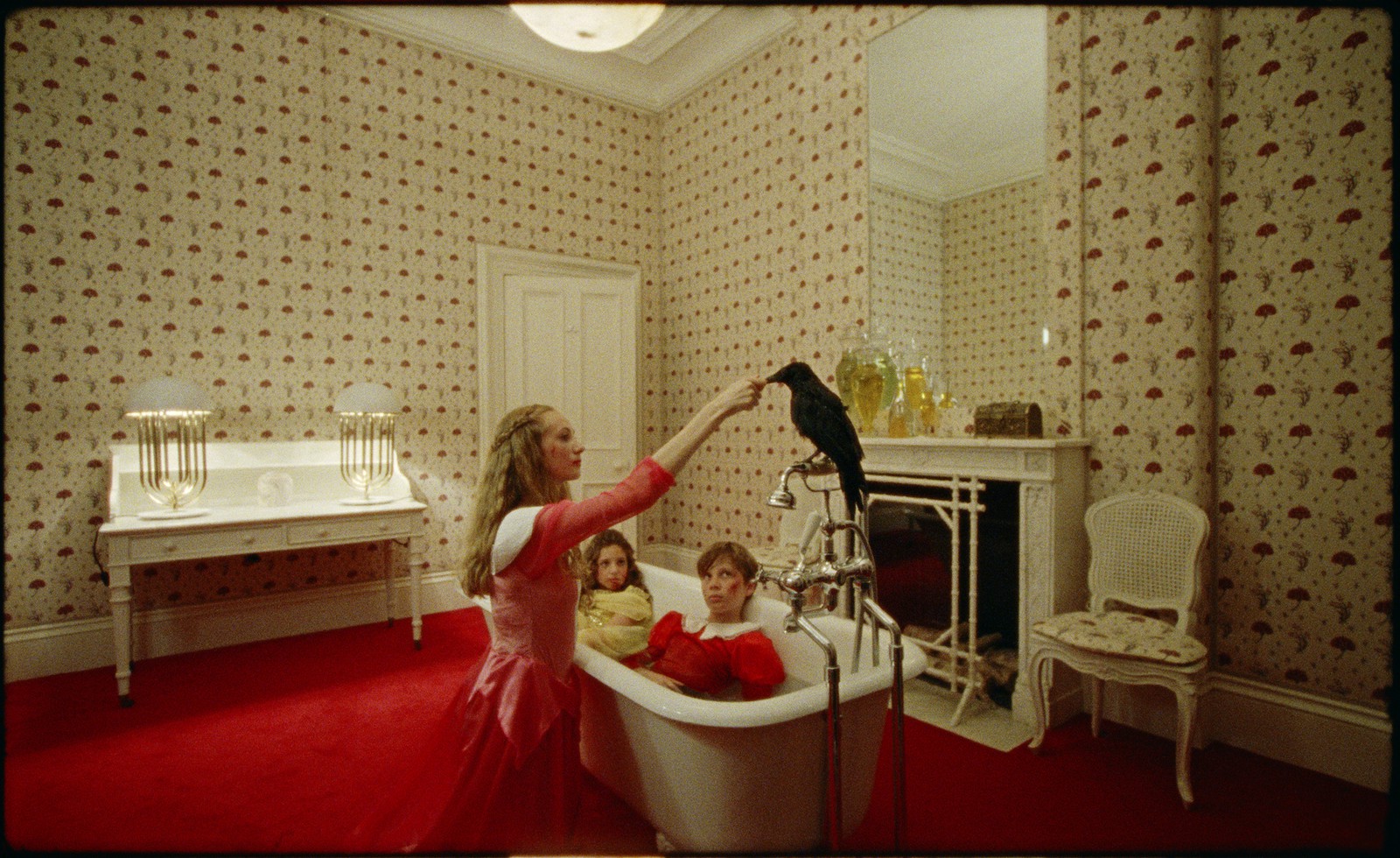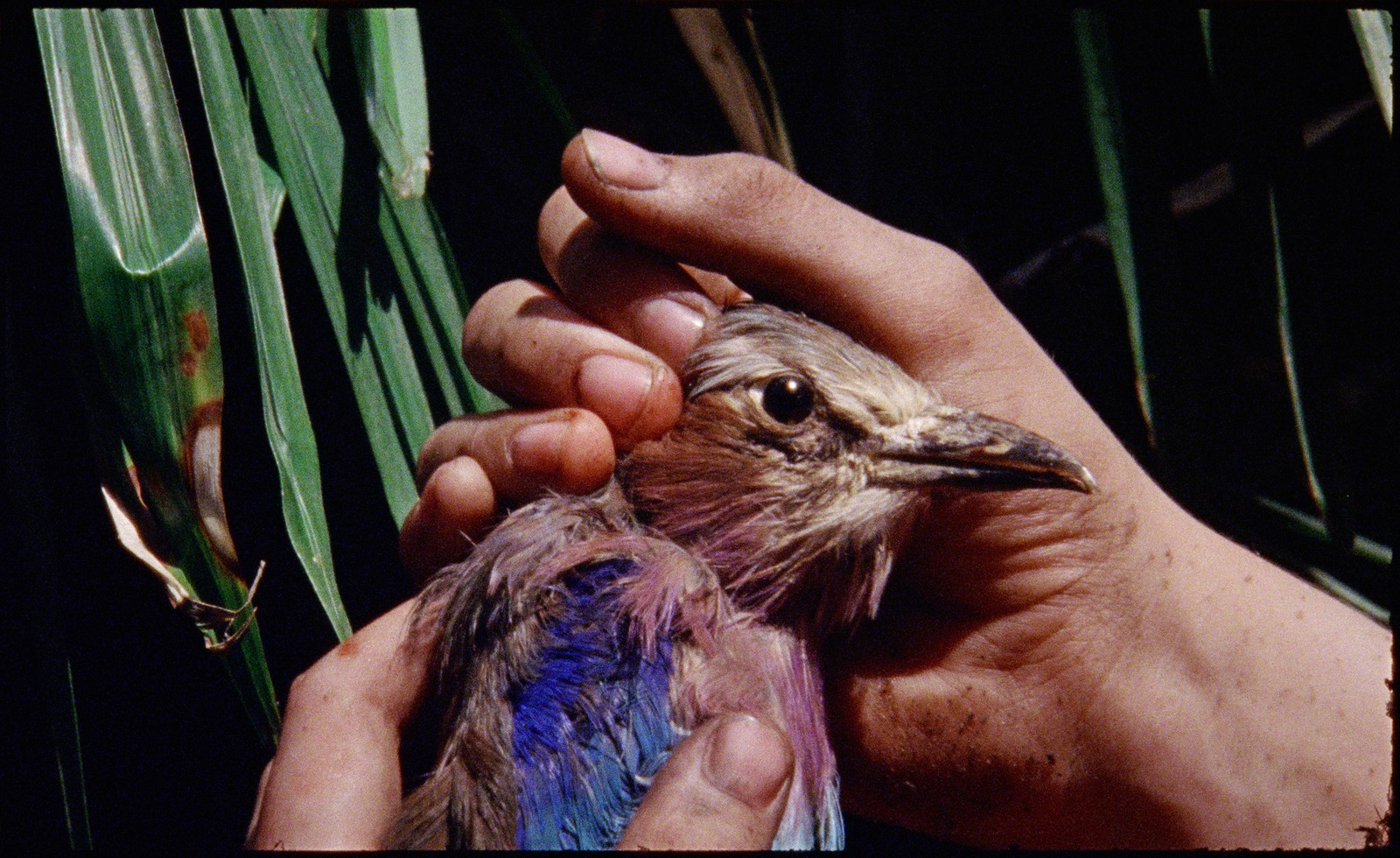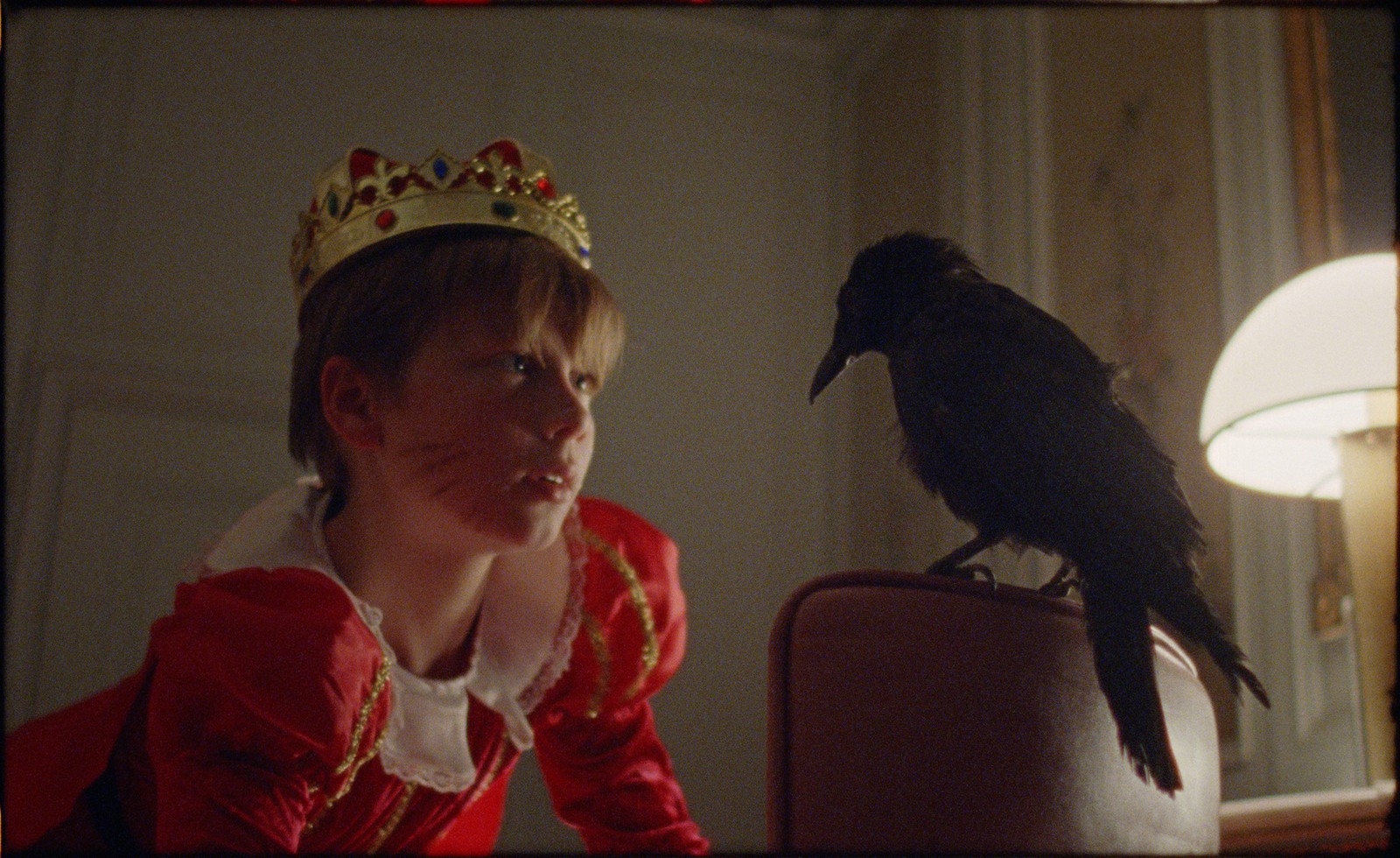 A Fire in my Belly
Julia Stoschek Collection, Berlin 2021, curated by Lisa Long, Eugene Yiu Nam Cheung and Julia Stoschek
Faint with Light is an audio and light installation which records the artist deliberately inducing her own unconsciousness through a self-taught method involving hyperventilation. Simnett's breath is monitored by a blinding wall of LED lights which rise and fall in tandem with her recurring collapse and revival.
The work was inspired by her late Jewish-Croatian grandfather who survived a mass execution during the Holocaust when he fainted in a firing line. Simnett reclaims the gesture of fainting, historically considered a symptom of hysteria, as a form of rapture, empowerment and survival.
Simnett is known for her visceral works, which challenge the ways bodies are perceived and imagined. Faint with Light is one of her most iconic and powerful works, and has shown in major museums internationally. The vulnerability and intimacy of the sounds and the aggressive brightness of the lights through each cycle of fainting produce a physical effect that is both dazzling and disturbing.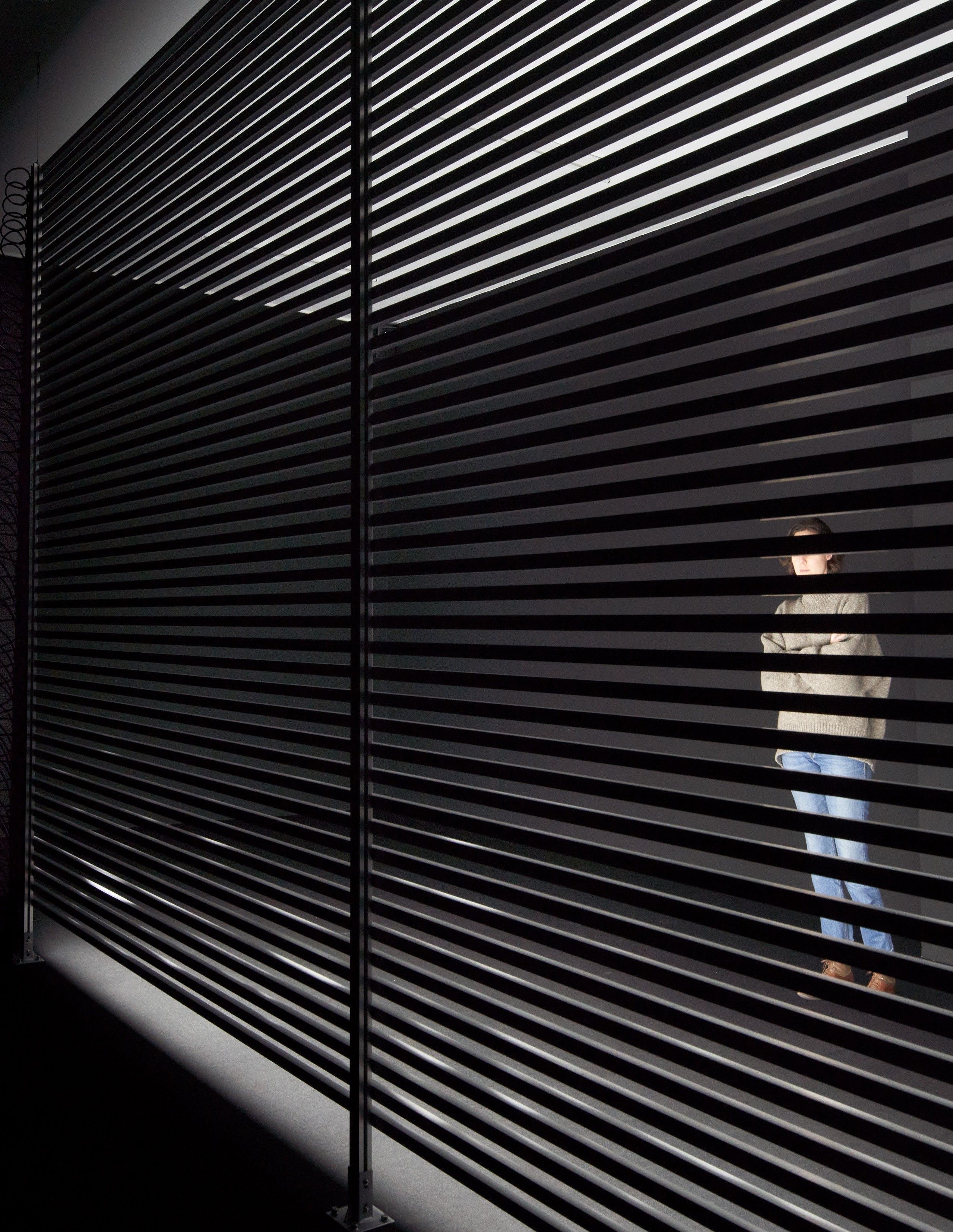 Bird's scream at the top of their lungs in horrified hellish rage every morning at daybreak to warn us all of the truth, but sadly we don't speak bird
Institute of Modern Art, Brisbane, 2022
Hyena and Swan in the Midst of Sexual Congress
Sadie Coles HQ, London, 2019, curated by Charlie Fox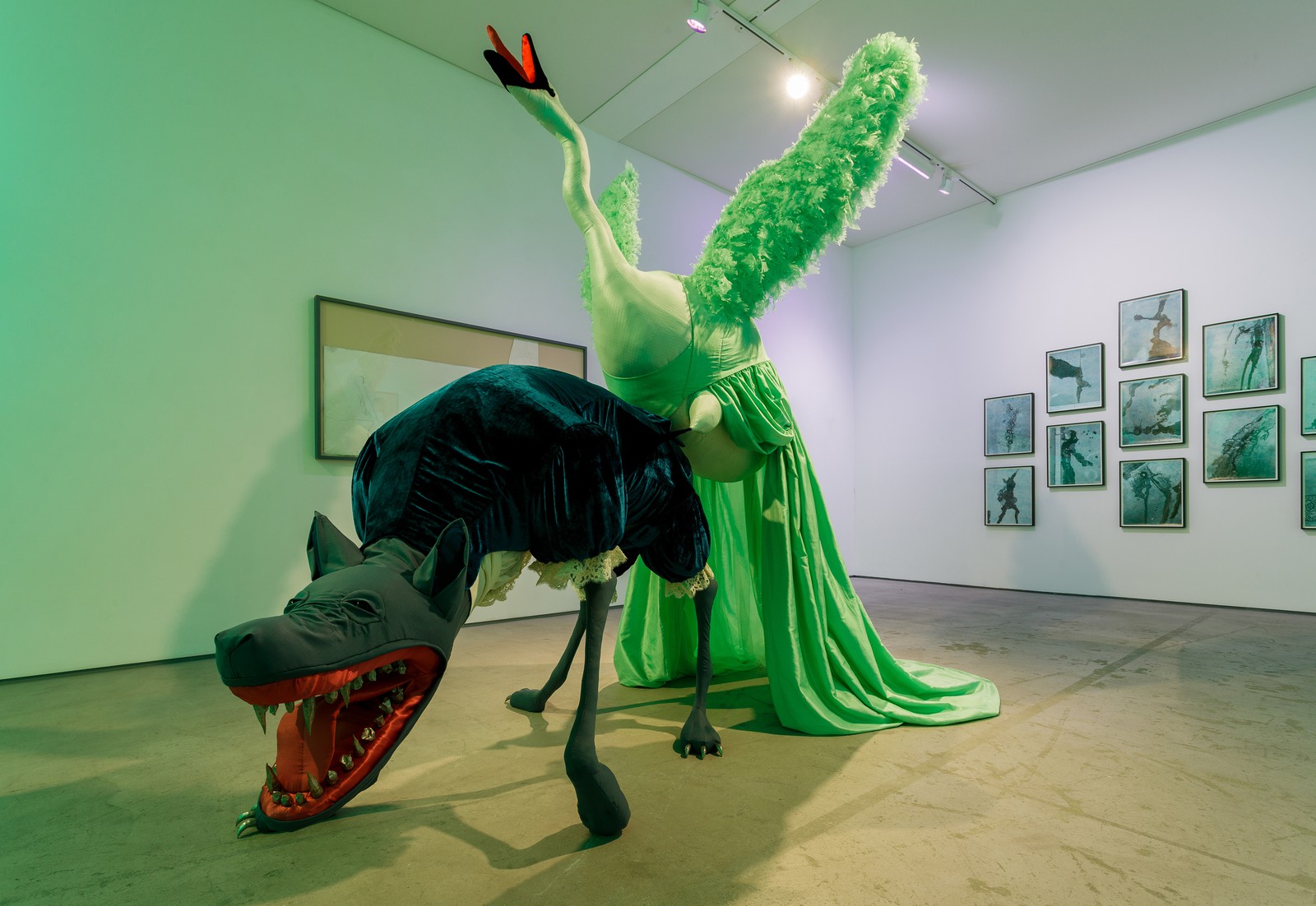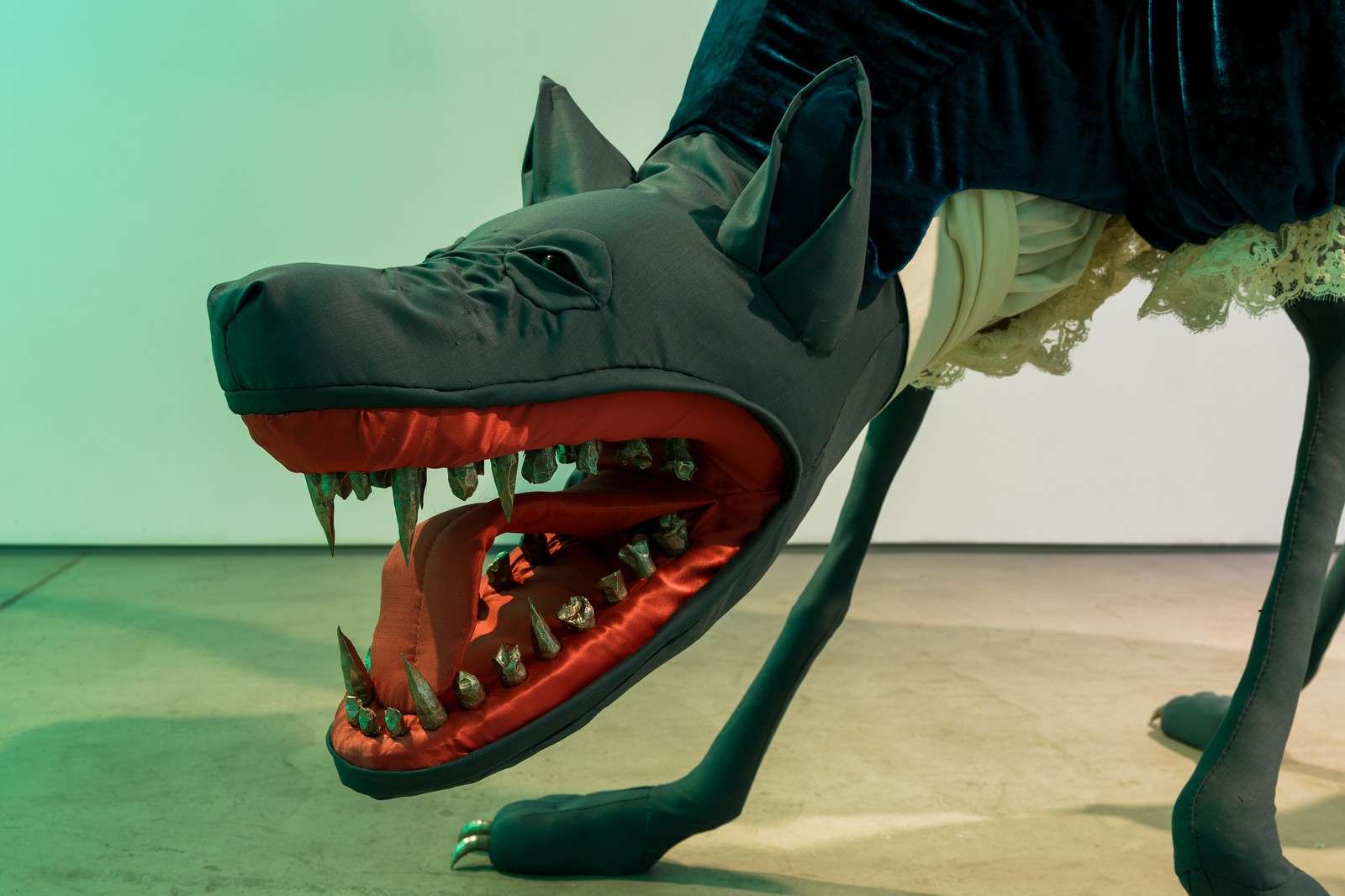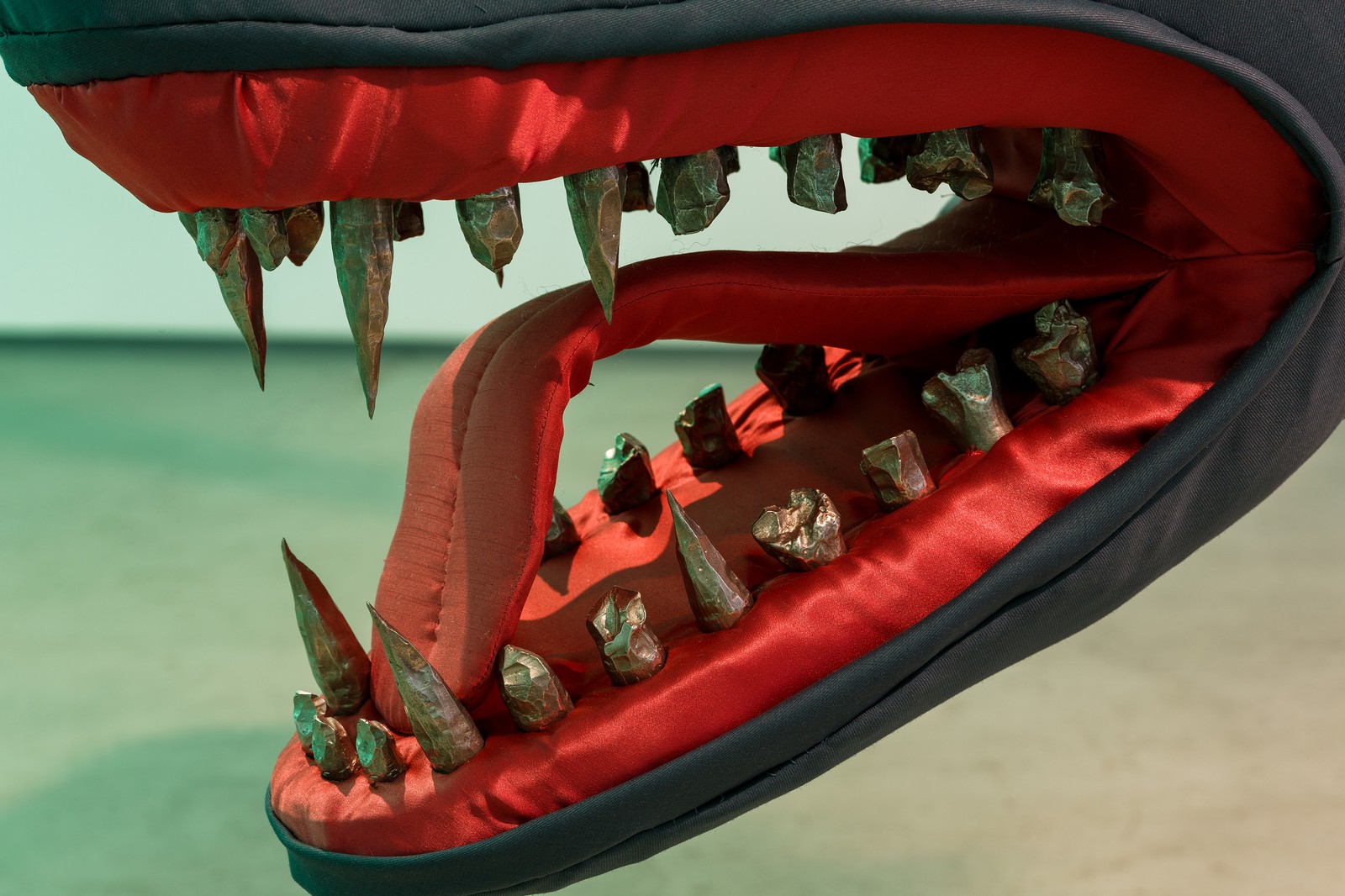 Blood in my Milk
Museum für Moderne Kunst Frankfurt, 2019, curated by Susanne Pfeffer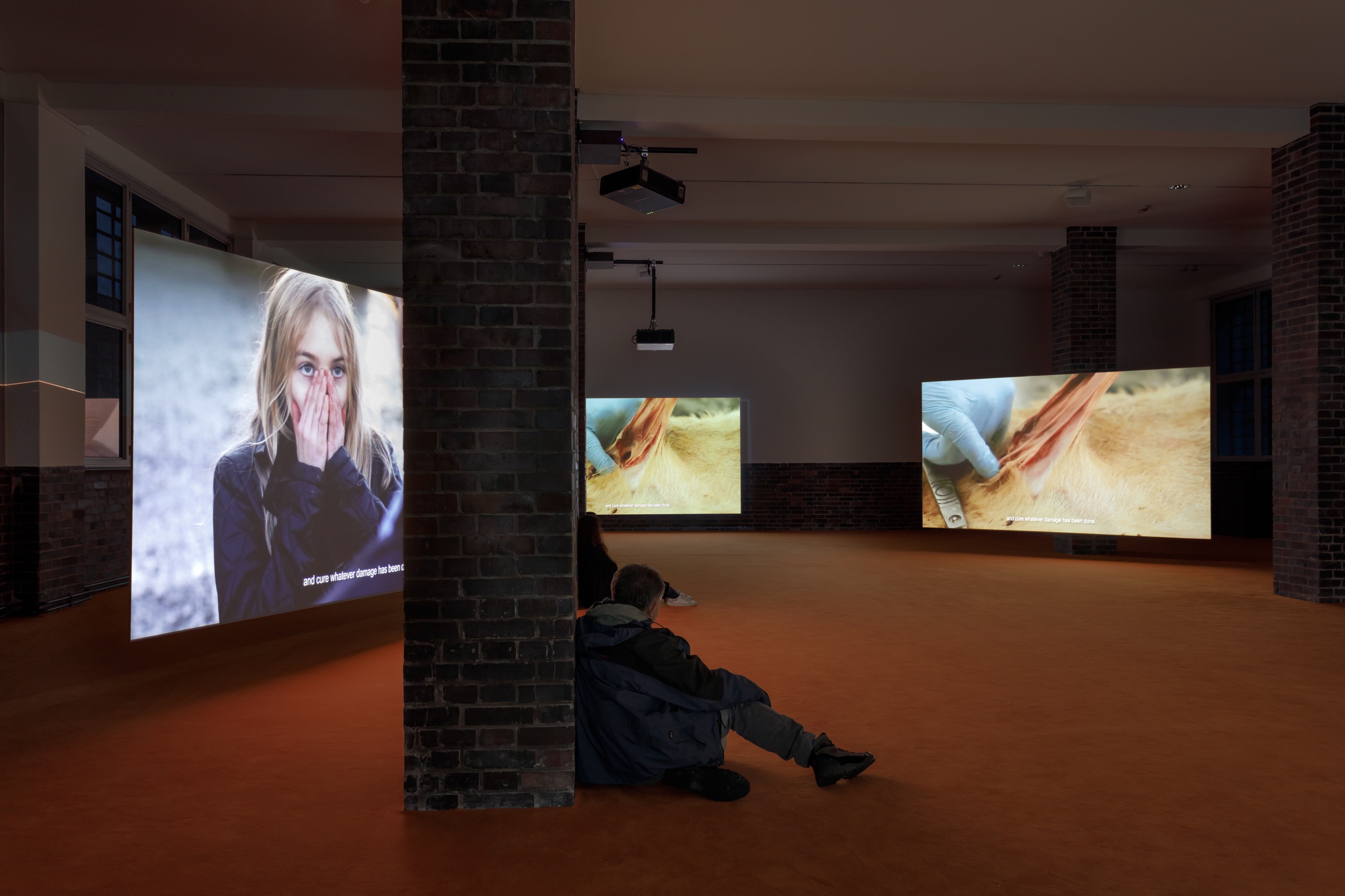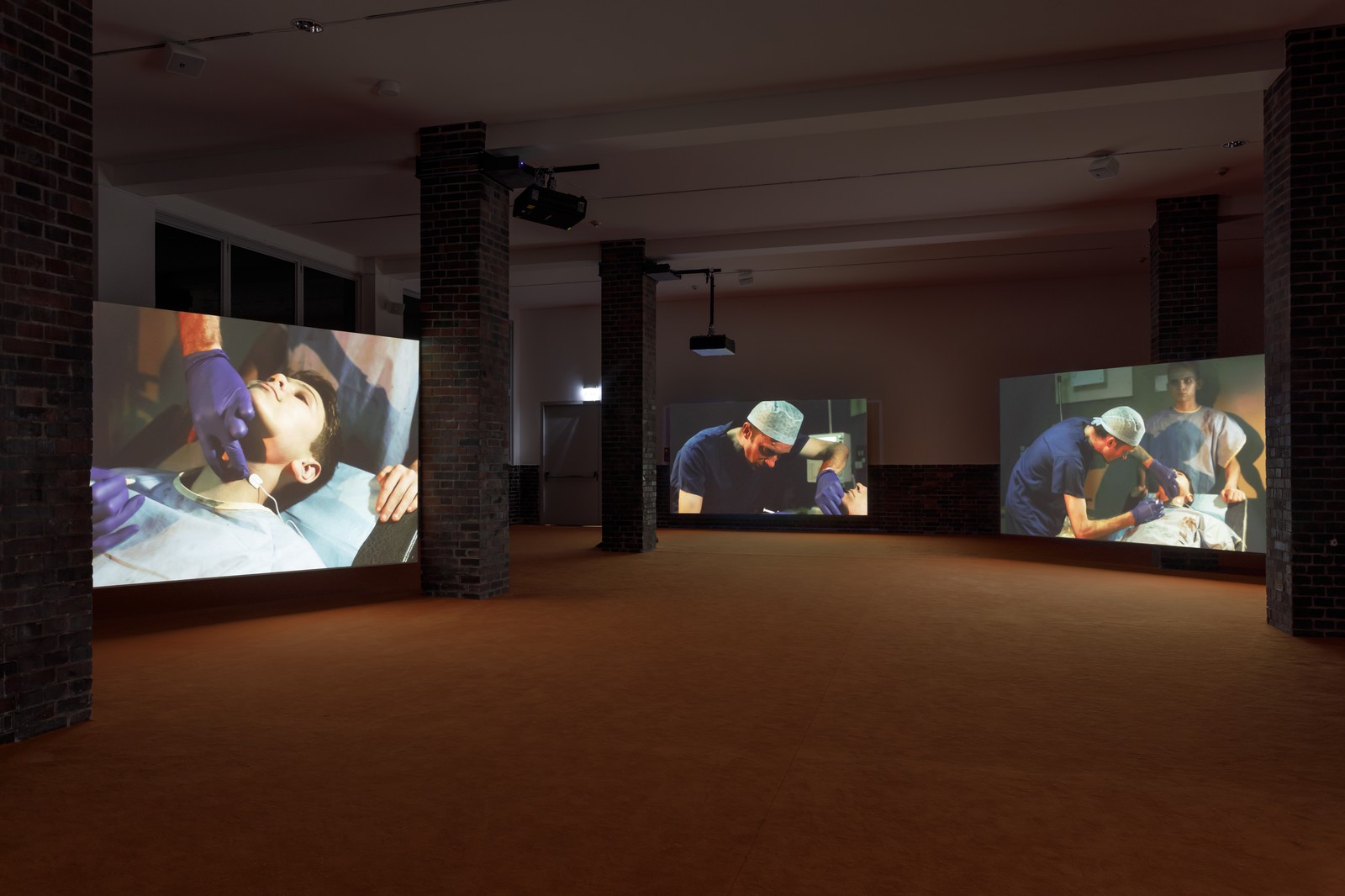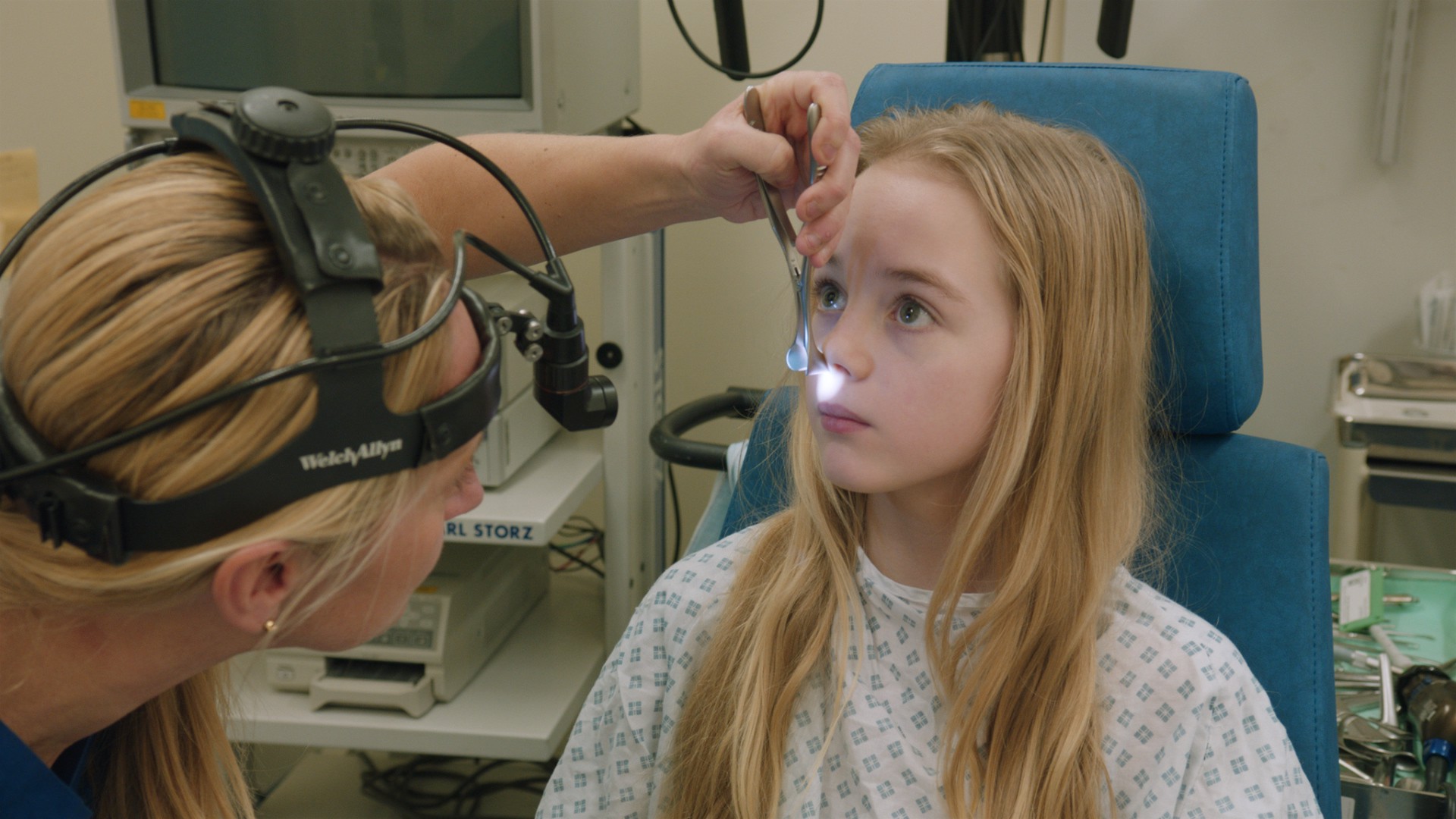 Solo exhibitions and duo exhibitions, Screenings
2023

GORGON, LAS FOUNDATION, Berlin

2022

OGRESS, Société, Berlin

THE MILK OF DREAMS, 59th International Art Exhibition of La Biennale di Venezia, Venice, Italy

Espressioni, The Epilgue, Castello di Rivoli, Turin

DARK MOFO, Video Festival, Hobart

Prize of the Böttcherstraße, Kunsthalle Bremen, Bremen

Videoart at Midnight, artists' cinema project, Berlin

2021

Uniqlo Tate Lates: Night In, an artist-led programme organized in occasion of the exhibition "Bruce Nauman", Tate, London

CREATURE, City Gallery Wellington, Wellington

2020

CREATURE, IMA, Institute of Modern Art, Brisbane

2019

LAB RATS, Kunsthalle Zürich, Zürich

Bits of girls left out to dry, bits of boys left out to die, Disappearing Berlin, Schinkel Pavillon, Berlin

My Broken Animal, Frans Hals Museum, Haarlem

Marianna Simnett & Ericka Beckman, FACT, Liverpool

SEIZURE, Copenhagen Contemporary, Copenhagen

2018

Screening and Q&A with Hans Ulrich Obrist and Claude Adjil, LOOP Festival, Barcelona

Marianna Simnett, Museum für Moderne Kunst, Frankfurt

Athens Biennale 2018: ANTI, Athens

Blood In My Milk, The New Museum, New York

The Udder. Introduced by Esther Leslie, Vdrome, www.vdrome.org

The Midden, The Cowles Center for Dance and the Performing Arts, Minneapolis

Marianna Simnett & Ericka Beckman, Zabludowicz Collection, London

Wing-sleepers, London Night Tube map & poster design, Art on the Underground, London

2017

Worst Gift, Matt's Gallery, London

2016

Lies, Seventeen, New York

Valves Collapse, Seventeen, London

2015

Blue Roses, Park Nights, Serpentine Pavilion, London

2014

Marianna Simnett, Acme Project Space, London
Group exhibitions, Screenings
2023

Chrysalis, The Butterfly Dream, Centre d'Art Contemporain Genève

1.5 Degrees, Kunsthalle Mannheim, Mannheim
The King Is Dead, Long Live the Queen, Museum Frieder Burda, Baden-Baden

2022

Corridor, ELDERS, Kortrijk

British Art Show 9, Wolverhampton

Espressioni, The Epilgue, Castello di Rivoli, Turin

Interspecies/ and other others, Abbotsford Convent Pecinct, Abbotsford, Canada

2021

A Higher Calling, White Space, Beijing

Dancing is What We Make of Falling 2, OGR, Officine Grandi Riparazioni, Turin

FIGURE/S: drawing after Bellmer, The Drawing Room, London

British Art Show 9, Aberdeen, Wolverhampton, Manchester, Plymouth

Studio Berlin, Berghain, Berlin

The Dreamers, 58th October Salon exhibition, Belgrade

The Holding Environment, Bonner Kunstverein, Bonn

A Fire in My Belly, Julia Stoschek Collection, Berlin

2020

Beyond the Pain, Stadt Sindelfingen, Stuttgart

Participation Mystique, Ming Contemporary Art Museum, Shanghai

Unprecedented Times, Kunsthaus Bregenz, Bregenz

Me, Family, MUDAM, Grand Duke Jean Museum of Modern Art, Luxembourg

2019

It's Urgent! – Part II, Luma Westbau, Zürich

The Body Electric, YBCA, San Francisco

Without Voice, Maison Conti Institut d'art contemporain Ange Leccia, Oletta

My Head Is A Haunted House, Sadie Coles, London

Straying From The Line, Schinkel Pavillon, Berlin

The Body Electric, Walker Art Center, Minneapolis

The Violence of Gender, Tai Kwun Contemporary, Hong Kong

2018

The Needle & The Larynx, Channel 4 Random Acts, UK TV

Health Show II, Skin.Cells, A.I.R. Gallery, New York

2017

MFJ65 Launch, Anthology Film Archives, New York

Brace Brace, 29 Percy Street, London

Borealis Festival, Bergen Kunsthall, Bergen

Possibility of Preserving, Kunsthalle Bratislava, Bratislava

Dark Water – A night of performance and screenings programmed by Tai Shani & A – Z (Anne Duffau), Southwark Park Galleries, London