Trisha Baga
---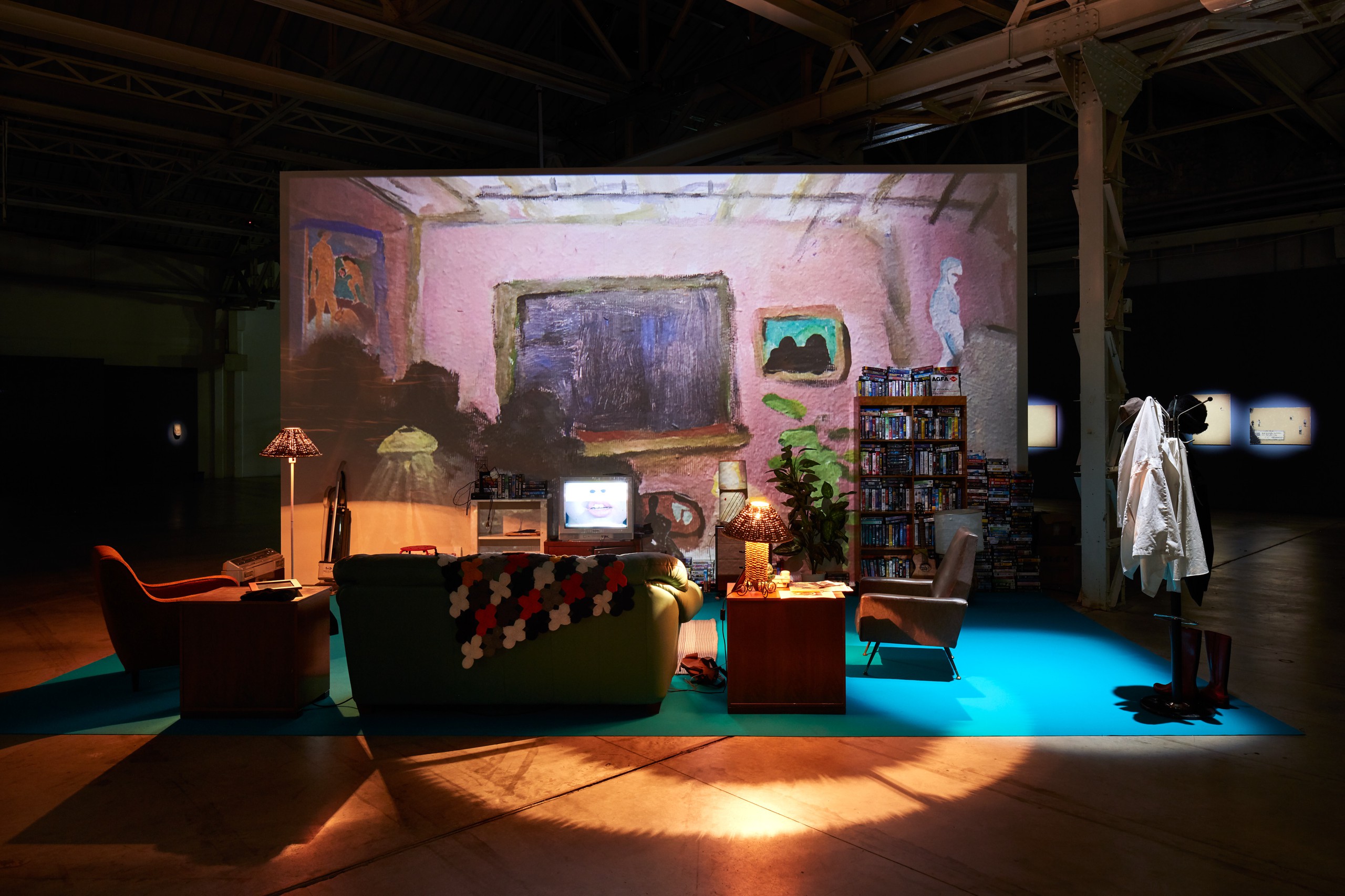 A self-professed "hoarder of images," Trisha Baga's practice is compelled by an interest in what they call, "the stuff that fills the gaps." Baga has built a reputation for work that gleans the margins of the digital and the logic of online browsing to create dreamy, layered narratives—an approach that, in addition to their multi-media and performative work, has secured their position as a significant voice in contemporary painting. Baga's paintings draw upon diverse imagery culled from personal photographs, music videos, karaoke screens, and their own films to create uncanny spaces that meld our on- and off-screen lives. Baga doesn't attempt to resolve the varying formal and associative registers of their artistic practice—the elements in their paintings don't adhere to another seamlessly, and instead clump together like a mutually-imbricated life form held together by a sticky, viscous goo.
Trisha Baga (b. 1985, Venice) lives and works in New York. Their immersive large-scale painting installation BODY CLOCK—a constellation of painting, light projections, staged objects, and sculpture—was exhibited at Art Basel Unlimited in 2021. That same year, their video installation HOPE illuminated the façade of Kassel's Fridericianum on the United States election day. Baga's work has been the subject of solo exhibitions at Pirelli HangarBicocca, Milan; CCC, Carpenter Center for the Visual Arts, Harvard College, Cambridge; Zabludowicz Collection, London; and the Whitney Museum of American Art, New York. Baga has also participated in group exhibitions at Kunsthalle Wien, Vienna; Biennale für aktuelle Fotografie, Ludwigshafen am Rhein; PS1, New York; Centre d'Art Contemporain, Geneva; European Biennial of Contemporary Art, Zurich; and Julia Stoschek Collection at ZKM, Düsseldorf, among many other venues.
---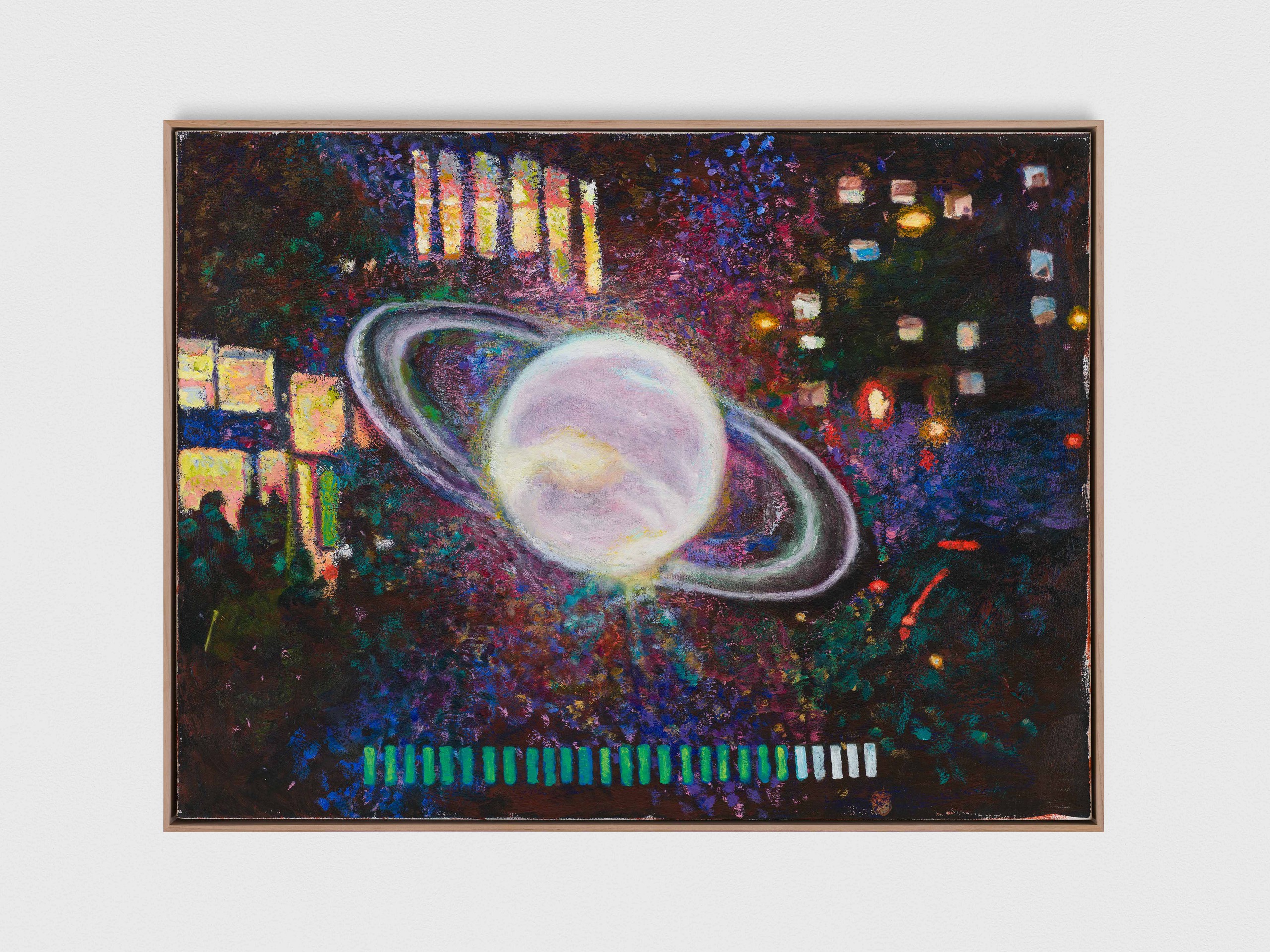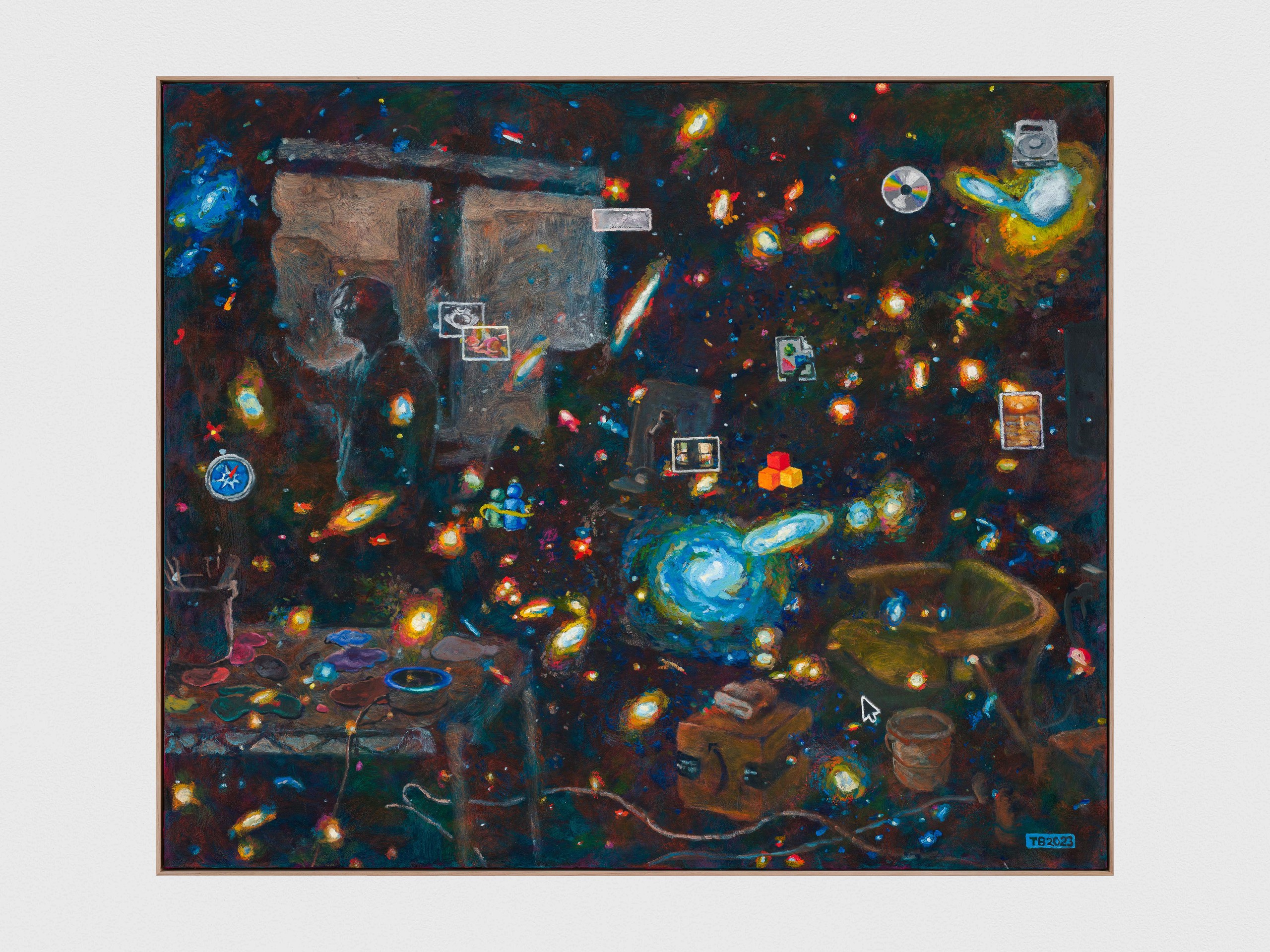 BODY CLOCK
Art Basel Unlimited 2021, curated by Giovanni Carmine
Trisha Baga's immersive installation BODY CLOCK features their largest painting to date, as lit by a complex light projection that layers a stream of visual interfaces and lighting motifs moving over the canvas. In the painting, the Korean boyband BTS performs a signature element of their choreography, the formation of a DNA double helix. BTS' elaborate dance routines are marked by rapid points of connection and rupture. Touch forms a bond that dissipates just as quickly as clusters of bodies repeatedly come together and break apart like an infinite loop. Detached from its original context, the group's fleeting embrace takes on a more tender, subtle tone. The figures seem to take shelter in one another, literally protecting and shielding each other with their bodies. The luminous glow of alternating clips of Epson start up screens, screensavers, scrolling files, and white light cast a lustrous, ever-shifting halo around the band, imbuing them with a peculiar, mediated radiance that borders on historical and religious painting. Navigating the installation, the viewer's own body becomes part of this tableaux. The human body and its representational fragments are an ongoing concern in Baga's work, which they use as a cipher to explore ideas about identity, globalization, solidarity, and community. Yet, as is typical of Baga's approach, their interrogation extends beyond the bounds of the human body to incorporate its relationship with media and technology. Baga described themself as a "CMYK printer" when creating BODY CLOCK and an interplay between the analogue and the digital, the brushstroke and the pixel, the flesh and the image pervades the installation—all illuminated by layers of projections whose flashing lights evince a persistent searching: tuning in, scanning, streaming, seeking connection.
HOPE
Illumination of the Fridericianum on U.S. Election Day, Fridericianum, Kassel, 2020, curated by Moritz Wesseler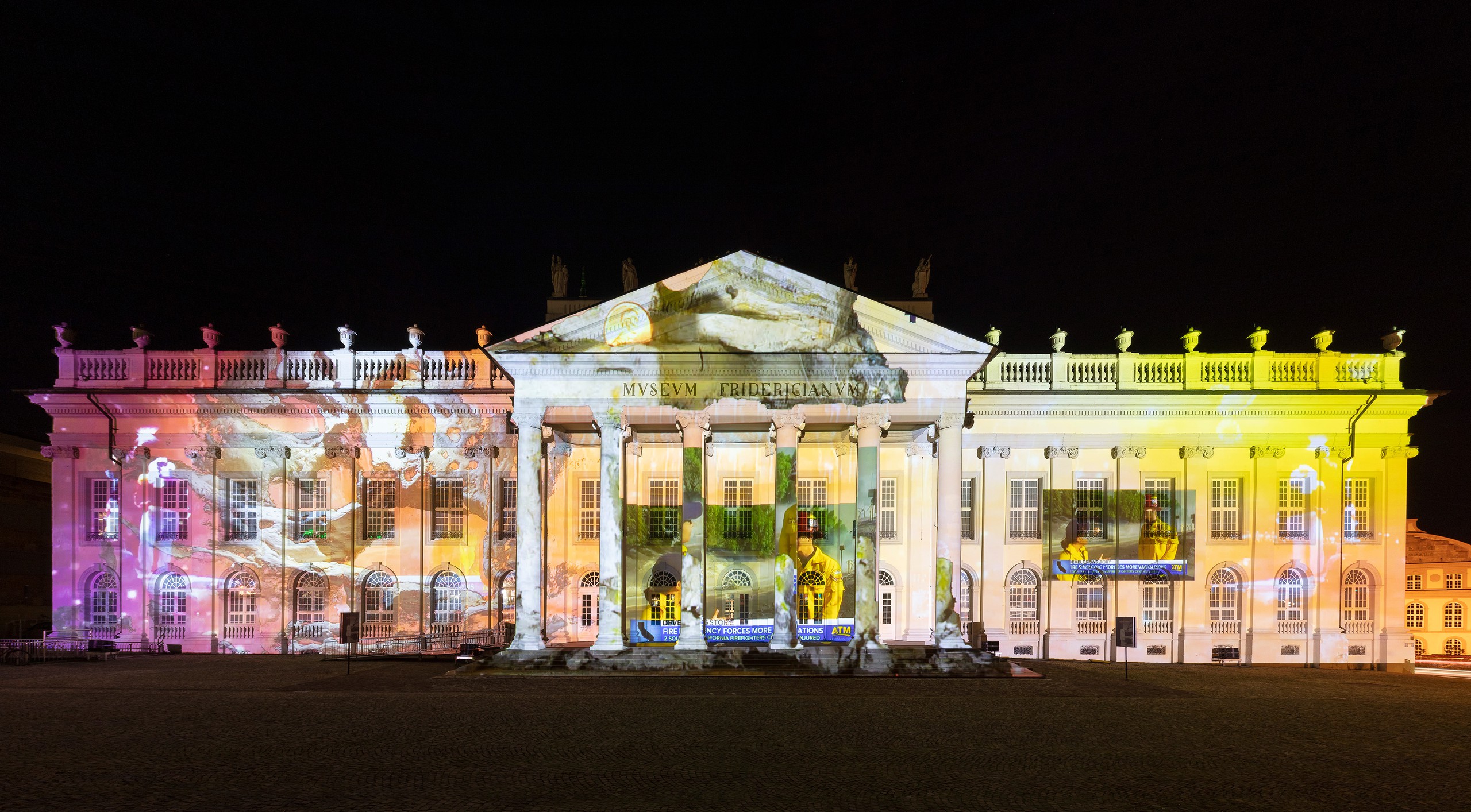 The oldest public museum in Germany, the Fridericianum, reflected the dark mood of chaos in the year leading up to the United States' presidential election. On November 3 in Kassel, Trisha Baga's commissioned eight-minute film, Hope (2020), was projected onto the front facade of the Fridericianum, coinciding with the US vote, which the work highlights in addition to other global affairs.
The large-scale illumination of the German art museum acts as a call for action and unity amid a strenuous year plagued by a global pandemic and widespread political tensions, which Baga highlights in the video. The title embodies positive aspirations but at the same time also refers to US President Donald Trump's political advisor Hope Hicks, who tested positive for Covid-19 one day prior to the announcement of Trump's own positive test on October 2.
In the film, the artist is seen creating a White House model in clay that is then demolished. Various other imageries are then projected onto the fragmented ruins of the model, such as snapshots of Trump's Twitter account, alluding to his controversial frequent usage of the social-media platform during his presidency to comment on current affairs, as well as depictions of other major events such as news stories about Covid-19 and scenes of forest fires. These visuals are accompanied by digital sounds from an unspecified data collection device, evoking the problems around unauthorized digital surveillance in the US. The juxtaposed elements serve as a reminder of the increasing polarity found not only in global politics but also among the wider society, and at the same time, suggest a new form of unity.
The much-anticipated election season is set to officially conclude when the last polling stations close at 1 am Eastern Time on November 4. With many pressing issues at stake, including the continuing rampage of Covid-19 in the US, the ongoing Black Lives Matter movement, healthcare policies, as well as international matters relating to the country's foreign relations, the contest between Trump and the Republicans and Democratic challengers Joe Biden and Kamala Harris has become increasingly polarizing. With numerous legal challenges likely, the results of the elections might not be known for days or even weeks.
Stephanie Siu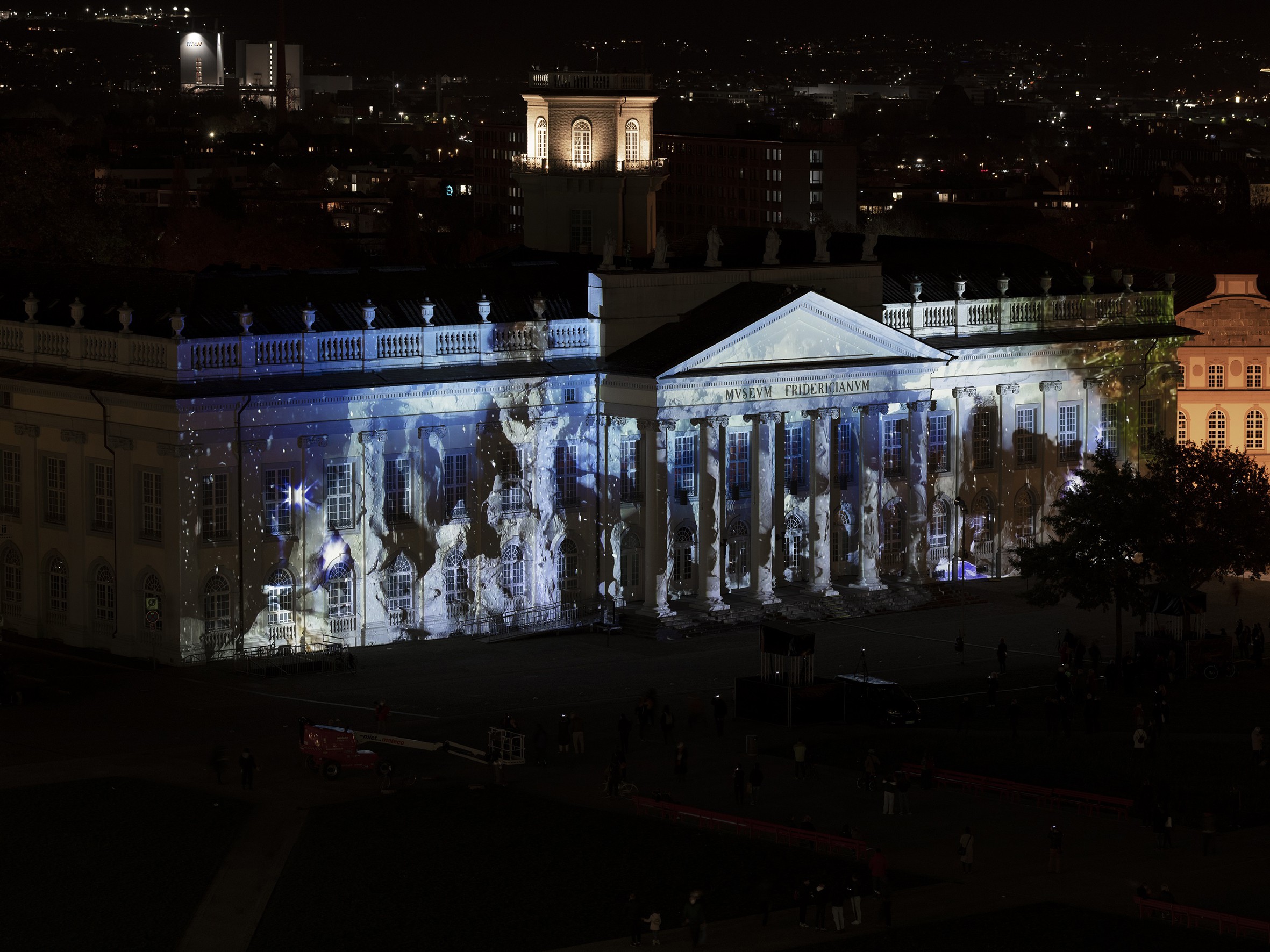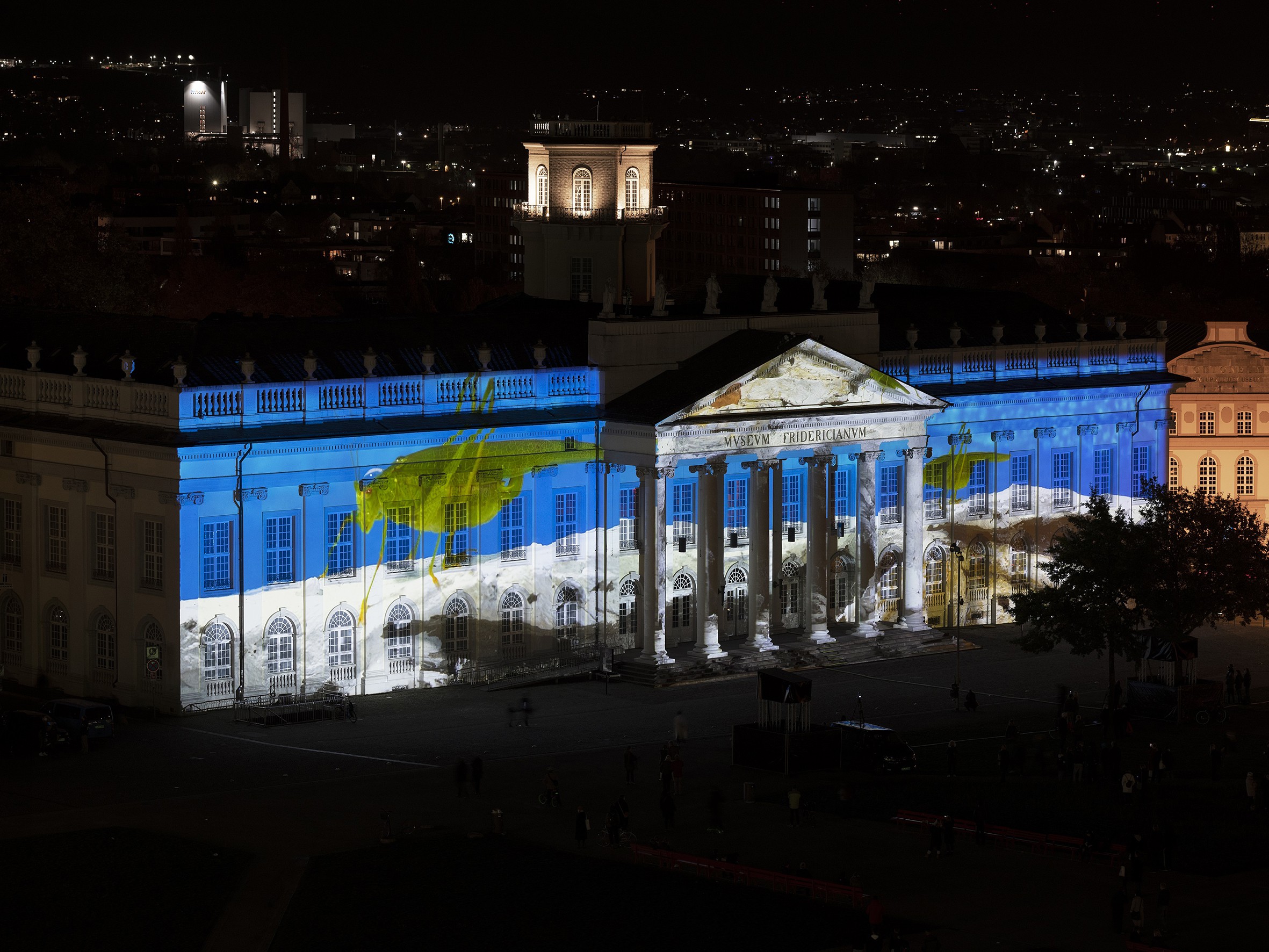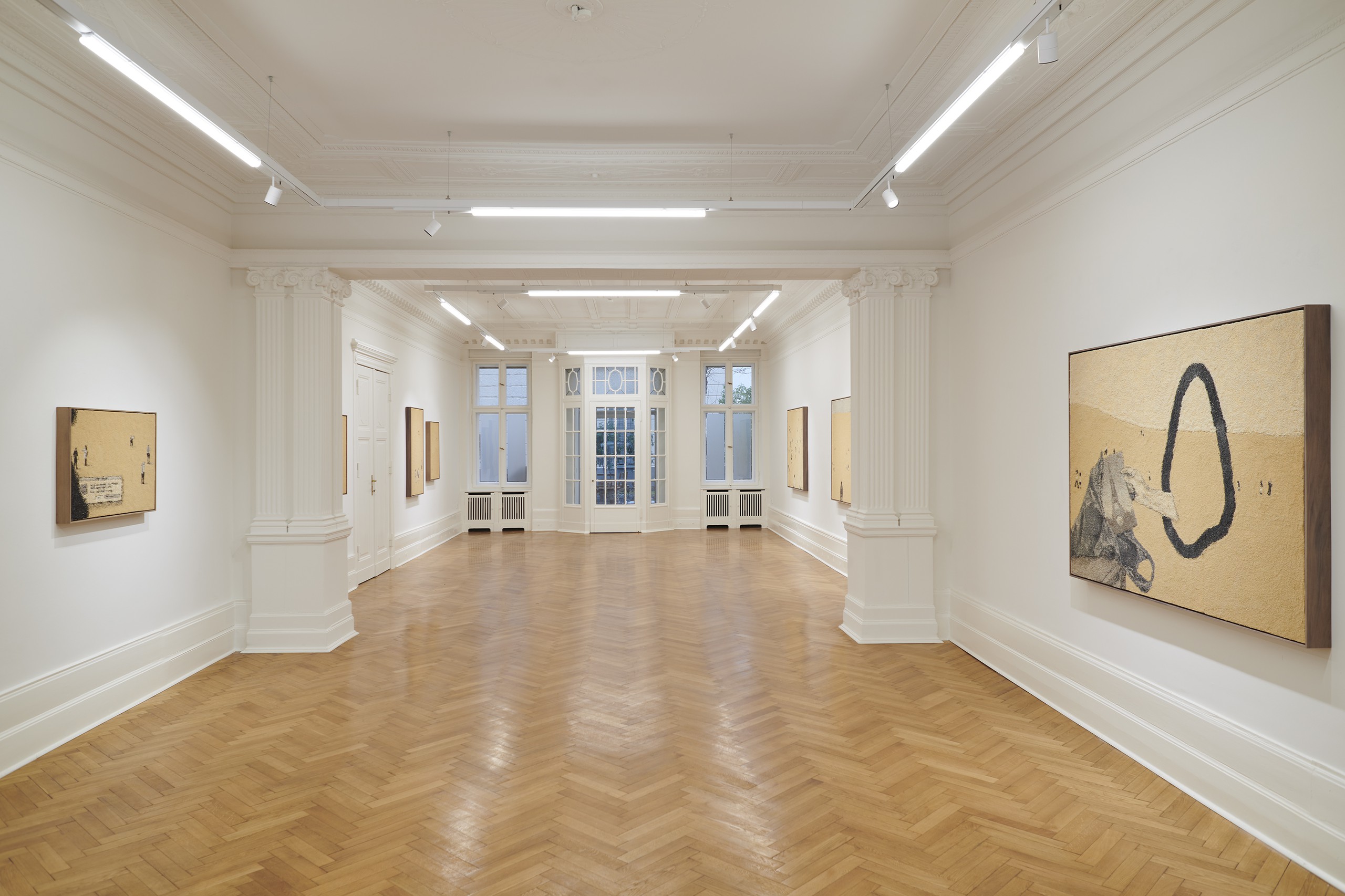 Trisha Baga is a gleaner. An avid accumulator of images and things, it's somehow fitting that the artist eventually found their way to seeds. Grains, seeds, granules: these tiny things shape and measure our world. The grain was the earliest unit of mass, in the United Kingdom the "stone" is still used to measure weight, and the carat, a familiar unit to measure the size of precious gems, is actually derived from a carob seed. Grains and seeds are not only measures of smallness, but the roots of modern civilization—spawning systems for storage, trade, and cultivation. In Baga's Seed Paintings, the artist swaps pixels for grains to depict anonymous figures roaming vast arid landscapes, transforming the stuff of agriculture into pointillist images of blank tourists scattered like so many seeds on the wind.
The forms of Baga's Seed Paintings are deeply entangled with their medium. On one hand, Baga claims that if these seeds were planted, they would potentially reproduce the same image on a different scale. Likewise, just as a seed is a building block of organic life, they can also be read as a pixel: the building block of a digital image. As Baga notes, "Video is the lens through which I see the world [...] the seed is a metaphor for the pixel. It goes along with this imaginary scenario that I had. In a post-electric world, how do we reproduce images?" Works like Idle Babel and Sex include Photoshop editing panels and, as curators Lucia Aspesi and Fiammetta Griccioli note, "these textured panels offer a materic version of the pixelated images of the videos—suggesting a re-composition of the images fragmented by technology—showing how the artist expands the possibilities of painting by envisioning it through the lens of the digital." The inspiration for this series came from the visuals of Baga's multi-media installation Virahanka Trail (2017), which includes footage of tourists walking through sand dunes on a Japanese beach. However, when reproduced in seed, the images become less specific, more archetypal. If the loose cluster of nonchalant figures in fibe give off the desultory vibe of middle-aged tourists who have briefly disembarked a tour bus at a lookout point, the depiction of a lone individual in wun takes on a more existential quality. A dark interruption of the otherwise expansive swathe of beige seed, the figure points towards the adage that we are but a mere speck in the vastness of the universe.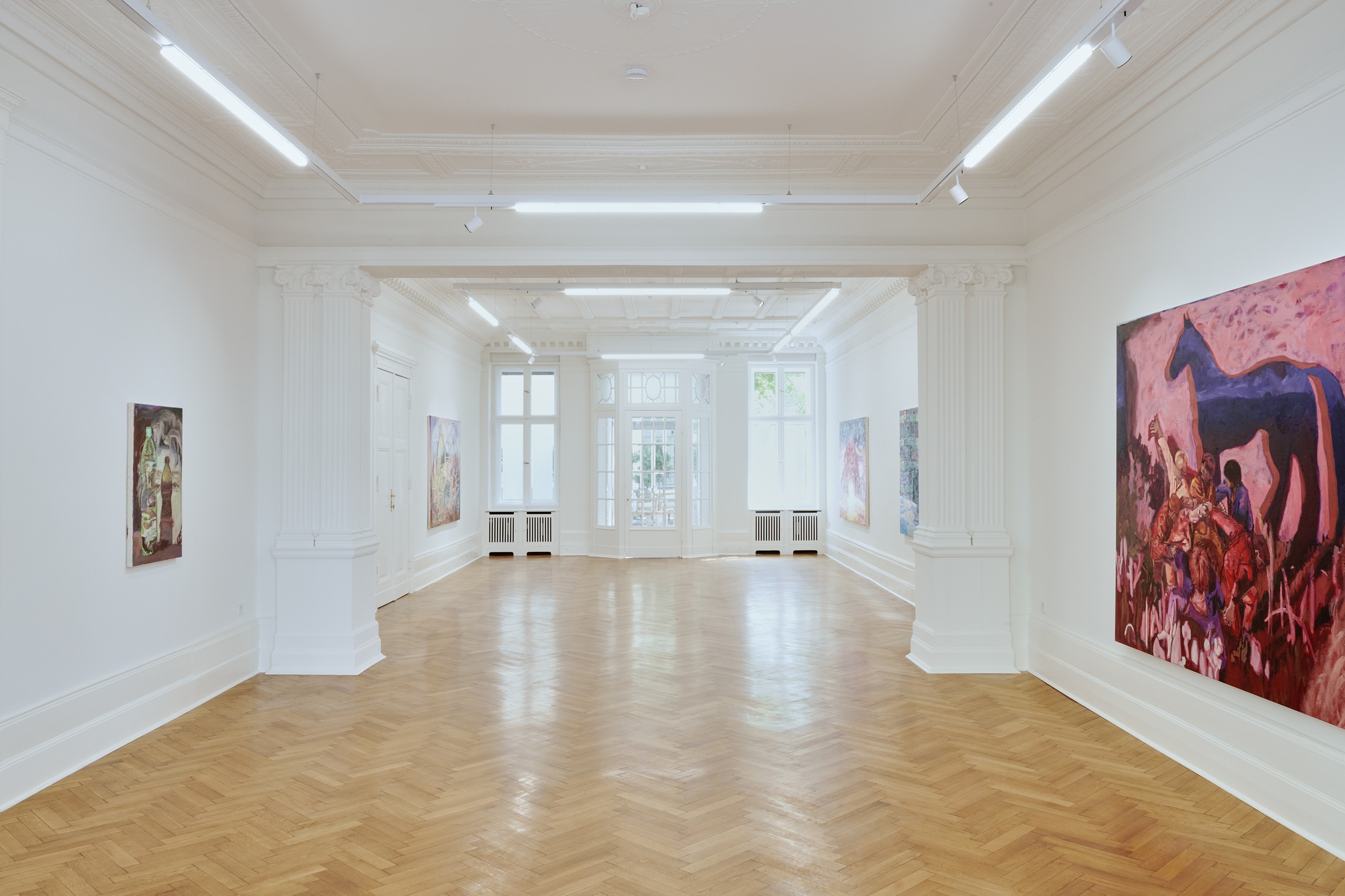 In their third exhibition at Société, entitled Hive Mind, the American artist Trisha Baga will, for the first time, focus primarily on painting. Best known for their immersive video, performance, and ceramics, Trisha Baga has built a reputation for work that gleans the margins of the digital and the logic of online browsing to create dreamy, layered narratives in physical space. A similar logic prevails in their newest body of works, albeit in a different medium. Trisha Baga once described themselves as an "experimental adhesive maker." They brings a lot of things together in their work: video and objects, the digital and the analog, narrative and images, groups of people. Yet these elements don't adhere to one another seamlessly, and instead they clump together like a mutually-imbricated life form held together by a sticky, viscous goo.
As with all of their works, Baga's recent turn towards painting has evolved out of processes of improvisation and collaboration. Together with the artist Lu Zhang and the curator Herb Tam, Baga began the painting club P_Lub. Each week the group would create a collaborative painting to announce an episode of Virtual Studio Visit Loop, a series of conversations with artists and cultural workers disseminated via Instagram Live that reflected on living and working through a pandemic. Baga's collaboration on this project prompted them to delve into the practice of painting more deeply. Intertwining subject matter as diverse as diagrams of the flight of a house fly, a piece of bubble gum, lesbian sex, pop stars, and their own films, Baga's exhibition at Société brings together works that examine the boundaries between people and groups, and the roles that technology plays in mediating these relationships. Paintings made in 2020-2021 will be presented in conversation with the artist's latest film 1620, which provided the inspiration and imagery for several works in the show. According to the artist, "the film is an impressionistic science fiction, which reframes Plymouth Rock as a source of narrative stem cells in the hands of genetic scientists studying deep-seated flaws in The American Drama." Baga's exhibition at Société orients itself around a double helix of tropes exploring deconstruction and community, following Baga's assertion that in order to be seen, a group of people need to come together as one force and, in order to be an image, the body must be broken down into parts.
Time travel is possible. All you need, at least according to Trisha Baga's thirty-five-minute 3D video 1620, 2020, is an old onion and lemon, a few connecting wires, and a computer running on a chirruping dial-up modem. Such is the gizmo that, per the Filipino-American artist's labyrinthine narrative here, transports a present-day experimental theater troupe, DNAUSA, back to the beginning of colonial American history—the landing at Plymouth Rock in 1620—in order to perform gene therapy on the country itself, opaquely repairing flaws in the "narrative DNA" encoded in the rock. The performers accomplish this by reenacting the vaunted landing and, from there, clad in Pilgrim garb and accompanied by a pantomime horse, moving forward in time to various moments (1774, 1834, and 1921 among them) when the rock is moved, broken, and, symbolically, causes the foundational American narrative to increasingly fragment and crumble.
As you might gather, the video—a disorienting palimpsest of constantly sliding layers, floating texts, and overlapping dialogue in English and Tagalog—is a lot in Baga's long-standing maximalist style, and might leave one unsure as to what is eventually achieved. As the players tumble around in time, occasionally losing connection with the base camp that's monitoring their progress, they get mixed up with footage of Korean boy band BTS; the B-52s make an appearance, too. But it's notable that Baga (who, according to the gallery, prefers gender-neutral pronouns but is identified as "he" in the materials accompanying this particular show) has mainly cast themself along with other Asian American performers in the film, thereby displacing America's origin story and its whiteness from the get-go. It's also pertinent that this repair work involves an ad hoc mini community. Baga is big on the transformative power of the group—this show was titled "Hive Mind," and the other larger part of it, a group of busy works on canvas, had its roots in a collaborative painting club, P_Lub, that started during the pandemic. Once a week, Baga, artist Lu Zhang, and curator Herb Tam would jointly create a painting whose image they'd distribute while advertising an upcoming conversation between artists and cultural workers on Instagram Live.
The paintings here, made since the onset of the coronavirus pandemic, were galumphing, tactile, thickly worked amalgams, frequently as layered and viscous as 1620, and often seamed with violence. In the apocalyptic Blindness, 2021, a group of figures, palely outlined, grimace as a massive roseate explosion goes off behind them. In SQUARES, 2021, set amid tropical greenery at the edge of rippling water, the foreground is occupied by heaps of what look like cheese cubes, while in the middle distance two fallen humanoid figures have been pixelated into orange, brown, and green squares and a screen-shaped rectangle in a tree glitters with rainbow static. The pictorial logic, such as it is, resides partly in the title, partly in the fusing of worlds. STUD, 2021, looped us back somewhat to the video—according to the handout, the latter inspired some of these paintings—featuring the silhouette of a horse in front of which a knot of figures are clustered together. (Judging from their hair, I'm guessing they're BTS again.) Besides the repeated tang of ambiguous peril in these paintings, what seems most germane are the organic and initially communal process that spawned them, their mingled registers, and their unworried elision of the analog and the digital, like using fruit and veg and the internet to transport a pantomime horse through time. What they offer—what Baga energetically advocates for—is a vision of mutuality and coexistence, however disordered it might be.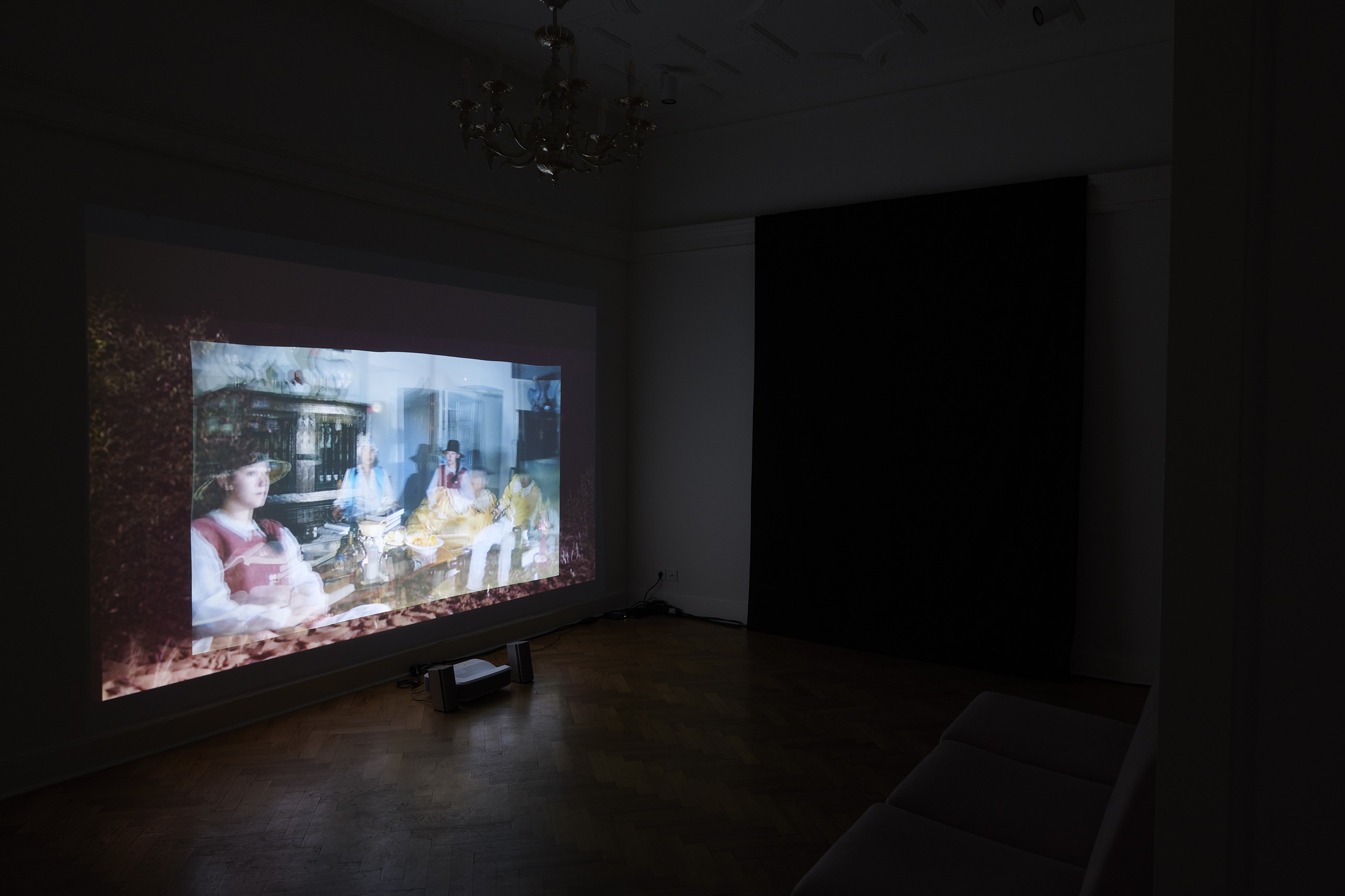 the eye, the eye and the ear is Trisha Baga's first institutional exhibition in Italy and covers fifteen years of the artist production, from their first piece There's No "I" in Trisha (2005-2007), conceived as a sort of TV sitcom that questions the gender stereotypes of all the various characters whose roles Trisha Baga plays; to the more recent work 1620 (2020) produced on the occasion of this show. Bringing together five video installations investigating the relationship between the body and the constantly evolving image technology, the exhibition also presents a rich selection of ceramic works produced since 2015 and six pieces from the series Seed Paintings (2017), composed of sesame seeds and foam.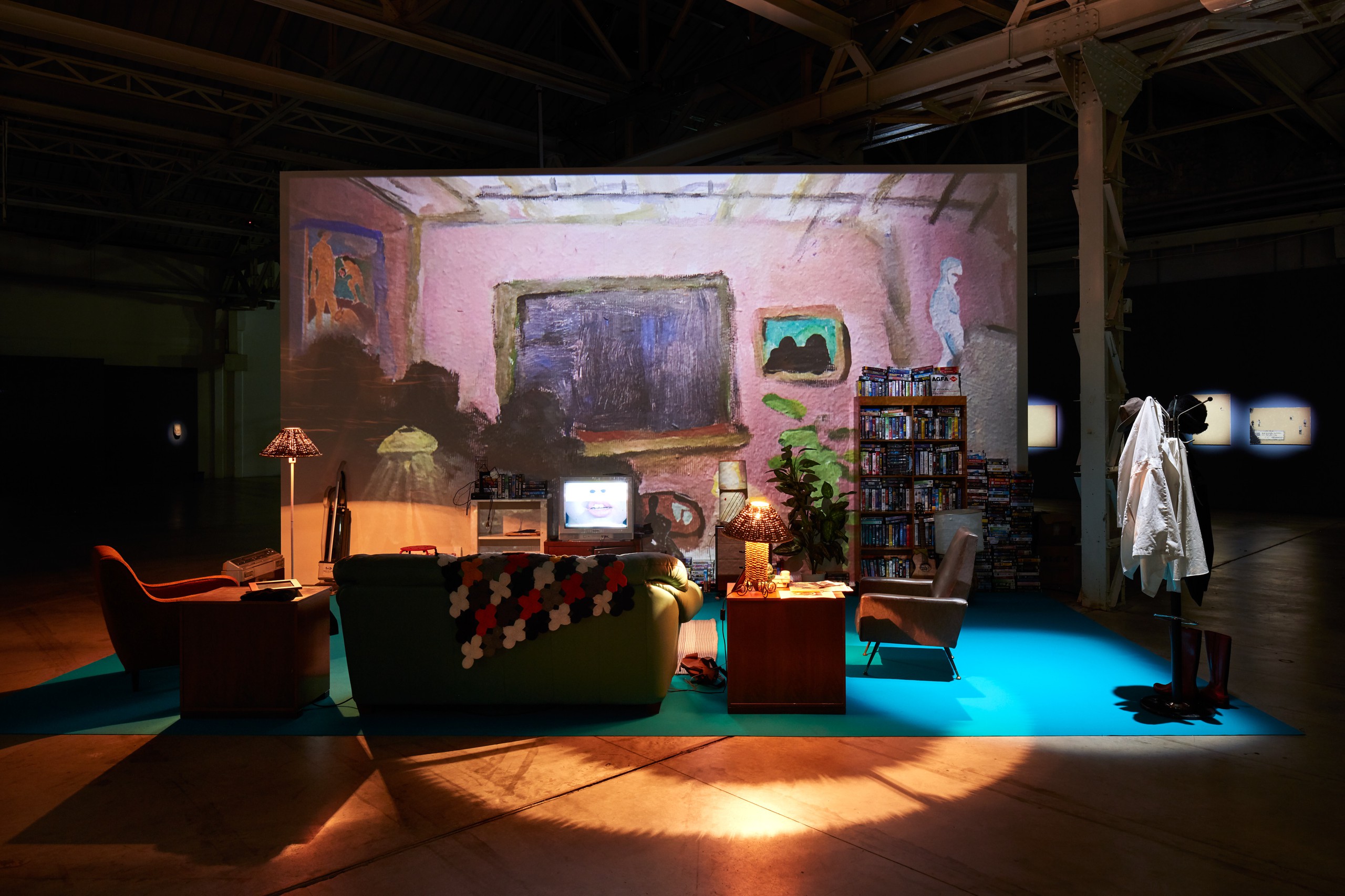 PUBLICATION
the eye, the eye and the ear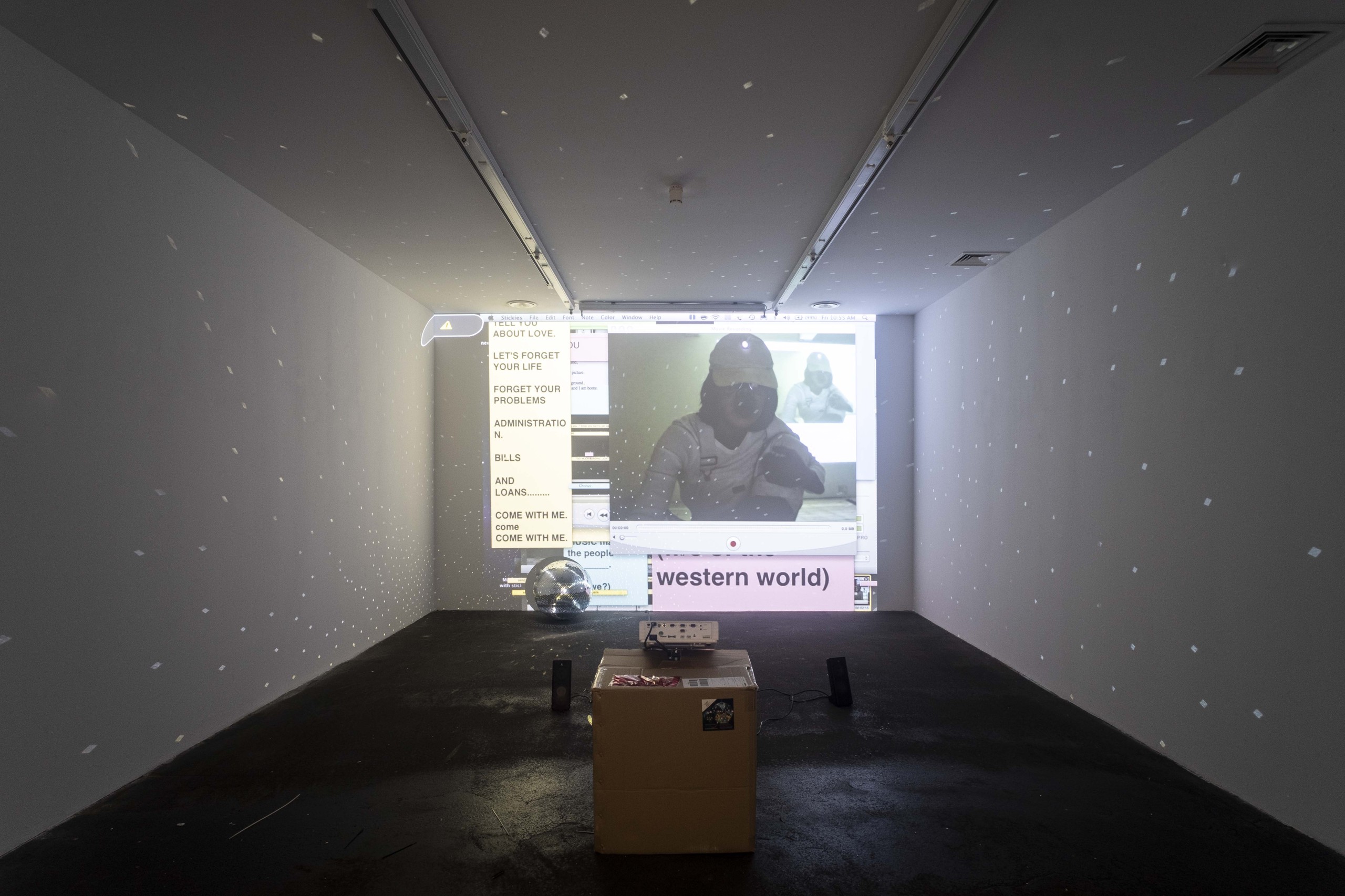 Spaciously presented across more than 2,000 square metres in Hamburger Bahnhof's Rieckhallen, the group exhibition Magical Soup features key works complemented by loans representing the latest generation of artists, with a common point of departure being the nexus of sound, image and social space.
Music has the power to create imaginary worlds. Sounds can physically shake up rooms. And images can conjure up auditory spaces that draw us beyond canvases and screens. Magical Soup explores the power and the magic with which images, sound, music, and language create, reveal or hide reality. The works range between precise observation, radical self-expression, and deliberate deconstruction of identity.
Hysterical Mining
Kunsthalle Wien, Vienna, 2019, curated by Anne Faucheret and Vanessa Joan Müller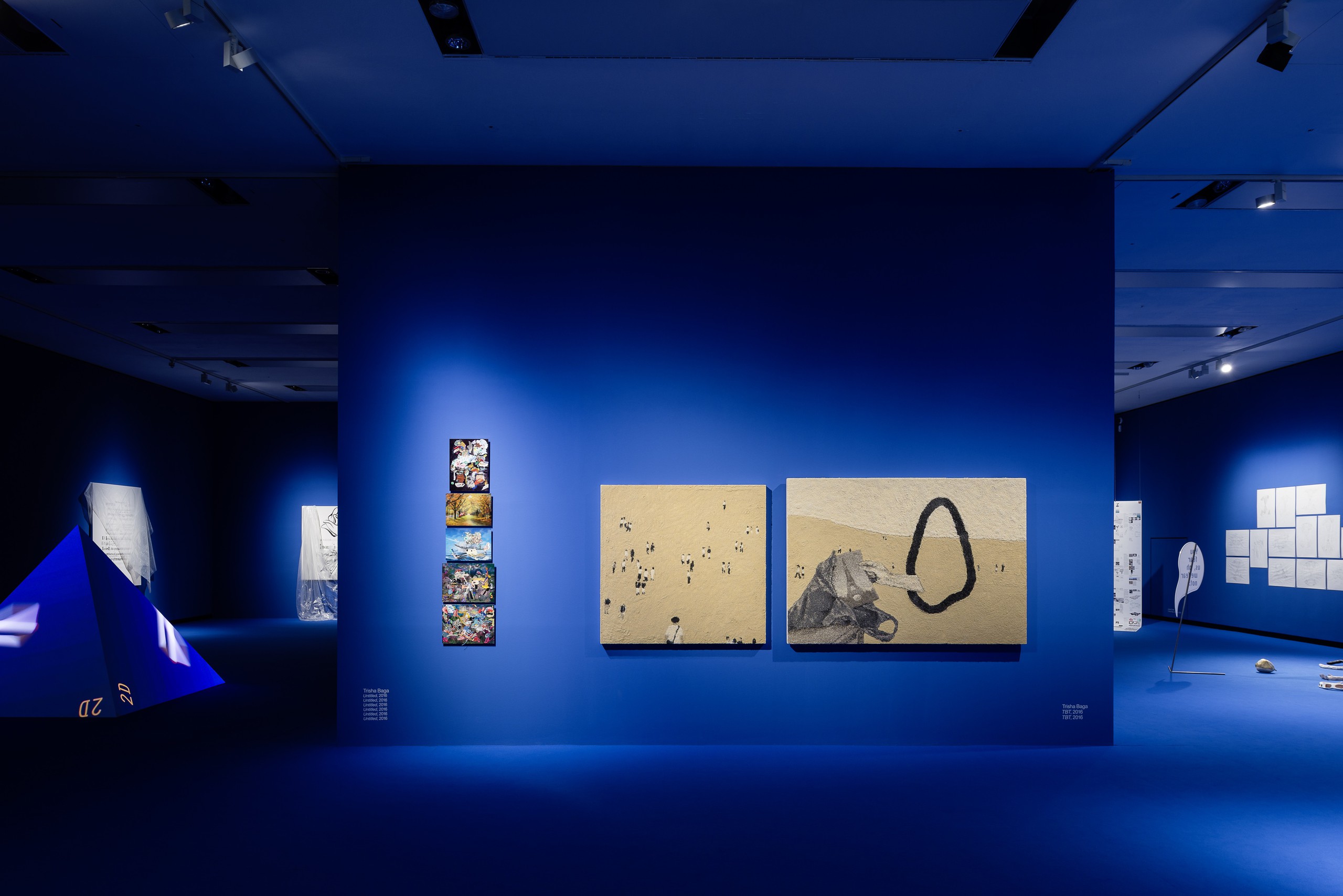 Trisha Baga's video installation The Voice absorbs the attention of the visitor into an imaginative and perplexing 3D world that lies somewhere between a hyperactive realm of reality and virtual fantasy. Hypnotically merging fictional, personal, and topical elements, Baga blends a range of special effects and cinematic techniques that are pop-culturally affiliated, technically proficient and persistently playful. Chewing gum is spat out, appears intermittently stuck onto the "screen" or visual terrain, and often remains there floating while other visual stories and sounds unfold. Newspapers reappear, splayed open, showing headlines on current affairs in addition to the advertisements that appear beside them. Familiar tunes like the Universal Studios theme song or the Mac start-up sound provide brief interludes achieving suspense and bewilderment as the storyline unravels. The audience is at times reflected in shots where people are shown in movie theatres (also wearing 3D glasses) or immersed by their VR goggles. It is a journey into a collision of digital consciousness.
An atmosphere of confusion and curiosity is created—complemented by the miscellaneous mix of background noises and music ranging from light, fun-filled pop-songs to a progressively dramatic and thriller-esque soundtrack. Voice-overs by the artist, her characters or from Hollywood movies and English language courses narrate sporadically. The somewhat elusive plot (loosely based on The Little Mermaid) comes into play in fragments—the scenes interwoven in succession are composed of seemingly heterogeneous sequences such as imagery of the artist's studio, deer, cats and dogs, consumer products in shopping malls, the Large Hadron Collider, a rolling tennis ball, pop-ups on phone displays and recordings of a car crash or crime scene on a street blocked off by police. Combining collage, green-screen and graphics, Baga uses home movies, ordinary objects, found material and improvised props to extraordinary effect. Shadowy, smoky forms billow, abstract lines trace profiles and leave residues while subtitles crop up, as disjointed as the dialogue-cum-"biologue."
Juggling the tale of an invisible woman as well as footage of family holidays in the Philippines and New York, the structure of the narrative also encircles an introduction to the process of mitosis within cell biology: the division of a single cell body or splitting of the nucleus. Conflating space, time, geography and geometry in an immaterial, hysterical language of media, The Voice achieves a way of accessing and transmitting alternate tunnels of perception, giving voice to ways of viewing and understanding a fragmented body and self.
Hysterical Mining also features an assorted array of Baga's eclectic handmade ceramic sculptures. The glazed toaster Hamilton Beach, the printer Brother Making an Impressionist Painting, and Microscope all portray tools transformed by a tactile, "fingery" touch—one that is often absent from the typically smooth, hard surfaces of today's technologies. In addition to personal pieces such as William's Wonder Bread and Dog Bowl with Boobs, there are feminist pop-cultural elements—such as a ceramic frame depicting a road entitled Thelma and Louise, evoking the landmark feminist film. Microscope and Optical 88 are instruments of measurement—deprived of their original function they portray a critical stance: observation and science are always already framed by the apparatus and thus not neutral at all.
The pair of seed paintings (both titled TBT) and the selection of Untitled 3D paintings further illustrate Baga's expansive, media-rich practice. The seed paintings were created within the framework of a post-human narrative where only peacocks and other bird species remain after the extinction of humanity. The "hologram paintings"—as the artist calls them—are expressive, so-called "bad taste" paintings on lenticular prints showing traditionally defined motifs or symbols of masculinity (cars, boats) or femininity (kittens, horses) in popular culture. Distinct interests and intricately connected relations are wired between the pieces presented—that only begin to become apparent when put into focus. The minute detailing of the pixel-like seeds in TBT show, for instance, a black outline and hand reaching for a print of the Eiffel Tower from a plastic bag. This image is in fact a still from The Voice. The voices of Thelma and Louise can be heard in The Voice too, and in the gesture of abstract expressionism, colourful acrylics seem splatted atop the 3D imagery, just as the sticky chewing gum seems to do so in her video. The interconnections are vast. Baga's artistic investigations repeatedly approach and perform the messy multidimensionality and connectivity of the condition of contemporaneity, employing different materials and media to comical and yet contemplative effect.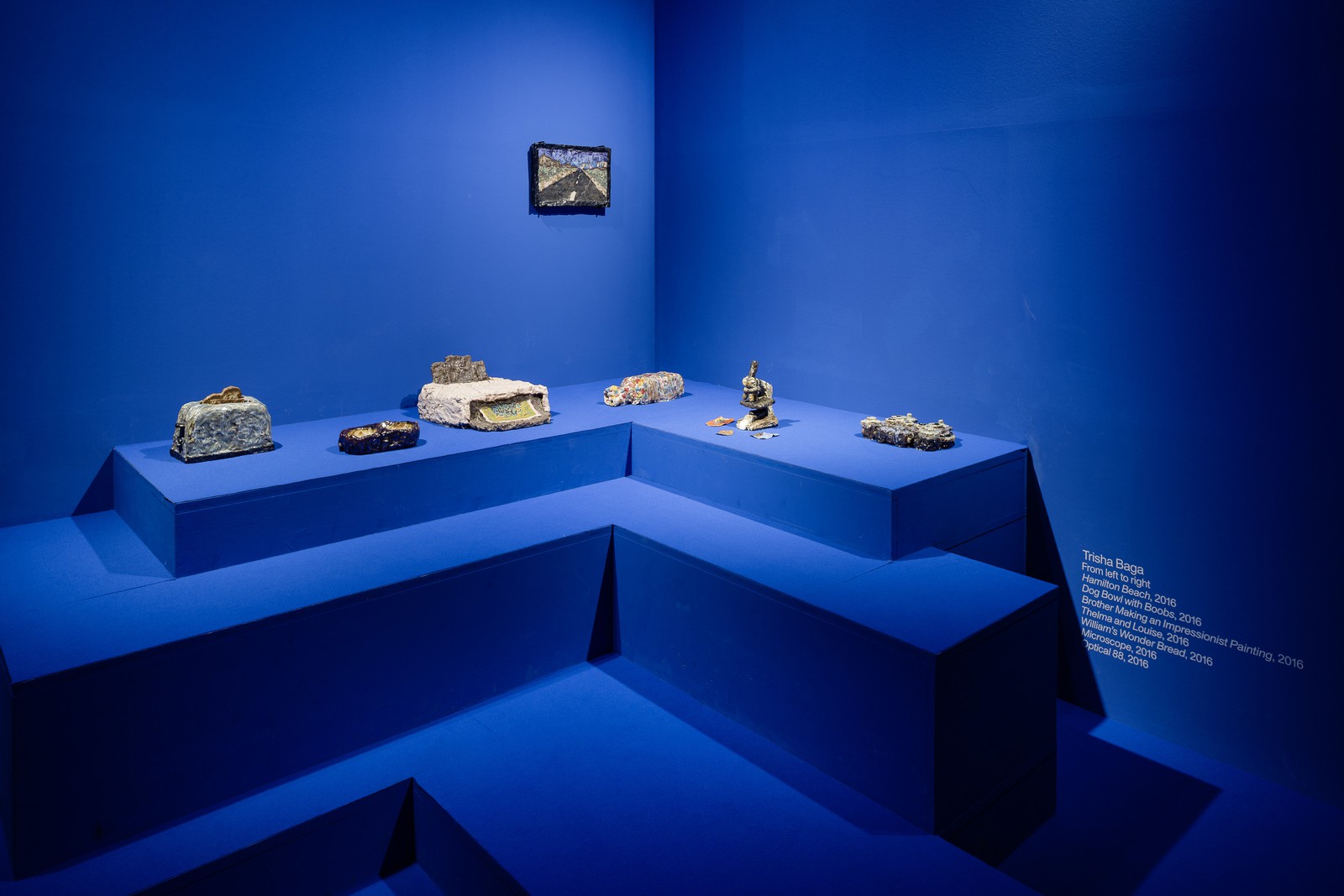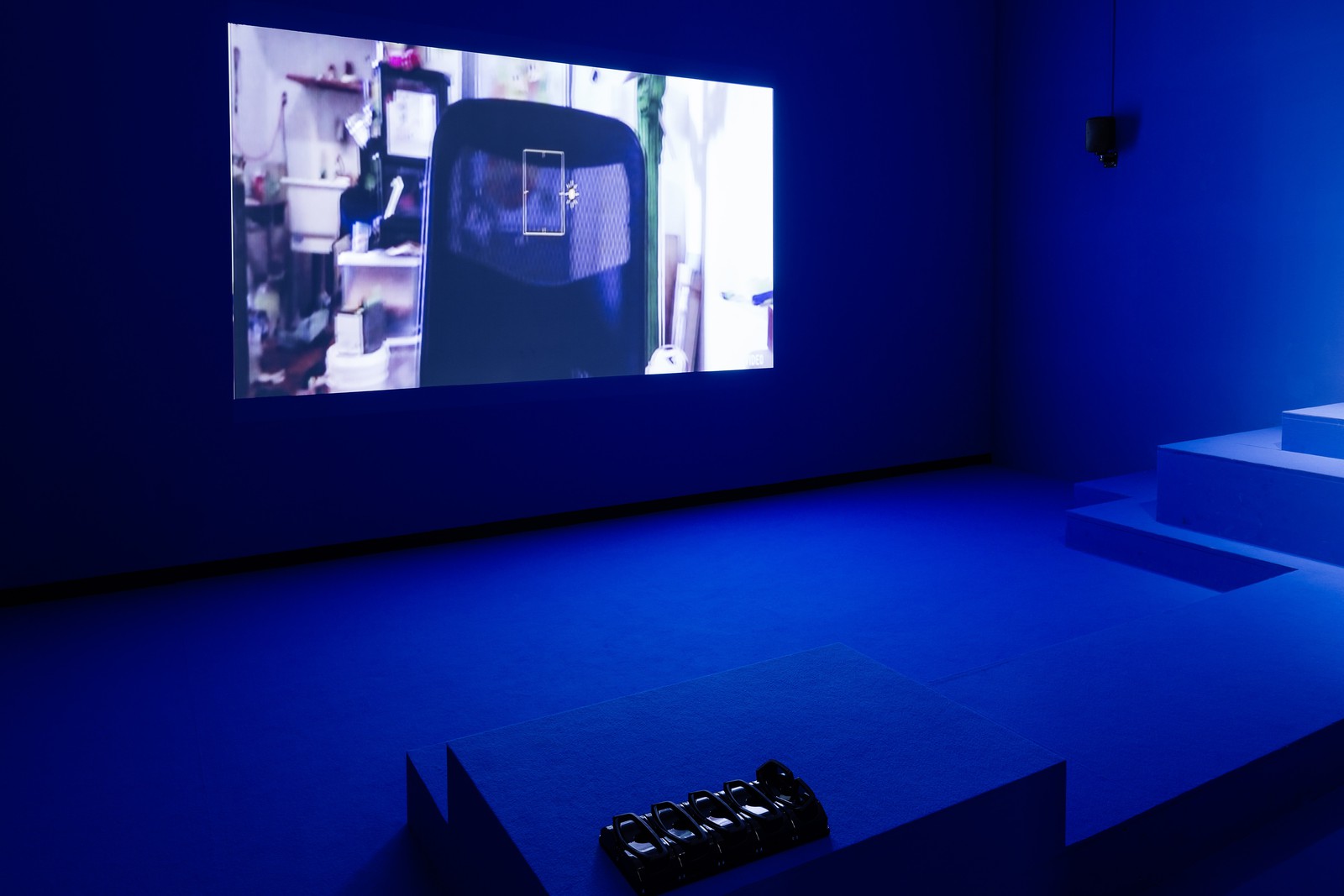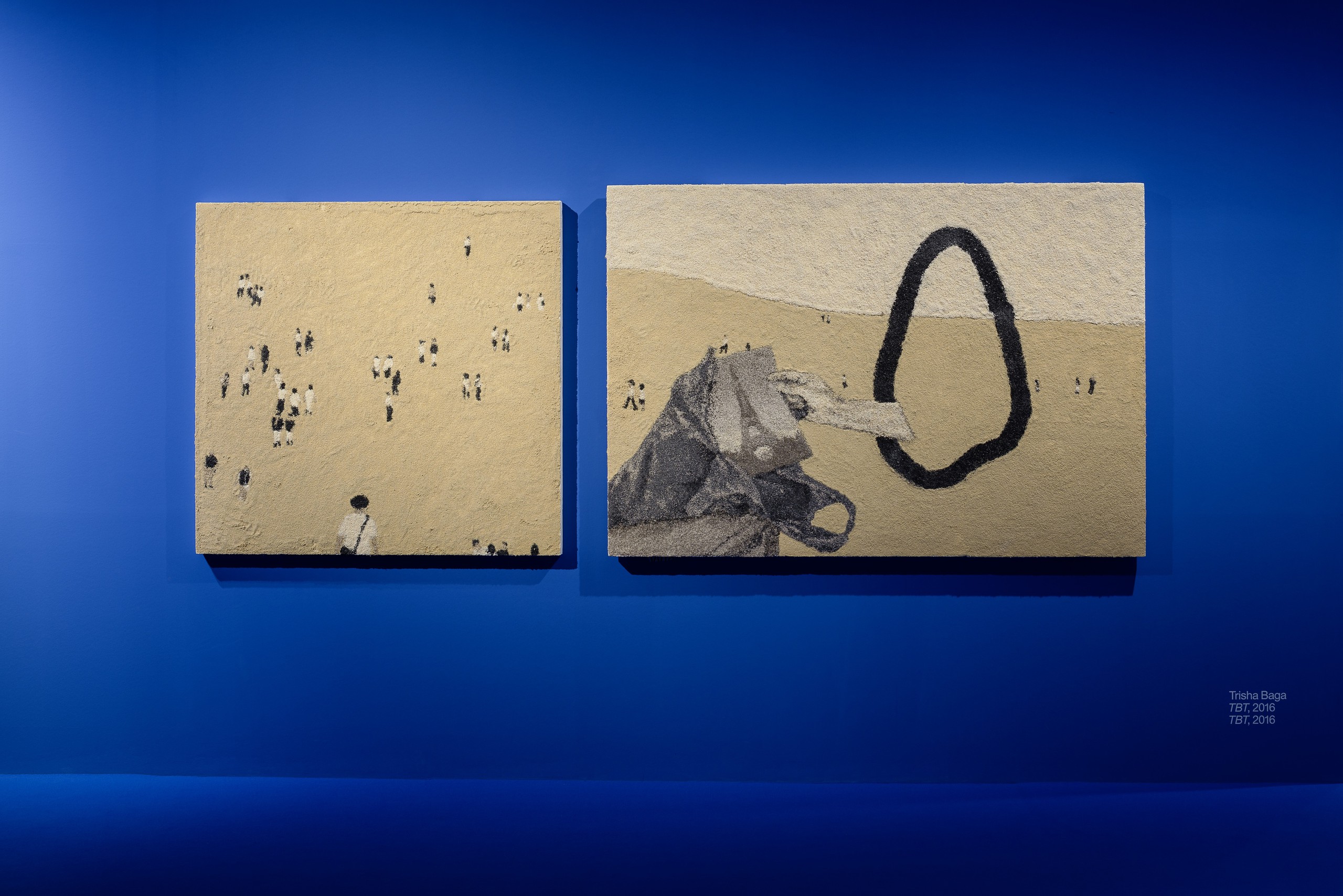 BIOLOGUE: A New Musical
365 Mission, Los Angeles, 2017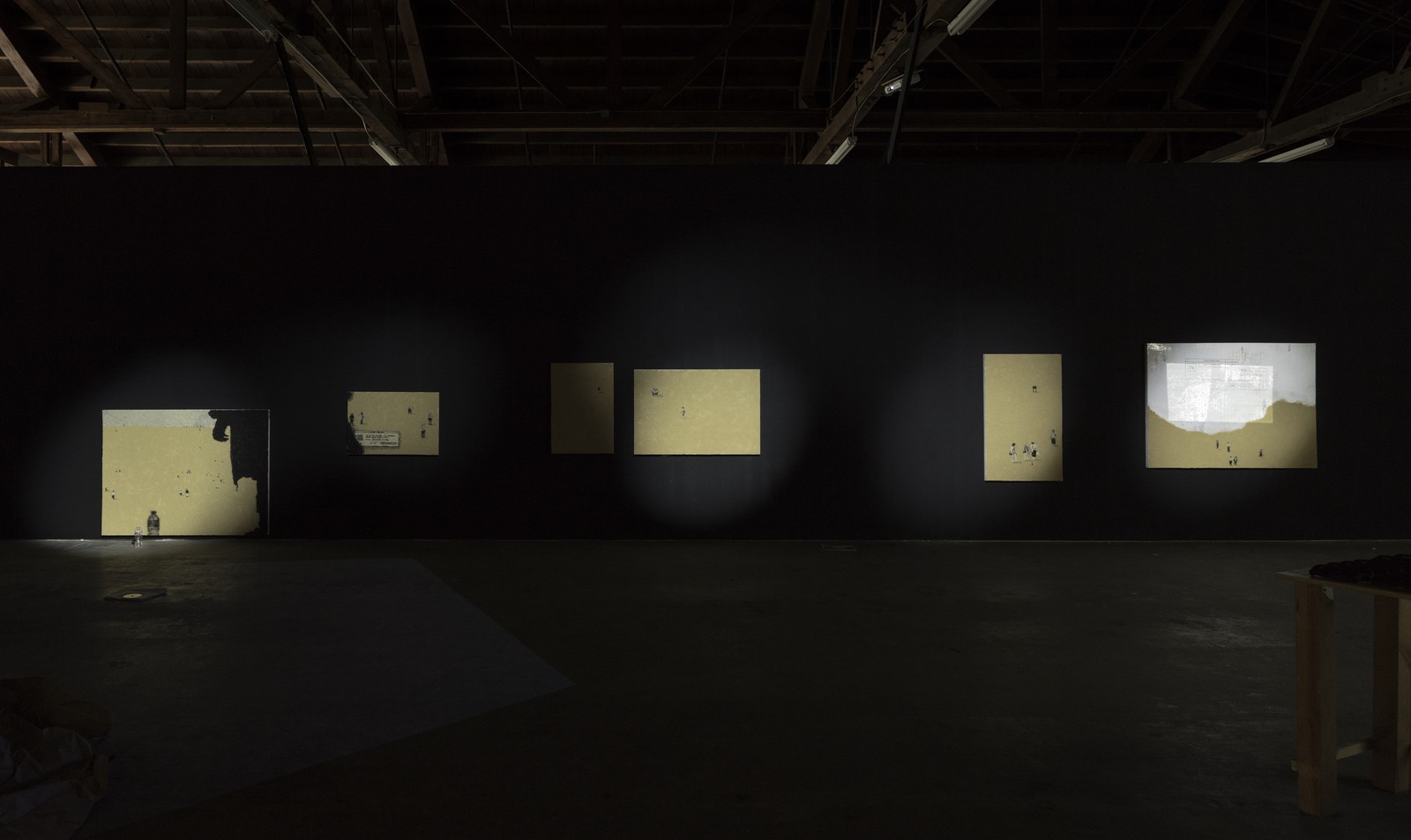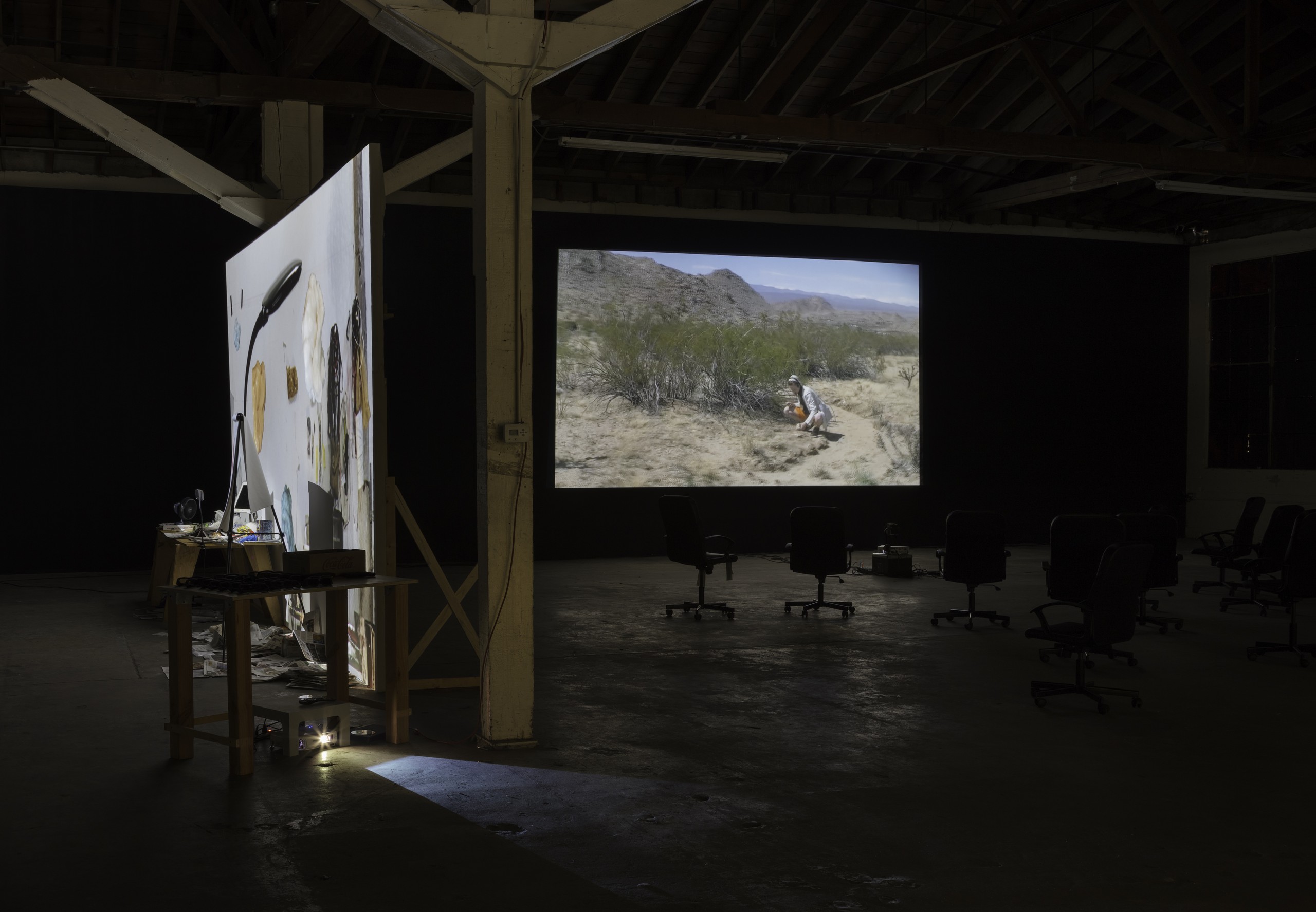 LOAF—A blurry eye exam, or the sourdough hippocampus
Contemporary technology allows a net mapping of 3-dimensional forms, a wringing out of volume to an expansive, but wholly compressed 2D. Complex curved volumes—a tennis ball, a dog, an alien—might be translatable as planar vector diagrams. Let's say this Berlin apartment is a brain, a mapped and flattened cognitive organ. It is compartmentalised in the same way and there is symmetry: left and right hemispheres correspond to a singular hallway that functions to structure flow. Light responds to bodily proximity, a basic on-off sensibility approximate to the stimulating function of the pituitary gland: hormones, blood, galvanic affectation are ushered into cameo roles as more pedestrian objects. There are black holes and white walls: the brain architecture is swiftly rearticulated as vernacular archetype. The drawing of a floor plan can also be read as the abstraction of an idea. Fantasy and philology allow mutation—sociological procedure, technological metaphor, erotic image, or surreal apparition bond as a muttering mass.
In Trisha Baga's LOAF, inside and out, skin barriers and seams are deliberately confused. In the same way that mould might ravage a slice of bread, screens and ceramics ooze with an implied sense of microbial growth, alive with all the exhaustive permeation of the pathogen. The apocalyptic eyes and ears fashioned (and necessary to deploy) seem hesitant to make categorical distinction between nuclear implosion and natural phenomenon. Hierarchies dissolve in an ectoplasmic fog where smoke, words, speech and rhythm become ever-shifting signifiers in a more abstract pictorial lexicon. Seeing through smoke is still more curious, a pre-retinal experience more like seeing with the brain than the eyes. Perhaps it is a kind of dirty behind-the-scenes akin to hearing the breath of the performer when listening to classical music through headphones.
Bone dappled, lavender-light spackle, holocaust pale, brothel apology, aroma-of-now, cucumber bisque, purple tango—the faded reality of on-camera skin in all its alien variants is a queasy exposé of our screens' crackling velum. This is not a face, but a bladder of lard. Like some prehistoric boiling, our bodies have near abandoned all symbols of critical function, subject instead to the entropic temperature and deviations of the screen. Perhaps the ongoing obsession with getting skin right in painting is an appendage problem of contemporary technological habits: the greasiness of fat offset against the mediation of a two-dimensional plane. Oil is a surfactant jelly, a mediator of volume like alcohol is a lubricant of language. We are spot lit in a weird plastic destruction, a hiding in front of hello where the on-screen face is possessed of a light bulb flaring inside the skin. Luminescence, iridescence, is contingency and as hard fought as the battle for mimesis may be, real life's resistance to photography produces a precarious equilibrium between the giving and receiving of form.
In LOAF, The Invisible Man mobilizes a similarly anxious rhetoric: I'm not sick, I'm not crazy. His words, spoken by Baga, but projected via invisible and therefore hypothetical vocal cords trigger an immediate zipper-fracture between solid and immaterial. Substance doubts itself: imagine the ongoing ontological crisis of the Invisible Man's brain and its endless struggle to assign empirical weight or volume to its own indecipherable mass. Objects gain faces and bodies are liquidized or husked down to geometric memories of themselves. In one deft swoop, the tangible body we assume to know is catapulted away from legible territorial outline and into a more abstract digital machine fragmented by car journeys and endless shifting landscapes. The metaphor of toxicology might be applied as flesh is poisoned and dissolved by its own shadow.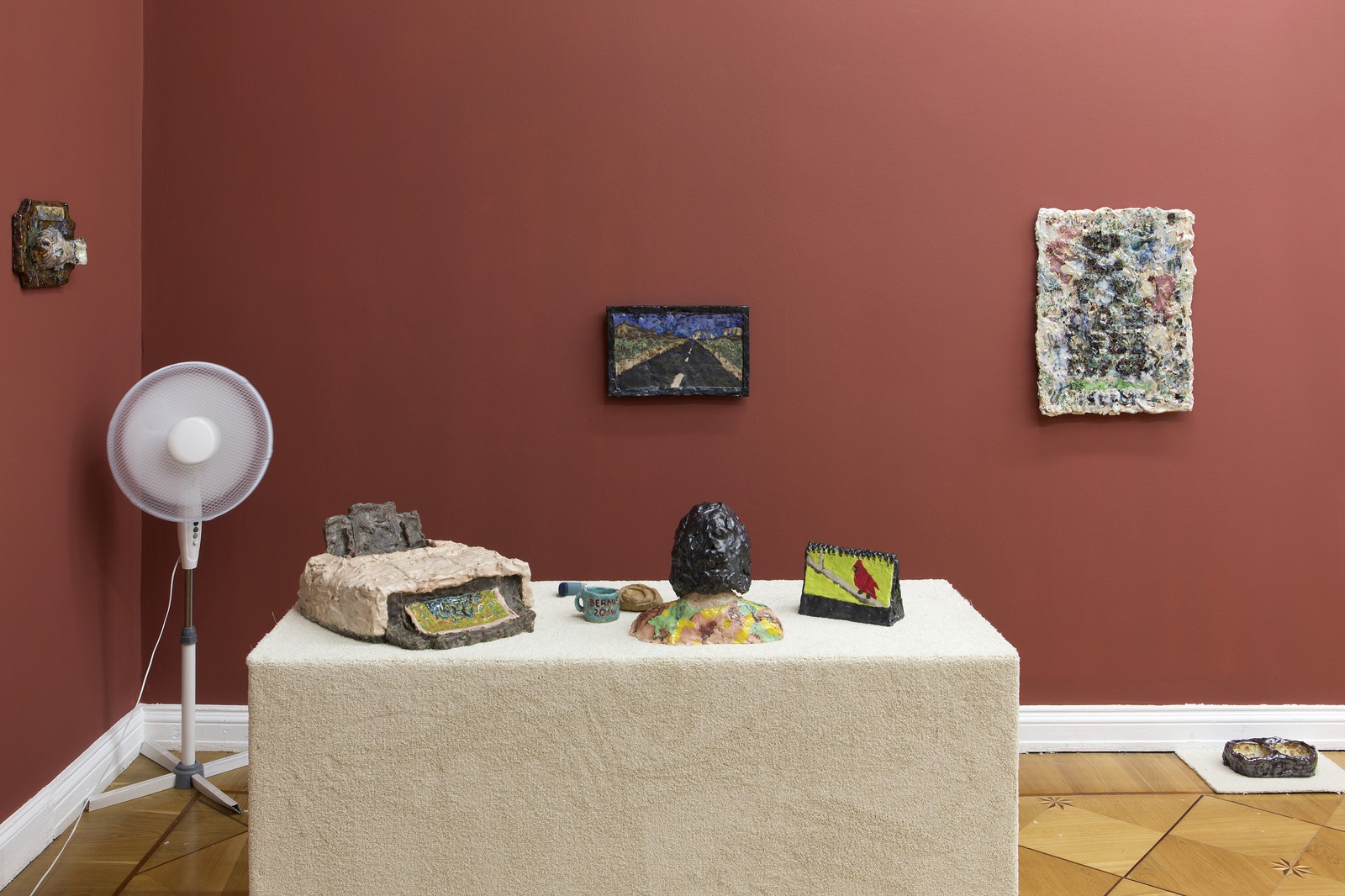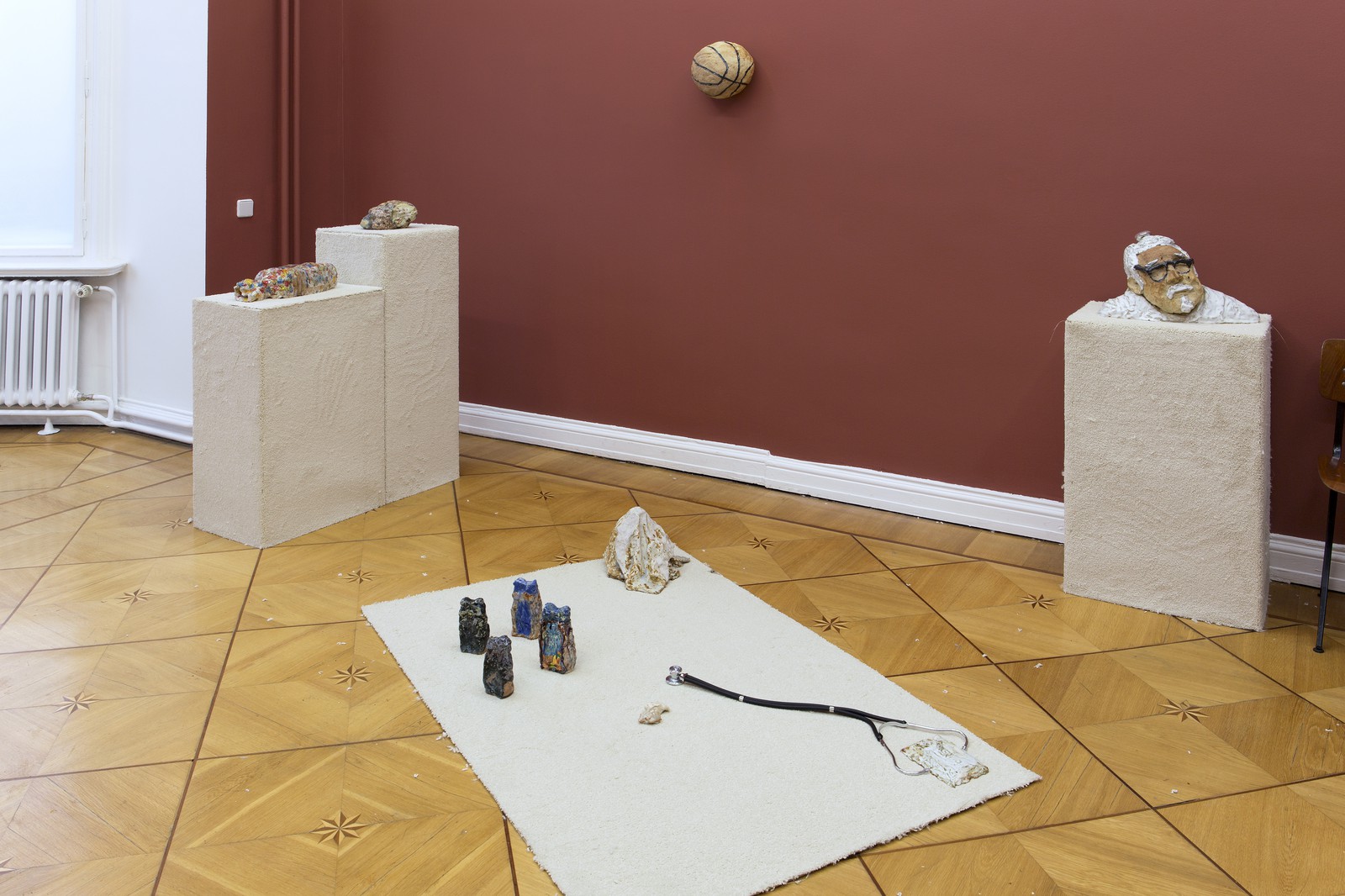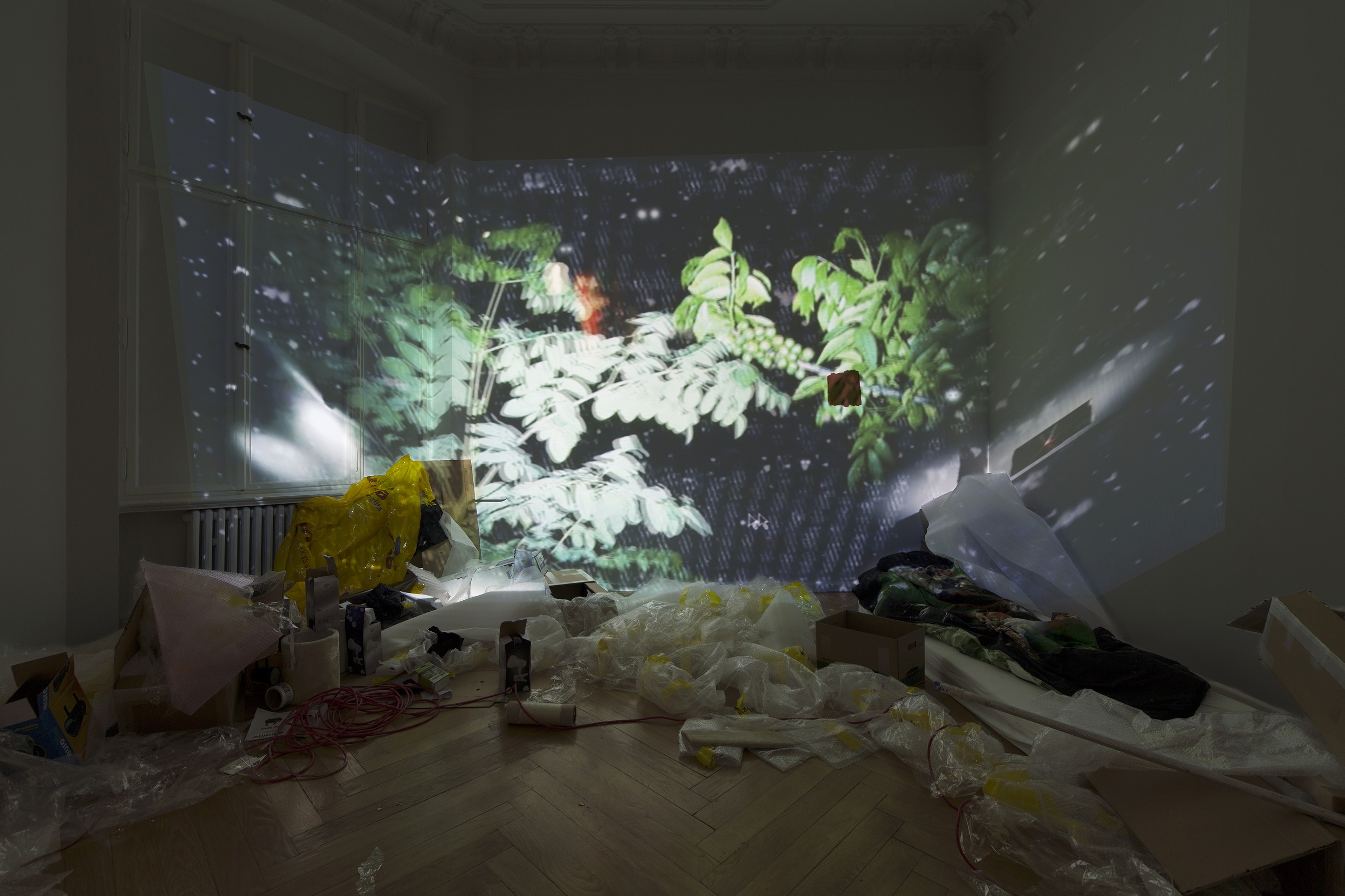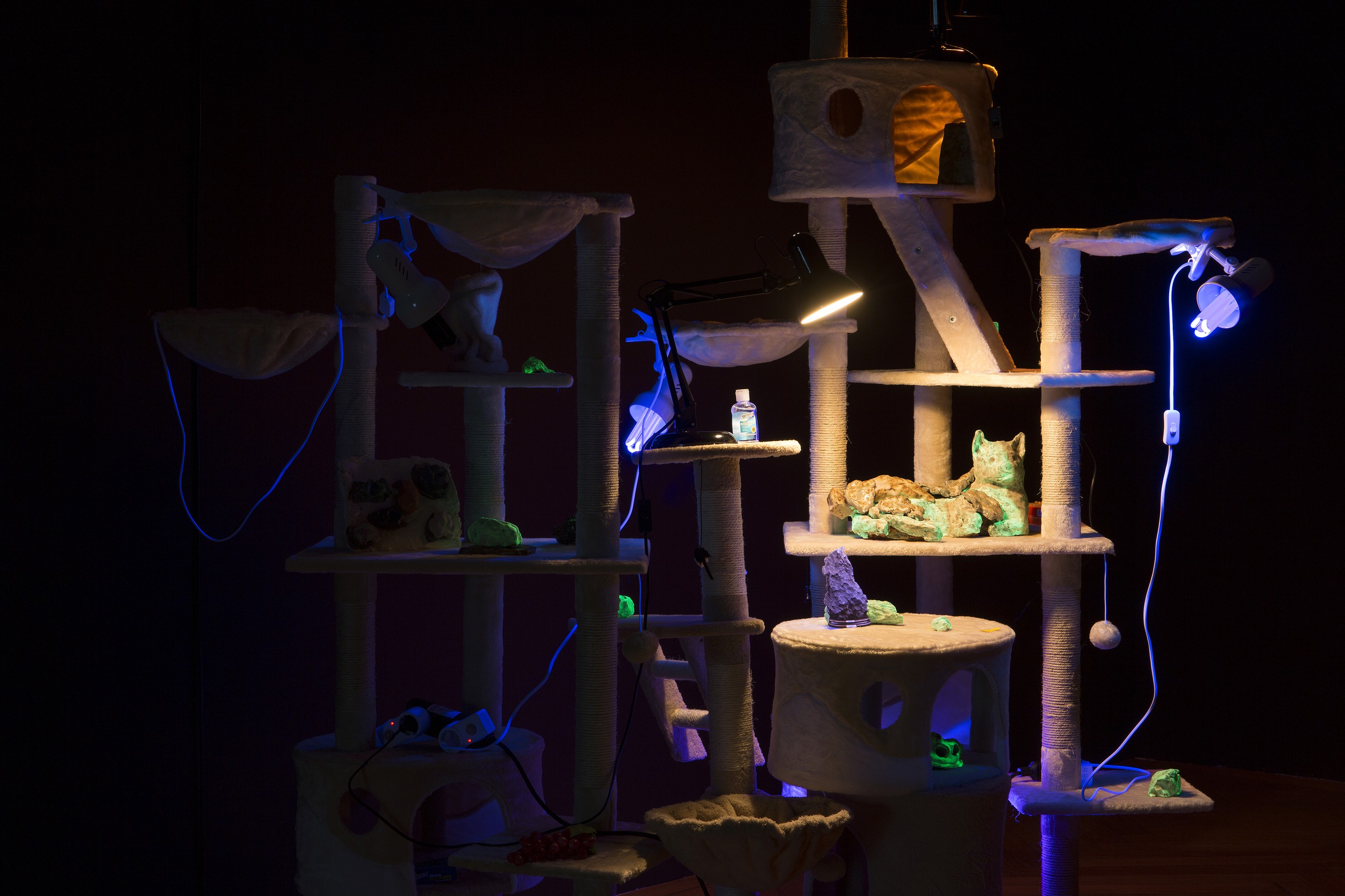 Plymouth Rock 2
Whitney Museum of American Art, New York, 2012/2013, curated by Elisabeth Sherman
Plymouth Rock 2, New York–based artist Trisha Baga's first US solo show, is a two-channel projection compiled from a variety of found and original video and audio material. Baga projects this collaged narrative, based on the history of the Pilgrim landing site and its current state as a dilapidated tourist attraction, onto and past objects placed throughout the space that, along with the bodies of the viewers, further interrupt and disrupt the already distorted tale. Like much of her nascent practice, Plymouth Rock 2 is an adaptation and reinstallation of an earlier work, Plymouth Rock, first shown in London earlier this year.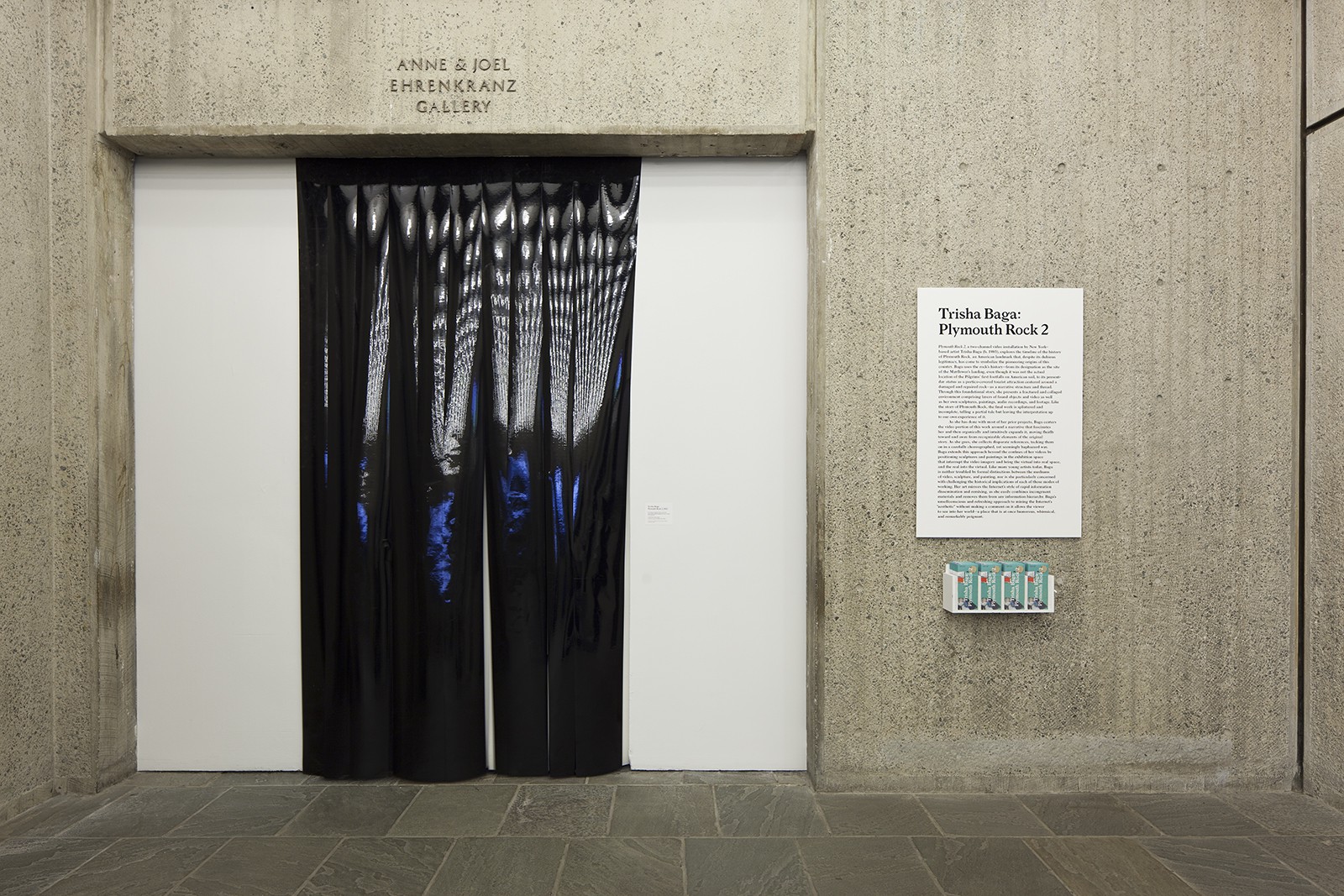 Solo exhibitions
2022

TIME MACHINE, Gió Marconi, Milan

There's No "I" in Trisha, Beacon, Munich

Grainy Pixels, Société, Berlin

2021

Hive Mind, Société, Berlin

2020

HOPE, Illumination of the Fridericianum on U.S. Election Day, Fridericianum, Kassel

The eye, the eye and the ear, Pirelli HangarBicocca, Milan

2019

Winter's Springs, Galeria Marta Cervera, Madrid

2018

MOLLUSCA AND THE PELVIC FLOOR, Greene Naftali, New York

Biologue, Gallery TPW, Toronto

2017

BIOLOGUE A New "Musical" by Trisha Baga, 356 Mission, Los Angeles

2016

2015

Orlando, Greene Naftali, New York

2014

Free Internet, Gio Marconi, Milan

Zabludowicz Collection, London

2013

Gravity, Peep-Hole, Milan

Florida, Société, Berlin

2012

Holiday, Dundee Contemporary Arts, Dundee

The Biggest Circle, Greene Naftali Gallery, New York

Plymouth Rock 2, Whitney Museum of American Art, New York

World Peace, Kunstverein München, Munich

Rock, Vilma Gold, London

2011

Trisha Baga: Performative Screening, EAI, New York
Group exhibitions
2022

Fervor, Cibrian gallery, San Sebastián

Future Ages Will Wonder, Fact, Liverpool
Vertigo, ARoS Aarhus Art Museum, Aarhus
The Dreamers: An Echoing—Film Program, 58th October Salon, Belgrade

Biennial at Basement Roma, Rome

2021

The Modern Dog Painter, curated by Martin Bethenod and Charles Hascöet, New Galerie, Paris
Coil Pot Show, Jane Hartsook Gallery, Greenwich House Pottery, New York

Wild Frictions: The Politics and Poetics of Interruption, Contemporary Arts Center, Cincinnati

Wild Frictions: Politische Poesien der Störung, Kunstraum Kreuzberg, Berlin

Clay Pop, curated by Alia Williams, Jeffrey Deitch, New York

Ceramics Now, Jane Hartsook Gallery, Greenwich House Pottery, New York

State of Motion, Marina One, Singapore

John Dewey, Who? New Presentation Of The Collection Of Contemporary Art, Mu­se­um Lud­wig, Köln

2020

Magical Soup, Hamburger Bahnhof, Berlin

2019

The Body Electric, Yerba Buena Center for the Arts, San Francisco

Hysterical Mining, Kunsthalle Wien, Vienna

2018

3D: Double Vision, LACMA, Los Angeles

2017

Biennale für aktuelle Fotografie, Ludwigshafen am Rhein

Eighteen Hundred Showers, Simone Subal Gallery, New York

2016

A Composition of Intimate and Public Truths, Disjecta, Portland

Nam June Paik Award 2016, Museum Folkwang, Essen

Dreamlands: Immersive Cinema and Art, 1905–2016, Whitney Museum of American Art, New York

Biennale of Moving Images (BIM), Centre d'Art Contemporain Genéve, Geneva

Development, Okayama Art Summit 2016, Okayama

Nothing Conceptual: La Meme Era @ La Barra de Paquito, Embajada, San Juan

Quetzal Art Centre, Vidigueira

Perfect Lives, Kunstverein Göttingen, Göttingen

Onion By The Ocean, Underdonk, New York

Manifesta 11, European Biennial of Contemporary Art, Zurich

default, Honor Fraser Gallery, Los Angeles

Seven on Seven, New Museum, New York

Secret Surface. Where Meaning Materializes, KW Institute for Contemporary Art, Berlin

Ceramics Now, Greenwich House Pottery, New York

2015

Works on Paper, Greene Naftali, New York

Co-workers, Musée d'Art Moderne, Paris

Strange Pilgrims, The Contemporary Austin, Austin

Concentrations 59: Mirror Stage -Visualizing the Self After the Internet, Dallas Museum of Art, Dallas

The New Human: You and I in Global Wonderland, Moderna Museet, Malmö

YES WE'RE OPEN, Giò Marconi, Milan

Cadence Exits, Proxy Gallery, Rhode Island

2014

Private settings, Art after the Internet, Museum of Modern Art, Warsaw

High Performance, curated by Bernhard Serexhe & Julia Stoschek, Riga Art Space, Riga

Forget Amnesia (with Jessica Stead), Volcano Extravaganza festival, Fiorucci Art Trust, Stromboli

Sequence 5, Miguel Abreu Gallery, New York
High Performance, curated by Bernhard Serexhe & Julia Stoschek, Julia Stoschek Collection at ZKM, Düsseldorf

That Singing Voice, curated by Matt Moravec, Galería Marta Cervera, Madrid

Apples and Pears, Drei, Cologne

Dark Velocity, CCS Bard, Annadale-on-Hudson

Abscess, Rectum, Septum, Cave Ramiken Crucible, Cueva Archillas, Puerto Rico

2013

The Stand In (or A Glass of Milk), Public Fiction, Los Angeles
Freak Out, Green Naftali, New York

Frieze Sounds Program, London
Speculations on Anonymous Materials, Friedericianum, Kassel

Meanwhile……Suddenly and Then, 12th Biennale de Lyon, curated by Gunnar B. Kvaran, Lyon

Trisha Baga & NO BROW, Galerie Emanuel Layr, Vienna

Hercules Radio, Frieze Sounds Program, New York

The Magnificient Obsession, MART, Rovereto

2012

Paraphantoms, Temporary Gallery, Cologne
New Pictures of Common Objects, MoMA PS1, New York

Inside Out, Kunsthaus Dresden, Dresden

Troubling Spaces, Zabludowicz Collection, London

Soundworks, Institute of Contemporary Art, London

Entrance Entrance, Temple Bar and Gallery, Dublin

Between Commissions, The Cornerhouse, Manchester

You Told Me the Other Night, West street Gallery, New York

2011

This is Tomorrow, Annarumma Gallery, Naples

Open File, Grand Union, Birmingham

Sandwich pedestrian mysticism sandwich sonata, Johann Koenig Gallery, Berlin

The Event, Grand Union, Birmingham

Fernando, Franklin Street Works, Stamford

Hasta Mañana, Greene Naftali Gallery, New York

14 & 15, Curated by David Muenzer, The Lipstick Building / New York

The Great White Way Goes Black, Vilma Gold, London

Trisha Baga, Migration Forms Festival, Anthology Film Archives, New York

Rectangle with the Sound of Its Own Making, The Fourth Wall at Vox Populi, Philadelphia

Alias, Bunker Sztuki, Contemporary Art Museum of Krakow, Krakow

2010

En el Barrio de Gavin Black through evas arche und der Feminist, Gavin Brown´s Enterprise,

Curated by Pati Hertling, New York

In the Company of, curated by Terri Smith, Housatonic Museum of Art, Bridgeport

The Pursuer, Greene Naftali Gallery, New York

Greater New York Cinema Program, PS1, New York

Beside Himself, curated by Terri Smith, Ditch Projects, Springfield

Hardcorps: Movement Research Festival 2010, Center for Performance Research, New York

Alphabet Soup, The Creative Alliance, Baltimore

A Failed Entertainment: Selections from the Filmography of James O.Incandenza, The Leroy Neiman Gallery at Columbia University, New York

2009

Adventures Close to Home, curated by Peggy Ahwesh, Anthology Film Archives, New York

Los Solos II, curated by Bonnie Jones, The Load of Fun Theater, Baltimore

The Fuzzy Set, curated by Pilar Conde, LAXART, Los Angeles

Then and Now, LGBT Community Center, New York

2008

Our Bodies, Our Selves, Curated by A.L. Steiner, El Centro Cultural Montehermoso, Vitoria-Gasteiz

Betweeen Us…, curated by Meghan Dellacrosse, Leo Koenig Gallery, Andes

Salad Days 3, Artist's Space, New York

Intermission, Art-In-General's Audio in the Elevator Program, New York

2007

Thank God for My Beautiful Black Locks of Golden Black Hair, Cooper Union's Houghton Gallery, New York