Columbine Cafeteria
April 7 – 23, 2016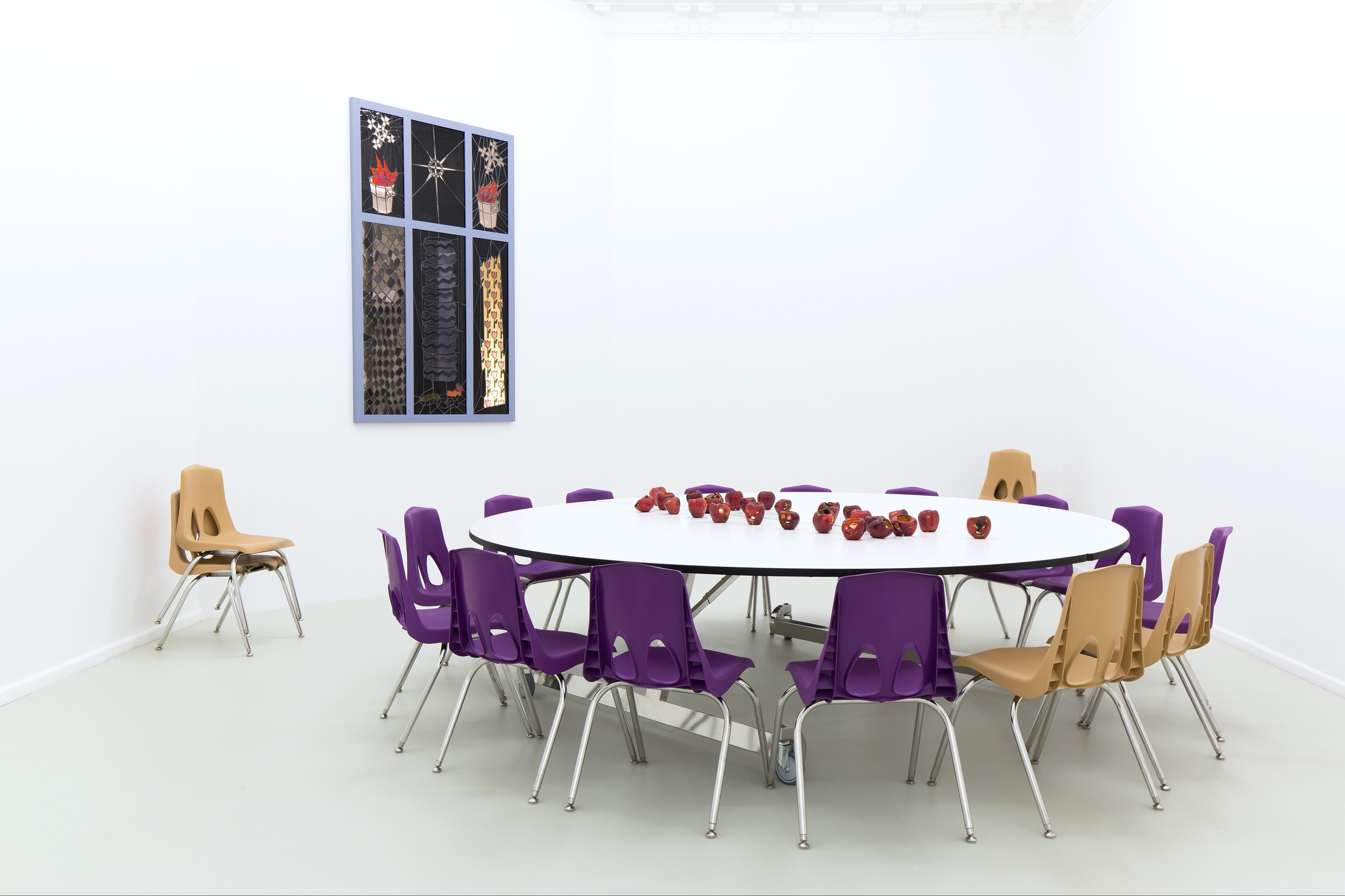 My last show at Société was Columbine Library in 2014. I knew early on there would be a second part. I wanted the two main settings where the 1999 Columbine High School shooting took place to be acknowledged. But the ideas needed to be spaced out. I wanted it to be a subsequent experience, even if you didn't know about the first show or didn't see it.
I think of the library as being slow and dark, filled with obstacles. That's also how it looks in police photos. The cafeteria was open and well-lit, with tons of people and bombs hidden in duffel bags in plain sight. The cafeteria was more confusing. There's not the same closure as in the library, where Dylan and Eric committed suicide.
The first show referenced characters from two TV series that I watched when I was younger: Joan of Arc from Clone High and Gaz from Invader Zim. I identified with them. I think of them as being each other's sisters. They are both filled with anger. For Joan, it was complicated. The reality of hatred is that it's often self-hatred. Joan expresses anger toward the person that she loves, so you wonder about whether it was love or hate, and about her capacity to love. I paired Joan and Gaz with Dylan and Eric, in part because I wanted to ask: What does female violence look like? How is it enacted? It's usually just internalized forever.
In this show, the characters, the time, the temperature, and the things in the space have changed. Though Elliott Smith is still present. The project continues to serve as a memorial to him. And furniture still functions as a vessel of history. The chairs, tables, and bookshelves at Columbine experienced the events that happened and held onto them.
In the Snowflake Special episode of Clone High, Joan becomes friends with a new character, who is unnamed, but who we understand to be Mandy Moore. At first, Joan is hostile to Mandy the same way she is to Cleo. In that way, her internalized misogyny is represented and questioned. But there's finally a break when Mandy shows Joan the true meaning of Snowflake Day, which is appreciating friends and supporting one another. They go to a party where people are drinking alcohol, which is rare for cartoons. With tears in her eyes, Joan calls Mandy an angel. I've sometimes felt that way about female friends.
I was talking recently with my friend Leo about why I love things from my past more. Maybe it's because you can't love new things the same way that you loved things when you were younger, so you come to love new things through people, if you care about those people. The media makes it easy to love new things, but it's actually closer to addiction. Loving people is hard.
The media leads to complicated feelings of sympathy and empathy. I have never been to Columbine, but the media made a big impact on me, and now I have strong feelings about it. Things like the internalized misogyny and alcohol abuse that I saw in the form of a cartoon were nevertheless part of the culture around me. In some ways, I think cartoons and theatre are good ways to talk about things like that. I don't want to actually transport people to these places. They anyway have a place in our collective memory, which leads to subjective mourning.